"Saint Aidan's Day"
Saint Aidan of Lindisfarne
A bit from me...
Crossman Hall
Our Naturalist on Lindisfarne
Lindisfarne Castle
Natural England
Heavens Above
Northumberland Rocks
From the Community of Aidan and Hilda
On the Fringes of Lindisfarne
From Saint Cuthbert's Centre
St Mary's Parish Church
A Blessing - for this time and every time
Saint Aidan of Lindisfarne
Saint Aidan, whose feast-day is August 31st and who died in the year 651 A.D. is by far the most important man in the history of our Island.
He was a monk of Iona who had the courage, when a previous missionary to the Northumbrians had failed, to make a second attempt to come into a hostile environment and to bring to the Anglo-Saxons everything that was growing in the Europe of his time: the Christian faith, the monastic movement and the Latin-based culture of the earlier Roman Empire.
Before Aidan this had been a fishing village, but after Aidan we were central to a vigorous new world.
What sort of man was he? I once heard a radio speaker describe a departed friend as "all gift, no threat".
So was also true of Aidan. His total gift of his life to God is followed by many stories of hospitality he gave to others. But never a story of where he threatened the enemies even of his closest friends.
He is worth getting to know in much greater detail.
Revd Canon Kate Tristram MA, MSc
"Buddleia's August Visitors"
Red Admirals
Dear Subscriber,
After our annual summer break, welcome to our September newsletter.
Always aiming to reach you on the first of the month, this issue will be mailed on St. Aidan's Day. With reverence, I willingly give way my usual introductory pride of place to Kate's above summary of Lindisfarne's patron saint - and perhaps worthy of being regarded as Apostle-of-England.
As I write, Sarah is convening an editorial committee at the vicarage to determine the way forward for the village newsletter - which terminated following her concern over our May issue of 'Holy Island Times'. Both Kate and myself have been invited to join and anticipate that HIT will reconstitute under the control of this committee. Its first publication is targeted in September.
Having nurtured HIT during its first 22 years, we (the 'Old Guard) wish them every success for the future.
But rest assured, dear reader, so long as we have the support of our authors and readers, we have no plan to discontinue your monthly publication.
As we near the end of the school holidays visitor-numbers remain high - with over 700 daily cyber visits to our tidal webpage! Please remember to verify the safe causeway crossing times. Do make sure that your mobile phone is fully charged and if you need to call for help PHONE 999
Farewell to our much-loved Minister and contributor, Revd Rachel Poolman, who departs the island. Her 'A Blessing - for this time and every time' continues our departing prayer to our readers. And my gratitude to all this month's writers who have written for you. We hope you enjoy our September newsletter and look forward to contacting you next month.
God Bless,
Geoff Porter
editor@lindisfarne.org.uk
www.lindisfarne.org.uk/ezine

PS: Previous visitors will remember Dr David Petts and the DigVentures archaeologist team who have planned a further Lindisfarne venture during September.
PPS: Congratulations to India on a successful lunar landing - on the dark side.... Well done the team - we wish you every success in your mission!
PPPS: As always, our thoughts are with those who continue to stand in harm's way.
---
The Internet Steering Committee formed during 1997/98 to represent the Parish Council, Community Development Trust, Parochial Church Council: the late Ian McGregor OBE, Revd David Adam, John Collins CBiol and Revd Kate Tristram MA MSc and Geoff Porter CPhys. Responsible for developing the "Islanders", "Parish" and "St.Mary's" integrated websites and monthly online newsletter (eZine).
Through its network of local writers and readership feedback, the eZine has regularly circulated throughout the world information on such topics as: Local Community, Local Heritage, Birding & Natural History, The Night Sky, Geology, Christian Retreats as well as monthly letters from St.Mary's and St.Cuthbert's.
Following the retirement of David Adam, some 20+ years ago, we were asked to develop David's church newsletter 'Holy Island Times' to become the community's newsletter. Integration with the eZine added articles from our local authors and online readership.
Kate Tristram and Geoff Porter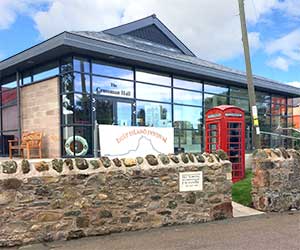 The past couple of months have been fairly busy for the hall, we have hosted a variety of groups: English Heritage, Natural England, a group from the Durham Diocese, Anthony Lo Guidice organised a wellness day, Pipes and Fiddles played their last concert for this summer ( over 50 persons attended), the NE-African Catholic group used the hall for a day, they come regularly each year and always enjoy themselves. We've had the Suzy charity for a two day art and crafts sale, they come regularly and help to support an Ethiopian Feeding Station, recently we have had the MND charity raising funds and the Linda's Lights ladies held a coffee morning to raise funds for the Village Christmas Lights.
The Community use of the hall has increased, we now have an exercise class, usually on a Tuesday evening at 6pm. A Youth Club has been started on Sundays, they use various venues including the Village hall.
In July the air source pumps and solar panels had their annual service, the engineer discovered there was a problem with one of the pumps that provided hot water, as usual these days we are waiting for parts for repair. The hall heating is not affected.
The 2050 group have been in touch to help hall apply for a grant so we can install a battery to collect electric produced by solar panels. If successful this would save a considerable amount as we come out of a three year electric contract in Jan 2024 and the new contract price is considerably higher than the existing one.
September is always one of the busiest months as Dig Ventures, the archaeologists, take over the hall, this year from 4 to 27th September.
We have the Holy Island Gathering at the end of September when relatives from islanders from overseas come together for the weekend.
All the best, Sue Massey
OUR NATURALIST ON LINDISFARNE
GREAT FOR SWALLOWS, BAD FOR SEABIRDS
There's both good news and bad news this summer for our birds on the island and in the general area of north Northumberland.
First the good news. Our island Swallows have had a good breeding season. The bad news is that bird flu, or to give its full title, Highly Pathogenic Avian Influenza (HPIA), hasn't gone away and is still killing large numbers of seabirds.
The Swallows success is largely thanks to the weather which was ideal for them over the past four months. Many pairs have raised large and healthy broods of youngsters who are now gathering around the island and preparing for their gruelling 10,000-mile migration to their wintering grounds in South Africa.
No doubt many of you will have seen these excitable gathering on the village wires and roofs over the last couple of weeks or so. By the time you're reading this many will have already started that long and very hazardous flight southwards.
The high breeding success is all the more welcome because the Swallows had a really late and miserable start to the season. The unusually cold weather of April delayed the arrival of many of them. It was well into May before most of them started collecting mud and grasses for new nests or simply refurbishing old ones left over from previous breeding seasons.
But once they started breeding there was no looking back and it turned out to be a very good season with some pairs going on to raise second broods, something which usually happens in above-average breeding years.
The dry and warm weather of May and June suited them perfectly and while July and parts of August proved disappointingly wet - in human terms anyway - the weather continued to be warm. That provided ideal conditions for flying insects to continue to hatch and provide a feeding bonanza for the Swallows and many other species.
During the season I regularly monitored 20 nests around the village and the beach from eggs being laid until young fledged. These 20 pairs successfully raised just over 100 chicks, including at least six second broods. I managed to ring more than 70 of the chicks as part of this general monitoring programme.
Thanks are due to householders and to our fishermen and others for information about breeding pairs at their homes and in various sites which made my work all the easier. Many pairs had broods of five young and one of my pairs laid six eggs but unfortunately one of them failed to hatch. It's been a long time since I've had the pleasure of seeing six youngsters in a nest.
The single most productive site was the cold store at the beach where I ringed six broods - and they were only the ones I could reach easily and handle the birds in safety. I'm afraid I'm now too old for scrambling about in inaccessible places as I did in the past!
Altogether around 50 pairs of Swallows nested on the island and if the results from the monitored nests are typical - and there's no reason to believe otherwise - that means that something like 250 young Swallows will have fledged this season, the best results for several years.
Guillemots packed together on one of their breeding sites on the Farne Islands. Living is such close proximity it's little wonder that avian flu spread so rapidly.
Photo: Mike S Hodgson
Many readers will remember last year when large numbers of seabirds, particularly Gannets, were washed up dead around the island as avian flu devastated the world's largest colony on the Bass Rock at the entrance to the Firth of Forth with its population of more than 150,000 of our largest seabirds.
Locally things were no better. More than 6,000 seabirds were found dead on the Farne Islands and around 5,000 a bit further south on Coquet Island where Britain's only colony of the rare Roseate Terns was badly hit.
On the Farnes the victims included over 3,500 Guillemots, 800 Kittiwakes, 460 Puffins, 330 Sandwich Terns and over 200 Black-headed Gulls.
I gather that birds are still dying on the islands this year and as a consequence and to take pressure off them during the breeding season, landings have been banned.
A short distance southwards at the Long Nanny Burn on Beadnell Bay the country's largest mainland colony of Arctic Terns has been badly hit this summer. Around 1,600 pairs arrived in spring, the highest number for several years, but soon after they began to hatch the eggs the small young began to die. In all, around 800 chicks and adults perished showing that the disease is still rampant.
Just the other day down at Jenny Bell's Well I found the bodies of a Kittiwake, a Guillemot and a Razorbill within 25 yards of each other along the strand-line. Last month I noticed an adult Little Tern, presumably from our own small colony, floating dead off the Heugh.
So far more than 60 species of birds, including swans, geese, ducks, waders, gulls and terns, have been recorded as perishing from the disease. A dead young Peregrine falcon found dead under the Heugh earlier in the year was also shown to have died from avian flu, the first recorded incident of a bird of prey in the county. Presumably it had caught the disease from eating infected prey.
The only shred of hope in this sorry situation seems to be that some birds have recovered from the disease and, hopefully, a degree of immunity is building up in the population. Only time will tell.
When the island is so busy like it is at the moment, I tend to think about how this particular busy period compares with those that have gone before. I think the consensus is that it has seldom been busier than now, and there is probably a good case for that. I can remember one year just after the financial crash of 2008 (when I think I heard the term 'staycationing' for the first time) when the castle had over 100,000 visitors through the door in a single season. Whilst work was subsequently done to analyse why that year had been such an anomaly - the years preceding and following that year we well down on that number - and of course staycationing was deemed to be the key reason, I still think to this day that we had a faulty till in the admissions hut!
On the flip side of this is the impacts such numbers have on the place. We have all seen the enormous queues on the causeway, the car park being packed-out and the knock-on effect that has on the village. I sometimes dread the drive to the castle from the village as it can often be quicker to walk. More specifically I look at what such numbers mean for wear and tear to the castle and its contents. Luckily the place is robust - that was I guess part of the original design brief - so unlike many other historic properties I don't have to worry about delicate furnishings or upholstery, intricate floor surfaces or gilt work. Even after the castle's military use ended, Hudson and Lutyens continued this theme filling the place with solid oak furniture, able to withstand the environmental pressures of the island. I do though still worry about the overall impact of footfall on our otherwise robust features; bricks in floor surfaces do get worn - even if a single footstep only causes a millionth of an inch of damage, how long would it take for a million visitors to walk over that exact spot? Twenty years maybe?
Upper Battery with flagpoledetail
Some of the Hudson/Lutyens scheme is vulnerable though, and recently we have been working with a local furniture/joinery company to replace some of the timber door latches which have either been completely broken through use, or even just worn down enough to stop them being functional. Being an Arts & Crafts architect, Lutyens wasn't too concerned about uniformity, and so it is not possible for me to just take a single set of measurements and send them off - if only. A single door latch 25 centimetres long might need as many as 14 dimensional measurements. Another job for the joiner was to make some new cleats for the flagpole. This season we have been flying the Union flag again but the old fixings (which some of you will remember used to support an NT flag) are showing their age and need to be replaced. These fixings and cleats are not original, but happily we do have a photograph from about 1912 which shows the arrangement on the flagpole base. With some rough measurements and this photograph, the joiner has been able to make us a set of new cleats (plus spares) to better hold the flag and halyard, but also look as authentic as possible.
Plans are coming together for a busy winter ahead where we have internal painting work planned, as well as more collections coming back from the store. I am also keen to get the old bell back above the front door. I might even give a quick ding while the scaffold is up!
Best wishes
Nick Lewis - Collections and House Officer
Lindisfarne Castle
nick.lewis @ nationaltrust.org.uk
07918 335 471
END OF ANOTHER SPRING/SUMMER SEASON
Lindisfarne Priory and Museum is coming to the end of another fabulous summer season. Over the winter our Visitor Centre was completely refurbished and has proved to be a great success with our lovely staff and of course our fantastic visitors. The Priory had a little facelift too, with a beautiful memorial for St. Cuthbert installed at the end of the nave, the interpretation boards renewed and a couple of extra benches.
Of course, we love all our visitors, and some are quite vocal about the Priory ruin. Mostly we get questions about the Saints, Monks, the Lindisfarne Gospels, Vikings, Kings of Northumbria or some say, "It'll be great when it's finished", or "Henry VIII has a lot to answer for". Of course, we explain that Henry kept it intact in case of attack and stored weapons in the nave. There are some ball shaped marks on the walls along with the erosion. It has even been suggested that it could be musket practice!!
Most visitors are here for the rich religious history, and the experience but others come for a myriad of reasons.
We get many L.J. Ross fans, and a few are disappointed that the altar from book 1 doesn't exist any longer. One was quite distraught, and it had to be explained that a certain amount of artistic licence is required. It was always going to create a more imaginative scene with a body draped over the altar rather than just thrown on the grass!
Another woman had waited a long time to visit the Priory. She was a fan of a particular band and believed that the gothic window in the apse was on the cover of one of their albums. When she arrived, she was rather upset that the mullions didn't exist and wanted to know when they had disappeared. As far as we know they haven't been there for a very long time. She was so upset I looked up the album and informed her it was Tintern Abbey in Wales!
We are looking forward to seeing Dig Ventures return in September to carry on with the fantastic digs. Always an exciting time for us. We are thrilled that some of the recent finds are now in our museum. My particular favourite is the beautiful tafl counter from the board game brought here by the Vikings.
All in all, we are a very happy bunch and most of us are obsessed with the place. It also helps if you are crazy about history too! We love to share our enthusiasm with the visitors, especially the children that come to site. Their little faces when you are talking to them is an absolute tonic. You never know, they could be the future historians, archaeologists or conservators.
As we move into Autumn and Winter hours the light over the Priory changes, and the walls take on the beautiful light that the setting sun creates. It just makes you warm all over and privileged to be in such a magnificent place.
Sophie Howard - Site Manager
Lindisfarne Priory
NATURAL ENGLAND LINDISFARNE NNR
It has been a rather changeable last couple of months leaving us thinking, at times, where has the summer gone! However, after an entire month (19th May - 19th June) without any appreciable rain on the Reserve the wet weather has been a relief due to the dunes being tinder dry. As we move towards autumn we will begin to focus on the habitat management of the Reserve. Volunteer parties will be out removing some of the regenerated scrub and non-native invasive species that are growing in the dunes. The cattle will also be arriving in the next month or so to start grazing through the rank grasses that have grown up throughout the summer.
The Shorebird season is beginning to come to an end although there are still plenty of fledglings and even some active nests around. By and large the season has been a good one. The tides and weather through the peak nesting period were kind and preliminary results show good numbers of fledglings including a pair of Ringed Plovers underneath the Heugh which managed to fledge two chicks. A full round up will be given in due course once the numbers are fully crunched. We are now entering a migration period where many thousands of birds return here for winter or use the Reserve as a pit stop on epic migrations across whole continents back to their wintering grounds. At this time it is important to give birds plenty of space and keep dogs on lead or close heel as per the byelaw. When birds arrive they are exhausted from long arduous flights and need the space and time to feed up and lay down fat reserves vital for their survival. If they are regularly disturbed many of these birds will not survive the winter or the mammoth flight back to their breeding grounds.
Avian Influenza has been present throughout the season at low levels but late last month there was a notable increase in dead birds on the Reserve. These were mostly Kittiwakes but a number of other species have also been affected. Luckily, this has occurred after the main seabird nesting season so we haven't seen the numbers of dead carcasses as last year. At present there are tens of thousands of birds on their way back to the Reserve to spend winter so this is something we will be closely monitoring as more and more birds arrive. If you do see any dead or sick birds across the Reserve please do not approach or touch them. You can report them to DEFRA's website or phone the DEFRA emergency helpline on 03459 335577. You can also phone the Reserve office on 01289381470.
We have had a successful summer of events despite the weathers best attempts to thwart some of them. The Festival of Nature was a great success for a second year in a row attracting over 500 people on the day. There was rock pooling, a Seal watch and craft and games, enthusing young and old about what a special place the Reserve is for biodiversity from 250kg seals to tiny marine organisms that live in the rockpools around the Reserve. We still have a number of events this year including the first Goose Festival which will be happening in October. We will give more details of specific events and times for the Goose Festival in the next issue of the ezine.
NE volunteer and local historian John Woodhurst's series of 'Searches for Churches' walks come to an end this month with only two more walks available. They have been very well received and extremely popular. The walk explores the origins of the early Medieval Monastery on Holy Island based on the most recent archaeological evidence. There are still places available on the walks. The walks are timed with the tides to ensure that people can attend the walk and then leave the island before the tide comes in. The dates and times are below:
Saturday 2nd September - 11am - 1pm
Sunday 17th September - 10am - 12pm
If you would like more information or book onto one of these fantastic walks please email rebekah.outram@naturalengland.org.uk
Andy Denton - Reserve Manager
Lindisfarne & Newham NNRs
LindisfarneNNR Blogspot
We are living through an inflection point in the history of space flight. In the first eight months of 2023 there have already been an extraordinary 128 rocket launches to Earth orbit. An impressive 122 of these were successful. This accelerating pace is unlikely to slow any time soon. On the contrary, as explained below, both the rate of launches and the scale of payloads lofted into orbit are set to massively increase.
Human spaceflight is enjoying a golden era. In May of this year 17 people were simultaneously in orbit, setting a new "out-of-this-world" record.
And in the arena of unmanned science and exploration there have already been four exciting missions so far this year. In July the European Space Agency (ESA) launched the Euclid astronomical telescope, to which I will devote a future column. Two probes, one Russian and one Indian, have been sent to land on the south pole of the Moon. In April ESA safely despatched its Jupiter Icy Moons Explorer (JUICE). Two asteroid missions are also in prospect: in September NASA is expecting its OSIRIS-Rex spacecraft to return to Earth with a sample collected from the asteroid Bennu; and in October NASA plans to launch a similar mission to the Scotland-sized asteroid 16 Psyche, which seems to be largely composed of metal.
Later in the year we can look forward to what will undoubtedly be a vitally important development for the future of space flight ... if it is successful. Elon Musk's SpaceX is due to have a second attempt at launching its new Starship rocket to orbit. The company made the first attempt in April 2023, which ended in a fiery explosion four minutes into the flight. This was not a great surprise, as the enormous new heavy-lift vehicle is based on a completely new design and is intended to be fully re-useable.

Two interesting curves. On the left is the contrail from a SpaceX Falcon 9 night launch, lofting a constellation of satellites to Earth orbit (credit: SpaceX/Creative Commons). On the right is a chart plotting the total number of objects launched into orbit each year from the dawn of the space age to 2022 (credit: https://ourworldindata.org/ Creative Commons BY).
When it eventually works, Starship is destined to transform both the practical reality and the fundamental economics of space flight. Starship is the largest and most powerful rocket ever flown, capable of delivering with every launch a payload of at least 100 tons (100,000 kg) to low Earth orbit. That is six times the payload of SpaceX's current workhorse the Falcon 9. It will bring the cost of reaching space down by at least a factor of 10 in the short term and quite possibly by a factor of 100 over the longer term.
The coming of SpaceX's Starship can be compared to the advent of the railroad in North America in the 19th Century. It will enable a large-scale human return to the Moon. And it will make possible the initial colonisation of Mars, something that many of us can now expect to witness in our lifetimes.
It is not beyond the bounds of belief to imagine that someone already growing up on Holy Island will, before long, leave our planet to begin the next chapter of human history.
Max Whitby, thevisibleuniverse.com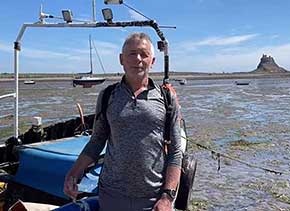 Religion and Rocks
With a few exceptions, like the frosty reception that James Hutton and Charles Darwin got a few centuries ago when they challenged and overturned literal biblical thinking on the age of the Earth, Noah's flood and evolution, religion and geology rub along just fine. (We'll just place creationists and others whose distrust of science is extreme, in the same category as the Flat Earth Society if that's ok).
In fact there are a lot of links. We could start with the references in the bible to things like earthquakes, tsunamis, burning gas seepages (the burning bush), landslides and volcanic eruptions. Then there are biblical/geotechnical parables - Matthew 7-24 et seq; the wise and foolish builders who built their houses on rock and sand. When you look at the awful consequences of unwise development in identifiably unstable locations today (eg housing on floodplains and known sink hole and mining subsidence, ski resorts on the slopes of volcanoes) you sometimes wonder if we have learned anything.
There are some more practical associations: the siting of chapels, churches and such on prominent bedrock - the St Cuthbert's hermitages on the Whin Sill outcrops off Holy Island might be included here. Staying in the northeast, the wonderful cathedral at Durham sits in the hairpin loop of the River Wear on a prominent outcrop of Carboniferous sandstone (the Low Main Post). Less well known is that the walls and main structures of the cathedral are built of exactly the same sandstone layer from a quarry just the other side of the river and the street you climb up as you approach the cathedral was once the haul road for that stone. In the Chapel of Nine Altars are columns of Frosterley Marble - actually a fossiliferous limestone from further up the Wear valley. But enough of Durham for now, we'll come back to it at the end of this piece.
It is impossible to separate geology and rocks and church architecture and graveyards. At Lanercost Priory just over the Cumberland border the two very different red and pale brown sandstones used in the building and robbed (or should I say re-purposed) from Hadrian's Wall nearby tell geologists that the Priory is almost on top of the dividing line between two major periods in Earth's history - the Carboniferous and the Permo-Triassic. Gravestones and perhaps less appealingly the graves themselves, are another thing geologists get curious about. The former is about the provenance of the stone, the latter is an occasional opportunity for a field geologist to find out what the geology is beneath the soil 1.8 metres down.
There are many, many other linkages that can be made but my word limit has been used up and I'd like to return to Durham and close with this rather profound one. As we heard above geology literally defines Durham Cathedral, but did you know that in a sense the church defined geology? Back in the 14th Century a Durham bishop, Richard de Bury, whose tomb is in the cathedral, was seeking to untangle the philosophical distinctions between law, art and science. He invented the term 'geologia' - Earthly science.
FROM THE COMMUNITY OF AIDAN AND HILDA
Pete Gregg's App of his daily pilgrimage from Iona to Lindisfarne, which makes references to my book St. Aidan's Way of Mission (BRF), has stirred up all sorts of people to make contact. The co-founder of the band, Iona, will stay on the island next Spring. It has also revived for some the campaign to make Aidan the patron saint of The Isles. Please put in your 'oar' for this.
On St. Aidan's Day, August 31, two groups were due to come together on the island. The first was a group of retired people who meet monthly in a Berwick pub. They aimed to gather around St. Aidan's Statue, enjoy reflections and a "St. Aidan's Rap"! The second group are Northumbria members of The Community of Aidan and Hilda: to say Midday Prayer for St. Aidan from 'Liturgies From Lindisfarne' followed by the first vows of a pilgrim guest from USA. This was to be followed by grub in two places before the tide turned.
Ray Simpson
http://www.raysimpson.org/
ON THE FRINGES OF LINDISFARNE
PICTS AT WAR
We wish very much that we had some documents from the Picts describing their own society. But we have nothing in writing except a list of their kings. Instead we have a strange Pictish system of symbols carved in stone, to be discussed in a future issue of this paper.
But the Picts were Celts and we know quite a lot of other Celtic societies, e.g. Scots and Britons. So it is probably safe to assume many similarities.
1. These societies divided into classes. At the top were the warrior classes headed by the 'king'. These were the landowners therefore the people of power. They may have divided further into what we would call nobility and gentry. Then there were the farmers i.e. all the food producers. They did not normally fight though they could be called on to defend their territory. At the bottom of society were the slaves.
2. The people seem to have divided fairly readily into areas of land or 'kingdoms'. Depending on size these could be greater or lesser. Much of the fighting occurred between these, bigger kingdoms attempting to absorb their smaller neighbours. The king ruled by his personal ability: he had to be a successful fighter and no doubt also a man of commanding personality. It was considered important that he had a sense of justice. He ruled alone: he could consult as much as he liked but there was no kind of parliament. He had to maintain his own strength; he could of course be deposed.
3. The warrior classes also had a system of education which had the sole purpose of producing successful warriors. The most important feature of this was 'fosterage'. From about the age of eight the boys were transferred to other families of similar social status. It was then the job of the foster-father to teach them the skills of battle, and to make sure that they grew in strength and courage. They remained in fosterage until they reached the age of about 14, when they were reckoned to be men and joined a warband. There were advantages in this system: it provided children with an alternative family of foster-parents and foster-siblings. Very strong bonds of love and loyalty might be formed.
Next month we deal with two important battles...
FROM SAINT CUTHBERT'S CENTRE
At the end of June our Minister, Revd Rachel Poolman, retired early due to her ongoing health issues. Those of us who worked with Rachel miss her guidance and inspiration and her gentle, quiet ministry.
Countless tourists, visitors, local people, and members of the surrounding churches as well as the wider United Reformed Church, here in Northern Synod and beyond, have been blessed through time spent with Rachel in conversation, in prayer and in worship. Followers of our Facebook page already miss Rachel's weekly prayers and reflections, for which she has a very special gift. We hope she will continue to share her gift with others and wish Rachel every blessing in this new chapter of her life.
At St Cuthbert's, we must now look to the future. We are hoping that the post of minister will be filled by someone who will work with the unique nature of St Cuthbert's Centre and Holy Island itself. We hope to continue to develop our good relationships with all the other faith groups and their leaders, as well as everyone living on or visiting the island.
As we prayerfully move forward, we ask that you hold us in your prayers too.
Ann Tunnard
St Cuthberts Centre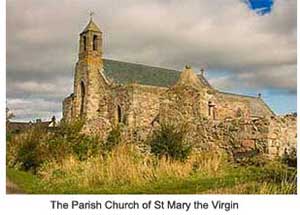 Dear friends
As I write, it is nearly St Aidan's Day - 31st August. St Aidan of course founded the monastery on this Holy Island, and brought Christianity to the north of England in 635AD. What does Aidan have to teach us about our lives today, our journey from the past, through the present and on towards the future?
There is a long heritage of Christian life on Holy Island - and there are many opportunities and challenges facing us here and indeed in Christian communities across the globe today. I'm not sure that St Aidan had to deal with coronavirus or war in Ukraine - but I'm sure he had other challenges! St Aidan was sent by St Columba as a peacemaker to this area of northern England and our ministry aims to continue this ancient path of peace.
So what does a pilgrimage of peace and reconciliation look like? What made St Aidan a peacemaker as he walked the lanes of Holy Island, Bamburgh and the surrounding countryside? Making peace and reconciliation are about renewing relationships in order to live better together - with God, self, others, and the earth. Peace is a journey - from the past, through the present, to the future. And this journey of peace involves all of us. Journeys of peacemaking and reconciliation start with the same thing - our stories. God's story, your story, my story. We are not all the same, and we do not all need to agree on everything all the time. But how can we live with difference well if we do not know something about each other, if we do not share our stories, if we do not try to understand the other? Because not trying to understand the other, to stand in someone else's shoes, has potentially dangerous consequences. Fear of the other, power imbalance, hate can flourish when we are unable to live with difference.
Meeting people where they are, sharing our stories, walking humbly and practicing generosity are at the core of our gospel life. We need an understanding of ourselves and our own stories in order to start to relate to others and understand their stories. It is in this understanding that relationships, once broken, can start to heal. The community here on Holy Island ebbs and flows with the tide. By engaging with each other - full and part time residents, pilgrims, visitors can help us all to see the world in a different light, with its unique challenges, broken relationships, hopes and fears, and thus enables us to take our part in a transformative and Christ centred journey.
This Holy Island is sometimes called a liminal space. Maybe that is partly why Aidan chose it. A place where some say heaven and earth are close together. Where the tides enable reflection away from the crowds. Where the natural world intercedes for us twice a day with the coming in and out of the tide. I don't suppose that St Aidan, or St Cuthbert had a particularly easy time. And we certainly know that Jesus didn't. But they kept on keeping on. One foot in front of the other. All the way across the pilgrim poles, across the sands, over the liminal space of transition, transformation and ultimately salvation.
And so as we journey through our lives, we can pray - for ourselves, for the people we meet along the way... for what has happened in our lives and our hopes for the future. Let us indeed walk in Aidan's footsteps - steps of peace, of love, of sharing the gospel of good news.
With every blessing
Sarah
ST. MARY'S NOTICES
Times for Services
Sunday
10:45: The Parish Eucharist
08:00: BCP Eucharist ( first Sunday of the month only)
17:00: Evening Prayer
Monday to Friday
8am Morning Prayer
5pm Evening Prayer
(Updates or changes will be posted in the church porch and online)

A Blessing - for this time and every time

Lift your hearts to heaven
and receive the eternal gift of peace

Keep your feet on the ground
and walk with those who need God's love

This day

You are loved by God
You are held by God
You are blessed by God

Now and for evermore

© Revd Rachel Poolman