"Thank vou Miss Bushnell"
Credit: Thelma Dunne
A bit from me...
Thank vou to Maureen Bushnell
Crossman Hall
From the Community of Aidan and Hilda
Our Naturalist on Lindisfarne
Lindisfarne Castle
Natural England
Heavens Above
Northumberland Rocks
Northumberland Coast AONB
Jael and Sisera
On the Fringes of Lindisfarne
St Mary's Parish Church
A Blessing - for this time and every time
Dear Subscriber,
Welcome to our summer (July/August) newsletter and we hope as free from stress as possible during this period of world-wide tension and unrest.
Throughout 27 years of publication we continue to retain readers having close or family links to the island. Some will have been pupils at our Church-of-England first school and been taught by Maureen Bushnell over the many years prior to her retirement some 30 years ago... Always a hard-working member of the PCC she went on to devote more time and energy into becoming one of our 'Church Readers'. Perhaps some of you may have had the privilege of attending St.Mary's and appreciated her preaching and a friendly chat afterwards. The community is certainly considerably changed since she first set foot on these shores. We will be considerably saddened by her moving to be nearer to her family. Thank you to Islander, Thelma Dunne, for providing the lovely pictures and to Anna Raine who has been Maureen's mainstay during the difficulties.
Throughout those same 27 years, since the late David Adam and I planned our 'Stay-In-Touch-Ezine', we have always closed on a 'Letter from the Vicarage'. Having informed the PCC of her intention not to write for the time being, we are without the usual newsletter closure. Also, this month Ann Tunnard has been unable to provide "From our United Reformed Church". Thank goodness we have retained Revd Rachel Poolman's beautiful prayer: 'A Blessing - for this time and every time'.
My thanks to all the writers and particularly our readers who make our publication possible.
For those hoping to visit the island during the weeks ahead, even before the onset of continuous weeks of school holidays, our single public car park already sometimes fills quickly after the tide has opened. Traffic queueing is inevitable. Remember, that single 5-mile road leading to Holy Island is our only road. Not only in places, will you be sharing it with walkers and family groups on bicycles and some unused to driving on 'our-side-of-the-road' but also with heavy, fast moving commercial vehicles - perhaps even emergency services involved in saving someone's life...
All this hubbub is quite a contrast with how empty and isolated it can become when activity ceases. Please check the causeway crossing times in advance. Make sure that your mobile phone is fully charged. If you need to call for help PHONE 999
We hope you enjoy our summer newsletter and look forward to contacting you in September.
God Bless,
Geoff Porter
editor@lindisfarne.org.uk
www.lindisfarne.org.uk/ezine
PS: Ever present in our thoughts are those nearby who continue to stand in harm's way.
THANK YOU TO MISS MAUREEN BUSHNELL
Our Maureen Bushnell
From all the parents you have supported and advised and children you have taught on the island and the mainland, and your service to the village and parish and also Marygate Retreat House.
Thank you from the many friends you have made on and off the island.
You will leave this place and your home to be nearer to your family and have the extra care you require and deserve for your future ahead. We shall miss you.
We hope you enjoy the gifts you received to remind you of this village and we are proud that you chose to spend most of your life here as part of our island and community
Your Friend always
Thelma
---
Maureen with Anna
Maureen's Response
I am leaving my life on the island and all my friends past and present with a heavy heart.
I require extra help with my daily living and the time is right for me to move to a care home nearer to my family.
Thank you all for your friendship and I have been blessed to live here among you all on Holy lsland. I will never forget you
Maureen
May 2003 - Lindisfarne Gospels (facsimile) welcomed back to its birthplace
Led by Br Robert SSF: Maureen and Ian (church wardens), the Bishop, Br Damian SSF (Vicar), Revd Canon Kate .....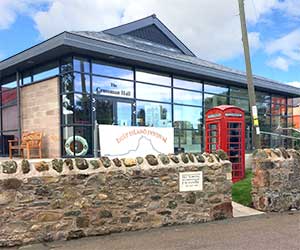 The hall bookings are ticking over nicely in July, some of our regular users are once again in the hall. The second concert with Pipes and Fiddles is on 29th June with the third and final one on 13th July. The yearly pilgrimage of the NE African Catholic group goes ahead on 22nd. We have Anthony Lo Guidici rehearsing his dance routines, he is a regular user of the hall. The Durham Diocese, English Heritage Group and a Surveying group are using hall.
In early August the hall hosts the charity"Suzy Fund", apart from Covid restrictions this charity has used the hall every year since the hall was built. They sell various works of art and all money raised goes towards an Ethiopian Feeding Station.
Middle to late August is fairly quiet in the hall, there is a Coffee Morning on 21st in aid of 'Linda's Light's' the charity that supports our Christmas Lights around the Village.
The community area in hall is well used with Badminton, Yoga, and whist played on a weekly basis. The Warm Hub on a Tuesday morning is a fairly small group but enjoyed by all who attend.
All the best, Sue Massey
OUR NATURALIST ON LINDISFARNE
A BLIZZARD OF WHITE BLOSSOM
Anyone who has walked around the island in recent weeks, particularly along the Straight and Crooked Lonnens, can't have failed to notice what an incredible season it has been for Hawthorn and other blossoms.
The dry and sunny weather which began in late May and continued well into June with some heat wave conditions was just what our bushes and trees needed to put on a superb show.
With no rain or strong winds to damage the thousands of flowers, we were treated to one of the finest white and pink displays I can ever remember.
A patch of blossom with more than tinge of pink.
On some bushes the blossom was so thick and abundant that it concealed the small and glossy leaves of the Hawthorn. That has given the promise of a huge berry crop in the autumn, something that will delight the incoming Scandinavian, Baltic and Russian thrushes which flood through the island between late September and early November.
It wasn't just Hawthorns which provided a fantastic display but all the other regularly blossoming bushes and trees too, not just on the island but everywhere else that enjoy the good weather conditions.
There's quite a bit of folklore about Hawthorn blossom and berries. The old adage "cast not a clout till May is out" probably refers to the appearance of the "May blossom," to use its old country name, rather than then the actual month.
Similarly that old wives' tale about a heavy berry crop indicating a harsh winter to come is just that - an old wives' tale. It's got nothing to do with the forthcoming winter but just an indication of a good warm and dry spring which allowed an abundance of blossom to survive and form berries.
I love the scent of Hawthorn blossom but many other people don't, finding it a bit cloying and even musty. But then everyone to their own taste.
Hawthorn blossom along the road to the island farms. White blossom so thick it hid most of the green leaves
When I was getting a few photographs on my phone (does anyone use a camera these days?) I noticed that the various bees and other insect pollinators were certainly being attracted by the blossom and presumably also by the scent.
What did stand out this year were the differences between individual bushes. On the vast majority the blossom was the usual brilliant white or cream. But on a small number the blossoms had a very distinct pink or reddish tinge, as our photographs show.
By now most of it has had its season and faded with thousands of still green berries forming which will gradually ripen a glorious scarlet over the next couple of months, just in time for the hungry arrival of Fieldfares, Redwings and northern Song Thrushes and Blackbirds. If we're very lucky migration might bring a few of those other berry-eating specialists, the very colourful Waxwings.
While the island was looking at its late spring best I had the pleasure of doing some filming about birds with Matt Baker and his dad, Mike, as part of work for the island episode of Travels with Mum and Dad, the new Channel 4 series.
Mike and his wife Janice run a farm in Weardale in County Durham, Matt's childhood home, which featured in an earlier series, Our Dales Farm. Mike told me that they try always to operate the farm sympathetically with nature and by all accounts are making a great success of it.
They have Barn Owls nesting in a box in their buildings, have planted miles of hedgerows where none previously existed, have a nest box scheme for small species and time their hay and silage cutting so that ground-nesting birds have fledged their young.
Mike told me that one of the saddest sights he'd seen recently was a pair of Curlew vainly seeking their small chicks in a dales field which had been cut for early silage. The chicks conceal in the deep grass had perished during the operation.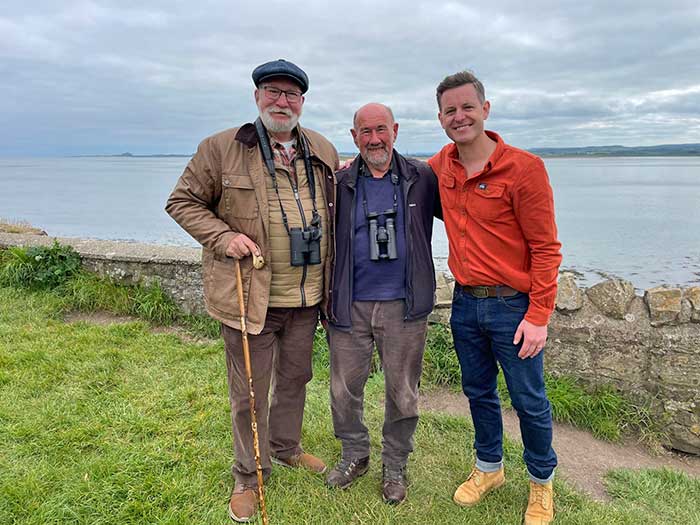 On the Heugh with Mike and Matt Baker.
During the course of our chat on the Heugh he was fascinated to hear about the links between the island, St Cuthbert and Eider ducks. That, of course, involves the often-quoted claim that Cuthbert, during his solitary exiles on Inner Farne, laid down rules for the protection of the female Eiders, their nests and ducklings. It would have made him Britain's first conservationist by well over a millennium.
It's a lovely story but doesn't seem to be mentioned in any literature further back than the Victorian era. I'd really love the tale to be true but it may be nothing more than the product of an imaginative 19th Century mind!
Whatever the truth, Mike was delighted to join me in watching a few Eiders on the sea just off the Heugh. A couple of drakes in their striking black and white plumage with their moss green neck patches were particularly obliging for us - and for the film crew.
Since we last spoke the summer has really kicked into gear, and the long hot days have allowed the Gertrude Jekyll Garden to flourish. There was a period at the beginning of June I think when in a matter of days the garden transformed from its leafy green Spring self, into the bountiful riot of colour Gertrude intended it to be at its peak when Edward Hudson was up for the summer.
One other noticeable change also occurred this year, in that our gardener Fliss and her team of volunteers have planted- in the garden's central sedum bed - the Gladiolus x brenchleyensis which is a very old variety and was particularly loved by Jekyll. Until about 15 years ago this variety was thought to have been lost to cultivation, but the National Trust's Plant Conservation Centre in Devon located a corm and has been carefully propagating it so that it can once again be planted as Jekyll planned back in 1906. We are expecting it to flower for the first time this year - probably in the latter part of July due to the cooler spring - and so that is very exciting. This comes at a time of renewed interest in the creative partnership between Jekyll and Edwin Lutyens with the National Trust's acquisition of the house and garden at Munstead Wood in Surrey; Jekyll's home which was designed for her by Lutyens.
Speaking of plants, every few years we must carry out vegetation control on castle crag. Most notably, this work covers the non-native and invasive Red Valerian which was introduced by Jekyll in 1906. This very distinctive flower with tall stems and bright red flowers is very resilient and also rather damaging to the dolerite crag. Earlier this month we had a couple of steeplejacks descending the crag looking at some of the worst areas, and we will look to finish this work off shortly. Steeplejacks will also soon be inspecting the south side of the crag (the road visitors use heading to the castle entry and boat sheds) as part of regular checks. This will require the south road to be closed for a day, but this is programmed for a Friday when the castle is closed. We have also temporarily closed the garden steps to the north of the castle while we organise some repairs to them.
Visitors have a few months left of Paul Rooney's Song after Nature installation, so we are well on with sorting out next year's offering. We are again working with an artist who will take over the Upper Gallery, but the rest of the place is due for a refreshed interpretative scheme exploring stories relating to the castle's past. It is always great fun (not to mention challenging) looking at the spaces in different ways and trying to tell other stories - often not told before - in rooms that are very much situated in that early 20th century scheme Hudson and Lutyens developed. There are a few good ideas knocking around so we will see how all that goes. The artist is also looking at running some community workshops in September to get additional 'voices' involved in her work, so watch this space for more information on that.
July 2023 marks 110 years since the installation of the castle wind indicator by Macdonald Gill, under commission for Lutyens. We recently carried out maintenance work on the mechanism of the piece, which consists mainly of rods and cogs hidden behind chimneys and under floorboards. The metalwork needs a good clean down and then an application of lubricant to keep everything moving nicely, along with a good visual inspection and photographic record to be taken just in case anything untoward is present. We then 'calibrated' the dial with the wind vane on the roof, which sounds quite technical but is essentially two people with radios, one up a ladder in the Entrance Hall and one of the roof with a long pole. By checking the wind direction (the Union flag is handy for this) we can then make sure what is happening outside is accurately displayed inside. The charming simplicity of this process (!) is I think something both Gill and Lutyens would have approved of.
Best wishes
Nick Lewis - Collections and House Officer
Lindisfarne Castle nick.lewis @ nationaltrust.org.uk
07918 335 471
NATURAL ENGLAND LINDISFARNE NNR
Shorebird season update
As we have just passed the summer solstice the days will slowly be drawing in from now on. It has been an incredibly dry time across the UK once again. Since the start of the year rainfall has been far below average and between May 19th and June 19th no notable rain fell on Lindisfarne. Many of the dune slacks have dried out. As a result, the dune grassland is now tinderbox dry and is a high fire risk. This is a timely reminder to not use anything with an open flame on the Reserve and don't use barbeques. It only takes one ember when the grass is this dry. Although we have had a few days of rain this has not diminished the fire risk. Water table levels are still very low.
Late June on the Reserve and wildlife activity is at its zenith with ground nesting Skylarks and Meadow Pipits buzzing to and fro feeding a multitude of hungry mouths in deftly hidden nest bowls within tufts of dune grassland. Shorebird nests across the Reserve, from Cheswick black rocks to Budle Bay, including Holy Island, have also begun to hatch with tiny long-legged Ringed Plover chicks zipping along the sandy beaches with their parents frantically chasing after them. Tern chicks have also hatched and have matured quickly with a number already beginning to take flight. Some however, are still incubating eggs within the tiny scrape they made into the sand. Tides and weather have been kind this year meaning we haven't lost any nests to tidal innundation and sand blow. Breeding numbers are good and so far the chicks are progressing well. All these breeding birds are extremely vulnerable to disturbance so please adhere to the seasonal restrictions and byelaws. Shorebird Protection areas will be present on the Reserve until early September. All signage can be found at the main access points of the Reserve so spend some time reading and familiarising yourself with the sensitivities of the area. We will bring you full update of the Shorebird season once it is over.
The botanically rich dunes have now come into flower with vibrant purples and Pinks of Northern Marsh Orchid and Common Spotted Orchid and the bright yellows of Birds-foot Trefoil and the delicate Butterwort carpeting the ground. The dunes are now alive.
Avian flu is still present in low levels but has not been confirmed on the Reserve this summer. At the moment it doesn't appear anything like last years outbreak but we have seen an increase in gull mortality in recent days. If you see any dead or sick birds please do not approach them and phone the Defra emergency line on 03459335577.
We have a whole host of events coming up this summer including the Lindisfarne NNR Nature Festival on 5th August - where there will be lot of fun family activities for you to take part in. . If you are interested in attending any of our events please visit http://lindisfarnennr.blogspot.com/p/reserve-events.html. There are also occasional pop-up events so keep your eyes peeled on our social media pages.
Natural England volunteer and local historian John Woodhurst continues his series of walks - 'Searches for Churches' which explores the early medieval origins of the monastery using the latest archaeological information.
We have 4 walks scheduled over the next couple of months which are as follows:
8th July: 1pm - 3pm
26th July: 1pm - 3pm
3rd August: 10am - 12pm
19th August: 10am - 12pm
If you would like to book on any of these walks please call the Reserve office on 01289381470 or email andy.denton@naturalengland.org.uk
Andy Denton - Reserve Manager
Lindisfarne & Newham NNRs
LindisfarneNNR Blogspot
In June's column I asked ChatGPT (the new generative Artificial Intelligence or AI) to compose some verses about Holy Island astronomy in summer. It made a pretty decent fist of the challenge. I promised to write further about AI this month.
What has AI got to do with astronomy you may ask? Well, there are two contrasting answers to that question: the first is cheerful; the second (spoiler alert) is not so cheerful.
HAL 9000 from Stanley Kubrick and Arthur C Clarke's brilliant 2001: A Space Odyssey is perhaps the greatest fictional depiction of a malevolent artificial intelligence. Although if fact HAL was merely obeying the rules he had been programmed with. Credit: MGM/Photofest.
The good possibility is that AI will help us search, analyse and comprehend a coming tsunami of astronomical data, soon to be generated by a new generation of telescopes. The Vera C. Rubin Observatory in Chile is nearing completion. In late 2024, its 8.4-metre telescope will deliver up to 15 terabytes of data per observing run. That is approximately 15 million books worth of information every night. Our only hope of processing such a data deluge is with help from AI. I'll tell you more about this incredible new telescope in a future column.
The bad AI connection to astronomy involves the Fermi Paradox: as first stated by the Italian physicist Enrico Fermi one 1950 lunchtime in Los Alamos, where he had helped to invent the Atom Bomb. "Where is everybody?" Fermi is reputed to have asked his lunch companions. "Everybody" being aliens... which one might expect to be present in the Universe in abundance, due to the astronomical (sorry) number of stars we see all directions around us. Surely, Fermi asked, if extra-terrestrial intelligence is abundant, we should have been visited by aliens, or at least found evidence of their past presence?
The stark reality is that we have now been searching for signs of intelligent alien civilisations using our radio and optical telescopes over many decades. Nothing convincing has yet been detected. So, what is the explanation?
A grim possibility is that something causes intelligent civilisations to destroy themselves before they can develop interstellar travel. Nuclear and biological weapons are plausible candidates. Another cause might be AI. You may have heard in the news that some of the people who created the latest AI systems are now deeply concerned about the "existential risk" this technology may pose for humanity. The basis of this risk lies in two concepts: self-improvement and alignment.
Something that ChatGPT can do astonishingly well is writing computer code. Now consider that an AI such as ChatGPT is itself built from computer code. So human creators of AI systems could in principle ask those systems to improve themselves. This has the potential to result in an "intelligence explosion", whereby future AI's may rather suddenly become superintelligent. We humans might thereby become like ants in comparison.
The challenge then is to "align" an AI's intentions, so that it cares about humans and is motivated to look after us, rather than accidentally or deliberately harm us. Such alignment turns out to be surprisingly difficult. If you are curious to find out why, I recommend the prescient book Superintelligence written by Oxford Professor Nick Bostrom in 2014.
Max Whitby, thevisibleuniverse.com?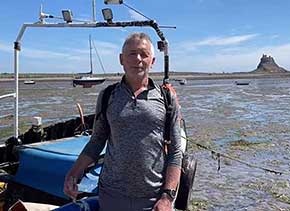 WHAT LIES BENEATH .... FROM ABOVE
Having been pretty verbose in last month's edition I thought you deserved a break from words with a pictorial approach this time. Rocks and landscape look very different from the air (but still as stunning and interesting). Yes I'm one of those annoying airline passengers who keeps the window blinds up so I can gaze at the ground below and identify what we are flying over.
What's more this is a summer holiday quiz. How many of these eight places in the northeast of England can you recognise. All photos taken with my own fair hand on a recent flight to look at rocks across the northeast. And for a hard-earned bonus point for each, what's the geological significance of these locations?
Answers below .....
(Each photo labelled with a letter)
ANSWERS to 'What lies beneath .... from above'
A: Durham Cathedral. Constructed of blocks of the same 315 million year old Carboniferous sandstone that it sits on. The sand making the sandstone was once a river running through a hot swampy forest.
B: Tynemouth Priory and Castle. Located on a cliff top of 275 million year old Permian sandstone and limestone with a foreshore of older Carboniferous sandstone. Once a desert and then a salty warm sea.
C: Sycamore Gap and Castle Nick (Milecastle 39). On Hadrian's Wall and the 295 million year old dolerite intrusion of the Whin Sill. The two "gaps" were eroded by water melting out of a glacier 15000 years ago.
D: Seaham Harbour. A place where in the 19th century the natural resources of coal and iron were mined, manufactured and exported.
E: Tunstall Hills, Sunderland. Two hills used by sailors to guide them into harbour. They are Permian Magnesian Limestone that was once a coral reef that stretched 20 kilometres south 270 million years ago.
F: Upper Teesdale, Cauldron Snout and Falcon Clints: more Whin Sill forming the waterfall and the high cliffs of the Clints.
G: Waters Meet, the confluence of the North Tyne and the South Tyne west of Hexham. The meeting of the two rivers often of different colours as water and sediment flows down from Kielder and the north Pennines.
H: Beldon Cleugh. If you got this then you are a serious geology-geography nerd (and you may have bought the Northumberland Rocks book?). It's in the Pennines west of Blanchland. It's a subglacial meltwater channel cutting across the hills. 20000 years ago a minimum of 500 metres of ice covered the whole northern landscape and blocked all the existing river valleys - so the water took its own course - often up and over hills!
How did you do? If you scored 4 or more I think you have done pretty well!
NORTHUMBERLAND COAST AONB
Our Coastlands bid was submitted to the National Lottery Heritage Fund at the end of May. If successful, we'll receive around £4.5m to deliver a diverse range of projects including habitat restoration, carbon sequestration, restoration of cultural heritage, new archaeological research and recording oral histories. Projects will centre around one unifying theme - tranquility - and over a five-year period we'll encourage people living in and visiting the coastal area between Hauxley and Longhoughton to connect with their natural and built environments.
We have everything crossed for a successful outcome!
The AONB newsletter
We're hoping to release our newsletter more frequently in the coming months. To subscribe, please visit our sign-up page here www.northumberlandcoastaonb.org/newsletter/
Introduction :while once reading some 18C history, I came across the name of Jael Godolphin, daughter of some noble politico of the day. Odd name for a girl, I thought, but paid it no more mind than that, at the time.
I came across the name again, reading an Essay by Lord Macaulay (Whiggish opinions, but a first-class writer). He was dealing with the efforts of King James II to return England to the Church of Rome. This would have involved turning out of their benefices the reverend divines of the Church of England. Such a one, being turned out of his place and emolument, for a 'sly Father' from Italy or Flanders might find food for thought , wrote Macaulay, in the Old Testament texts dealing with 'Ehud's knife and Jael's hammer'.
I suspect that Macaulay's 19C readers were more assiduous in OT readings than we are today. They would have instantly twigged the reference to Jael and her hammer. At the time, it was lost on me. I did read it up, but not for a while.
Who then was Jael? She was a Bedouin woman living in Canaan/Palestine, about 1100 BC, the experts think. She was wife to Heber a Kenite tribesman.
She is depicted in baroque art by various painters. Yet again we are indebted for this to Artemisia Gentileschi . She shows Jael, hammer, tent-peg and all, lowering with fell intent over her victim.
What is the story? We have, this time, to go to the Old Testament, specifically to the Book of Judges. This book deals with events following on from the death of Joshua. There were periods when the Israelites forsook the Lord, paying cult to Baal and Ashtaroth. They got punished, suffering oppression under harsh Canaanite rulers. After they repented, a 'Judge' freed them from the yoke. All was well, till the next time, that is.
Our history deals with a time when the Israelites groaned under the heel of Jabin, the king of Canaan. Jabin's captain general, Sisera oppressed them very hard for twenty years.
A change was coming, however.
The 'Judge' at the time was the prophetess, Deborah. She ordered Barak, son of Abinoam to get himself up to Mount Tabor with an army of ten thousand men from the tribes of Naphtali and Zebulon.
Sisera assembled his army, chariots and all, and went to attack the Israelite forces. He thought it would be a piece of cake. Events proved otherwise. It may be that it was divine intervention that put the Wadi Kishon into spate. Anyway, the chariots were bogged down and immobile. Barak and his troops came down from Mount Tabor and roundly defeated their enemy.
Sisera legged it from the battlefield and sought refuge - offered and granted - in Jael's tent. Her husband was on good terms with King Jabin. Sisera said he was thirsty. She gave him a drink of milk. He was tired, as well he might have been. She gave him a blanket for his comfort while he rested. In violation of all rules of hospitality, she then killed him. Accounts differ, but whether she hammered a tent-peg through his skull as he slept (cap. 4) or brained him with the hammer (cap.5), the effect was the same.
Why did she do it? It mystifies me. I can find no explanation in the text.
The aftermath: Whatever the reason may have been, Sisera's death at the hands of Jael went down very well with Deborah. She and Barak sang a song of victory, triumph, thanksgiving, etc. The song appears written down as chapter 5 in Judges It is the Chapter in verse. It is reckoned, by those who know, to be a very fine example of Hebrew poesy and pretty much contemporaneous to what happened. Singing the story of great events was the custom. Consider Moses and Miriam singing of the watery grave for Pharaoh's horses and riders (Exodus, cap.15). It is common to other traditions also: think of the Iliad, the Aeneid, Beowulf, the Nibelungenlied, the Chanson de Roland, for obvious examples.
The song contains an encomium to Jael: v. 24: Blessed above women shall Jael the wife of Heber the Kenite be, blessed shall she be above women in the tent.
They did not do empathy in those days. Deborah's song concludes with a gloat about Sisera's mother. She pictures her at the window, looking out for Sisera's return; wondering why he was late home for his tea. A waiting woman suggests that Sisera and his men must be still busy dividing up the spoils of victory. Oh yes.
Afternote: this, and the pieces on Susanna/Daniel and Judith conclude my little literary illustrations of girl-power, as inspired by the Artemisia Gentileschi artwork.
ON THE FRINGES OF LINDISFARNE
HOW THE PICTS BECAME CHRISTIAN
Of course the Picts, like the other Celts, originally believed in many gods. But we know nothing in details about these beliefs since the Picts have not left us any documents about themselves.
But we are told of 2 attempts to bring Christianity to them: the first by St. Ninian, and then by St. Columba. The story of Ninian belongs to the 400s A.D. and that of Columba to the 500s. Here we need to confront the nature of our sources, especially 'lives' of the saints. Saints were important as they were thought of by many as channels to God. Their lives were enthusiastically written. But the writers had no concept of what we might call 'scientific history'. The importance to the hagiographers was that their saint should be admired for his/her Christian life and achievements not that their account should be 'true'. So, when dealing with this kind of writing, our current historians have a difficult, sometimes impossible, job in discerning what is based on fact and what on folk-lore. Unless there are other 'proofs' e.g. from archaeology it may be impossible to do this. Even Bede, who certainly had the instincts of a historian and often tells us his sources, must be treated with care. His aim in writing was that we should live better lives!
Apart from the early missionaries whose names we know there must have been many unknown by name who accepted the new faith for themselves and then talked among friends about it.St. Ninian is said to have gone to the southern Picts, and St Columba to the northern, but of course the most important thing Columba did was to found the monastery on Iona, and to send out missions from there, such as ours on Lindisfarne. Readers of English church history will remember the split in the Engish church (Celtic and Roman) and the meeting known ashe Synod of Whitby. There the major diasagreement had been on the method of calculating the date of Easter and less important customs such as the style of the clerical tonsure. Knowledge of these conflicts spread of course into Pictland.
Their instinct of course was to be loyal to Columba and Iona. But it seems that the Pictish upper classes had begun to live in a wider world. The Christian Church, growing over Europe, offered something huge and attractive, full of possibilities. But Europe was Roman.
It was settled, it seems, by a Pictish king called Nechtan. He seems to have been a man of wide interests, but he certainly also wanted stability in his kingdom. Somehow he had heard of the monastery at Wearmouth/Jarrow. He wrote to the Abbot, Ceolfrith, asking for information on all matters Roman. Possibly the reply was written by Bede and it delighted the King. He then wrote to all his clergy, telling them how to think and behave. And those who wouldn't were simply expelled.
So there!
Pictish Monastic Settlement
Portmahomack is the site of Scotland's only Scheduled Pictish monastic settlement.
Excavations between 1994 & 2007 revealed a wealth of Pictish stone carvings, and evidence that the Picts made vellum for creating early Christian books.
The period ended with a violent Viking raid.
The later St Colman's Church, itself an A-listed building and now Tarbat Discovery Centre, displays many of these finds as well as those from the 13th - 16th century, a time of fierce clan battles. 88 medieval burials were excavated within the church. The remains of a smithy were found in the field adjacent.
Twenty years on, this award-winning archaeology programme continues to reveal fascinating details about this intensely historic peninsula and what life was like all those years ago.
Tarbat Discover Centre is part of the Highland Pictish Trail
FROM THE COMMUNITY OF AIDAN AND HILDA
St. Aidan's Day is August 31
Several years ago national newspapers began to promote the idea that St. Aidan become the UK's (or The Isles) vacant patron saint.
Recently the leader of the 24/7 prayer movement walked from Iona to Lindisfarne reflecting and making a documentary on St Aidan, culminating with a meal with myself and the Brennans. We felt the time might be right to revive this idea.
At the same time a friend in Australia sent the adjacent Australian icon of St. Aidan. He seems to be getting everywhere.
So if you like this idea why not write to newspapers and media proposing it?
There are two possibilities:
The UK patron saint. This pre-supposes that Scotland and Northern Ireland stay within the UK.
The Isles patron saint. 'The Council of the Isles 'is the popular (and more accurate) nickname given to the British-Irish Council which includes the administrations in Belfast, Cardiff, Dublin, Edinburgh, Guernsey, Jersey, Isle of Man and Westminster.
If the idea takes on someone will have to design a flag. Why not have a go?
As Billy Bragg says of UK 'Its not a proper country - it doesn't have a flag'.
Ray Simpson
http://www.raysimpson.org/
ST. MARY'S NOTICES
Times for Services
Sunday
10:45: The Parish Eucharist
08:00: BCP Eucharist ( first Sunday of the month only)
17:00: Evening Prayer
Monday to Friday
5pm Evening Prayer
(Updates or changes will be posted in the church porch and online)

A Blessing - for this time and every time

Lift your hearts to heaven
and receive the eternal gift of peace

Keep your feet on the ground
and walk with those who need God's love

This day

You are loved by God
You are held by God
You are blessed by God

Now and for evermore

© Revd Rachel Poolman