Holy Island Times - June 2012
A bit from me...
Our Naturalist on Lindisfarne
Lindisfarne Castle
Natural England
Heavens Above
Northumberland Rocks
Northumberland Coast AONB
On the Fringes of Lindisfarne
From the Community of Aidan and Hilda
From Saint Cuthbert's Centre
From the Vicarage
St Mary's notices
A Blessing - for this time and every time
Dear Subscriber,
Welcome to our June newsletter and I hope all is well with you.
May I begin by sincerely apologising if my article (Looking back to 2012 and the visit of our future King) in last month's newsletter has caused offence.
The article reproduced data taken from the 2012 newsletter. Some items depicted reader humour. However, this same article published in the Church's newsletter caused a local reader to complain that one-liners, images (especially regarding the image showing the evolution of women) that were inappropriate on many levels.
I endeavour to be alert to social, racial and political prejudice and discrimination so am highly sensitive to such criticism. Dinosaur or 'Unwoke' I may be but so far as the article is concerned am I really alone in being puzzled?
It is not possible to retrieve last month's ezine although I am taking advice over removing the article from the archive edition.
For readers who also subscribe to 'Holy Island Times': my apologies for any escalation taken by the PCC.
As I write at Pentecost: thousands are already visiting the island. For those planning to come in the future, please check the crossing times in advance. Make sure that your mobile phone is fully charged. If you need to call for help PHONE 999
Thank you to all our regular authors this month and we welcome back Ray who writes for the Community of Aidan and Hilda and Ann Tunnard writing on behalf of Revd Rachel Poolman. Sadly, through PCC action, there will be nothing from the Vicar or Schoolteacher this month. And, nothing from Sue who has been on holiday.
We hope you enjoy your June newsletter and look forward to contacting you in July.
God Bless,
Geoff Porter
editor@lindisfarne.org.uk
www.lindisfarne.org.uk/ezine
PS: Ever present in our thoughts are those nearby who continue to stand in harm's way.
OUR NATURALIST ON LINDISFARNE
SWALLOWS RETURN IN FORCE
Isn't it wonderful to see so many Swallows back around the village, even if they were much later than usual in arriving this time?
The reason for the general delay in their appearance was very obvious with the weather seemingly locked into a cool and continual northerly or easterly airstream for much of April and early May.
Such conditions mean that flying insects on which Swallows are totally reliant for survival were few and far between, forcing them to remain much further south until conditions improved and the air was warmer.
Although a few Swallows were moved through the island during the first half of April most were obviously bound for destinations much further northwards, perhaps as far away as northern Scandinavia and Arctic Russia.
Swallows breed regularly up beyond the Arctic Circle, in fact as far north as buildings are available to provide them with suitable nest sites. The Arctic summer provides a veritable feast of insects, particularly mosquitoes and other bothersome biters, on which they can raise their hungry broods.
So it was as late as the 21st April, a couple of weeks further on than usual, when I noticed my first "local" male Swallow flying on its own around the usual nesting sites at the fishing sheds. A couple of days later there was a more general arrival of Swallows while first House Martins I noticed appeared on 24th April hawking for insects over the Rocket Field pools.
It was really towards the end of the month before both species became widespread around the island and were taking up their usual breeding sites.
Only a day or two after settling in Swallows and House Martins were busy nest-building. Fortunately this spring the island has been fairly wet so there was no shortage of mud for the job. Early one morning, long before people were continually passing by and causing disturbance, I stood outside the Coastguard building and watched the muddy pools a few yards away around the old water pump.
There was a continual stream of Swallows and House Martins arriving to collect tiny balls of mud to fly off to nesting sites, a shuttle service which no doubt continued until the presence of so many visitors walking out towards the castle left the area too disturbed for comfort.
In previous very dry springs these busy nest-builders have struggled to find mud, so much so that I remember Harbourmaster Paul getting out his hose pipe and creating muddy pools to help out!
By the time you're reading this some of the early pairs will already be feeding young and others will be well on with their incubation.
As many of you know, I've been ringing broods of young Swallows around the village for more years than I care to remember. Being long-distance migrants they are great birds to mark because of some of the fascinating data this provides.
When fitting young Swallows with their rings I always feel a sense of wonderment that within a few weeks of their first hesitant flights these young and totally inexperienced birds will be setting off for an incredible 10,000-mile migration to southern Africa.
It's a journey which takes them down through France, Spain and Portugal and across the Mediterranean to the coasts of Morocco.
Some of them will then make their way hugging the coast of the continent to the far south but, amazingly, many just strike out across the Sahara Desert, one of the most inhospitable places on earth, where they must keep going for days on end with very few places where they are able to feed or rest.
Humans travelling across the Sahara can carry their own supplies but are always grateful to reach the occasional oasis. Just imagine how tired and hungry Swallows must feel when they at last sight those few tiny islands of green among the seemingly endless tracts of brown and ochre.
In fact, until Swallows reach the more central areas of Africa they don't get much of a chance to linger, rest and feed to build up their strength for the remainder of the journey down into their regular wintering grounds in South Africa.
Many birds, perhaps as many as 50%, simply don't make it through exhaustion, starvation or because they are taken by predators along the migration route.
The plucky survivors arrive at their destination at the start of summer in the southern hemisphere and they'll remain there until the following February or March when they start the return journey northwards to reach us in April and May.
Male Swallows tend to return to the general areas where they were born whereas most females don't. It seems to be nature's own way of preventing inbreeding among the population and it obviously works.
A handsome male Swallow showing his long tail streamers and plumage with a gleaming metallic blue sheen.
Photo: Mike S Hodgson
By far the most memorable Swallow I ringed on the island came from a nest up near the water tower.
Five years later this bird was found dead in spring in Sanctuary Close, having completed four return trips to southern Africa covering at least 80,000 miles on migration alone.
It must have also flown many thousands of miles during its winter stays in South Africa and, presumable back on the island during the previous four springs and summers when it was likely to have been breeding and passing on its genes and blood line.
Shortly after completing yet another return journey its luck finally ran out, possibly through sheer exhaustion or perhaps shortages of food in a cold spring. It's discoveries of that kind which make marking Swallows so worthwhile in scientific terms.
The early signs are that this could be a good breeding year for our Swallows but, of course, it all depends upon the weather over the next couple of months. I'll certainly be reporting back on this subject in late summer or early autumn.
A DAY IN THE LIFE OF A VISITOR ASSISTANT AT LINDISFARNE PRIORY AND MUSEUM
My day begins around 6am, coffee, a quick look at the papers online, make the packed lunches for my husband and son who work together. I have been making sandwiches for at least five days every week for almost 50years, mind, if I think I am badly done to just think of the poor husband eating them for all that time too. Next it is my breakfast, always the same Special K, 10 raspberries, 10 blueberries and a couple of dollops of natural yoghurt.
Showered, dressed, 'face' on, bag packed and out to the car, music on and the glorious drive to Holy Island. I cannot think of a better commute or place to work than the Priory and Museum. I am past retiring age but contemplating not working is just not in my head. Although, I have asked my manager to make sure she sits me down and tells me when it is time to go. I have asked her to utter the words 'It is time', as I am not sure I will recognise that I am 'past it'.
The working day usually starts at 9:15 and finishes at 17:15. These times can vary depending on the tides. We prepare for the day's visitors. Site checks, cleaning, preparing the coffee area, opening tills among other tasks. There are usually 4 or 5 of us on duty from the 12+ staff we have. It really doesn't matter who is on with who on any day as we all get along so well and really watch out for each other. Obviously, we have differing personalities and sense of humour which makes for interesting days and many happy or funny moments. I think we are all proud to work at such an iconic site and it holds a special place in our hearts, for all of us.
Opening time arrives and we are all in place ready for the hundreds of visitors to the island. We have very varied types of visitors, all taking something different from their visit to the Priory and Museum. For most it is the religious aspect, for many it is a spiritual experience, for others it is just the history and of course the year 793 when the Norsemen came 'Viking'. Obviously, we all have a story to tell about some happening in the Priory, from the frantic waving our arms at the unlicenced drone filming, to the children and adults climbing the walls, visitors from Scandinavia telling us in a very chilling voice 'We are back'.
One of the oddest scenarios we had to deal with was a woman in the Priory hiding in a corner, changing into a completely 'see through' wedding dress and her 'friend' ready with his camera. This was during the school holidays so there were many children around. The friend had some very serious camera kit, so I approached them and asked if they had permission to use the Priory for professional purposes. His reply was that it was just for them, 'I work in a warehouse' as if that explained everything. By now the woman had fastened a large shiny glass globe to her head and was stood in all her glory. Shocked that I had even questioned what it was they were doing, I asked if they thought it was appropriate in such a place and especially with children and members of the public wandering very close to them. Believe me there was nothing left to the imagination. A minute or two later they left the Priory, she had covered up with a coat. I learned later that they had gone back to admissions where she promptly whipped the coat open so that she was in full view of the staff at the counter asking if they thought her outfit was inappropriate. The staff were rather shocked, to say the least!
As visitor assistants we all make sure that we know as much as possible about the history of the site and have stories and anecdotes to regale and entertain our visitors. We are a jolly bunch and absolutely love interacting with members of the public.
Best wishes
C. A. Mulvey.
You might remember last year I got all excited about the rediscovery of a plan of Lindisfarne Castle from March 1902 by Lutyens himself. This was the one we managed to successfully bid on at auction and so now have secured it for the castle where, I think it is fair to say, it belongs. Since acquiring the plan, I have pored over the thing - often with a magnifying glass - and it is amazing to see the new information which can be gleaned from such a thing. To be honest, I'm not sure much of this information would be of great interest to our visitors, but for me (and indeed my successors) this knowledge is absolutely central to our understanding of the development of the castle over the centuries. The 1902 plan is just one of a long line of plans and surveys dating right back to the 1500s which give a timeline of how the castle has changed, and indeed how it has stayed the same.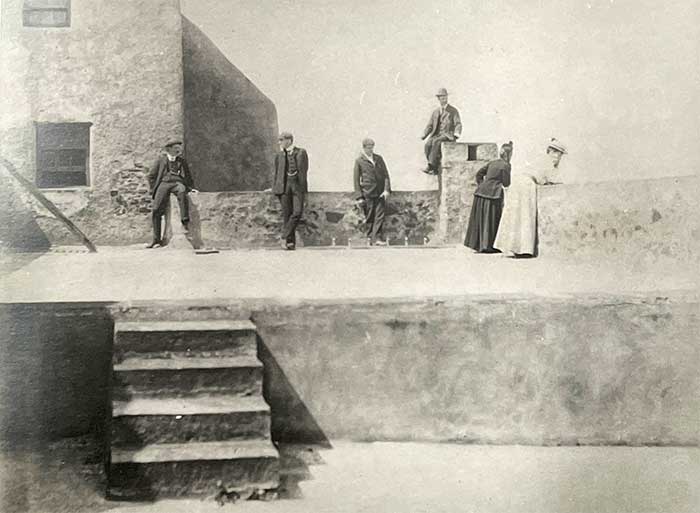 It will not surprise you to learn then that I got myself all excited again recently when another plan from the Lutyens period appeared. I think of the 1902 plan as his 'before' version - how it appeared to him when he first saw the place. This plan is not too dissimilar to the Royal Engineers survey of 1883. Lutyens did another plan in 1912 which can be thought of as the 'after' plan, something that could be used in future deeds of sale (and indeed guidebooks) to show the viewer what a marvellous job had been done. The reason it was done in 1912 is that by then the last of the work had been completed. I say the last of the work; that comprised of the pan-tiled bedroom range on the north side facing the garden, and the creation of an Entrance Hall out of an old guard room and a corridor. By moving a wall a part of the old kitchen also borrowed to add symmetry to the hall. Most of the work though had been completed by 1906 and at that point, there doesn't seem to have been any plans for this later work (at least until 1909). Therefore, wasn't it odd that plan as an 'after'/'finished' version from 1906 didn't exist?
Except that one did, I just hadn't found it until about 6 weeks ago.
All this time, it had been quite happily sitting in the Northumberland Archives at Woodhorn, filed simply as 'Holy Island Castle description'. I was down there looking at something related to the Farne Islands, and one of the files I requested about the Inner Farne had this Holy Island file in amongst it. The file consisted of the aforementioned 'description' of the castle, and it was written by a member of the Edinburgh Architectural Association. Intriguingly, the group had visited the castle on Saturday 4th July, two days after the Prince and Princess of Wales (later George V and Queen Mary) had been entertained by Edward Hudson and Lutyens. Could it be then that the architects had met the two men and even been shown around? Well, yes they had, and not only that, the author had included a quote from Lutyens himself (which have not found anywhere else) saying
"The walls were ruthlessly cemented over; the old stone Tudor windows were cut out to let in sash windows, which in their turn let in all weathers. The old stone fireplaces were cut away and we found little but their powdered remains..."
It is amazing to hear any new descriptions of the castle from that period, but to actually have Lutyens own words - not replicated anywhere else - after all these years is particularly thrilling. The plan itself - dated 1908 - shows us lots of new details which I still need to get to grips with so another report may be in order, but hopefully some of our confusion about Lutyens' thinking in the building may start to finally make sense.
Best wishes
Nick Lewis - Collections and House Officer
Lindisfarne Castle nick.lewis @ nationaltrust.org.uk
07918 335 471
NATURAL ENGLAND LINDISFARNE NNR
The shorebird season has well and truly begun. Ringed Plovers started laying eggs in mid-April and in the last couple of weeks Little Tern numbers have increased and have now started laying eggs. The Shorebird refuge on the northern section of Ross Sands is in place now until early September. A vital refuge not just for breeding birds but migrating and roosting birds too. It also acts as a safe refuge for seals to haul out free from human and dog disturbance. Additional fenced off Shorebird Protection Areas can be found across the Reserve in areas such as Budle Bay and Goswick. Please do not enter these areas, they are likely to contain breeding birds. It is important to remember that shorebirds can nest anywhere along the coast so please be careful when walking on the Reserve and keep dogs on a short lead or at close heel and prevented from disturbing wildlife at all times. We have seasonal wardens out and about, located at these key breeding sites. They are there to monitor breeding success of the Shorebirds but also to welcome visitors and show people some of the Shorebirds we share the Reserve with. So, if you see any of us on site and would like to know more please come for a chat and we will be happy to answer any questions and show you some of the breeding birds.
It's also that time of year again when the cacophony of birdsong within the dunes is at it's loudest. Skylarks, Meadow Pipits and Stonechats can all be heard in full voice. The amazing array of botany is beginning to emerge from short green grassy sward, forming large pops of contrasting colour across the dunes. The first Orchids are now finally making their appearance taking full advantage of the shorter sward created by the cattle over winter. All in all the Reserve is bursting full of new life everywhere you look.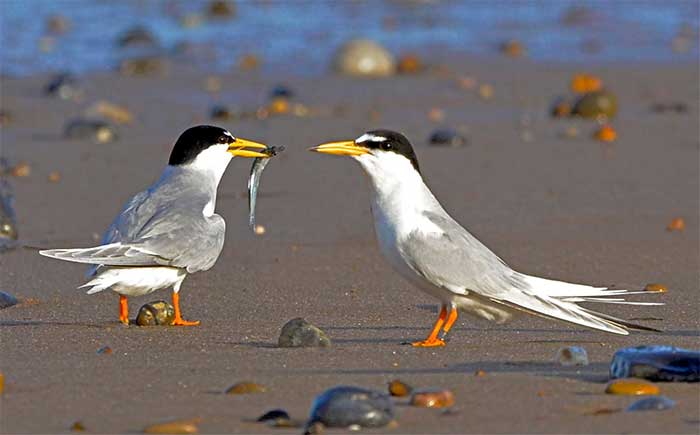 In the last couple of week's we have reinstalled the last of the willow sculptures on the Lindisfarne NNR nature trail. These sculptures have been undergoing some refurbishment by the Anna Turnbull of 'Biteabout' arts who created the sculptures along with volunteers a few years ago. We have also produced a new willow sculpture trail leaflet that is available for free, at the start of the trail, in the Window on Wild Lindisfarne building. The leaflet is also available to download free from the Lindisfarne NNR blog.
Natural England volunteer and local historian continues his series of walks - 'Searches for Churches' which explores the early medieval origins of the monastery using the latest archaeological information.
We have two walks scheduled for this month which are as follows:
11th June - 1pm - 3pm
24th June - 12pm - 2pm
If you would like to book on either of these walks please call the Reserve office on 01289381470 or email andy.denton@naturalengland.org.uk
We also have a full summer of events from crafts and games at the Window on Wild Lindisfarne building to wildlife experiences at different sites across the Reserve. Our events programme is available to download on the left hand side of the main page of Lindisfarne National Nature Reserve (lindisfarnennr.blogspot.com)
Andy Denton - Reserve Manager
Lindisfarne & Newham NNRs

Inspired by our Vicar's splendid version of "All Things Bright and Beautiful" for the Fishermens' Service, I thought I might try setting June's astronomy column in verse. Even if you are not particularly interested in the night sky, skim through to the end for the punchline.
In the splendid heart of a Northumberland June,
Under Holy Island's Midnight Moon,
A tapestry of stars above does bloom,
An astral ballad in a cosmic tune.
High in the east, Hercules holds his place,
Housing M13 in his starry embrace,
And Lyra's Vega, a brilliant gem,
In the Summer Triangle, it's the crowning stem.
The Scorpion, Scorpius, graces southern spheres,
Its star Antares, like a ruby, appears,
A mimic of Mars, gleaming red and bright,
A challenge to spot in the summer twilight.
From Bootes, meteors take their flight,
The June Bootids, a rare night's delight,
Fleeting and bright, they trace the sky,
In the summer dusk, they catch the eye.
Jupiter, Saturn, Mars, and Venus grace the night,
Four planets in the twilight, a captivating sight,
Jupiter's moons, Saturn's rings, and Mars' red hue,
And Venus, the evening star, in skies of deep blue.
On June 9th, the full moon will rise,
A time for strawberries, the locals advise,
A British tradition, our midsummer's boon,
The jewels of the season, under the Strawberry Moon.
So, in the month of June, lift your eyes to the sky,
To celestial wonders that never belie,
From Holy Island, in the soft evening light,
Marvel at the cosmos, its vastness and delight.
Doggerel I admit. But it captures the main astronomical highlights of the month. And here is the punchline: IT WAS WRITTEN IN THE BLINK OF AN EYE BY AN ARTIFICIAL INTELLIGENCE in response to my simple prompt "please compose a seven verse poem about astronomy on Holy Island in June". I shall write further on this subject next month, in my own words.
Max Whitby, thevisibleuniverse.com?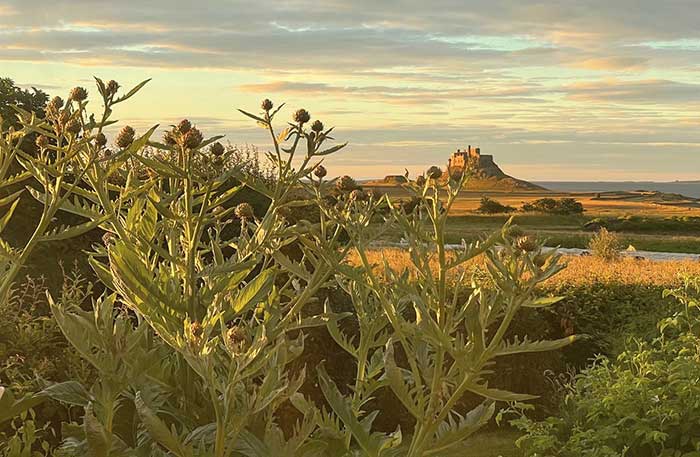 PS: On Holy Island in June, it remains light late into the evening and the sky never becomes completely dark, making astronomy in mid-summer something of a challenge.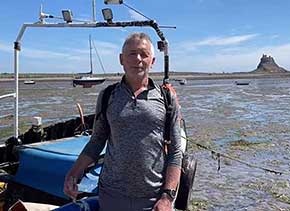 What do all the pretty colours mean?
We all look at our world, and the places we live, through a different lens. And if you were asked to draw a picture, or even better a map of that world - the northeast of England for example - what would it reflect. Just the plain geography- the coastline, the roads, the houses? Maybe you'd draw something more thematic - the way the vegetation varies, the places of religious significance, your favourite walk routes. Or perhaps something completely abstract?
Ask a geologist (understandably focused on the underworld) and you are likely to get something predictably prosaic. But it's probably not a view of wider Northumberland most people will have seen before. The map you will see is an interpretation of what lies beneath the vegetation and the soil. In fact just to complicate things a geologist would give you two maps. One shows all the material left during and since the last Ice Age (here that means the last 20,000 years, right up to today); that's usually the stuff you'd encounter if you get your spade out and do a bit of digging. The second map would be all the solid rock - the bedrock - which is usually hidden beneath those softer deposits.
There is an example of the bedrock map below - I'm betting your first reaction is "very colourful - even pretty". Your second reaction will be "what do all those colours mean?" It's pretty obvious they don't match very well to the colours of the actual rocks. If you were to see a full geological map you get a key/legend too. Just as well as it tells you what each of the colours means - but unless you've got a fairly advanced qualification in geology, the terms used in that key are still rather opaque. The fact is geological maps are great for geologists communicating with each other, a lot less good at communicating that underground world to society at large, whether that be the general public or non-geologist professionals (eg engineers, planners, ecologists and archaeologists). Apart from the difficulty of deciphering the colours there's a couple of other seriously big hidden challenges. First, these maps and their associated diagrams are not just a representation of two dimensions - the stuff just below the soil - they also aspire to tell you what the rocks are at depth too - so they are 3 dimensional. Pretty critical if you are a mining or civil engineering company and want to know what you are going to encounter in a tunnel at depth.
Second, and perhaps worse, (this may or may not come as a surprise) geological maps are not statements of fact - they are a geologist's interpretation of whatever evidence he can find. So geologists are happy people when surveying along the coastline where the rocks that form the cliffs and foreshore and are laid bare in plain sight. But life gets difficult inland and where vegetation or buildings or roads cover everything. River cliffs, the odd borehole, or open excavation (even graves) are much appreciated (but often rare) windows into the underworld. It follows that the less hard evidence there is the more a geological map is an interpretation - Vera might have made a half decent geologist, geology is a detective science. Bottom line: unless you've got the money to drill a borehole or hire a JCB to dig holes everywhere geological maps are not bits of measured perfection like Ordnance Survey maps but they are the best assessment we are going to get of the stuff beneath our feet. And of course that means that if there is new evidence, then the map changes.
And what about communicating that interpretation to society. Geologists have been working on that for at least 40 years. We've come up with some innovative "thematic" maps designed to make things more understandable for planners and engineers, insurance companies and many other professions. Once we got geological maps into computers in the 1990s abstracting specific bits of practical information got much easier. Minerals people now have access to maps about sand and gravel or ore veins; water specialists get maps showing which rocks allow water through and which don't; civil engineers can have an assessment of how likely the ground is to collapse. All of these maps are derivatives of the basic geological map, sliced, diced and often blended with other data to deliver something that's more practical and easier to use.
That's great as far as it goes, but how do we communicate geological information beyond that - to the public, to people like our subscribers (whose taxes pay for the survey and research - and if you're smiling because you're reading this as a non-UK tax payer you shouldn't - every country and state has a geological survey and yes you are paying for it too)?
Communicating rock to society at large is a real challenge. Maybe most of society isn't that interested and are happy to leave it to the planners, engineers etc and the politicians who take local and national decisions on some crucial but geologically dependent issues like coastal erosion, or groundwater pollution, or sand and gravel and stone extraction, or a new building development.
Perhaps society is interested but not to the extent we geologists think (and we do tend to think everyone should be as enthralled by rocks as much as we are) but is waiting for us to deliver things more palatable things, things that they can not only understand but also encourages them to want to know more.
For what it's worth my own view (one that won't come as a surprise to people who've read prior posts) is that we rock men should wake up to the last point. We should be out there mixing it with the wider world outside our geo-bubble. We should be telling more stories; accessible stories that relate geology to other stuff that might ignite and excite interest - be that history, or culture, or wildlife, or the economy.
But when I've got a captive audience - you readers - I shouldn't be second guessing this. Perhaps you could mail me back with what you'd like to see and hear from geologists? Meantime go seek out and frame a local geological map and hang it on your wall. It will be pretty and it might not make a lot of sense at first but beware, your curiosity may well get the better of you...and you'll become a rock nerd like me.
Feedback on an e-postcard to ianjackson2011@gmail.com
NORTHUMBERLAND COAST AONB
Creative Sessions with Local Artist a Success at Amble Links First School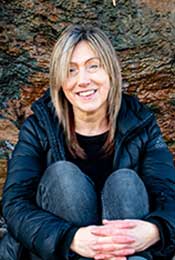 Katherine Renton
We recently collaborated with local artist Katherine Renton to support her exhibition, KEEP - Castles, Coal, Coast and Climate, at the Bailiffgate Museum & Art Gallery in Alnwick. The exhibition received a warm welcome from both locals and visitors, and Katherine has now moved onto the second phase of the project - delivering a series of creative workshops for children at Amble Links First School. Year Fours recently visited KEEP and Warkworth Castle, where they heard more about Katherine's inspiration behind her work (including her holidays to Holy Island!), sketched their own pieces and enjoyed a talk form English Heritage on Warkworth Castle's history.
We're delighted to have been part of this wonderful project and hope to continue diversifying the way in which we engage local communities in the Northumberland Coast AONB.
For more information on Katherine and her work, visit: Katherine Renton | Coastal Artist Northumberland (katherine-renton.co.uk)
Caeley Elcock
Communications Officer
ON THE FRINGES OF LINDISFARNE
NEIGHBOURS THE PICTS 1
Here in Northumbria when we think of our story in the early Middle Ages (roughly 400 AD-800) we think of it proudly as our "Golden Age", full of successful kings and battles, also of saints and scholars. The dominant people then were the Anglo-Saxons. But what about "Scotland" as we now call it. The people there were Celts; the Romans had tried but failed to take it. Among the Celts the most interesting and mysterious were the Picts, who occupied a large chunk of eastern Scotland.
Even their name was mysterious. It is suggested that it was the Roman soldiers of Hadrian's Wall who first called them Picti (painted men). Perhaps they did in fact use blue woad to paint or tattoo their bodies. Also some people of that time thought that the Picts were very small: a race of dwarves. They excavated underground rooms with low ceilings. But these may have been for storage. There is no reason to think that the Picts were any different in size from the other Celts, in fact about the same size as ourselves.
At the time there were two forms of Celtic language in use in these islands We call them p-Celtic and Q-Celtic. P-Celtic is the ancestor of Welsh, Breton and Cornish; Q-Celtic gave us Gaelic, Gallic and Manx. The Picts, like the Britons, spoke P-Celtic. As for writing, the few who could write were mainly Christian monks who would have used Church Latin.
Here the Picts are different. They have left us no writings on parchment, except a list of their kings. But they have left a remarkable number of carved stones. Modern people have thought that these must have been a way of communicating with each other: a kind of alphabet but in symbols not letters. There are many suggestions about the meaning of these.
Finally it was the Picts who brought the Golden Age of Northumberland to an end in a disastrous battle.
I thought it might be interesting in the next two or three months to look at some of this in more detail.
FROM THE COMMUNITY OF AIDAN AND HILDA
It was a joy to welcome Christians Aware to the island in May, to give them a tour of the village and to speak in the evening on Celtic Christianity and Creation. Also to renew friendship with my old friend Prof Ian Bradley who spoke the next day.
It was also a joy to sit in the Fishermen's Chapel on Easter Morning, following the great victory on behalf of continuing Holy Island's Fishing Community. The window depicts Jesus with Galilean fishermen. My thoughts were caught up and I was inspired to record a podcast.
Recently someone who helps lead Celtic pilgrimages to Iona called on me and told me of developments there. The Iona bookshop have also been in touch. Although we no longer have our Open Gate Bookshop we still have a mini bookshop on the island.
A Birmingham group due to complete the Cuthbert's Way asked if we could send someone to send them off with blessings and welcome them at Chare Ends. It is not always possible but if we have good notice we will try to respond. I have produced a pamphlet of stories and prayers for three times of day for four days for Cuthbert Way walkers ,copies of which are in our library, which is being used by increasing numbers.
Revd. Ray Simpson [ Books, blogs, info: www.raysimpson.org ]
Founding Guardian, The international Community of Aidan and Hilda
www.aidanandhilda.org
FROM SAINT CUTHBERT'S CENTRE
On Sunday, (28th May) we celebrated Pentecost, when we remember the coming of the Holy Spirit to the disciples after Jesus' ascension.
The Holy Spirit is so wonderful, a comforter (John 14 : 26) helper, guide, encourager, giver of our spiritual gifts, empowerer, giver of love, hope and our companion on our way through life.
It is often only when we look back at something that has happened, a decision we have made , or a path that we have taken, that we realise the Holy Spirit has been at work in us.
I thought I would like to share with you a prayer that we have been using at our morning prayers in Wooler URC as we look towards Pentecost.
It is from the Thy Kingdom Come initiative from the Church of England. In it we are encouraged to think of 5 people we know (or know of ) who we would like to get to know God better, to pray for them and keep a prayer journal.
Maybe you can think of some people that you know who you would like to have a deeper relationship with God and experience the joy of the Holy Spirit in their lives?
Prayer
Come Holy Spirit, fill the hearts of your people
And kindle in us the fire of your love
All who are led by the Spirit of God
Are children of God and fellow-heirs with Christ.
Come Holy Spirit, fill the hearts of your people.
Renew the face of your creation Lord
Pouring on us the gifts of your Spirit
and kindle in us the fire of your love
Creation waits with eager longing
for the glorious liberty of the children of God
Come Holy Spirit, fill the hearts of your people
and kindle in us the fire of your love.
Amen.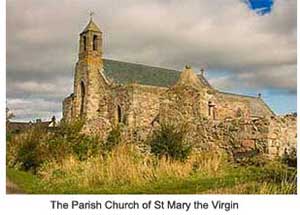 Dear friends
We are aware that a section of last month's Holy Island Times may have caused offence. We apologise wholeheartedly if this is the case.
We have decided to have a pause in production of the magazine HIT until this autumn, when we intend to continue its publication. We are planning to delay next year's subscriptions by the two months so people are not left out of pocket. We are very happy to return your payment for the next two issues (June and July). Please be in touch with us and we will organise that.
With every good wish
Sarah (chair)
PCC of St Mary's Church, Holy Island.
---
ST. MARY'S NOTICES
Times for Services
Sunday
10:45: The Parish Eucharist
08:00: BCP Eucharist (first Sunday of the month only)
17:00: Evening Prayer
Monday to Friday
5pm Evening Prayer
(Updates or changes will be posted in the church porch and online)

Lord, help us to be with one another... even if at a physical distance. Help us to build a kinder world. To reach out. To love and to care. To be sensible and not to panic. Help us, Lord, to hope. Because together we can.
Amen.
Revd Dr Sarah Hills
A Blessing - for this time and every time

Lift your hearts to heaven
and receive the eternal gift of peace

Keep your feet on the ground
and walk with those who need God's love

This day

You are loved by God
You are held by God
You are blessed by God

Now and for evermore

© Revd Rachel Poolman