Holy Island Times - May 2023
A bit from me...
Looking back to 2012 and the visit of our future King
Holy Island C-of-E First School
Crossman Hall
From the Community of Aidan and Hilda
Our Naturalist on Lindisfarne
Lindisfarne Castle
Natural England
Heavens Above
Northumberland Rocks
Northumberland Coast AONB
Judith
On the Fringes of Lindisfarne
From the Vicarage
St Mary's notices
A Blessing - for this time and every time
Dear Subscriber,
Welcome to our May newsletter and with the coronation of our King and Queen barely a few days away, what an historic month we have in store.
In this month's 'Holy Island Times' Kate recounts our much-loved, late Queen's coronation. Kate was a student at Oxford University at the time. It was the first time she had experienced television and remembers the royal coach and the rain. In my family, we descended on my uncle Jack - the sole family member possessing such a modern 'device'. Indeed, in our neighbourhood around 20 of us youngsters would congregate around a fortunate pal's 9-inch screen to watch 'ground-breaking' TV programmes like Muffin-the-mule and the Flowerpot-men. Today, some of our readers may be unable to comprehend life without TV and 24-hour news coverage in their lives - and, when switching off, have no concept of watching the picture collapse to a single bright dot eventually disappearing several minutes later. For a 'better viewer experience' a huge magnifying glasses could be hung over the screen front - perhaps even using tinted glass to simulate flesh tones....
Undoubtedly, technology and the world has changed considerably since Elizabeth came to the throne. Internet, man on the moon, Concorde - and 'so far' no further world wars. Whilst the reign of King Charles III can only be short in comparison, I do wonder what developments might be in store over the next 70 years...
Lindisfarne Causeway is a very remote location and can feel particularly so at night and in deteriorating weather. The sound of rushing water is that of the most dangerous sea in the world, the North Sea! Make no assumptions and please, please check the crossing times in advance. Make sure that your mobile phone is fully charged. If you need to call for help PHONE 999
Taking advantage of the Coronation topic I rounded up some of inputs sent by readers for inclusion in our pages during * 2012 - the year our future king visited the island. Thank you to Nick, Thelma, Malcolm Bentley and Bryan Cole who regularly featured in our pages and all contributors who featured during then.
For this month's Sitezine, thank you to Ann Tunnard writing on behalf of Revd Rachel Poolman and all our regular authors. We hope you enjoy your May newsletter and look forward to contacting you in June.
Your Royal Majesties: on behalf of all who contribute to our newsletter, our thoughts and wishes are ever with you both in your coronation, marriage and in the fulfilment of your realm.
God Bless,
Geoff Porter
editor@lindisfarne.org.uk
www.lindisfarne.org.uk/ezine
PS: Ever present in our thoughts are those nearby who continue to stand in harm's way.
LOOKING BACK TO 2012 AND THE VISIT OF OUR FUTURE KING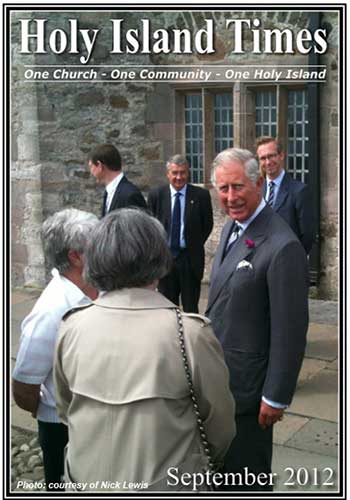 'THE 'YORKSHIRE POST' - from Malcolm Bentley
Repent O Scottish Sinner......
There was a Scottish painter named Smokey Macgregor who was very interested in making a penny where he could, so he often thinned down his paint to make it go a wee bit further.
As it happened, he got away with this for some time, but eventually the Baptist Church decided to do a big restoration job on the outside of one of their biggest buildings.
Smokey put in a bid, and, because his price was so low, he got the job.
So he set about erecting the scaffolding and setting up the planks, and buying the paint and, yes, I am sorry to say, thinning it down with water...
Well, Smokey was up on the scaffolding, painting away, the job nearly completed, when suddenly there was a horrendous clap of thunder, the sky opened, and the rain poured down washing the thinned paint from all over the church and knocking Smokey clear off the scaffold to land on the lawn among the gravestones, surrounded by telltale puddles of the thinned and useless paint.
Smokey was no fool. He knew this was a judgment from the Almighty,
So he got down on his knees and cried:
"Oh, God, Oh God, forgive me; what should I do?"
And from the thunder, a mighty voice spoke...
Repaint! Repaint!
And thin no more!"
---
'DOWN UNDER' - from Bryan Cole
EVOLUTION
---
MISCELLANEOUS - from 'the postbag'
When a woman found out that she was pregnant, she lit up the phone lines telling everyone the good news. One day later that week, she took her 4 year old son, Sam, out shopping. A woman asked the boy if he was excited about the baby. Yes, he said. I know what we're going to name it. If it is a girl, we're calling her Molly and if it is a boy, we're going to call it Quits.
After his divorce Mr. Jones realized that poker isn't the only game that starts with holding hands and ends with a staggering financial loss....
If you choke a Smurf, what colour does it turn?
If you take an Oriental person and spin him around several times, does he become disoriented?
Is it OK to use the AM radio after noon?
What do chickens think we taste like?
What do you call a male ladybug?
What hair colour do they put on the driver's license of a bald man?
When dog food is new and improved tasting, who tests it?
When they first invented the clock, how did they know what time it was to set it to?
Which is the other side of the street?
Why didn't Noah swat those two mosquitoes?
Why do they sterilize the needle for lethal injections?
Why doesn't glue stick to the inside of the bottle?
Why don't they call moustaches "mouthbrows?"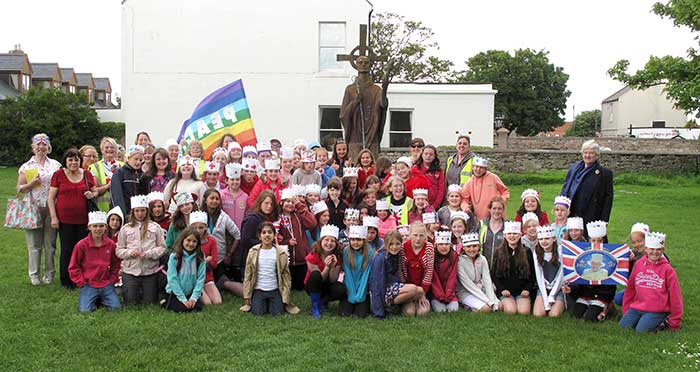 Children from the SVP camp children after attending the church service on Tues 4th June for the celebrations of the Queen's Jubilee. All wore their paper crowns on for the occasion and were a delight to have as part of the service. Picture from Thelma Dunne
HOLY ISLAND C-of-E FIRST SCHOOL
First I'd like to celebrate! We have a new family on the island and George has joined us here at Holy Island School. We would like to welcome George and all of his family to the island. This brings our numbers up to four children! Then in September we have two more children joining us. As you may know, the children travel with me to Lowick School when the tide opens. I have now run out of room in my car so, the big news is that we are getting a minibus! It should arrive in May and we are all quite excited about it.
We've had some lovely warm days this week and have been getting into the garden to do some weeding and planting. We've tidied the raised beds and have planted potatoes and green beans. We have onions ready to go in and we are going to plant some more wild flower seeds in our 'wild area' at the bottom of the garden. We are making a plan about what to plant next. We've been finding out how it's best to rotate our crops around the beds so we had to think carefully about where to plant so far. We've decided to put our mint in a pot - it had spread to nearly half the bed! It was a big job taking out all the roots. We've planted the potatoes where the mint was which made us ask the question, I wonder if our potatoes will taste minty? Let's see!
We've begun to research the life of Grace Darling. In the classroom we usually have a role play area; we've had a shop, café, post office, rocket and a castle to name a few! The children wondered whether we could have Longstone Lighthouse in the classroom. So, we sat down with Mrs Ward and made a plan of what features we'd like and what materials we'd need to build it. We now have a magnificent lighthouse - with a light - in the classroom. Thank you to Mrs Ward for finding all the materials and having the creativity to make this work for the children. We've been acting out the events of Grace and her father's brave rescue. We also made some jagged Harcar Rocks and a little coble with oars. Superb! Today, as we wrote a diary entry of the rescue it was very clear that the role play and drama activities we've enjoyed have embedded the story to memory.
Our Summer term is always busy and we have lots to look forward to. We plan on marking the coronation of King Charles with a celebration on 9th May. On 15th May we are going to the Grace Darling museum in Bamburgh and the RNLI station in Seahouses.
We'll be walking the poles from Beal to Holy Island to help the children connect with their local area and our school vision of 'Journeying Together' on 23rd June. We are very excited that Bishop Mark (the Bishop of Berwick) will be joining us for our walk.
Our Summer Fair and Sports Day will be on Holy Island on Thursday 6th July - more details to follow.
Heather Stiansen
Our website: www.lowickholyislandschools.org.uk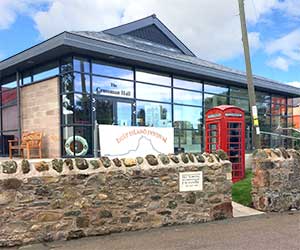 After hosting the Fishermens Celebratory party, which was a huge success, the hall is now gently ticking over again.
We held our coffee morning on Easter Monday and made £578 towards the hall's upkeep. Thank you to all who helped, baked, donated etc...
Bookings for the hall are still very slow, but, as mentioned before, the community events are happening on a weekly basis.
St Marys Church are holding a Table Top event in the hall on the late May Bank Holiday Monday
Coronation: some bunting will be put up in the village, the date and time will be posted on the Holy Island Face Book page, any help with this would be appreciated.
All the best, Sue Massey
FROM THE COMMUNITY OF AIDAN AND HILDA
Beautiful, peaceful, restful ... these are the words people feedback to us about their stays on Holy Island. In a world that feels increasingly unsettled and uncertain, places we can retreat to and experience peace are very precious.
One of the most loved retreat experiences is the walk across the causeway following the posts. People regularly ask us how people can do that safely and what shoes they should wear. If you have never done it, I highly recommend it. At low tide of course.
Blessings - Faith
OUR NATURALIST ON LINDISFARNE
THE BIRDS OF ETERNAL SUNSHINE
Every year at this time I enjoy sitting on the Heugh to enjoy the sight and sound of our four regular species of terns as they settle into local breeding sites, in our case at the Black Law and around the reserve and out on the Farne Islands.
Common, Arctic and Little terns are regularly present, hovering and diving for small fish and all usually very vocal, their calls often heard before they appear. All three species breed in the noisy mixed colony on the Black Law and sometimes other on other areas of the reserve. The larger Sandwich Terns are these days visitors from breeding colonies out on the Farnes.
All are wonderful to watch and hear and the Little Terns are now among Britain's rarest seabirds, the area having one of only three small colonies along the east coast.
While the Arctic Terns are much more plentiful they have a particular claim to fame that makes them very special. They live with more hours of sunshine and daylight than almost any other creature on earth and undertake incredible and dangerous journeys to enjoy it.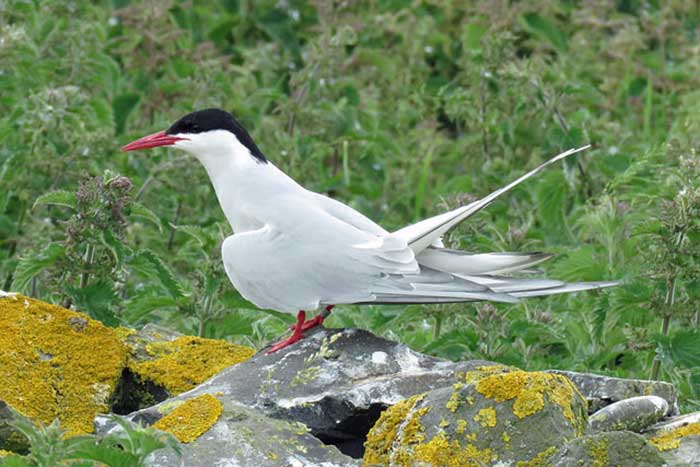 A resting Arctic Tern showing its brilliant white plumage and blood-red bill. Photo: Mike S Hodgson.
They are one of our most graceful and beautiful summer seabirds with thousands coming to Britain and Northumberland and points northwards to take advantage of the long hours of daylight of our northern seas.
Then, as the days start to draw in during August and September with dusk creeping ever earlier as autumn approaches, they migrate to the far south of our planet to escape our cold months in the almost constant daylight of the southern summer.
Right across the Southern Ocean and right up to the pack ice of Antarctica, they continue to enjoy long hours of light and sun until it's time to move northwards again in our early spring. Some local ringed birds have even wandered eastwards as far as Australia.
Using the long hours of summer daylight in each hemisphere, they can fish almost around the clock, something vital if they are to successfully breed and fledge their chicks in the north and to simply survive in the far south.
Our Arctic Terns nest colonially on the reserve, the Farne Islands and Coquet Island and at a single mainland colony at the Long Nanny Burn on Beadnell Bay.
Around 3,000 pairs normally breed in the county but numbers fluctuate widely with sudden changes in choice of sites regularly occurring, something which has probably happened since they were first recorded breeding locally on our Island in the 1890s and on the Farnes further back in the 18th Century.
Others Arctic Terns which press on much further northwards, well above the Arctic Circle, do even better for 24-hour feeding in those lands of the midnight sun.
They are light and delicate looking birds with white plumage tinged with grey and striking black caps. Their bills are blood red, perhaps a very apt colour as these birds are courageously ferocious in protecting their eggs and small young from intruders, human or natural.
Anyone who in the past visited the big Arctic Tern colony on Inner Farne will know exactly what I mean. With eggs and young in the vegetation alongside the main path to the top of the island, the terns would regularly dive-bomb visitors.
Everyone was strongly advised to wear hats. Anyone who didn't - and I must admit I've been among those who consequently suffered - was in real danger of getting a good pecking, usually severe enough to draw blood.
Some of the National Trust rangers responsible for guarding and monitoring the islands took the precaution of wearing the kind of hard yellow or white hats more often associated with building sites then seabird colonies.
The birds which regularly used that particular colony ceased to do so in 2021 for reasons which are not clear and moved to other islands and sites along the coast where they are much less likely to suffer disturbance, at least from human visitors. That dispersal led to big increases in the numbers of pairs using the Black Law and other sites.
Our Arctic Terns begin to arrive in April and nest during May and June. Like all terns, they simply create a scrape in the sand, shingle or soil. The scrape may remain bare or can get a sparse lining of small pieces of dried seaweed, grasses and other vegetation. They normally lay two or three eggs which are olive and brown, giving at least a bit of camouflage.
Breeding colonially provides safety in numbers when it comes to protecting their nests and driving off larger marauding gulls, constantly on the look-out for a quick and easy meal of eggs or small chicks.
Also, like many ground-nesting species, tern chicks are able to get to their feet and move quickly from nest scrapes as soon as they've dried out after hatching. They usual seek cover in any vegetation available and simply freeze when danger threats. Until they can get into the air they remain extremely vulnerable. The adults feed them on small fish which are taken by simply hovering over the water and diving to snatch them from just under the surface. They then have to return to the colony running the gauntlet of the gulls who always lurk around the edges.
Fortunately, the chicks quickly grow on their rich and oily diet of Sand Eels, the vital and staple food of many of our breeding seabirds. Once on the wing they are at less risk of ending up as a meal themselves.
By July and August the young will be testing their wings and learning the vital skills of fishing before setting off for that epic long journey down the west coasts of Africa and onward into the vast and stormy expanses of the Southern Ocean.
By late summer and into autumn the migrating terns, having survived all the dangers of the breeding season, have another big problem - the appearance of an even more skilful aerial predator, the Arctic Skua.
An Arctic Skua waits watchfully on the rocks for its next victim. Photo: Mike S Hodgson.
Dark pirates of the northern seas, they time their own migration southwards to the coasts of West Africa to coincide with that of the terns. Skuas rely for a much of their food on robbing terns and small gulls of their hard-won fish.
They will wait patiently on the rocks or the sea for a tern or gull taking a fish. Then, with a deceptively casual and loping low flight, they will move in to set their ambush. With wings suddenly and flexibly twisting, they rise in fast ambush, switching, diving and jinking to match and even anticipate the panicked flight of their victim. The outcome is seldom in doubt, the hapless tern or gull being panicked into dropping its fish which is usually snatched by the skua before it can hit the water. The robber will then glide away silently to enjoy its stolen meal and, of course, await the next victim.
The seas are full of threat and danger if Arctic Terns are to simply survive their incredible migrations and to return to our coastline the following year. Added to that we are still waiting to see if avian flu has any lasting impact. Life certainly isn't easy for these beautiful and slender terns.
The West Bedroom door fell off the wall the other day. It was a strange day all round really, and then right at the end of the day the door came off the wall. A few colleagues lifted it away and into a storeroom awaiting reinstallation, and as we did so realised that it was the first time it had been out of the room since around c.1850. It was one of the oddest things to happen up here for a while.
The door is different to many of the others in the castle in that it dates to before the Lutyens restoration, and so has considerable significance. This specific door led to the gunpowder magazine, and so it is rather satisfying that the Victorian lettering of the word 'MAGAZINE' is still proudly apparent, having been simply painted over by Lutyens' painter and decorator. We will get the door back up as soon as we can so it can get back to doing what it does best, but as so often when things like this happen (although admittedly, this is my first door detachment) I get to thinking about the folk who have been through this door over the year, people who have perhaps held it open for someone else, or closed it to keep out the draught - or even the other person. Successive generations of soldiers would have been in and out of the room to prepare charges for the guns, changing out of any clothes with buttons or any metal attachments in the smaller shifting room, so as not to inadvertently ignite the whole place.
We made another interesting discovery recently as well which I thought I'd share. Like most historic buildings, the castle has plenty of graffiti or inscriptions in the walls from past inhabitants - most of which have little or no meaning, even if they are readable. Last week we discovered a whole series of apotropaic marks in the upstairs cloakroom/toilet. The word 'apotropaic' comes from the Greek meaning "to avert evil" and where these marks are found in old buildings, it tends to be at the point where vulnerability gives way to safety; so for example a doorway or a staircase. They usually date from between the 16th and 19th centuries but of course with the Lutyens renovation of 1903-06, most of the old doorways were swept away and replaced. The West Bedroom door did survive, but doesn't seem (as yet) to have any marks on it, but the cloakroom/toilet had previously been a staircase, and dates back to the late 17th century. Thinking of it as a staircase was the key to finding the marks, as they are all at what is now ground level, but prior to Lutyens' work would have been at hip level as people would have ascended the stairs. The marks are mainly circles, between 25 and 75mm in diameter, often crossed with scratches. There are also marks like 'VV' for 'Virgo Virginum' ('Virgin of Virgins') and 'M' for the Virgin Mary. We think that these marks may have been added by successive generations of residents, and so perhaps account for many centuries of different people living here. As the fear of bad luck or 'evil' from outside receded, so did the practice of adding these marks, but in the act of making these simple inscriptions on the way to bed one night, these distant anonymous occupants of a place we all find so familiar, have left their own mark on the place.
Best wishes
Nick Lewis - Collections and House Officer
Lindisfarne Castle nick.lewis @ nationaltrust.org.uk
07918 335 471
NATURAL ENGLAND LINDISFARNE NNR
Spring is here and the shorebirds and ground nesting birds have arrived back. The dunes are now alive with the sound of Skylarks and Meadow Pipits singing above their territories and Lapwings are also constantly display flighting with their familiar 'Peewit' call.
After a winter away Sandwich Terns have arrived back and can be seen flying and feeding along the coast after their long migration from West Africa. It is particularly nice to see them in good numbers this year after the devastating impact that Avian Influenza had on the local breeding population last summer. Little, Arctic and Common Terns are still a week or so away but by the time the next article goes out they should have returned, and some will likely be on eggs.
As well as the birds being busy the staff and volunteers have also been busy conducting a Reserve wide Ringed Plover survey every week to give us a snapshot of nesting activity across the site. As reported above we have discovered nesting sites already and began to put out protection fencing. It is important to remember that shorebirds can nest anywhere along the coast where the habitat is suitable, so please be vigilant even when you are well away from protective fencing. Most of the fencing and refuge areas will be in place by the time this article goes to print so please follow any on-site signage and feel free to come and chat to our friendly shorebird wardens.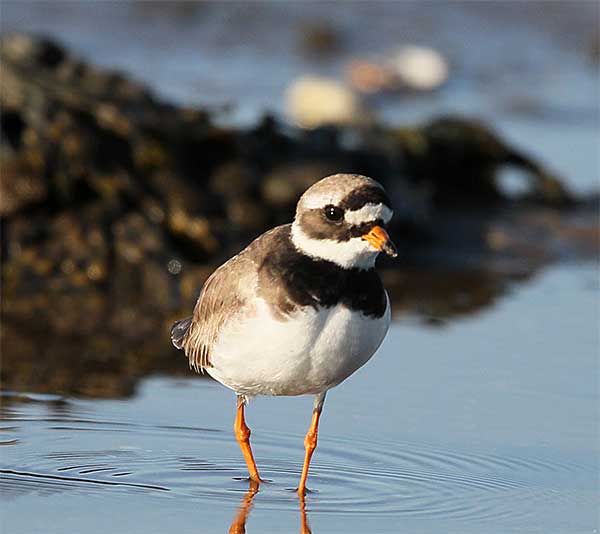 Ringed Plovers have been getting territorial on the beaches and we are already seeing the first nests pop up along the coast of the Reserve.
We have also been busy with the first Shorebird Awareness Week. This was a series of events from the 10th - 14th April focusing on raising people's awareness of these special birds. We did family crafts and games, shorebird safaris, giant sand art and even got onto local TV news. All in all, it was a great success. Events were well attended and with the power of TV news we reached far more people than we imagined we would.
We still have lots of fun events taking place through the summer and autumn. The events programme is available to download on our blog website lindisfarnennr.blogspot.com. Our volunteer warden and local historian John Woodhurst also begins his new series of walks on the island, 'Searches for Churches' in May looking at the latest archaeology. John's talk version of the walk was sold out at the Lindisfarne Gospels Exhibition Programme last year. The dates for the walks in May are as follows.
Monday 8th - 10am-12pm
Sunday 21st - 11am-1pm
Please email andy.denton@naturalengland.org.uk or phone the Reserve office on 01289381470 to book your spot.
Andy Denton - Reserve Manager
Lindisfarne & Newham NNRs
LindisfarneNNR Blogspot
Imagine that Holy Island is an enormous wobbly blancmange. Somewhere on the island a huge gong is struck hard. The vibrations ripple out, shaking every corner of our isle, from the Castle to the Coves.
At my observatory on Chare Ends I place a ruler on the ground and measure the local contraction and expansion of the blancmange, noting the exact time the gong's sound wave passes. My friend Ian Kerr at Crossgates does the same. Later when we compare notes, we can calculate exactly where the gong was struck and how forcefully it was hit.
For "blancmange" read "spacetime": the very fabric of the Universe itself. For "gong" substitute the cataclysmic collision of two absolutely massive heavenly bodies, such as a pair of black holes. And in place of our ruler measurements, consider the remarkable gravitational observatories LIGO and Virgo.
The European Gravitational Observatory know as Virgo located near Pisa in Italy. Each of the "arms" extending at right angles are the length of Holy Island from the Castle to the Snook. (credit: The Virgo collaboration)
LIGO stands for Laser Interferometer Gravitational Wave Observatory and is located at two sites in the USA. Virgo is a similar observatory in Italy. At 0951 GMT on Monday 14th September 2015 these observatories almost simultaneously detected an anomalous event: a miniscule change in the time taken for a laser beam to bounce back and forth several hundred times between mirrors at the ends of their 4km long detecting tubes. The length of the tubes had momentarily been altered by a passing ripple in spacetime.
Astronomers were able to deduce that the passing distortion was caused by the merging of two black holes billions of years ago in a specific distant galaxy far, far away. Other astronomers using conventional telescopes looked back in their recorded data and saw a flash of light from exactly the predicted spot. If that fails to impress, I am not sure what will! Two year later, the 2017 Nobel Prize In Physics was awarded for the discovery.
Gravitational Astronomy is opening up a new window on the Universe. Until recently, all observations were made using electromagnetic radiation: visible light, microwaves and X-Rays. Now ripples in the fabric of space time offer a completely different method to detect and study distant cosmic phenomena. With a big enough gravitational telescope, it should be possible to peer back to the very beginning of time, when the nascent Universe was still opaque to electromagnetic radiation.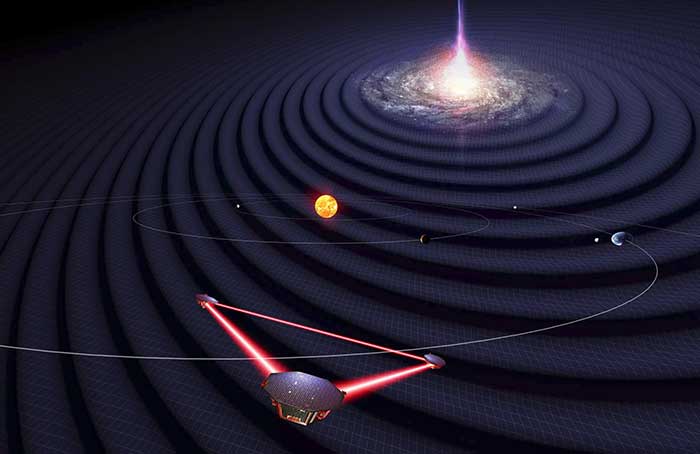 An artist's impression of the LISA mission planned for the 2030s. Three satellites will orbit the Sun in a triangle formation spaced 2.5 million kilometers apart. They will bounce laser beams off one another and measure miniscule length changes caused by passing gravitational waves. (credit: University of Florida / Simon Barke)
Astronomers are of course busy planning how to build a VERY big gravitational observatory. How big? Well about 7.5 million km long!
LISA is the Laser Interferometer Space Antenna, due to be launched sometime in the 2030s. It will consist of three satellites in a triangular formation, trailing the Earth's orbit around the Sun. The satellites will be flying 2.5 million kilometres apart. They will shoot laser beams at each other to measure their separation with astonishing precision. Using gravitational astronomy, LISA should be able to detect the antics of black holes, white dwarves and neutron stars on the other side of the Universe.
Watch This Space....
Max Whitby, thevisibleuniverse.com?
Max's stand at the Great Astronomy Bazaar in Mahwah, New Jersey USA with his co-author Charles Bracken whose recent astronomy group lecture might be of interest: https://www.youtube.com/watch?v=nJAZ1FlBWOE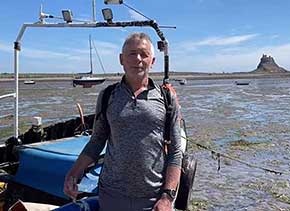 IT'S ONLY A STONE
Back from cataracts in Tanzania and, after a couple of weeks of transition, back to rocks and my own challenge - trying to convince people that stones are interesting. It took several years after retiring for the penny to drop properly and realise that not everyone in the world thinks rocks are as stimulating as geologists do. For almost 40 years I'd lived in a geobubble, working for the British Geological Survey, an organisation of 850 people with a mission to understand the rocks of the UK and many other parts of the planet. Those scientists and the many other people and professions I met in the course of work (planners, engineers, politicians, administrators, biologists, economists, insurance people, etc, etc) were all, to a greater or lesser extent, interested in the stuff beneath their feet. At the time I used to think I was pretty good at communicating my science to people who weren't geologists.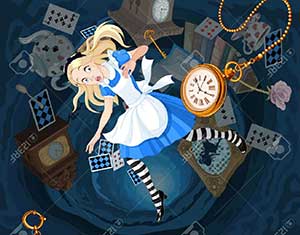 curiouser and curiouser...
Then I retired and moved back north, back to a group of friends who had little or nothing to do with rocks - healthcare, retail, farming, legal people. We'd go hiking; and still do. I'd proffer bits and pieces of unsolicited information about the rocks and terrain we would walk through. They lost no time in telling me - bluntly (we were old friends) - that if they wanted to know about stones they'd ask. The penny dropped, I might be ok at translating geological stuff for normal people (aka non-geologists), but I had not really grasped that the majority of society did not have the appetite for the large portion of stones that geologists did. People wanted small tasting plates and those small plates had to be attractive and leavened with things they found interesting - history, art, poetry, wildlife, society, food, economy. That message, that not everyone loves rocks as much as you do Ian, was reinforced at meetings with colleagues on charity boards and other groups - I guess I became more perceptive and sensitive to it.
Lest some of you people out there think this is an affliction that affects only rock-people, might be time to think again. We are a diverse bunch, not everyone wants to know the far end of a broad bean from a sweet pea, wholemeal from soda bread, barnacle from a brent goose, rim brakes from disc, zoom from macro and a birdie from a bogie. Although I'll grant you that in the opinion of many, those who love rocks don't come that far above those who collect Trig Points and go in for Extreme Ironing.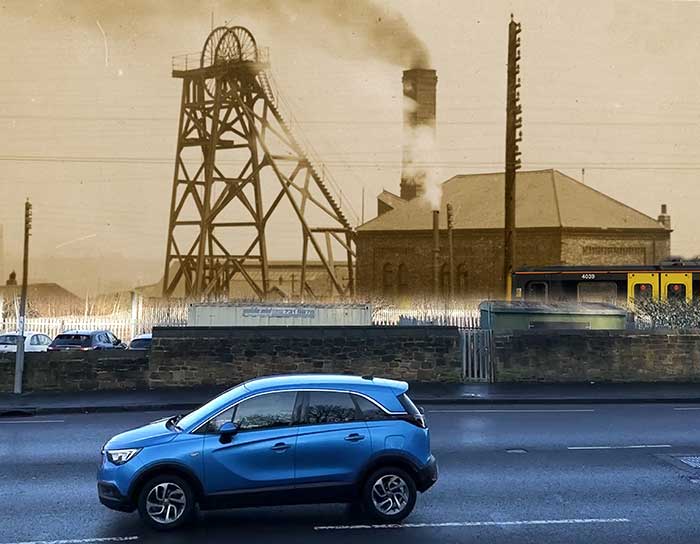 Felling Composite
Where is this going? Well, I'm currently preparing the next book - yes it's about rocks, this time in old County Durham. So lots of my days are spent searching out and reading about stuff that will hopefully make stones interesting for normal people - small tasty morsels. Things about ancient human bones in Hartlepool, tropical cathedral monuments, belligerent bishops and burgesses, mining disasters and innovation, Alice in Wonderland and The Lambton Worm (hooked you now eh?). But I wonder if I've succeeded? Will you be interested enough to buy it if it ever sees the light of day?
NORTHUMBERLAND COAST AONB
New team member
Emma Wilson
We recently welcomed Emma Wilson to the team as our new Volunteering and Access Officer. Emma comes with a wealth of experience from the education sector and a passion for the outdoors. She will be leading our Coast Care volunteers in their conservation efforts across the AONB and is excited to breathe new life into our Young Rangers volunteering project for young people. If you're interested in volunteering, visit www.coast-care.co.uk or search Coast Care Northumberland on Facebook.
KEEP exhibition success
Katherine Renton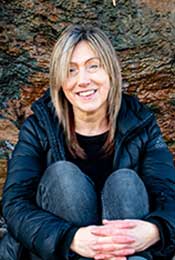 The Northumberland Coast AONB partnership has funded local artist Katherine Renton to deliver an exhibition at Alnwick's Bailiffgate Museum & Art Gallery and a series of 10 creative workshops for children at Amble Links First School. Katherine's work is inspired by local castles and the region's coalmining history, with a distinct nod toward the current climate crisis. She makes unique watercolour paints from found materials salvaged from beaches to create haunting depictions of castles. The preview of KEEP - Castles, Coal, Coast and Climate, was held on March 31st at the Bailiffgate, and was incredibly well-attended, bringing a good amount of local interest to the exhibition and the wider work of the AONB partnership.
Introduction : I have recently read, in paperback, the novel 'Sybil', written in 1845 by Benjamin Disraeli. I can give it a hearty recommendation for its treatment of the political and social conditions of the 19C.
The front cover of the paperback shows the face of a fine-looking woman : the back cover informed me that the face was a detail from 'Judith with the Head of Holofernes'. The painting, done in 1613, was by one Cristoforo Allori.
What relevance the picture has to the events of the 19C beats me. It did however, kindle an interest in the story of Judith.
The Story : is one of girl-power. To find the story, one must look again to the Apocrypha, to the book entitled 'Judith'. Incidentally, the name means 'Jewish woman', which is what she was anyway. She was a beautiful wealthy widow living in a town called Bethulia. Bethulia guarded any approach to Palestine from the North.
An invading army, variously described as Assyrian, Babylonian, Persian led by its general, Holofernes, came and besieged Bethulia.
The town held out for a spell, but a time came when the elders were talking of surrender. Judith summoned the elders and gave them a hard time. Surrender was not on, she said. She told them to leave things to her.
Judith got out of her widow's weeds, bathed, scented herself, put on her best clothes and finest jewellery; and she went to Holofernes' camp. There, she told him that she could arrange for him the taking of Bethuliah. (All lies, you understand).
Cutting a long story short, Holofernes (thinking 'tonight's the night') invited Judith to feast with him in his tent. Holofernes applied himself to the wine, so much so that he passed out.
Judith then took hold of Holofernes' sword, smote twice upon his neck with all her might and took his head off. Heavy work.
The Paintings : I have referred to the painting by Allori. There are plenty of others, depicting either the beheading or Judith with the severed head. Michelangelo, Botticelli, Caravaggio have all contributed. There is even one from Gustav Klimt (1901). The best known is probably that executed by Artemisia Gentileschi (1593-1653). She had had, in her own life, a bad experience with a man. Her representation of Judith, muscular forearms and all, cutting away at Holofernes' neck suggests a measure of pay-back.
The Aftermath : Judith and her maid then returned to Bethuliah, taking with them Holofernes' head. Judith gave her account of how Holofernes and his head came to be separated.
Discovery of Holofernes' headless corpse completely took the starch out of the invading army. They took to their heels, every man for himself. They were pursued and they suffered great slaughter.
After this there were, for the other side, great celebrations with singing and dancing. Judith was presented with an olive garland and she sang a song of triumph. Let me quote: Chapter 16, vv. 6 and 7:
6. But the Almighty Lord hath disappointed them by the hand of a woman.
7. For the mighty one did not fall by the young men, neither did the sons of the Titans smite him, nor high giants set upon him; but Judith the daughter of Merari weakened him with the beauty of her countenance.

Music : there is even a concert/oratorio, entitled 'Judith'. Obviously, the supposed decapitation has to take place off-stage. The music is by Sir Hubert Parry, he of 'And did those feet in ancient time' fame. One of the arias entitled 'Long since in Egypt's plenteous Land' is sung to the tune which we now know in the hymn-books as 'Repton'.
It is the tune to which we sing one of our favourite hymns, 'Dear Lord and Father of Mankind'.
Not a lot of people know that.
ON THE FRINGES OF LINDISFARNE
As a member of the clergy of the Anglican church I am expected in daily prayer to use the Psalms.
Sometimes this is a problem to me: there is so much about enemies, for example, which hardly seems a description of my life. But the Psalms have some marvelous verses and the other day I met one I had not previously noticed: Psalm 84, describing the blessed man "in whose heart are the highways to Zion". What are these highways to God's chosen dwelling, I asked. The Old Testament answered me: truth and justice.
God is God of truth and justice. Someone else wrote "I cannot offer to the God of all truth the unclean sacrifice of a lie." I began to think about present world leaders and also about the fact that in this country we are soon to crown a new king. We have just buried an old queen and discussions among many mourners showed that she was passionately loved. Could there be anything better for a monarch, or for any leader at any level than to hope that in his/her heart would be the highways to heaven?
Zion in the Old Testament is the chosen dwelling place of God, the God of truth and justice. I am pretty sure that our old Queen had the highways to Zion pretty firmly in her heart. But look round our world as it is. It is not difficult to name leaders who are clearly far from this What has happened to truth in our world news or to justice in our world courts?
Did you hear on the news the final statement of a Russian man, already desperately ill, condemned to 25 years of brutal imprisonment for disagreeing with his country's leader. But, he said, darkness will lift and light will return to Russia as surely as Spring comes after winter. That light will be the light of truth and justice.
Blessed are those who love these and are led by their highways to the dwelling of God himself.
FROM SAINT CUTHBERT'S CENTRE
St Cuthbert's Centre here on Holy Island is host to many groups for quiet days and retreats. It provides a space for people to enjoy the peace and Christian heritage of the Island, and for them to take time out of their busy lives to rest , reflect and recharge their batteries.
Life today is so fraught. There is constant vying for our attention from radio, tv, social media and advertisements. People are looking for ways to escape the stresses of life today, whether it is anxiety about day to day living, making ends meet in these difficult times, relationships, or working long hours.
People are searching for an antidote to all this and are seeking ways to restore simplicity and balance to their lives. They are starting to see the need for health and wellbeing, eliminating what is unnecessary and cherishing what is valuable.
They are looking to mindfulness courses, meditation groups , art or creativity, often drawing from Eastern spirituality and philosophy to fulfil this need.
What kind of lifestyle truly allows us the space to flourish?
One recent group at St Cuthberts took the theme of 'rules' for their quiet day.
Many Christian organisations have adapted the monastic daily rhythm to provide rules which give a structure that allow us to find time in our days for the important things such as rest, work, prayer and recreation.
Communities here on the island use adaptations of these rules, as do many communities and churches all over the country, both in rural and urban areas. These are often based on some of the many Benedictine rules or rhythms of life.
Gloucester Cathedral has developed a similar 'Rule of life' to help spiritual growth for their congregation and their visitors. These are prayer, study, work, recreation and hospitality.
While a full monastic lifestyle is not practical for most of us, embracing the principles of work, rest, prayer, leisure, and order may make us calmer and more fulfilled by providing structure and space in our days to cope with the stresses of life today.
Prayer
Lord God, help us to use the time you have given us in this life wisely.
Help us to find you in our work, our rest, in the hospitality we show others, and our prayers.
May the example shown to us by our Lord Jesus Christ help us to find the way.
Amen.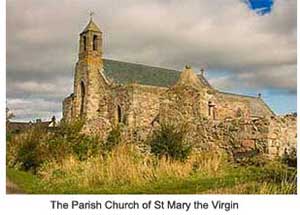 Dear friends
As we prepare across our nation for the Coronation of King Charles III, I have included here a letter to all the churches in our Diocese from our new Bishop of Newcastle, Helen-Ann Hartley. On the island we will be having a special celebration service on Sunday May 7th in St Mary's Church at 10:45am. Everyone is very welcome!
"A Message from Bishop Helen-Ann
In the mid-90s, I took part in a Diocesan Link visit from my then home-diocese (Durham) to the Diocese of Lesotho in Southern Africa. One morning, we were scheduled to visit a chicken farm, closely followed by a visit to the Royal Palace in Maseru to meet the King of Lesotho. We were running a bit late and arrived at the Palace on the back of an open truck, rather dusty and hot from our previous engagement. At the front door, King Letsie III greeted us with cool cans of fizzy drink which were very welcome on such a hot April day.
Fast forward a few decades, and I arrived at the gates of Buckingham Palace in March of this year with Myles, on the occasion of my homage to His Majesty King Charles III. While our arrival was less rushed (we were on time), and the ceremony of homage a profound privilege, meeting King Charles reminded me of our shared humanity. His Majesty combines a gift of dignity with a real down-to-earthness. We were made to feel so welcome and were put at ease particularly in the knowledge that these were the first homages that our King had experienced with bishops (the Bishop of Liverpool was just ahead of me).
Both monarchs were and are people of faith, and we know that the example of Christ the King which is of humility and service are central to the essence and role of monarchy. Look beyond the grandeur of the State and we see in King Charles a real dedication to the common good, the integrity of creation, and the wellbeing of all people. As we celebrate the Coronation, there are opportunities for connecting with each of these elements: from street parties to Big Lunches and the Big Help Out. Our churches, chaplaincies and schools are at the heart of our communities, and I do encourage all of us to get involved in some way. Above all, enjoy the Coronation weekend, and pray for Their Majesties that God may uphold and strengthen them in this new season.
Almighty God, whose kingdom is everlasting, and power infinite: have mercy upon the whole Church; and so rule the heart of thy chosen servant Charles, our King and Governor, that he (knowing whose minister he is) may above all things seek thy honour and glory: and that we and all his subjects (duly considering whose authority he hath) may faithfully serve, honour, and humbly obey him, in thee, and for thee, according to thy blessed Word and ordinance; through Jesus Christ our Lord. Amen.
+Helen-Ann Newcastle."
With every blessing
Sarah
---
ST. MARY'S NOTICES
Times for Services
Sunday
10:45: The Parish Eucharist
08:00: BCP Eucharist (first Sunday of the month only)
17:00: Evening Prayer
Monday to Friday
5pm Evening Prayer
(Updates or changes will be posted in the church porch and online)

Lord, help us to be with one another... even if at a physical distance. Help us to build a kinder world. To reach out. To love and to care. To be sensible and not to panic. Help us, Lord, to hope. Because together we can.
Amen.
Revd Dr Sarah Hills
A Blessing - for this time and every time

Lift your hearts to heaven
and receive the eternal gift of peace

Keep your feet on the ground
and walk with those who need God's love

This day

You are loved by God
You are held by God
You are blessed by God

Now and for evermore

© Revd Rachel Poolman