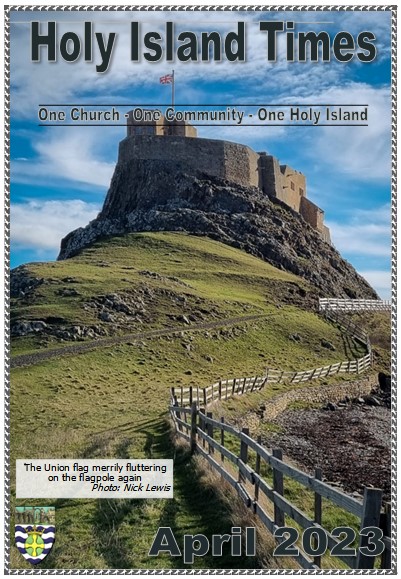 Holy Island Times - April 2023
A bit from me...
Holy Island C-of-E First School
Holy Island 2050 - update
Crossman Hall
Our Naturalist on Lindisfarne
Lindisfarne Castle
Natural England
Heavens Above
Northumberland Rocks
Northumberland Coast AONB
On the Fringes of Lindisfarne
From the Vicarage
St Mary's notices
A Blessing - for this time and every time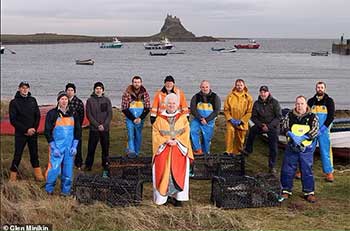 Our Service of Thanksgiving
Dear Subscriber,
Welcome to our April newsletter.
In our previous issue I explained our delight that the Secretary of State had upheld our protest and Holy Island fishermen may continue to fish in their home waters. Far and wide, we thanked all who had supported us.

On Saturday 25th March we held a service of thanksgiving to a packed congregation in celebration followed by a 'do' in the village hall. Never, since the Easter Pilgrimages of yore, have I seen St. Mary's so full. Thank you to Mark and all who took part in its preparation - giving special mention to our vicar, Sarah, who had worked tirelessly throughout the campaign.
With Lent-2023 very nearly over Sarah has included her 'Holy Week and Easter' programme - at the end of her monthly 'letter-from-the-vicarage'. (see also Island Website link) We look forward to welcoming readers to join in celebrations.
Over the next few weeks, as a consequence of UK schools being on holiday our car parks are likely to fill very soon after the tides open. We regret the deteriorating state you will find as well as the worsening pothole situation - which is presumably due to inadequate county budget provisioning...
We never tire in reminding visitors to check the crossing times in advance. Lindisfarne Causeway is a remote location. Make sure your mobile phone is fully charged and if you need to call for help, PHONE 999
I'm delighted to include monthly reports from our regular authors - however, our United Reformed Church Minister is unwell and has been unable to write.
On behalf of us all, we hope you have a wonderful Easter, enjoy our newsletter and we look forward to getting back in touch next month.
God Bless,
Geoff Porter
editor@lindisfarne.org.uk
www.lindisfarne.org.uk/ezine
PS: Ever present in our thoughts are those nearby who continue to stand in harm's way.
HOLY ISLAND C-of-E FIRST SCHOOL
Spring is definitely in the air! Our daffodils are blooming and this year, we have some beautiful red tulips in the garden. The tulips have flowered much earlier than we expected. It will be lovely to get back into the garden with the children now that the warmer weather is here (hopefully!) and things are starting to grow.
We went to the Great North Museum in Newcastle a couple of weeks ago. We took part in a museum led workshop where the children were able to handle and explore the exhibits and think about how animals are classified. They spent time identifying different species using classification keys and webs. We also studied the impact of climate change and deforestation through a shared story and resources from the museum. We had time to think deeply about the impact of human action upon our world. We also enjoyed having a good look round at the different exhibitions - seeing the Ancient Greek artefacts, the timeline from ice age to Iron Age along with natural Northumberland and the Living Planet galleries.
In RE, the children have been exploring Christianity as a living and global faith. We looked at Christian music, art and architecture from around the world. The children were inspired to draw the 'many faces of Jesus' - they did lots of versions from Africa, Asia, Europe, Oceania and the Americas. Finally, the children investigated some different churches and designed their own 'world church' drawing from some of their favourite examples from different places. The results were magnificent!
The children met with Sarah on St. Cuthbert's beach on Monday to celebrate St. Cuthbert's Day. The children were introduced to 'St. Cuthbert' on the beach (thank you Henry!) and he spoke about his life and the times he lived on Lindisfarne and the Farne Islands. He shared some very special stories with us. We listened to the stories with the waves rolling behind us, the wind howling around us and the drizzle falling upon us! It was easy to imagine what life might have been like for St. Cuthbert all those years ago. I agree with Sarah - it is so important that we keep sharing these stories so we can continue to pass them down through the generations.
We've had some enjoyable lessons about the human body over the last few weeks. Our skeleton Reggie is now fully labelled with a brain, heart and lungs added inside! Heidi and Lily-Ella were very keen to help Scarlett-Beau who decided she'd like to add the digestive system to the skeleton. So with the help of plenty of cardboard tubes, plastic bottles, a fabric bag, some wool and plenty of tape, the model is complete. Reggie is now sporting some magnificent golden plaits - I'm not sure he's too keen on them...
We are looking forward to our Easter Service on the island next week. The whole school will be together as the Lowick children will be joining us. We've been rehearsing some Easter songs and hymns. It's always a special time when we are together like that. Our school vision reflects this perfectly - Journeying Together "Be encouraged of heart and united in love..." (Col 2). Journeying Together sums up our joint journey as federated schools, but it is also so much more than this. It speaks of our spiritual and learning journey within school as well as with our wider community.
We all wish you a safe and happy Easter.
Heather Stiansen
Our website: www.lowickholyislandschools.org.uk
Happy Easter to everybody. It's almost exactly three years since this project was started by the partnership of St Mary's Church, the Development Trust, and the Parish Council. The scoping project has distilled the Island's wishes into the strategic framework that you all had through your door. As you know, the project's vision is that Holy Island will be a thriving and resilient living and working community and a beacon of sustainable tourism by 2050. So, it is such a relief and such a joy that the fishing has been saved and our community is no longer threated by the DEFRA initiative.
Our steering group meets every 1-2 months to which everybody is welcome to attend. The next one is planned for 2nd May @ 6.30, venue to be confirmed, when we plan to review the past year and look forward to the next. It will be a great opportunity to find out what is happening. The sub committees of ecology, economy, housing, tourism and community who report back to the steering group would also welcome interested new members.
The development trust has been pursuing the issue of increasing our social housing stock. They were able to secure a £15,000 grant to conduct a housing needs survey of which I'm sure you're aware. The draft results are about to be published and we will look forward to reporting on that soon.
The tourism group has a number of meetings with local stakeholders including the National Trust, AONB, Natural England, and most importantly we've had a number of meetings with various representatives of the Northumbria County Council including the leader, Glenn Sanderson, Head of cultural services, Nigel Walsh and the Visit Northumberland team. We are actively seeking funding to take Holy Island 2050 forward and we are encouraged by the council support. It was very clear in the scoping project that the Island community does not want an increase tourism numbers and so we're delighted that the Visit Northumberland tourist strategy coincides with our own concerns and is aware of the impact on small communities. We have been able to again highlight our wishes that visitor number numbers will not increase and with progress on planning, be more dispersed. We will be reporting back as these conversations develop.
The community group has been successful in obtaining a grant, so they have been able to start planning, with the Warm Hub, our first Holy Island children's youth club day. After surveying the younger members of our community, a soft play activity day followed by a picnic organised by the Post Office has been planned for the end of March. For those of the community's over 14 year olds (no upper age limit!), there has been some great work in organising weekly yoga, badminton and there will be some more film nights coming, so keep your diaries poised.
The Environment Group has worked during the past year to push forward on priority projects identified during the HI 2050 village consultations with two strands of renewable energies and the natural environment. To date, the primary focus has been climate change and renewable energies. Members of the subcommittee went on a study visit, at their own expense, to the Centre for Alternative Technology (CAT) in Wales and attended an event at the Rural Design Centre (RDC) concerning the many projects in Northumberland for renewable energies. Working with Urban Foresight, the committee made a grant application for a community owned e-shuttle bus using renewable energy. Unfortunately, it did not qualify, but they plan to keep searching for funding for projects such as solar panels and an independent energy survey.
Richard Hills and George Hogarth - (co-chairs)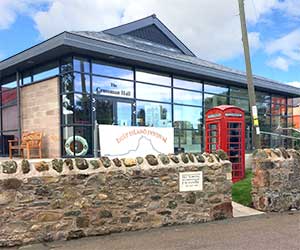 As I write this piece for the Holy Island Times, the hall is being prepared for the Fishermen's Celebration Party, a super getting together for the Holy Island Community . There is also a Children's Party on the Sunday after the Fishermens Party, this should be great fun now we have a few children to enjoy themselves.
Non community bookings are still fairly slow, the Hall is hosting a coffee morning on 10th April for it's own funds, all he!p gratefully received.
We have a visit from The National Lottery Community Fund also in April. They came last year for a meeting and to look at the hall.....enjoyed it so they are coming back this year for another meeting.
The Warm Hub and whist continues on a Tuesday, with Yoga on Monday eve and Badminton on Thursday night. So the hall is ticking over but not as busy as we could be.
Anyone wishing to organise a community event for the Coronation, the hall is available...
All the best, Sue Massey
FROM THE COMMUNITY OF AIDAN AND HILDA
There may be no greater proof of a divine plan to life than the daffodil! After the storms of autumn, the short days of winter and the relentless cold, doesn't it gladden your heart to see the first yellow flowers appear (and survive snow, frost, wind ...)?
However, on Holy Island this Spring, nothing is making us happier than the decision not to impose the planned HPMA on our waters and end the fishing industry with its centuries of tradition. I have had many conversations in the past months with visitors to the island who have championed this cause and added their voices to the protest. Last week I met a couple who went to visit their own MP to ask them to lobby parliament. This island and its people are special to many and we have heard genuine concern, outrage and then joy from people all over the world.
In St Mary's church we're making the adjustment, but Sundays are not quite the same without a heartfelt singing of hymn 292 each week.
Blessings
Faith
CAH Library
---
Judith Line, the honorary librarian of our library next to the Gospels Garden, has announced that she will retire in July. She has given great service selecting and classifying 3,000 titles which include sections on Lindisfarne, Pilgrimage and Northern Saints.
The library is used by islanders and pilgrims. If you know of any one who might take over this role please let me know.
I receive the magazine of the Sisters of the Holy Paraclete at Whitby. Their latest magazine has magnificent re-productions of an exhibition currently at Durham Cathedral that includes paintings of Glastonbury, Iona. Lindisfarne and Whitby, of St. Cuthbert on a horse and the churchyard sculpture of Saint Aidan. I am sure it is worth a visit to Durham.
Revd. Ray Simpson - Founding Guardian
OUR NATURALIST ON LINDISFARNE
THE NAME'S THE SAME!
We have in Britain a small number of birds whose name comes from the sounds they make. The Cuckoo is, I suppose, the prime example and is probably the only species everyone can confidently imitate.
There is also the Chiffchaff, a small warbler which migrates through the island and sings its name from the treetops. Yet another species is the Kittiwake, those graceful small gulls whose calls echo in spring and summer around their breeding colonies on the Farne Islands and rugged mainland sites and occasionally off the Heugh as fishing parties move into the flats at high tide.
The first north-bound Chiffchaffs were on the island a couple of weeks ago along with early Wheatears and Ring Ouzels. By the time you're reading this other summer visitors and migrants will almost certainly have appeared although we might have to wait a bit longer for Cuckoos.
We also have here on the island a small resident bird which you can easily imitate by taking a pebble in each hand and tapping them sharply together. The clicking sound you get is a perfect imitation of the alarm call of the aptly named Stonechat.
Stonechats are one of our most attractive and colourful small birds. They inhabit our dunes and some of the rougher more overgrown parts of the farmland. Elsewhere along the coast, others can be found on the mainland dunes up towards Berwick while down the coast Druridge Bay is a prime example.
Stonechats also inhabit our moorlands where over the past century or so much of their open habitat has disappeared under the onward march of forestry. Stonechats are largely missing from more intensively managed farmland which covers much of our lowland areas although they do occur in pockets of land too poor or wet to raise crops or provide good grazing for cattle or sheep.
That general absence from farmland is nothing new. The Berwick naturalist, George Bolam, generally recognised as the founding father of modern ornithology in the county, was writing as long ago as 1912 about the noticeable retreat of Stonechats from many inland areas of Northumberland as farming became more efficient and more land went under the plough.
Male Stonechats are among the most strikingly handsome of our small birds. Their heads and faces are black, contrasting sharply with a wide white neck patch. Breasts are a rich orange fading to white lower down while their backs and tails are brown and darkly streaked. The females are paler versions with smaller and much less distinct neck patches.
They are among the smaller members of the thrush family which also includes Robins, Redstarts, Bluethroats, Nightingales and Wheatears as well as our very familiar Blackbirds, Song and Mistle thrushes as well as our wintering Redwings and Fieldfares from Scandinavia, Russia, the Baltic and other parts of northern Europe.
Stonechats are much the same size as Robins and have the same rather rotund appearance. Like Robins, they are also not particularly shy, often perching high on scattered bushes, walls and fence-lines and giving that sharp, tacking warning call - the noise of those two pebbles being knocked together - when they are alarmed either by our presence or that of their many regular ground predators.
They conceal their nests in tall grasses and other vegetation and often raise a couple of broods of young in good breeding seasons, those sharp alarm calls often being the first indication from anxious adults that they have eggs or young in the nest or perhaps fledglings hiding nearby.
Other members of the family, particularly the Redstarts and Wheatears, are summer visitors to Britain, but Stonechats are permanent residents, usually not straying very far from their breeding sites in autumn and winter. That can cause them problems and lead to wild fluctuations in their population.
A fine cock Stonechat in the dunes. Photo: Mike S Hodgson.
They really are a species which is prone to vagaries of our climate. A succession of good breeding seasons followed by mild winters, which seem to becoming more regular these days, can lead to an increase in the populations with new areas, particularly in the uplands, being quickly colonised.
But when the opposite happens and winters are harsh many of these upland pairs perish leaving large areas without pairs in following springs. It then takes several years of good summers and successful breeding seasons before the population recovers, at least until the next time.
At one stage of my career I was involved in an intensive survey of a huge moorland area to check for breeding species and we logged a good healthy population of stonechats raising their broods.
A severe winter followed with prolonged snow cover on the hills. The following spring, a colleague who returned to continue the survey found a marked absence of these attractive little birds, the winter having wiped them out from that particular area.
Some birds do move from higher ground in winter but they seldom seem to go very far. Like many resident breeding species, they are reluctant to move away from established breeding sites.
Those living on the island and at other coastal sites fare much better in winter because the weather is seldom as severe as on the higher ground. Here on the island up to a dozen pairs of Stonechats regularly breed in the dunes or in rougher patches of uncultivated ground.
Often in winter some of them will simply move a mile or two to spend the winter around the edges of the village or around the harbour, the temperature here being a degree or two better than out in the open. This makes them a fairly regular sight down among the fishing sheds or around the edges of Sanctuary Close.
Even so, I've never known Stonechats follow the example of other members of the thrush family and enter gardens to take advantage of the food many of us provide.
These are birds which could, I suppose, benefit from climate change and the trend towards warmer and drier summers but that's something which remains to be seen. In the meantime, please look out for them when you are walking around the lonnens and dunes and listen for that sound of pebbles being knocked together.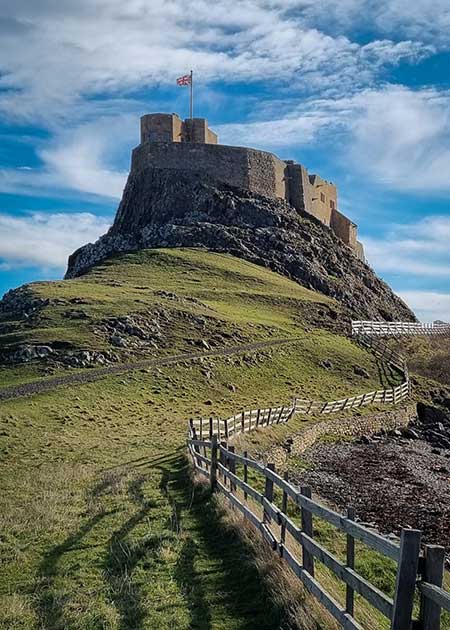 The Union flag merrily fluttering on the flagpole again - Photo: Nick Lewis
It always amazes me how fast the new season comes around, and how a small part of me yearns for the depths of winter. It is all ridiculous of course, and as I write this on the Spring Solstice and the thought of lighter mornings and beautiful days on the island comes to mind, I remind myself not to be so silly.
We've had a good productive winter I'd say. Apart from all the things we haven't achieved that is, but then as I usually find myself saying at this time of year "There's always next winter". We didn't get the bell and bracket back up above the front door unfortunately, but that wasn't really anyone or anything's fault, so it'll get done when it gets done. We did though crack on with jobs inside the castle; nearly 20 square metres of brick flooring was repointed, a major piece of work carried out in the Butler's Pantry resulting in a new floor going in, and finally (finally) we got some rooms painted. The casin distemper on the walls is great - visitors will see and maybe even smell the effect in the two North Bedrooms this year, and it is nice to think that after a couple more phases of work we'll get the whole place up to that standard.
The Union flag is merrily fluttering on the flagpole again, and I'm happy to say is there to stay during the open season. I think we might pre-emptively take it down if we get weather warnings for wind and the cynics in the midst may well wonder if then we'll ever fly the thing, but I am confident it will be up more than it is down. Some of you may remember when the flag was raised and lowered every day to indicate when the castle was open, so I should stress that this is no longer the arrangement. Raising and lowering the flag in and of itself causes wear so we hope to reduce that by leaving it up. We have got a couple of spares in the cupboard as it will undoubtedly get tatty, and even a couple of spare halyards just in case.
I was lucky enough to visit the Priory Museum last week to see the new exhibits and layout, and I have to say it was very impressive, so well done to all involved. It was especially nice to see the Viking-era gaming piece and all the early medieval name stones like that of "Osgyth", which was incredibly well preserved. Things like that always make me rue the missed opportunity at the castle when we had the place upside down a few years ago. That was the time to excavate down under the Upper Battery and find the early medieval fortress/chapel/hermitage/lookout post/coke can but never mind, maybe technology will progress to allow that all to be seen with out lifting a single flagstone. It has felt strange to me that no records exist of anything on Beblowe Crag prior to 1549 when it is such a prominent landmark, and most other such places in the area having something on top of them. Maybe the reason for that is that, well, there wasn't anything on Beblowe Crag before 1549.
I tell you who would have known either way... Osgyth!
Best wishes
Nick Lewis - Collections and House Officer
Lindisfarne Castle nick.lewis @ nationaltrust.org.uk
07918 335 471
NATURAL ENGLAND LINDISFARNE NNR
Spring is well and truly here now and with the clocks going forward the long summer nights will feel like they are just around the corner. On the Reserve, plant life is beginning to stir from a long winter as the stronger sun's rays warm the ground. The growing season is about to begin and with it the dunes will be transformed into a riot of colour. The last of the wintering birds are slowly leaving; returning to their breeding grounds high up in the Arctic. Skylarks and Meadow Pipits are now in strong voice, singing above their territory trying to pair up with a female and keep other males away. They will be soon building their nests in a little hollow under tufts of grass so please stick to paths and desire lines to avoid unintentionally standing on any eggs or chicks.
The first Wheatears and Sandwich Terns have been seen in Northumberland and is a sign of the first of the long-distance migrants returning from Africa to breed. It won't be long before they are joined by Little Terns - Shorebird season is coming! Ringed Plovers are starting to pair up on the beaches of the Reserve and it is likely that before the next article they will be on eggs. The nest is just a shallow scrape right on the sand where they will incubate for just over three weeks and then try to raise their young. Areas of the Reserve will be fenced to help protect the shorebirds from predators and human and dog disturbance so if walking on the Reserve please give any fencing a wide berth. A shorebird warden will be happy to show you the nesting birds through a telescope from a safe distance.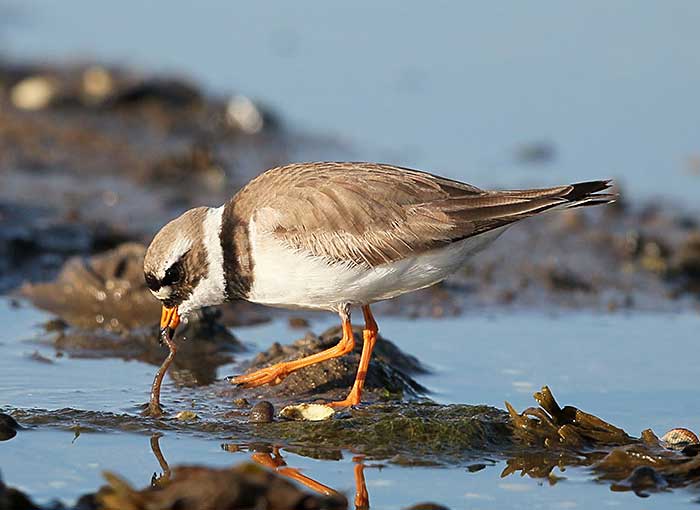 Fascinating
We have started a Reserve wide Ringed Plover survey with our volunteers. The aim is to go out at the same time every week to get a snapshot of breeding territories from Spittal to Bamburgh. We will also be working with partner organisations to try and get a coast wide snapshot of breeding territories across Northumberland. This will enable us get a better idea on numbers throughout the county, see where the hotspots are and help protect the early nesters.
To try and get the message about Shorebirds out to more people we will be launching our first Shorebird Awareness Week from 10th - 14th April. This will be a series of events from crafts and games at the Window on the Wild Lindisfarne building to guided Shorebird Safaris on Ross Sands and Goswick. Please keep an eye on our social media for more information of all of our upcoming exciting events.
We have also had delivery of a Welcome Wagon! This are exciting times! It will be our mobile visitor centre, allowing us to engage with more visitors than ever before. So if you see us out and about please stop by and say hello.
With the summer breeding birds now returning we are actively monitoring Avian Influenza and the possibility of another outbreak. The virus has been present on the Reserve in low levels throughout the winter with a number of dead Pink-footed Geese removed from the site. If you notice an unusual number of freshly dead birds please contact the DEFRA emergency line on 03459 335577. You can also fill out their online reporting form. Please also contact the Reserve office on 01289 381470. We can arrange testing and collect the carcasses.
Andy Denton - Reserve Manager
Lindisfarne & Newham NNRs
LindisfarneNNR Blogspot
In March's column I discussed how the lighter elements in the periodic table, from helium up to iron, are made from primordial hydrogen by nuclear fusion in the cores of stars like our Sun. This month we will consider how the remaining heavier elements, from cobalt all the way up to uranium, came to be formed. It is an amazing unfolding story, that astrophysicists are just starting to understand.
Altogether at least eight elements heavier than iron are essential to healthy human life. These include: copper, which is important for some enzymes; iodine found in hormones produced by the thyroid gland; and, surprisingly, arsenic, necessary for the correct operation of our brains.
Were it not for these elements, none of us would be here. So how were they created? Atomic fusion occurring at the heart of stars is to too weak to forge the heavier elements. Something much more powerful is required.
Here is a collection of the rarest elements in the Universe: ruthenium, palladium, rhodium, iridium and gold. We now think that they were created by the collision of neutron stars. (Credit: periodictable.co.uk)
Last month I showed one of the most beautiful deep sky objects in the heavens: the Crab Nebula. This is a cosmic firework, a puff of smoke resulting from a star that exploded around a thousand years ago. Such supernovae occur when stars several times bigger than our Sun use up their hydrogen and reach the end of their life.
For the elements of the periodic table, supernovae are important for two reasons. First, they disperse the lighter elements made by stars into surrounding space... where in time they become incorporated into new planetary systems. Secondly, the violent forces in a massive supernova are powerful enough to create at least some elements heavier than iron.
Even big supernovae, however, cannot explain the origin of all the heavy elements present today on Earth. A different and even more powerful process must have been responsible. Astronomers now think that the explanation may involve neutron stars.
Stars that end in supernovae are typically a few times bigger than our Sun. But stars over ten times more massive than that, sometimes have an even more violent ending. The pressure at their cores becomes so great they collapse into an extraordinary object called a neutron star. Only the size of Holy Island, a neutron star weighs more than 500,000 Earths!
In this NASA visualisation, a pair of neutron stars orbiting one another in a binary system gradually spiral in closer and closer until they collide in a cataclysmic explosion.
Most stars in the Universe are not single stars like the Sun. 85% are in binary systems with a companion. The pair dance around one another, attracted in mutual orbit by their gravity. In rare circumstances, two neutron stars can form a binary system. When this happens, their orbits slowly decay. Eventually the two neutron stars collide, in an explosion so cataclysmic it creates heavy elements such as gold and shakes the very fabric of spacetime.
It is these ripples in spacetime, also known as gravitational waves, that have recently been detected. In next month's column we will take a look at this astonishing discovery and what it reveals about the strangest astronomical objects of all: black holes.
Max Whitby
www.thevisibleuniverse.com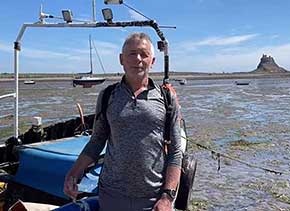 No rocks to see
Not my usual post. Nor my usual place. For most of March I've been in southern Tanzania, a small town called Lindi on the coast. It's hot - 32C and more than 95% humidity.
Perhaps surprisingly it's not rocks that I'm here for. It's blind people. I'm a volunteer for a small US medical aid charity called EyeCorps. They operate on cataracts - or more plainly they cure blindness. The US ophthalmic surgeons and nurses work with and train their Tanzanian counterparts. Six days in and they have adapted an empty ward at Sokoine hospital into a 3 bed operating theatre, been out to remote villages to screen and gather patients and have now done close to 175 operations.
The benefits go well beyond the blind person who can now see. Those who looked after these people now have much more time to do other jobs. That's essential, life is hard here in rural Tanzania and people are poor. Most live simply growing their own food and selling any surplus at the roadside. Their homes are wood, straw or corrugated iron huts and the clothes on their backs are all the clothes they have. They may be poor in material things but in so many other ways they are far from poor. Wherever you go you are welcomed with smiles. The children are happy and play for hours with an old tin lid and mud; despite their poverty they never seem to complain or throw a tantrum. That stoicism goes for the adults too. The patients who come for their operations sit patiently, sometimes for hours. Like anyone they must be so worried when they wait to go in for their operation but they still offer a smile. Their joy and gratitude when they have the bandage removed and they can see again is humbling.
It will take a while to get back to rocks again.
Ed: To see more from Tanzania go to Ian's Instagram account @ianjackson1950
NORTHUMBERLAND COAST AONB
KEEP by Katherine Renton
Northumberland Coast AONB has teamed up with local artist Katherine Renton to stage an exhibition at Alnwick's Bailiffgate Museum. "Keep - Castles, Coast, Coal and Climate," features watercolour depictions of sandcastles, using seacoal, shale and other materials found on local beaches as a base for the paint. The exhibition will include panels from the Northumberland Coast AONB to highlight landscape change, carbon sequestration and the work of the AONB team. The exhibition runs from 28th March - 21st May at the Bailiffgate Museum and is open Tuesdays - Saturdays 10 - 4pm.
Follow Katherine Renton on Instagram for updates or find more information on the Bailiffgate Museum's website.
Say hello to our new team members!
We're pleased to welcome two new staff members to our small but dedicated team. Caeley Elcock joins us as our Communications Officer, while Theresa Glynn will be providing administrative and finance support to our Farming in Protected Landscapes programme and the wider team.
You can reach Caeley on caeley.elcock@northumberland.gov.uk and Theresa can be contacted on theresa.glynn@northumberland.gov.uk
We're also excited to welcome our new Volunteering and Access officer to the team at the end of March. Follow us on Facebook or sign up to our newsletter, Coastal Views, for an introduction to Emma.
Many thanks,
Caeley Elcock
Communications Officer
ON THE FRINGES OF LINDISFARNE
THE WOMAN AT THE WELL
No wonder that Jesus' disciples were surprised. When they had left him at the well, to go on a food-shopping expedition, he had been tired after a morning of talking to the crowds. Of course no one else had been at the well, for no one comes to carry water in the midday heat. So for the disciples the first surprise was that there was a woman there and the second surprise was that she and Jesus were in conversation. The ordinary housewives of the village would get their water from the well at dawn, ready for the day's cooking and cleaning.
Probably at dawn the women had plenty of exchange of gossip together. One might think that any woman not joining them must be avoiding them, but why? Later in the story we know why. This woman already had been sexually adventurous. Possibly she preferred not to hear the other women gossiping.
But why was Jesus talking to her? Most men in that situation would simply have ignored her.
But this Jew sitting here was obviously open to conversation. Some of his talk was mysterious. He spoke about something called 'living water'. That phrase normally just meant moving water, as in a river, but this man meant something different. Apparently things would be clearer if she fetched her husband. But this man mysteriously knows her story: five husbands and now a male companion. How on earth does he know that? Then the disciples return and find them talking, and even talking theology, about the Temple and the coming of the Messiah. Everyone knows that women can't get their minds round things like that.
The woman goes home, and returns with half the village. She wants them to be fascinated by him and they are. They actually asked him (a Jew!) to stay with them, and he actually did; he stayed with them for two days. Presumably he ate Samaritan food from Samaritan plates and for 2 nights slept in Samaritan beds. No doubt the disciples did the same.
What does this story show us about Jesus? It shows him breaking two barriers, about the treatment of women and the relationship of Jews and Samaritans. He particularly disliked barriers founded and fed on hatred and fear.
There are plenty of such barriers still around in our society, just waiting for us to remove them.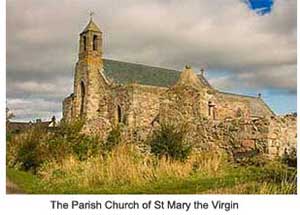 Dear friends
As you read this, we will just have celebrated the success of our fishing campaign with a thanksgiving service at St Mary's and a party in the village hall. It is truly lovely to have something so good to celebrate! Thank you to everyone who helped and supported us. As Vicar of Holy Island, I feel immensely privileged to have been asked by the fishermen, alongside John Bevan, to be the spokespeople for this campaign. It is what the church should be doing. It has truly been a hard 8 months for the fishermen, their families, and the whole island community. We have tried to conduct a reasoned, nuanced campaign. Not one which turns into 'us and them'. Not one where some are demonised for doing their jobs. Not one where we shouted, demonstrated and waved placards. But at the same time, we held the line that justice would, had to, prevail. And now it has. Importantly, that has been with so much support and help from many quarters. Some of it in the press and social media campaigns. But also, the behind the scenes encouragement, advice and 'walking with' from many, including Newcastle University, NIFCA, the church hierarchy, and many others has been invaluable. This has been more than a campaign. It has been about real peoples' lives. And about the sea and all the creatures in it. In St Mary's Church we have been singing the hymn, 'Eternal Father, strong to save' every Sunday morning since the beginning of this hard eight months. We have been singing it as a prayer for the fishermen and everyone involved. And now we can sing it as a song of thanksgiving.
'Oh hear us when we cry to thee
For those in peril on the sea...
Thus evermore shall rise to thee
Glad hymns of praise from land and sea.'
We are still in Lent, but the celebrations of Easter are very close. Holy Week and Easter Day are the crux of the church's life. Every year in St Mary's, we journey through Holy Week, following Christ to the cross of Good Friday and then his resurrection on Easter Day. This year our theme for the services during the week is 'Journeying Together to the Table: All are Welcome.' Please do come and join us for this very special time of prayer and being together. The week starts with Palm Sunday on April 2nd, and our Bishop of Berwick, Mark Wroe, will be preaching for that service. Our Archdeacon Catherine will be with us on Maundy Thursday and over the Easter weekend at the Vigil on Saturday evening, starting with the bonfire on St Cuthbert's Beach at 9pm, along with the Northern Cross pilgrims, and she will celebrate with us on Easter Day. It would be really lovely to come together as our community for these services as we welcome our special preachers from the Diocese.
I recently found the following which I have adapted and I hope sums up our welcome here.
You are welcome! Reflecting the welcome that Jesus Christ offers to all, St Mary's, Holy Island welcomes every person to seek full participation in our parish community and within the Body of Christ. We believe that all are worthy of respect and love because all are created in the image of God. Our welcome is not limited by a person's age, sex, race, cultural background, physical or mental health or ability, sexual orientation, gender identity, social or economic situation, marital status, or faith background. We do not seek to erase our differences. Rather, we lovingly embrace the rich and unique dimensions within each of us, as we strive to grow together in holiness. This is the wholeness of life. Moving with as much understanding, compassion, and humility as we can, we journey together in a safe, positive and nurturing environment, beyond tolerance, toward mutual respect, in grateful celebration of God's creation.
With every blessing
Sarah
---
ST. MARY'S NOTICES
Times for Services
Sunday
10:45: The Parish Eucharist
08:00: BCP Eucharist (first Sunday of the month only)
17:00: Evening Prayer
Monday to Friday
5pm Evening Prayer
Holy Week and Easter Services
April 2nd : Palm Sunday 8am BCP Holy Communion and 1045am Eucharist with Bishop Mark
Monday 3rd : Contemplative Service 7pm
Tuesday 4th : Contemplative Service 7pm
Wednesday 5th : Contemplative Service 7pm
Maundy Thursday : Holy Eucharist with foot washing and Vigil 8pm with Archdeacon Catherine
Good Friday: Making the Easter Garden and hot cross buns - children especially welcome - and prayer stations 11 - 1pm, and Liturgy of Good Friday 1-2pm
Holy Saturday: Easter Vigil and Holy Eucharist 9pm starting on St Cuthbert's Beach with the bonfire and Northern Cross pilgrims, with Archdeacon Catherine
Easter Day: Dawn Service on the Heugh 6am; BCP Holy Communion 8am; Festival Eucharist 1045am with Archdeacon Catherine
(Updates or changes will be posted in the church porch and online)

Lord, help us to be with one another... even if at a physical distance. Help us to build a kinder world. To reach out. To love and to care. To be sensible and not to panic. Help us, Lord, to hope. Because together we can.
Amen.
Revd Dr Sarah Hills
A Blessing - for this time and every time

Lift your hearts to heaven
and receive the eternal gift of peace

Keep your feet on the ground
and walk with those who need God's love

This day

You are loved by God
You are held by God
You are blessed by God

Now and for evermore

© Revd Rachel Poolman