Holy Island School celebrates footballer Lucy Bronze
A bit from me...
Holy Island C-of-E First School
Crossman Hall
Our Naturalist on Lindisfarne
Lindisfarne Castle
Lindisfarne Priory
Natural England
Heavens Above
Northumberland Rocks
The Judgment of Daniel
On the Fringes of Lindisfarne
From our United Reformed Church Minister
From the Vicarage
St Mary's notices
A Blessing - for this time and every time
Local Lionesses signed
'Euro-2022' shirt
Dear Subscriber,
Welcome to our March newsletter.
Firstly, of special mention must be that "sword of Damocles" being held over the livelihoods of our fishermen has been completely removed.

Hoping for a successful outcome, many of you have anxiously watched and waited with us. Our particular thanks, if you were one of those who joined us in writing to the Secretary of State. ED: And thank you, Holy Island Steering Group, for sharing this good news with our readers.
British schools typically take half-term breaks round about now. So, for the past couple of weeks our car park has been well-filled. And, the Oasis cafe has had a change in ownership, undergoing a programme of refurbishment, to become 'Chare Ends Cafe'. Good luck Ellen!
I am delighted to include and hope you enjoy a couple of photographs from residents, Bex (Post Office) and Scott (Aidan & Hilda). Capturing early morning views over Lindisfarne Castle they remind us that Lent is well under way and Easter is just around the corner.

On Holy Island everywhere you look there are spectacular views.
Fabulous photos from Scott and Bex
We never apologise for reminding would-be visitors to check the crossing times in advance . Lindisfarne Causeway is a remote location. Make sure your mobile phone is fully charged and in the event you need to call for help PHONE 999
From myself and all our authors, we hope you enjoy our newsletter and look forward to getting in touch next month.
God Bless,
Geoff Porter
editor@lindisfarne.org.uk
www.lindisfarne.org.uk/ezine
PS: Ever in our thoughts are those in nearby mainland Europe who continue to stand in harms way.
HOLY ISLAND C-of-E FIRST SCHOOL
We've had a busy few weeks here at Holy Island First School. We are continuing our topic of Greece and have enjoyed a Greek feast with some Greek dancing! We've begun to learn a new song about Greek mythology. We've been designing and making Greek tiles and have used different printing techniques to create patterns in the style of Ancient Greece.
This week we spent the whole day on the island with the children from Lowick. The day started off at the beach where we collected shells, stones, sea-glass and sea-weed to create a giant heart for Valentine's Day. We thought about how we love our world and nature as well as each other and our families. Have a look at our website where we have some wonderful video footage of our creation.
Back at school, we were delighted to meet with members of Lucy Bronze's family who presented the school with a signed shirt and framed photos from Lucy for the children. Since Lucy was part of the cup winning Euro 2022 Lionesses team, the children have been keen to learn more about her and her many footballing achievements. You may know that Lucy was born in Berwick, lived on Holy Island and went to school in Belford and Alnwick. I mentioned the children's enthusiasm to Thelma Dunne who is Lucy's great aunt. Then weeks later, we discovered that Lucy had organised a signed shirt to be presented to the school.
The presentation took place with Lucy's auntie Julie, grandma, great aunt Thelma and friend Margaret joining the children and staff. The children were very keen to meet Lucy's family and they had lots of questions to ask! As the England shirt was unveiled there was a great gasp of excitement from the children. Scarlett-Beau Clarke-Johnson, Year 4 pupil from Holy Island said: "I can't believe we have an actual shirt from Lucy Bronze. It's amazing!" The visit ended with a huge shout of, "Thank you Lucy!" from all the children and staff of Lowick and Holy Island Schools. The shirt will be on display at Holy Island school.
In the afternoon, the children went to Lindisfarne Priory to try out the new handling kits that English Heritage have organised for schools visiting the Priory. Helen from English Heritage had listened carefully to the children's suggestions from last year and the children had the chance to handle objects as they toured the Priory. It made the experience more interactive and each artefact related to certain areas of the Priory ruins. For example there was a replica incense burner that the children could hold and smell. It helped them to imagine what it might have been like to be part of a service all those years ago.
The children have now begun their well- deserved half term break. After the holidays we'll be visiting the Great North Museum, celebrating World Book Day and we will be taking part in Red Nose Day. We'll be having another STEM (science, technology, engineering and maths) day where we will be making a giant cause and effect Rube Goldberg 'machine' using cereal boxes and a variety of different pieces of equipment. American cartoonist Rube Goldberg designed many chain reaction type machines where one action causes another to happen. This will be like a giant domino run which we will set up around the school. I'm sure it will be amazing and of course, I'll let you know how it goes!
Heather Stiansen
Our website: www.lowickholyislandschools.org.uk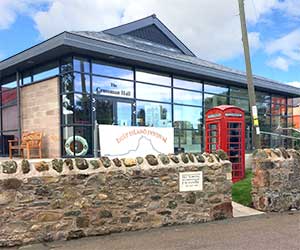 The hall has eventually had the roof slates that were lost during Storm Arwen replaced. This was carried out by the builder M T Richardson under halls insurance.
The hall is now hosting a Badminton Club, Andrew Mundy has donated a full size portable net and Kirsty Johnson is organising raquets, shuttle cocks and floor markings. Anyone wishing to join, the meetings are every Thursday evening 8 to 10 pm. Further info from Kirsty.
At the moment very few bookings from outside the island in March, York University has enquired about a two day booking late March, the community is using the hall regularly which keeps hall ticking over during the quiet season.
All the best, Sue Massey
OUR NATURALIST ON LINDISFARNE
IT'S SPRING AND THE MIRACLE OF BIRD MIGRATION
With the hours of daylight steadily lengthening and our resident garden birds already in full and glorious song , we're on the brink of spring migration as more birds flood northwards from their wintering areas.
I heard my first Song Thrushes bursting into song in village gardens on a very mild and sunny February 8, quickly followed by Blackbirds and then the rising and falling courtship display flights from the village's Collared Doves.
Within the next four or five weeks we'll have the first Swallows, House Martins, various terns and other summer visitors arriving to brighten up the island scene, all part of the miracle of bird migration.
Down the long centuries of recorded history, from the ancient Greek writers to today's scientists, we humans have been fascinated by bird migration. Early authors of the Eastern Mediterranean wrote about the spring appearance of Swallows and other species and of their equally mysterious departure in the autumn.
Much later writers speculated, right into the 19th Century, about the same species, believing that it simply went into hibernation in mud at the bottom of ponds. Strange as it sounds to us today, the idea of hibernating in ponds does have a bit of logic.
Swallows regularly roost in reed-beds during autumn migration so the last places folk probably saw them was around ponds in September and October. Swallows arriving back in spring usual hunt over those same ponds and other water, simply because that's where the earliest hatches of insects occur. Putting two and two together and making five, it must have been quite easy to assume they've been there all the time.
Another equally bizarre belief was those other very welcome summer visitors, Cuckoos, simply transformed into similarly shaped and sized Sparrowhawks which explained their absence during the winter.
Yet another old tale involved our smallest species of all, the Goldcrest, which weighs about the same as a twenty pence coin. People simply couldn't believe that they could cross the North Sea unaided so hitched a ride on the backs of bigger birds, in that instance, migrating Woodcocks.
These days, of course, we know better. Swallows, Cuckoos and a host of other summer visitors migrate to Africa simply because for survival they need to find an abundance of insects, caterpillars and other food which isn't available in the Northern hemisphere during winter.
Other species, including Goldcrests, routinely cross from northern Europe into Britain in their millions during autumn to spend their winters with us.
All of that has been proved by the simple technique of catching birds and fitting them with numbered metal leg rings with millions marked over the past century. Obviously, a bird must die and be found or be re-trapped elsewhere for the ring number to be obtained so only a tiny proportion are ever found.
But there have been enough to provide us with proof that our Swallows regularly make a 10,000-mile trip to South Africa each autumn and that our Cuckoos, far from morphing into Sparrowhawks, spend their winters in Central Africa. The same goes for a large number of other small, mainly insectivorous species.
But now science has moved on with much more sophisticated methods of tracking bird movements with the use of tiny radio transmitters and satellite devices. They, in turn, have caused some really big - and occasionally mind-boggling - surprises as we learn more about the distances they cover, the speed at which they can travel and the incredible feats of endurance of which they're capable.
For example, one night last October a Goldcrest was trapped on the Dutch coast and fitted with a tiny radio transmitter. Less than eight hours later the signal was picked up as the tiny bird flew northwards up our East coast having speedily accomplished its North Sea crossing under the safety of darkness with obviously enough energy left to continue its journey.
A Bar-tailed Godwit in winter plumage. These birds are capable of amazing non-stop, long- distance journeys during migration. Photo: Mike S Hodgson
But some of the most staggering surprises have been caused by our long distance migrants, including one species of wader very familiar to us here on the island as the Lindisfarne Reserve is by far the most important site in Northumberland for Bar-tailed Godwits.
When breeding, these long-billed and leggy birds have a glorious dark red plumage, something we only see just as they depart northwards in spring or for a couple of weeks or so when they begin to return to our coast from mid-July.
Most of the time they are with us, quietly feeding in large parties, they are in much drabber shades of pale brown. Those long slender bills are super-sensitive, enabling them to detect rag-worms and other nutritious food several inches down in the mud and silt.
Godwits breed in coastal bogs and tundra across northern Europe and Asia and on eastwards into Alaska and arctic Canada. Most of the European and Russian breeders move to the coasts of Western Europe and West Africa in winter, taking advantage of the rich feeding mud-flats and similar habitats can provide. Breeders from Alaska and Canada migrate to Australia and New Zealand.
Locally, two or three thousand of them regularly winter around the island with much smaller groups frequenting our other similar muddy and consequently rich feeding localities along the rest of our coast.
Studies have shown that migrating flocks of these birds make swift non-stop flights from the Arctic Ocean areas of Siberia to the Wadden Sea which comprises more than 300 miles of rich and muddy tidal coast stretching from Holland to northern Germany and Demark.
Many stay there for the winter. Others cross to Britain, including those wintering with us. Others press on with non-stop flights to similar but obviously warmer habits in West Africa.
They are clearly birds with great powers of endurance. Just how impressive they are has recently been shown by an incredible flight by a four-month-old godwit from a breeding site in Alaska.
Ringing had shown that birds from Alaska and Canada wintered far to the south but everyone assumed they got there by island hopping across the Pacific. After all godwits, like other waders, can't land on the sea to rest if they become exhausted.
But the introduction of satellite technology has revealed that the birds were not island-hopping but making epic, non-stop flights across thousands of miles of ocean.
Last autumn the young godwit, code-named B6, was caught and then fitted with a small and very light satellite tracker as it fed with thousands of other birds on an estuary close to the spot where it was born.
On October 13 it left the estuary on what was to prove a record-breaking non-stop flight for any bird. After confidently setting off across the open ocean, it moved southwards taking a straight route to the west of Hawaii. It continued on over the open ocean passing the Pacific island nation of Kiribati on October 19. Two days later it flew over Vanuatu without pausing and surged on southwards to pass about 500 miles east of Sydney in Australia. On it continued until October 23 when it made a sudden change of course to head westwards, eventually dropping from the sky to an estuary in Tasmania on October 25.
The youngster had flown straight into the record books having flown non-stop covering 8,425 miles in 12 days on the wing.
This was a young and inexperienced bird making its first winter migration flight so it was probably part of a flock of godwits with experienced adults leading the way. We only know about B6's incredible flight because of that tracking device. So perhaps there was nothing exceptional about it at all with thousands of other godwits making similar non-stop flights.
We obviously have a lot more to learn about bird migration, not least their abilities to stay in the air for periods we previously thought to be physically impossible. Miraculous performances indeed!
Geese: An Evening Fight - Photo: the late Stuart McMurdo
Wintry Skies Over Lindisfarne Castle - Photo: Nick Lewis
It seems like barely five minutes has passed since I was writing about the castle being closed for the winter, and all the jobs we had lined up for the coming darker months. Well, we're pretty much done with all that now and are bracing ourselves for the coming season, which begins here on 13 March.
We have had a lot going on this winter at the castle, with some building works I mentioned last month as well as the brick floors being pointed. Actually, speaking of the bricks, one of the side-effects of that work was the residual lime dust which was left on the brick surface needed to be cleaned off, so I have spent much of the winter on my hands and knees with a nylon toothbrush and a vinegar/water solution.
Also worth noting is that we have gone through another (!) restructure in the Northumberland Coast portfolio which has seen some changes to be aware of. I'm still here (of course), as is Daniel who has been around for ages too. Laura Knowles is now Visitor Operations Manager for the Castle and Farnes, and we have Andrew Poad as our portfolio general manager who replaces Simon Lee. Simon has moved on to a job with The Bowes Museum after being at the castle for 11 years. Andrew has been the NT manager on Hadrian's Wall for the last 20+ years and will continue in that role, with the Coast holdings falling under this expanded group.
In terms of anniversaries, Februarys in years ending in threes are generally rather quiet as far as my records go. There was a corker though back in 1563 - a mere 460 years ago - when soldiers at the castle were involved in the arrest of a certain James Hepburn, Earl of Bothwell who, four years later, would marry Mary Queen of Scots. Quite what he was up to on the island is up for debate, but the sources seem to suggest he had hitched a ride onboard a merchant ship and then intended to cross the border back into Scotland by land. His five companions were all interrogated but then released on bonds, but Bothwell was taken off to Tynemouth Castle where he was interrogated by Sir Henry Percy. One of the servants had claimed Bothwell was not in favour at the Scottish Court and so may be of use to the English authorities, who naturally suspected him of being up to no good. One of Percy's informants had suggested Bothwell and his men may have been on a sabotage mission to set fires to key buildings this side of the border. One John Reveley of Berrington (near Lowick) was a key witness in all this (as Bothwell had previously been hiding out in Reveley's house), but what happened to him is not recorded, although one source says that
"If he is put under March law [border law] it will touch him very nigh, strait execution is needful, as the country receives more danger by rumours of Scots amongst themselves than they do by the Scots and thieves of the opposite borders."
That is a small insight into the dark world of espionage and subterfuge in the Elizabethan borderlands, and the role that the island played - which can easily be overlooked.
One other thing to add is that a couple of new benches have gone into the Jekyll Gardem so if you're passing do pop in and take the weight off for five minutes, they are surprisingly comfy. Next time we speak we will be in amongst the visitor season and we will be nearing Easter, which is a nice thought but also slightly scary!
Best wishes
Nick Lewis - Collections and House Officer
Lindisfarne Castle nick.lewis @ nationaltrust.org.uk
07918 335 471
It's been a fantastic feeling to reopen our doors after a long winter of refurbishment. Our new museum is finally ready to go and all of our objects are safely stored away, from Anglo-Saxon stonework to Victorian watercolours. Some of my favourites include the beautiful gaming piece made of blue glass, one of only two found in the British Isles. It's about the size of a dice, but rounded and intricately decorated, and possibly has Scandinavian origins. One of the other pieces I'm particularly excited about is an Anglo-Saxon cross base. This is a large, heavy piece of stone which was discovered during excavations in the 1920s. Although it was originally a base for a stone cross, the Normans used it as foundation stone in their new church. It has undergone a year of careful conservation, and as an object which has perhaps seen the priory throughout its entire lifetime, I'm grateful that we can continue to protect it and add to its story.
We've also installed a new monument to St Cuthbert in the priory grounds. St. Cuthbert is an incredibly important figure, not just in the story of Lindisfarne but the story of early Christianity as a whole. He is celebrated as a man of peace with many miracles associated with him, particularly involving animals and the Northumbrian landscape. Though we don't know the exact spot in which Cuthbert was buried, we do know that he was honoured with a cenotaph in the priory centuries later, and this was something our lead property curator wanted to explore.
Service of Blessing for the reinstated Monument to St Cuthbert
led by the Vicar of Holy Island, the Reverend Canon Dr Sarah Hills
Photo: Sophie Howard
English Heritage have worked with the Parish Church of St. Mary and Durham Cathedral, alongside sculptor Russ Coleman, to reinstate a monument to St Cuthbert in this location. It's an understated sculpture, smaller than waist-height, and made of three pieces of locally sourced stone. It's made up of limestone, whinstone, and Frosterley marble, studded through with fossils and quartz to celebrate St. Cuthbert's love of the nature around him. It's a beautiful piece, simple yet full of meaning, and adds to the incredible building it sits in. We hope everyone can enjoy it. The monument was blessed in a service led by the Parish Church as well as Durham Cathedral, and it was a privilege to attend and hear the geese fly over as we stood in such a special place.
Sophie Howard - Site Manager
Lindisfarne Priory
NATURAL ENGLAND LINDISFARNE NNR
The days are getting longer at a rapid pace and February so far has been remarkably mild. You can almost feel spring trying to break through the stranglehold that winter has kept over the land. But in recent years winter has had a sting in its tail, so it is still possible for severe weather to impact the UK. However, the bird life on the Reserve still play to the annual rhythms of migration. Wigeon numbers have been decreasing since the end of last year as they move to their staging grounds before migrating to their breeding grounds. Wader numbers are likely to momentarily increase in the coming weeks as we add migrating birds to the existing wintering waders before most head to the high Arctic to breed. Geese numbers will also fluctuate as migrating birds move through before becoming absent on the Reserve (aside from some feral Greylag Geese) from mid-March onwards.
On the flip side March when breeding birds start to return and begin to hold territory. Skylarks and Meadow Pipits have been present in the dunes in small numbers all winter and a few have begun to start singing over territory fending off incoming birds from their patch. Sandwich Terns will be the first long distance migrants to return, arriving as early as late March from west Africa; filling the air with their familiar 'KIRRRICK' call. If the weather continues to stay mild, Ringed Plovers are likely to begin holding territory on the Reserve in March so it is vital to keep dogs on leads or close heel and preventing from disturbing any wildlife as per the bylaw of the Reserve and give birds plenty of space. In preparation for the Shorebird season we have been out with our volunteers clearing the beaches of litter and preparing for the spring and summer season ahead.
New Litterpicking Station
This month following a suggestion from a Holy Island resident, we installed a litterpicking station in the dunes between Sandham and Coveshaven. This station will contain a supply of litterpickers and bags as well as a large crate fashioned out of pallets to dump your collection of rubbish. We will be out regularly to replenish the bags and collect the rubbish that has been deposited there.
The first flowers have started to wake from the winter slumber due to the mild conditions so hopefully there won't be a harsh frost later on to knock them all back.
f our events of 2023 and was a great success. We have a packed schedule of events over the course of the year with three big standout events. We have a Shorebird Awareness Week from the 10th -14th April, a Festival of Nature - celebrating all the wildlife on the Reserve on 5th August and finally our first Goose Festival on the 21st-22nd October. A full downloadable version of the events leaflet is available on the blog Lindisfarne National Nature Reserve (lindisfarnennr.blogspot.com).
Andy Denton - Reserve Manager
Lindisfarne & Newham NNRs
LindisfarneNNR Blogspot
On New Year's Day 2001 I went on a long walk around the island. During that walk I had a brainwave: an idea for a new product for my scientific company to develop and sell. The name of the product was "The Element Collection" and it would consist of a handsome wooden box containing 92 small glass bottles, each containing a sample of one of the elements from the periodic table.
This is an Element Collection boxed set containing small glass vials with a sample of every possible element from the periodic table that it is safe to own. Everything in the known universe, including ourselves, is composed of these basic building blocks.
The periodic table of elements, as you may remember from school chemistry lessons, is a way of organising all the various basic substances from which the entire universe is made. Examples of elements include oxygen, iron, gold, carbon and iodine. There are approximately 80 stable ones, plus several dozen radioactive elements such as radium and uranium that spontaneously decay.
To cut a long story short, my company did go on to manufacture and sell the Element Collection. If I knew back in 2001 what I know now about the complexities of sourcing, safely preparing and legally transporting these sets, I would probably never have gone ahead. But we did, and now hundreds of these periodic tables are to be found in schools, universities and in the hands of private collectors (including Bill Gates no less!) all around the world.
Why on Earth, or why in the Solar System, am I telling you all this? Well, it turns out there is a fascinating connection between the periodic table and astronomy. Strange to tell, all of the elements - apart from the simplest one hydrogen - were created in stars.
In the beginning, soon after the universe came into existence, we believe there were clouds of hydrogen gas. Fairly soon (in the cosmic timescale) some of this hydrogen condensed forming the first proto-stars. Gravity caused these early stars to collapse under their own weight, heating up in the process until they became hot enough for nuclear fusion to ignite at their cores. The first element - hydrogen - fused into the second element - helium. This is a process that still happens today at the heart of our Sun. As well as transforming hydrogen into helium, fusion releases huge amounts of energy. It is this energy, in the form of sunlight, that warms our planet and provides the driving force for living things.
The Crab Nebula is the famous and beautiful remains of a supernova that exploded almost a thousand years ago. These expanding clouds of gas and dust are full of elements created in the original star. (Credit: Max Whitby)
As stars grow old, eventually most of their hydrogen is consumed. Then heavier elements start to be made, as helium is in turn transformed in the star's nuclear furnace. In this way, all the elements up to and including iron, in the middle of the periodic table, are created. They are dispersed to be recycled into new planetary systems, when some stars reach the very end of their lives and undergo massive explosions called supernovae.
That is where the elements in your own body have come from. We are made from the ashes of long-dead, exploded stars. I take a strange comfort in that.
Max Whitby
www.thevisibleuniverse.com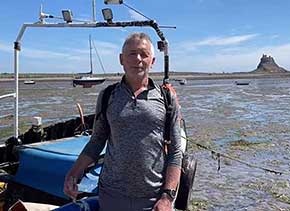 The diary of a geologist aged 72 and a half...
I wondered if you might be interested in how one of the growing retired demographic spends his time. Everyone has always told me that geology is more of a calling - a vocation than a profession and that it's full of weird people, could it be they're right?
I've spent the cold, dark winter months researching the rocks of another part of northern England; Durham to be precise. It's eventually going to be a book about the rocks of a very inclusive Durham - it stretches from Tyne to Tees. So lots of days and eves in front of a laptop with learned science papers and Google and Wikipedia. I deviate a lot - I can start the day reading about a coal mine, disappear to Darlington in search of Hell Kettles and Charles Dodgson (aka Lewis Carroll) and end it with Bishop Richard de Bury in Durham Cathedral*.
Now the days are creeping out and the weather is slightly more clement I have been venturing out to do some fieldwork. So the week started well.
Monday I could be found skulking (field geologists do a lot of skulking) around Felling and seeking out the shaft of John Pit - the place of a terrible gas explosion in a coal mine in 1812 that tragically resulted in the deaths of 92 men and boys. The youngest was 8 and paid 4p for a 12 hour day to sit in the dark and open and shut a mine door. It was a sunny day so I headed to Roker to track down some 250 million year old limestone that was shaped like cannonballs and then south to Ryhope, via Claxheugh Rock, to see if I could find Jane Jiveson's Rock. I couldn't. The 20 metre sea stack had collapsed in the last couple of years so the Ordnance Survey had best update their maps. Who thinks coastal erosion is restricted to the soft clays of Norfolk? Finished the day on Chemical Beach at Seaham - have you been there? Wonderful colour contrasts in the pale yellow limestone and the garish reds and blacks of the industrial waste.
Tuesday was another fine day and too good to waste, so a visit to Worm Hill in Fatfield beckoned. Then on to Penshaw Hill. Both claim the Lambton Worm - Penshaw has the older rocks but Worm Hill's awful story goes back further; so hod yer gobs Penshaw lads. Off to Middridge next to see an old quarry that once produced world beating fossils: 250 million year old bones of early reptiles, delicate plants and fish that just look like fish today - scales and all. Someone wants to use the quarry for landfill but the word on the street is that the application will be rejected (big smile). Fitted in a quick trip to Houghton-le-Spring on the way back to see if some cracks in the A690 possibly caused by re-activated mine subsidence were still causing problems.
Wednesday wasn't such a nice day, but dragged some friends out to Teesdale to hike across a notch in the landscape called Coldberry Gutter (thought to be a mining 'hush' but now believed to be mostly a channel caused by glacial meltwater) and then back along the Pennine Way to look at the Whin Sill at Low Force.
Thursday was dull and cool so I thought I'd do some indoor stuff. First stop Spennymoor and the Durham Mining Museum. Ever been? It's small but its collection of mining related objects is eclectic and if you have any interest in mining at all then their website will absorb all your spare time. On to Hartlepool to search out the remains of a Neolithic man found in a 7000 year old submerged forest in the bay - unfortunately he was being refurbished, so will have to go back. But the day finished well - an enjoyable trip to RSPB Saltholme, and while I did appreciate seeing some wildlife I was there to look at the subsidence caused by brine pumping from salt layers that once evaporated in an ancient sea (ironically without the ancient salt and the not too picturesque brine industry (we are all guilty - remember Cerebos and Saxo?) there would be no wetlands for the birds).
And now it's Friday and until Geoff reminded me to get my prose submitted I was sitting at my laptop trying to make sense of and describe what I'd seen this week. Just as well I take lots of photos as my aging memory would never remember where I'd been!
Does that sound like a typical retired grumpy old man's week? No, thought not, it's right then, geologists are weird.
* Back in the 14th Century a Durham bishop (Richard de Bury) seeking to untangle the philosophical distinctions between law, art and science invented the term 'geologia' - Earthly science. So the church is to blame for all this rock stuff.
In our previous issue, we read of Susanna being led away to suffer a cruel death. Will there be no help or rescue for her? No cry of 'Hi-Yo, Silver? Well, no, but we do get the appearance of Daniel. He pulled no punches. He upbraided the people for their rush to judgment; for their absence of scrutiny of the elders' testimony.
I am no Hebraist, but I understand that the name, Daniel, means, 'Judgment of God' or something to that effect. Daniel insisted on interrogating the 2 elders separately. He established inconsistency in their respective accounts. The 'judgment of Daniel' was that they were false witnesses. Susanna was cleared and the elders suffered the fate they had tried to engineer for her.
The source : what is the source of this history of Susanna and the Judgment of Daniel? It is to be found in the 13th Chapter of the Book of Daniel. This Chapter you will find in the Latin Vulgate ; also in the Bibles of the Orthodox Churches and the Church of Rome. You will not find it in the King James Version of the Bible. The Book of Daniel, though it does appear in the KJV Old Testament, concludes with Chapter 12.
Chapter 13 is to be found in the Deuterocanonical collection of books known as the Apocrypha. It contains a lot of interesting material. We learn from the Book of Judith about her beheading of Holofernes. The scene is depicted by eminent artists ; Gentileschi and Caravaggio, to mention but two: we meet the Angel Raphael in the Book of Tobit : we read about Shadrach, Meshach and Abednego, 'the three little boys in the fiery furnace' singing what we call the Benedicite ; etc. etc.
As I understand it, this material did not appear in the then available Hebrew sources. It was, however, to be found in later Greek material.
The Daniel story I enjoy most of all is the account of his stay in the lions' den: cap. 14 vv. 31-39. He was down there with the lions for 6 days, with no dinner all that time. Something had to be done. So, the angel of the Lord went to Judea, to Habakkuk, the prophet. Habakkuk had prepared bread and a stew for his workers. The angel told him to get himself over to Babylon and give the dinner he had made to Daniel. Habakkuk thought it was a bit of a schlep and, anyway he didn't know how to get there. The angel took hold of him by the hair and flew him and the dinner over to the lions' den in Babylon. So it was that Daniel got his dinner. The angel then hair-lifted Habakkuk back home to Judea.
I should point out, in conclusion, that the books of the Apocrypha are not regarded by the Church of England as being quite the real McCoy.
I refer the reader (if he/she has got this far) to Article VI of the XXXIX Articles of Religion. It provides that the books of the Apocrypha (they are set out by name, including the Story of Susanna) 'the Church doth read for example of life and instruction of manners; but yet doth not apply them as establishing any doctrine'.
Envoi : I am intrigued by Artemisia's interest in the two elders ; the sexual predators getting their come-uppance. Not just that, she was also interested in the 'strong woman' bringing about a bloody end to Holofernes (Judith) and Sisera (Jael). That, though, is for another day.
ON THE FRINGES OF LINDISFARNE
HERBERT OF DERWENTWATER
Last month we mentioned that there were a good many hermits living the solitary life in the 7th century and afterwards.
One of these is known to us through just one story. His name was Herbert and he lived in a little island in the large lake called Derwentwater, which is part of the English Lake District. He was a personal friend and disciple of St. Cuthbert and used to visit him, presumably on the Inner Farne, once a year for spiritual advice. But one year Herbert learned that Cuthbert was visiting the city of Carlisle, which was much nearer for him, so he went there to consult him.
After they had talked Cuthbert revealed to Herbert that he had some very bad news: that meeting would be their last. Cuthbert explained that he had received warnings that his death would be soon. Herbert was devastated. He did not want to live without Cuthbert. He asked that they would both pray that he might die on the same day. Their prayer was granted, though Herbert had to endure a long illness first, to fit him for heaven, as people then thought.
It is unusual in this kind of traditional material to be told of a saint's personal friendship, but I rather liked this story.
FROM OUR UNITED REFORMED CHURCH MINISTER
Throughout March the western churches journey through Lent, a season of reflection, and preparation for Easter on the second weekend of April. We have had the usual mixed weather in February, but, in the season of nature, Spring will inexorably unfold, and in the season of hospitality business will take on a quicker pace.
During the seasons of his earthly life Jesus was accompanied by travelling companions from many backgrounds, including fishermen. They could not fully understand the events that unfolded whilst they were in his company, witnessing great joy and great sadness and huge shifts in public moods and opinions, but in his compansionship they found hope and light to guide them for the rest of their days.
Throughout the world we are subject to the vagaries of the seasons, in our lives and in our communities; the media brings the challenges other people around the world are facing right into our homes too. There is no fixed time scale for how long we inhabit either the joyful or the bitter seasons of life, and often no blueprint for navigating them, but the story of Jesus points us to hope and to love never being completely defeated.
At this time of year, nature reminds us in a different way of the themes of new life; the nights will get shorter, bare earth will become alive with colour, lambs will be in the fields, and birds will be nesting. The seasons change, but always they are permeated with hope.
May this be a hopeful for season for you and yours.
Rachel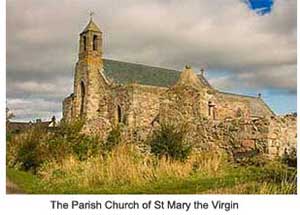 Dear friends
We are about to enter into Lent - the time in the church's year when we make ourselves ready for the death and resurrection of Jesus. As we journey through the next six weeks towards Easter, we can take the opportunity to draw close to God. To have some times of silence, prayer and assessing our lives. Lent is about more than giving up chocolate! ( as Kate said in her sermon at St Mary's this morning) - although that of course can be a good thing to do too if it helps us to be more disciplined in our living and being.
Also this month we celebrate St Cuthbert's Day on March 20th. We have been working together with the Priory and last week we held a service of dedication for the new memorial to St Cuthbert in the Priory. The first change to the building since the Reformation - quite a thing! It has been a joy to work with English Heritage and Durham Cathedral on this.
We are still waiting to hear about the decision from Defra and the Minister regarding the HPMA. We continue to keep our fishermen and their families in our prayers at this anxious time. We hope and pray that we will have a decision very soon.
And of course, it is nearly spring - the days are getting longer, the snowdrops are looking beautiful and the first daffodils are blooming outside St Mary's Church. The hope of good things to come.
With every blessing
Sarah
---
ST. MARY'S NOTICES
Times for Services
Sunday
10:45: The Parish Eucharist
08:00: BCP Eucharist (first Sunday of the month only)
17:00: Evening Prayer
Monday to Friday
5pm Evening Prayer
(Updates or changes will be posted in the church porch and online)

Lord, help us to be with one another... even if at a physical distance. Help us to build a kinder world. To reach out. To love and to care. To be sensible and not to panic. Help us, Lord, to hope. Because together we can.
Amen.
Revd Dr Sarah Hills
A Blessing - for this time and every time

Lift your hearts to heaven
and receive the eternal gift of peace

Keep your feet on the ground
and walk with those who need God's love

This day

You are loved by God
You are held by God
You are blessed by God

Now and for evermore

© Revd Rachel Poolman