Holy Island Times: records the passing of one of our own
A bit from me...
Holy Island C-of-E First School
Crossman Hall
Our Naturalist on Lindisfarne
Lindisfarne Castle
Lindisfarne Priory
Natural England
Heavens Above
Northumberland Rocks
From The Community Of Aidan And Hilda
The Judgment of Daniel
On the Fringes of Lindisfarne
From our United Reformed Church Minister
From the Vicarage
St Mary's notices
A Blessing - for this time and every time
Dear Subscriber,
A belated Happy New Year to you and welcome to this year's first newsletter.
Over the years, from its days under local ownership and onwards through two subsequent mainland owners, so many of you will have visited the 'Manor House Hotel'. For a good many of them, throughout the hotel, from kitchen-worker to management, you will have rubbed shoulders with one of the island's finest. For you we share the above picture of our Nicola Douglas who sadly died just before Christmas.... Her lifespan covered 6 (?) interregna for our Parish Church. All our vicars would have known Nicola well. Current vicar, Sarah, is no exception and her words in HIT were a moving reflection upon Nicola's all-too-brief time with us. Perhaps not so well known to readers, in her report from the vicarage, Sarah recounts on the recent loss of other loved ones from our community.
Compared to pre-pandemic, visitor numbers continue to be higher than usual. Traditionally this is the time of year when lower numbers enabled businesses to maintain and ready their properties for the oncoming season. However, judging by the numbers buying refreshments at the Post Office or returning to the car park with a bottle of Lindisfarne Mead in one hand and managing a beaker of Pilgrims Coffee in the other, refreshment needs have been well taken care of....
Further on in the newsletter, Max's photo of the new toilet block illustrates just how pitch-black the nights can get in our most-remote location. Experiencing a gale whilst waiting for the tide to open, hearing/sensing the terrifying crash of waves over the bridge - even from the comfort of your car - is not a feeling many of us would want to repeat. It will be even worse for walkers and cyclists struggling against being swept away. We all owe to our families and loved ones, as well as those risking their lives if called out to assist: please check the crossing times in advance do make sure your mobile phone is fully charged in the event you need to call for help PHONE 999
APPEAL TO DEFRA: Thank you to all who have written on our behalf to the 'Secretary of State for the Environment, Food and Rural Affairs' - including Colin Hardy (Northumberland County Councillor), The Rt Hon Anne-Marie Trevelyan. Our fishing families nervously await a favourable outcome.
We are conscious and nervous of the storm clouds that continue to gather in nearby Europe.
From myself and all our authors, we hope you enjoy our newsletter and look forward to getting in touch next month.
God Bless,
Geoff Porter
editor@lindisfarne.org.uk
www.lindisfarne.org.uk/ezine
PS: Gales are forecast for Northern England. Hopefully, the British Powergrid will not let down our newsletter distribution on 31st January.
HOLY ISLAND C-of-E FIRST SCHOOL
The children came back to school after the Christmas holidays all refreshed and raring to go! Although some mornings we've been going very slow - for a few days the causeway was really slippy, wet and slushy and the roads to Lowick were tricky with ice and snow. But on a positive note, it made our already beautiful commute very interesting - we marvelled at the frozen sea and enjoyed seeing icicles hanging from the cars and fences. Every day as we cross to and from Lowick, we see so much wildlife and wonder at the colours of the sea and the sky. We are very lucky!
We've started our new term with great excitement because our new topic is Greece. The older children will be learning about Ancient Greece and the younger children about the history of the Olympics and significant people from recent history. We will be exploring the geography of Greece in comparison to the UK and also different climate zones around the world. The children are already enthralled by some of the Greek myths and the Gods, Goddesses and mythical creatures. Our music specialist, Mrs Cochrane is teaching the children songs and a dance focused around Ancient Greece and Olympia.
Speaking of Mrs Cochrane, our Christmas performance was made more magnificent by her expert teaching of the songs and the music. Our older children accompanied some of the songs by glockenspiel which was wonderful! Both performances were very well attended and we were delighted because this is the first 'live' performance we've had since before Covid 19. One of our Year 3 boys who had one of the main parts in the play was poorly on the second night but we were delighted when our youngest Year 2 girl stepped in to play the part. What an achievement! We were also missing a shepherd and one of the kings but we just got on with it and the children were amazing.
Later this half-term, we be will joined by everyone from Lowick School who will be spending the day on the island with us. In the morning we will be doing beach school work around nature and the environment and in the afternoon we have been invited to visit Lindisfarne Priory. A while ago, the children were asked to work with English Heritage on creating new and updated resources for the Priory. These resources are now available and the children have been invited to be the first to see the updated exhibition and try out the new interactive handling kits.
In March, we will be travelling to the Great North Museum in Newcastle. We'll be taking part in a workshop about animals and classification. This links perfectly to our current science topic of 'animals including humans'. Whilst we are there we'll also have time to explore the Ancient Greek artefacts. I'm sure we'll have a super day. Oh and just in case you're walking past school and get a bit of a fright - don't worry! The skeleton you see in the window is just our Reggie! I'm reliably informed by Mrs Ward's son, Connor, that this is the skeleton's name! Reggie will be helping us to learn about our own skeletons as part of our science lessons.
Heather Stiansen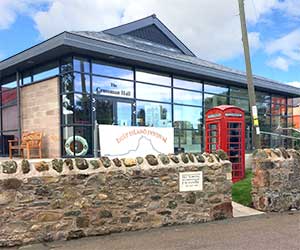 The Hall continues to be used regularly by the local residents via the Warm Hub, with Yoga classes, craft classes etc. The Coastguards are using the hall for training purposes and the fitness area is popular this time of year with limited day light.
February is not generally a busy time for visitors, we do have a poetry and music weekend planned for mid February. Hopefully come the spring , we will have more bookings.
All the best, Sue Massey
OUR NATURALIST ON LINDISFARNE
SWANS PROVIDE SURPRISES
Our elegant and sedate mute swans are such a familiar sight - locally at the Lough and often near the Causeway - that most of the time we hardly notice them.
The Lough is our only regular breeding site where they build large reedy nests for their eggs. There they thrive on a very healthy vegetarian diet of aquatic weeds with each bird needing around 5lbs a day just to maintain weight and health.
Mute Swans are creatures with more folklore and myth surrounding them than almost any other of our very common birds - and they're also very much misunderstood by many people.
Even the name is wrong. They certainly aren't mute, as anyone who has come into close contact will know. Also, despite that other very widespread myth, they don't go around breaking peoples arms or legs when angered and they certainly don't sing just once in their lives in the minutes before they die.
Granted, the sounds they make are in no way musical as they make their feeling felt with a wide range of hissing, grunts, snorting and rumbling sounds, particularly when threatened or involved in vicious fights with rival male swans or when chasing off dogs which, with good reason, they regard as predators. Just last summer cygnets at one north east site were killed by an out-of-control dog in front of horrified onlookers.
The only musical thing about Mute Swans is when they are flying. Their wing-beats produce a loud and rhythmical humming note, something always very pleasing to hear.
The myth about swans breaking human bones with a swipe of the wings is so widespread it's difficult to know how it began. Like all birds, mute swans have light bone structures, something essential for flight. Any swan which tried to batter a human would be in much more danger of ending up with a broken wing than causing us any damage.
People who've looked into the myth have been unable to discover a single case where humans have received broken bones from angry swans.
And what of that other widespread claim that mute swans sing for once in their lives - their so-called "swansong"? The belief goes back to ancient Greece and Rome was was later perpetuated by Shakespeare and others. Swansong has passed into general usage these days as a person's final performances or other act.
Most of our mute swans tend not to move very far during their lives, unlike those which breed in Scandinavia and Eastern Europe which are forced to migrate southwards when their freshwater homes freeze in winter, depriving them of that vital aquatic vegetation.
Over the course of many years I've watched the swans using the Lough and they can show some very surprising behaviour. This has been the case during this present winter.
Mute swans are highly territorial. Resident males will vigorously defend territory and chase off other swans, including their own cygnets when they are a few months old and it's time for them to go off into the wider world.
They won't normally tolerate other swans which might try to settle at the Lough. Yet this winter two juvenile Whooper Swans did arrive and joined the two adults Mute Swan and their cygnets, rather surprisingly without any animosity being shown.
Our wintering Whooper Swans come from Iceland and migrate in family parties, the young undoubtedly learning from their parents as they cross the North Atlantic. This regular migration can lead to some strange incidents. For example, at the height of the cold war in the 1960s, RAF radar operators detected a mysterious blip on their screens moving steadily at over 20,000 feet towards Scotland. At the time the old Soviet Union and Britain and its allies were constantly probing each-others air space and defences. On this occasion, jets were scrambled to intercept the oncoming unidentified intruder.
Imagine the surprise of the RAF crew which discover that the echo came from a large flight of Whooper Swans sweeping southwards at extreme height where cold would be so intense and oxygen so thin that humans would not have survived.
It seems likely that these two young Whooper Swans became separated from their parents and then spotted swans below on the Lough and joined them. The fact that they were tolerated by the residents was very unusual.
Of course, most people these days become familiar with Mute Swans in urban settings, usually in local parks or other urban waters. A colleague in the Northumbria Ringing Group, Andy Rickeard, is a walking encyclopaedia on the region's swans, having ringed many and tracked their movements and lives with the use of both metal and coloured plastic rings. These large plastic rings each have a unique inscription which can be easily read without having to catch the birds.
Most people come across swans like Soozy (left) and her mate Cyril on park lakes and similar sites.
Photo: Sue Burnip
The life of one of Andy's males with a red ring coded A040 is perhaps typical of our largely sedentary Mute Swans. He's also a favourite of another friend. She's named him Cyril and his partner Soozy and she visits them almost daily on a small park lake near her home with tasty and healthy treats of peas and sweet-corn.
Cyril was one of a brood of eight raised at the Exhibition Park, Newcastle, in 2016. They achieved a brief moment of fame, at least in the region's real ale pubs, because the brewery based in the park buildings released a special beer, Eight Cygnets, in celebration.
Once they become independent, young swans tend to congregate on larger lakes in the region and, particularly, in the lower stretches of the Tweed at Berwick where gatherings of over 500 non-breeders can occur.
Cyril spent his adolescence with other young swans until 2021 when, with his mate, they became the first pair of swans to rear a brood of young at Paddy Freeman's Park, Newcastle, just across the road from the Freeman Hospital, a place familiar to many of us who have been there either patients or visitors. Andy regards that site as unsuitable as swans need a long take off path to get airborne which is hazardous there because of surrounding trees.
Later he and his mate moved a short distance to Killingworth where, sadly, she was killed while crossing the busy main road between the two lakes.
A very aggressive male, he later attacked and drowned another cob which had flown in from another local lake and with new mate Soozy successfully fledged six cygnets. However, in autumn he continually clashed with an equally aggressive male which had arrived at Killingworth. Incredibly, this turned out to be a brother from famous brood of eight at the Exhibition Park. Eventually, he and his mate retreated to a more peaceful life as the only swans at Paddy Freeman's.
Life can be tough for male swans and occasionally very violent and certainly without brotherly love, as this case demonstrated!
It appears that Cyril is one of the most sedentary of his kind, apparently never having moved more than a few miles from his birthplace. Andy's work has proved that not all swans stick around their home areas with some quite unexpected journeys made by local birds.
For example, some of our local young swans seem to find southern Scotland attractive with several birds turning up at Musselburgh, near Edinburgh, Black Burn in Midlothian and at Galashiels in the Borders. In the opposite direction, local birds have turned up at Scarborough and even further south, in Lincolnshire. Another young swan raised at a local pond ended up in Dumfries and Galloway.
It all goes to prove that not all our swans are just permanent residents on their local ponds and that there's much more to them that might appear at first glance.
Happy New Year to you all. I hope you had an enjoyable festive season. It has of course flown by and while I love my kids and all that, by the end of the two weeks off I had with them I was glad to get back to work!
There is no let up here in the work going on out of season. We have finished the jobs in the castle the contractors were working on in November and December, but as soon as one finishes, another starts. I'm still dealing with the after-effects of the pre-Christmas work though. I mentioned we were having brick floors repointed, which has all gone well, but despite the best efforts of myself and the contractors we now have a thin layer of lime dust over the bricks themselves. Lime being lime, it does want to come off easily, so I have been testing varying solutions of white vinegar and water to do the job. The successful proportion was potent enough to make me fancy fish and chips for tea, but happily had enough water in to prevent the bricks from fizzing away to nothing. Scrubbing bricks with a toothbrush stinking of vinegar isn't something you do every day (not ideally anyway), but they have come up well. I'm almost tempted to keep going and clean the rest, but I might need to give my knees a break first.
One of the main jobs which fell out of the project a few years ago was the internal decoration of the castle - I won't go into the whole story of why that was the case but if you look through the archive of this newsletter, you'll find I probably covered it back in 2017 and 2018 - something about Barn Owls and the curing time of lime plaster... Anyway, here we are in January 2023 (!) with a plan and a competent contractor, so all is well! With the pressures of a visitor open season it is tricky to just paint the castle in one go, so we are having to phase the work over the next few years. First up are parts of the office area which we can do with little or no impact on the visitor route, and will give us a good idea of how long a particular space will take, how much paint we need, that sort of thing. All being well this should be the start of the whole castle being painted, and a line being finally drawn under that part of the project works.
There have been a fair few folk on the island recently, and I've chatted to a good few out at the castle who had come over for reasons ranging from blowing cobwebs away to just enjoying the relative peace. I couldn't resist sharing a note from our archives that in January 1543 - a mere 480 years ago - that the island was far from peaceful as a letter from Sir Thomas de Lisle to the Duke of Suffolk would attest, de Lisle said he has placed 600 or 700 of the garrison men about Holy Island, to "defend the landing of these gallants [ships]" if need be and furnish the King's ships with fresh archers. To-morrow, will cause Sir Geo. Lawson to set brewers and bakers to provide beer and biscuit.
I suppose having that many folk on the island in January must have been quite unusual, even back then. I hope the pubs got some business out of them at least!
Best wishes
Nick Lewis - Collections and House Officer
Lindisfarne Castle nick.lewis @ nationaltrust.org.uk
07918 335 471
It's been a busy winter at Lindisfarne Priory. Our new exhibition and shop space have been completely refurbished, bringing us in to the 21st century! Our new exhibition tells the story of the Priory from start to finish, featuring objects from Anglo-Saxon rune stones to eighteenth century knitting, and we can't wait to share them with you.
We've also been updating our interpretation in the priory grounds. New boards and images will help visitors find their way around and understand the significance of the ruins, as well as offering points to sit and enjoy the peaceful surroundings. A monument to St Cuthbert will also be installed in the priory, made from locally sourced stone studded through with fossils.
It's my pleasure to invite everyone from the community of Holy Island to the unveiling of this new monument. Please join us for a Service of Blessing in the grounds of Lindisfarne Priory on Wednesday 15th February at 12:00. Initiations will be available to collect from the priory grounds at weekends leading up to the event, and we'll try to get as many as possible out to homes as well. We look forward to seeing you soon!
Sophie Howard - Site Manager
Lindisfarne Priory
NATURAL ENGLAND LINDISFARNE NNR
We are now already a month into 2023 and winter continues to throw us from the deep freeze to almost spring like temperatures and back again. 2022 was incredibly dry despite the wet end to the year. A total of 471.8mm of rain fell in comparison to the 30-year long term average of 689.1mm measured at the Met Office site at Boulmer. This is a massive 217.3mm shortfall. Some of the dune slacks have remained dry so far this winter as the water table has struggled to fully recharge. If this is a regular occurrence it could radically alter the make up of the rare and scarce botany that rely on the fresh water input from the humid dune slacks. Another side effect of the dry weather was the increase in fire risk throughout the summer. There were 2 incidences of wildfires on the Reserve in 2022, resulting in the loss of over 2 acres of dune grassland. This reinforces the byelaw that no fires or BBQ's are allowed on the Reserve.
The cattle and sheep unusually came off before Christmas. The dry weather through the summer meant that there was less rank growth in the dunes. The cows have once again done a fantastic job removing the rank vegetation; benefitting the rich botany across the dunes.
There are still thousands of wintering birds currently using the Reserve. Numbers of Wigeon have dropped since the peak in mid-October but numbers are still hovering around 10,000. A stable number of 1,500 Barnacle Geese have been present across the Reserve and Pink-footed Geese have fluctuated over the winter peaking at around 12,000 in mid-October. The Brent Geese numbers have also been strong at around 3,400. During the winter months it is vital that the wintering bird populations are not disturbed as many of the birds at Lindisfarne NNR have migrated thousands of miles to reach the Reserve. When they arrive, they are exhausted and need time to feed and replenish resources, having used huge amounts of energy to fly here. Cold snaps add extra pressure as most energy is spent trying to keep warm and makes it harder for them to lay down fat reserves so its important to minimise disturbance to birds by giving them plenty of space.
After the huge outbreak of Avian Influenza over the summer involving thousands of birds there has been a relative quiet period. Avian flu is still onsite but hasn't ripped through the wintering bird population. Several dead geese have been tested over winter - all of which came back positive. However, there has been a recent uptick in dead birds washing ashore that likely have Avian Flu. The advice remains to not touch or approach any dead or dying birds and keep dogs away from them. Report any dead birds to the Defra emergency line on 03459 335577 or report them to the office 01289 381470.
Our dedicated volunteers have been out on the Reserve spending several afternoons removing scrub regeneration and some invasive species from the dunes. Targeting areas of regeneration stops the rare dune slack habitats turning into scrub woodland which has relatively low ecological value in comparison. The more mature trees are left as important cover for breeding and migrating birds as well as habitat for invertebrates. We have also been continuing the never ending job of litter picking across the 65km of coastline that make up the Reserve. If you are interested in becoming a volunteer and would like more information email andy.denton@naturalengland.org.uk
Our events programme is nearly ready to share and is packed with a wide variety of exciting events throughout the year. From guided wildlife experiences, festivals and fun family crafts and games there is something for everyone. Keep a close eye on our social media platforms for further information.
Andy Denton - Reserve Manager
Lindisfarne & Newham NNRs
LindisfarneNNR Blogspot
In mid-December, as we counted down to Christmas beneath a blanket of festive snow, a Small Miracle occurred on Holy Island. Electricians appeared to remove the seven dazzling exterior floodlights on the refurbished Toilet Block at Green Lane car park. They were replaced with special Dark-Sky-Friendly fittings that now cast a pleasing warm downlight.
Heavens be praised! This is a huge improvement, that should be a great relief to nearby residents and wildlife. And of course to this astronomer, who is delighted to ply his trade free from grievous light pollution. Once again we can appreciate our beautiful night skies. The nocturnal tranquillity of our island is restored.
Or at least substantially restored. I shouldn't really look a gift horse in the mouth. But it will be even more marvellous when the promised motion sensors are fitted, so that these much-improved lights no longer needlessly and wastefully burn from dusk until dawn.
Coming into view in Holy Island's February night sky is the splendid Pinwheel Galaxy, also known as Messier 101. (Credit: Max Whitby)
In any case, I would like to salute Bob Hodgson, Lee Anderson, Colin Hardy, David Graham and everyone else at and associated with Northumberland County Council whose name I have inadvertently omitted, for taking pity on us and effecting this Great Improvement.
Thank You!
Turning our eyes upwards: what astronomical delights are to be seen in our once-again dark skies this February? Familiar friends such as the Andromeda Galaxy, the Veil Nebula and the Pleiades open star cluster are quickly disappearing over the hill as Spring approaches. They are visible now only briefly in the first part of the evening.
In their place, a number of deep-sky highlights are becoming visible towards dawn. As the season advances, these fine objects will soon pass increasingly high in the sky during the middle part of the night. They include several of our finest galaxies, named descriptively after a miscellany of cigars, black eyes, sunflowers, whirlpools and a sombrero!
The Refurbished Toilet Block at Green Lane car park just before Christmas, showing-off its beautiful new Dark-Sky-Friendly exterior lighting.
One of the most spectacular is the Pinwheel Galaxy, also known as M101 due to its position in Charles Messier's Catalogue of Nebulae & Star Clusters, first published in 1774. A photograph of the Pinwheel, taken using my telescope on Holy Island, accompanies this column. It is classified as a Grand Design Spiral Galaxy and is thought to closely resemble our own Milky Way, viewed flat-on from "above" or "below" so to speak.
The Pinwheel Galaxy is approximately 12 million light years away from us and can be found in the constellation of Ursa Major (the Great Bear). If you are not tucked up in bed at the time, look south and almost directly overhead around 0500 on any clear early morning in February to see it. At magnitude 8, this is a relatively bright galaxy, about half a degree in diameter. That is half the width of the Full Moon. With our dark sky now thankfully restored, a humble pair of binoculars will provide a decent view.
Max Whitby
www.thevisibleuniverse.com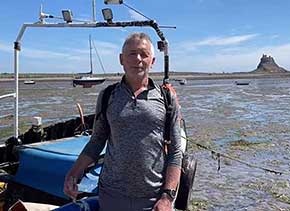 Why geologists should direct movies and film directors can't read geological maps.
I didn't spend Christmas watching TV honest. It was just that I happened to see another example of the diabolical liberties the movie and TV industry take with geological continuity. They are careful enough with tiny details, things like making sure the character is holding the cup in the same hand or the clock on the wall is telling the same time. But they occasionally screw up there too, did you see the car appear in Fellowship of the Rings, or the gas cylinder in one of Gladiator's chariots? But back to my whinge - misplaced rocks and especially in the north of England.
The River Tees at Low Force was used as a location in the 2019 war epic 1917. There's no Whin Sill in northern France and Teesdale is a long way from the soft Cretaceous rocks of Salisbury Plain where much of the rest of the movie was shot. To the irritation of many geologists, film directors are not too troubled by rock continuity. Watch the rapid transit of Robin Hood, Prince of Thieves from the white cliffs of Sussex to the Whin Sill of Sycamore Gap, or Uhtred's escape from the 'Icelandic' beach in The Last Kingdom; in reality Blast Beach south of Seaham. At least back in the good old days they got it right, money was short then and transport slow so they moved around less, although Michael Caine went a long way south from Newcastle to Blackhall Rocks in Get Carter.
But it's not just getting the wrong rocks in the wrong places that offends, it's the total lack of scientific plausibility in the plots of so many films. Not that I expect the people who read this newsletter will have watched it (did you?!) but in the 1997 movie Volcano lava spews out of the ground near Los Angeles; there are no volcanoes anywhere near Los Angeles. In the 2003 movie The Core, a team of "terranauts" venture into Earth's core where they encounter gaping voids in our planet's interior and crash through fields of sparkling, jagged minerals. Every school kid knows the Earth's core is made of iron and nickel under incredible pressure. So Jules Verne and Journey to the Centre of the Earth fails on that one too. Back to Lord of the Rings; when Gollum falls into the molten lava he wouldn't sink he would float and instantly combust - everyone knows lava is viscous and hot and more dense than water which makes up 98% of a human(ish) body. I could go on: Dantes Peak - outrunning a pyroclastic flow in a jeep. 2012 - entire human race wiped out by tsunamis, volcanoes and earthquakes. Ok you've had enough. But ....
....if anyone reading this has contacts within the Vera production team, please tell them there's a free copy of the Northumberland Rocks book on offer if they at least keep the geology of north east England honest. They may be small things to them but do they realise how frustrating it is to see Detective Chief Inspector Stanhope, aka Brenda Blethyn, head south from a house south of the Whin Sill and in the next frame appear to be driving across the drumlins near Wark. I'm available as a geo-credibility script consultant.
It's ok, I know us rock folk suffer from imagination deficit disorder, but I wish all film and TV production companies would make directors and location managers enrol for their geology A level. They might discover that fact is stranger than fiction - it usually is.
FROM THE COMMUNITY OF AIDAN AND HILDA
In recent months my sister Sally accompanied me on a Norway tour hosted by Mecky and Kristin Wohlenberg to celebrate Celtic pilgrim developments. We met friends at two retreat centres, CAH Voyagers at Alesund pilgrim churches, and I spoke at Selja's Stadt Hotel and parish church to mark the opening of the municipality's new pilgrim centre to celebrate the coming of the Irish Princess St Sunniva and her spiritual sisters whose death spread the scent of holiness 200 years before Norway's official conversion under King Olaf. I also spoke to a two-day gathering of YWAM and prayer networks, and shared in prophetic prayers in the "womb of Norway's church" (the rock cell where the sisters died) which were videoed. A group from this network visited Lindisfarne (and Bangor in Northern Ireland) to make an act of penance on the beach on behalf of the Vikings.
I drove to N. Wales to meet with a Lindisfarne pilgrim, a married monk and colleagues in the Church in Wales. We prayed over ancient sites and met emerging new monastic practitioners. Zoom dialogues ensued with Dyffryn Clwyd Mission Area leaders who seek to plant new monastic communities on ancient holy sites. My car broke down, I was dumped by a breakdown vehicle at 2.0 am on the wrong road in pitch darkness. But I got home (just) and had to buy a new second-hand car!
Our aged cousin Fr. Ken Payne died in November, much loved by his parish of St. Aidan, Chalfont. He authored books, serviced a poor community in Jamaica, and inspired an Australian architect to create a model of Lindisfarne's sculpture of St. Aidan in re-cycled metal in front of their church.
Anamchara books published my book on Praying the (eight) Hours in the modern world entitled Celtic Prayers for the Rhythm of Each Day.
On Holy Island I have met with visiting pilgrims and groups, received vows, co-led the Aidan and Hilda Week retreat and recorded a series of You Tube talks, mostly with Scott Brennan, podcasts inspired by my autobiography, and films on the environment - details are on my web site www.raysimpson.org. During the year a Solemn Covenant on the Holy Island Library was included in The Community of Aidan and Hilda handbook.
'A Daniel come to Judgment! Yea, A Daniel!
O wise young judge, how I do honour thee'.
Shakespeare, 'The Merchant of Venice' Act 4, scene 1.
Introduction: I was born on the 4th of February 1944. My father was at that time employed as an engineer's draughtsman. He drew, with great accuracy, templates for the fashioning by the bench-fitters of the war-machines. He had not had a lot by way of education, leaving school at the age of 13 to go to work. That's how it was, then.
He got himself indentured as a bench-fitter. His former teacher got wind of this and took in samples of his artwork. He persuaded the management that the boy's talents would be wasted on the factory floor.
So it was that father was moved to a white-collar job in the factory Drawing Office.
September 1939 saw the start of the Second German War. My father's work was necessary for the war effort. He was in a Reserved Occupation, not liable for call-up into the Armed Forces. His three brothers put on a uniform, 2 in the Infantry, 1 in the RAF. After some time, he felt that he too should volunteer for service, specifically as aircrew. I have no doubt that he would have served with distinction for whatever span of life was left to him in that most hazardous of occupations.
My mother thought that the idea was not a good one, so he saw the war out in the drawing office.
With, I think, my mother's encouragement, father employed any leisure hours in reading: say, the Claudius novels of Robert Graves ; the Shakespeare plays. He committed chunks of Shakespeare to memory. They formed his party pieces at family gatherings. To this day, in my mind's eye, I can see him giving us a bit of Shylock, from when Shylock thought things were going his way in court:
'A Daniel come to judgment, yea, a Daniel. O wise young judge, how I do honour thee'.
Daniel: the speech sounded good, and people would have heard of the name Daniel : the one who lived in Babylon and emerged unscathed from the lions' den. What about the 'judgment', though? To nearly everyone, the reference to a judgment of Daniel would have been caviar to the general. For myself, I did not then, or for years thereafter, have any inkling as to what the reference might signify. I doubt if Shakespeare's audience would have had an inkling either. It was even a new one on the characters in the play. As Gratiano said, after Shylock had got his come-uppance from Portia:
'A Daniel still, say I, a second Daniel
'I thank thee, Jew, for teaching me that word'
Susanna: for the back-story on this stuff about a judgment, let us go to Babylon in the period of the Exile. There was a man named Joachim, very rich, and as became his riches, he had a very beautiful wife named Susanna ; virtuous, too. The artist, Artemisia Gentileschi has left to us a painting, executed in about 1610, entitled 'Susanna and the Elders'. It depicts Susanna, in her garden, in a state of considerable undress (bathtime). She is being ogled by a pair of elderly creeps, leaning over the garden wall and getting an eyeful, betimes, of her pleasing torso.
(I conjecture that such paintings would find a ready market, the nakedness being 'essential for the narrative', as the expression is. I observe in passing that there are not a few depictions of Susanna at bathtime by famous painters : Caravaggio, Rembrandt, Tintoretto, Peter Paul Rubens etc.)
The two peeping toms made to Susanna a suggestion that she submit herself to them, for their pleasure. They threatened, should she not comply, to charge her falsely with committing adultery with a young man in the garden; a capital crime. As it happened, they were the Judges for the community in that year. Abuse of power, eh? Susanna's prospects of acquittal would be nil, as she knew, but she refused to submit to them.
And so the threats materialized. The people were assembled to adjudicate, the two filthies gave their false evidence, they'd seen it all happen, they said; they were believed, and Susanna was sentenced to death by stoning.
We ask ourselves whether anything could happen to come between Susanna and the execution of the death sentence. Is Daniel involved, somehow? Did he come up with a judgment?
For our answer we must be patient and wait for the next instalment.
ON THE FRINGES OF LINDISFARNE
In recent months we have sometimes dealt with monks or other saints who lived quite close to the community of Lindisfarne though they were not members of it. Today I would like to mention Henry of Coquet. Coquet Island is a small island in the North Sea off the Northumbrian coast (pronounced Ko-kett); we don't know who first founded a monastery there. We know that St. Cuthbert and Aelflaed (Abbess of Whitby following Hild) met there on one occasion; we presume that this monastery was destroyed by the Vikings.
After the Norman Conquest the island seems to have been in the care of the big monastery at Tynemouth. The only person to live there whose name we know was Henry of Coquet, who died in 1127. He was Danish by birth and apparently left home to escape an unwelcome marriage which his family was arranging for him. On Coquet Island he lived a strict life as a hermit, growing his own food and practising austerities Once he was almost persuaded by visiting Danes to return to Denmark. But a vision of Christ crucified persuaded him to stay. His reputation for holiness drew many visitors, but he finally died alone and his body was buried at Tynemouth.
Henry is just one of the very large number of solitaries in the Church at this time. Most of them were either hermits (free to move about) or anchorites (confined to one place). With Henry we may remember and give thanks for all the hermits and small communities whose names and lives are lost to us but whose lives and devotion were a strong witness to people of their own age, and who so built up the tradition of the church.
FROM OUR UNITED REFORMED CHURCH MINISTER
In all the churches on Holy Island prayer is at the heart of all that we do. Alongside our services, individuals come into our spaces to reflect quietly. Many people have said to me that St Cuthbert's feels like a 'prayed in building' and I am certainly aware of our Presbyterian forbears who prayed there week in and week out.
February sees the start of Lent, a season of preparation for Easter, which for many Christians involves a renewed focus on prayer. In the Bible the disciples are recorded as asking Jesus "Lord teach us how to pray" - he responds by sharing the Lord's Prayer with them. The 'Our Father' is a prayer that has been handed on from Christian to Christian and country to country ever since - it is beyond my maths to work out how many times it has been prayed, over the centuries, even on this Island, but I'm sure the answer to that particular equation is mindboggling.
Elsewhere in the gospels Jesus teaches "whenever you pray do not be like the hypocrites...for they love to stand and pray...that they may be seen by others. Whenever you pray , go into your room and shut the door and pray to your Father".
There is no set form for praying, it can be done anywhere at any time, you can be alone, or in company, using set words, your own words or no words at all. Jesus is forceful in telling us not to be hypocritical or sanctimonious, reacting particularly to some of the religious individuals of his day. First and foremost he seems to be calling us to a right attitude of mind and heart.
For me, prayer is an act of communion with God and with other people; when our breath is taken away by great joy or great beauty, we recognise that we are part of an ongoing process of creation; when we pray for people we are concerned about we are creating a circle of community in which God is a part, and sometimes we also need to be held by that community as we pour out our own heartache in prayer.
Prayer isn't some sort of magic wand, a simplistic panacea for all ills, but it is part of an eternal conversation with God - who works in mysterious ways. This centuries old English prayer is a good summation of that:
God be in my head
And in my understanding.
God be in my mine eyes
And in my looking.
God be in my mouth
And in my speaking.
God be in my heart
And in my thinking,
God be at mine end
And at my departing.
OLD SARUMPRIMER, 1527
Rachel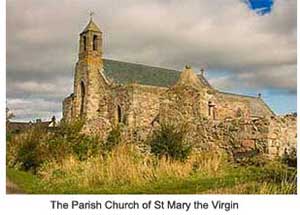 Dear friends
Happy New Year! I hope 2023 has started well for you. Here on the island, we are still waiting to hear the decision about the HPMA and our fishing. I do hope that we hear very soon. Everyone affected is very much in my prayers. Thank you so much to everyone who has been contributing and helping to get our campaign out there.
At the end of last year, we said goodbye to our own Nicola Douglas (some reflections from her funeral are included). And from St Mary's PCC, we said goodbye to Richard Messenger, after a battle with illness. And we have just lost Sylvia. We give thanks for their lives and pray for those who mourn. St Mary's is open every day for visiting, prayer and lighting a candle.
And as we begin this new year, in the church we look forward to Lent and Easter. Lent - a time of reflection, penitence and preparing for the death and resurrection of Jesus, and the great wonder and joy of Easter.
We look ahead to lighter days, more events with the warm hub (a film night to come soon and activities for the children).
And so we continue to pray for our fishermen and their families, and for us all as we prepare with hope for what this year will bring.
With every blessing
Sarah
---
ST. MARY'S NOTICES
Times for Services
Sunday
10:45: The Parish Eucharist
08:00: BCP Eucharist (first Sunday of the month only)
17:00: Evening Prayer
Monday to Friday
5pm Evening Prayer
(Updates or changes will be posted in the church porch and online)

Lord, help us to be with one another... even if at a physical distance. Help us to build a kinder world. To reach out. To love and to care. To be sensible and not to panic. Help us, Lord, to hope. Because together we can.
Amen.
Revd Dr Sarah Hills
A Blessing - for this time and every time

Lift your hearts to heaven
and receive the eternal gift of peace

Keep your feet on the ground
and walk with those who need God's love

This day

You are loved by God
You are held by God
You are blessed by God

Now and for evermore

© Revd Rachel Poolman