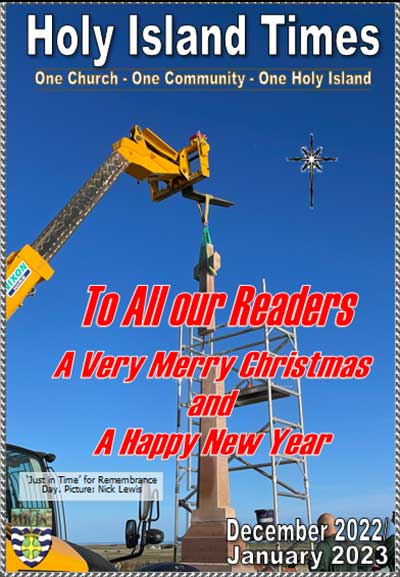 A Very Merry Christmas and a Happy New Year. Picture Nick Lewis (Repairing the Cenotaph)
A bit from me...
Our Community Appeals to Defra
From our readers
Holy Island C-of-E First School
Crossman Hall
Our Naturalist on Lindisfarne
Lindisfarne Castle
Lindisfarne Priory
Natural England
Heavens Above
Northumberland Rocks
From The Community Of Aidan And Hilda
On the Fringes of Lindisfarne
From our United Reformed Church Minister
From the Vicarage
St Mary's notices
Help Save our Future
A Blessing - for this time and every time
Dear Subscriber,
Welcome to our Winter newsletter which will be our last of the year before resuming (deo volente) in the new year.
If you visited during early November, you surely can't fail to have been impressed by the myriad of knitted woollen poppies bedecking St.Mary's during our period of 'Remembrance'. Thank you to all those who helped 'do us proud' both in the church and as the service continued at Lutyens' Cenotaph on the Heugh afterwards.
Lest We Forget
As I write, an episode of the popular 'Vera' TV series is being filmed on the island. For almost a week the car park has been well-filled with the associated paraphernalia: lighting gantries, caravans, diesel generators, police cars, emergency vehicles as well as all manner of personnel and personal vehicles. Apparently, for one particular scene, a towering Christmas tree prop is being installed in St.Mary's. When the film crew leave it is to be left as a gift to the community.
If you are planning to visit the island over the Winter period, might I again caution that this is a very remote location. When the wind is howling or at night you may be unable to tell how much the sea has overlapped onto the road or how deep it is... Be wary as walkers and cyclists can be difficult to distinguish. Animals, flotsam and sharp stones are sometimes deposited by tides. Gales and strong tides have eroded the balustrade of the single-lane bridge. The refuge hut, on the bridge, appears inaccessible. REMEMBER: check the crossing times. Make sure that your mobile phone is fully charged and in the event of needing help PHONE 999
By the time you receive our newsletter, Advent will already be upon us and the first candle lit. Kate's article reminds us of that period in our Christian Calendar. And, with Christmas in mind, Sarah included the programme of services planned for our Parish Church. If you're here, maybe you'll manage to join in.
APPEAL TO DEFRA: On behalf of our fishing community, the 'Holy Island Parish Council' again asks for your support and suggests the wording you might consider in writing to the 'Secretary of State for the Environment, Food and Rural Affairs'.
FROM OUR READERS: Thank you to all who have taken the time to write to us this month two of which I include for you.
Finally, enjoy our newsletter, we wish you and yours all the joy of Christmas and peace to all throughout 2023
God Bless,
Geoff Porter
editor@lindisfarne.org.uk
www.lindisfarne.org.uk/ezine
OUR COMMUNITY APPEALS TO DEFRA
Your Address and date
Dear Secretary of State
Lindisfarne Pilot HPMA
I / We are writing to you as a Resident / property owner / business owner on Holy Island, the site of the proposed Lindisfarne Highly Protected Marine Area (HPMA).
Following the Consultation Period that ended on September 28th to which many in our community contributed, I / we would like to express our strong support for the arguments put forward by the representatives of our fishing families and the wider community in opposition to this specific HPMA.
I / we believe that had Defra fully understood before the Consultation began the hugely damaging effect the introduction of the HPMA would have on our small and close-knit community then it is unlikely Lindisfarne would have been selected for the short list.
We are privileged to live in a beautiful area and our community is very protective of its environment which is why our fishermen have scrupulously observed all the regulations and limitations already placed upon them. Is their reward to be the loss of their livelihood and way of life?
The public and on-line meetings clearly showed that provable environmental gain would be minimal and at this stage unquantifiable, as the evidence showed our waters to have great bio-diversity with well managed sustainable fishing practices.
The damage to our fishing families, our school, our emergency services and our whole identity as a community would be devasting. Our centuries old fishery would be gone with no chance of returning. To my/ our mind that cannot be described as a 'Pilot' exercise.
I / We ask you to consider carefully the arguments presented in the Submissions made by our community. And to decide that the proposed Lindisfarne HPMA should not be implemented.
Yours sincerely,
(your name and signature)
The Right Honourable Therese Coffey MP
Secretary of State for the Environment, Food and Rural Affairs
Houses of Parliament
London
SW1A 0AA
BARBARA BYINGTON ROSNER (Redding, California)
Greetings and warm Holiday wishes to you all! Thanks, editor, for continuing to send your bulletin. I love the "bird" news and photos. It seems that my Mrs. Hummingbird moved down the street to a more private tree; maybe babies? I wish these wonderful birds could speak English!
I have just found records (as you know I research my genealogy on the family) that tell me I am related to one of England's favorite men, Sir Winston Churchill. His mother is the connection...as she was a Jerome I believe. We always did like the fellow, as grandpa never missed a broadcast on the old radio during the war. I seemed to have found more data on my Grisham clan and the Nesbitts of Scotland.
Your description of your night skies reminded me of our desert skies in Arizona when I was a kid. My grandpa had a ranch over near Phoenix, AZ and I would go there for Summer break from school every year. We never could see the stars in our area, Los Angeles, so it was a real treat at gramp's farm.
Honestly, the modern technology is whizzing past me these days...so I just do not try to spend money to keep up with it all. Primarily, I paint and do my needlework. I have 3 pictures of Jesus that have been done and a new one in the works. I have just started a Saint Brigid of Ireland in cross stitch. The pix of her is my drawing and then I fill in the threads of my choice. My life really depends on these hobbies; it is such a joy to finally have time to work on them.
My Nesbitts were in the wool weaving trade for hundreds of years in Scotland and Ireland. One of their old factories is still standing, I am told! To us "newbies" over here in the U.S. I probably sound funny, but nothing is older than 50 years where I live!!! But now I have to admit my aunt just passed away and she was a bit over 100, and I am 86 yrs now!! I am amazed at the technology in aerospace advancement I have seen (and worked on)....Wonder why we aren't kinder and smarter today??? Just makes us old timers think back to the beginning of our days!!
Well, I am drifting into the days of old, when life was grand for me, and really exciting. From Hollywood, to now, the Gold Rush era....what a difference.
So, we shall meet in that glorious Heavenly place.... God bless you for keeping me up-to-date,
Your friend and fellow story teller,
Barbara Byington Rosner
(Jerome, Grisham, Sedgwick, Briggs, Nesbitt, Ensigne)
Christian Love to you all!!
---
BARBARA PRATER (Eyemouth - Scotland)
Lindisfarne
Lindisfarne - brave old lady
Of an island clinging to your
Anchorage in the North Sea.

I first met you when I
Was young and life for living.
The sun always shone then.

My children played on your
Empty beaches. Searching
For your hidden treasures.

There was space to breathe.
We walked for miles.
The air was pure and sweet.

Your paths were narrow.
Untrodden and unspoilt.
Crab sandwiches at a gate.

Wicker basket brim full of
Wrapped fresh sea taste.
Honest box for payments.

Now there is a huge
Carpark - unfathomable digital
Equipment demanding payment.

Your roads are blocked
With queuing trippers.
Descending biblical locusts.

Bleeding your buildings dry
Of permanent residents.
Or even a general store.
Instead elaborate gifts,
Candles, wine and mead.
Nothing to nourish.

How you must hate the
Desecration that your
Beautiful tranquillity attracted.

© Barbara Prater
HOLY ISLAND CofE FIRST SCHOOL
A few people have said to me recently, "Wow, your school has some exciting things going on!" Or, "School was never that good when I was young." Well, I think this is true! We have a very creative curriculum where the children are immersed in real and relevant experiences which make the learning so memorable. We often refer back to and build upon previous learning which means that the children are able to make connections over time.
You may have seen in the Northumberland Gazette that we had a very special STEM Day (science, technology, engineering and mathematics) recently which had a CSI (crime scene investigation) theme. The children were challenged to solve a 'crime' using forensic science techniques to investigate a crime scene, find clues, check for fingerprints, compare DNA, carry out chromatography analysis of a threatening note and find other clues from mobile phone records, a broken car light and grease marks on clothes. The day ended with a trial of our suspects and the 'jury' found them all guilty! Have a look on our website for some excellent photos and a video of the day:
Our celebration of the Lindisfarne Gospels continues and we were delighted to welcome Pat Tidy from Holy Island Crafts into school to work with the children. Pat showed us some beautiful macramé and rope-work creations and we looked at the way the work has been inspired by the patterns and colours of the Gospels. We made a hanging decoration, a coaster and a plaited bracelet. Thank you Pat, it was a pleasure to have you in school.
Last week we brought our work on Northumberland, Anglo Saxons and the Lindisfarne Gospels together and traveled to Newcastle to the Gospels exhibition. The children showed they have a remarkable knowledge about this part of our heritage and history. First we visited St Nicholas' Cathedral where there were great, interactive activities set up which were very popular with the children. Then we walked through the city, admiring the architecture on Grey Street, to the City Library where the children impressed the staff with their knowledge of Beowulf and Anglo Saxon story telling. We then arrived at the Laing Gallery where we watched an immersive film about the Gospels. Finally, we went to the room to see the Lindisfarne Gospels. The children were excited to see this incredible artefact at last!
We are beginning to think about our preparations for Christmas and will be going to the pantomime 'Ali Baba & the Four Tea Thieves' at the Maltings in December. Then we will be performing our own Christmas musical on the afternoon of Friday 16th December and in the evening of Monday 19th December at Lowick Village Hall. Please do come and join us if you can. In school we'll be enjoying all the traditions with our Christmas party and Christmas lunch; I'm sure it will be a very merry time!
Everyone at Holy Island and Lowick First School would like to wish you all a safe and merry Christmas and a happy new year.
Heather Stiansen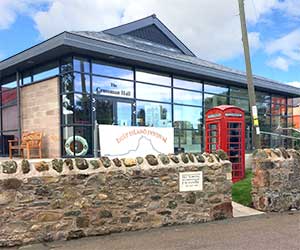 The hall is being well used by community through the activities organised by Warm Hub. These are progressing satisfactorily and will continue up till Christmas and into January.
There is a craft group every other Monday 11-2, this has been very well supported, the alternate Monday the hall welcomes all to coffee, cake and snacks in a warm space once again from 11-2.
On alternate Tuesdays after warm hub, there is a whist drive 1-3, our numbers are gradually increasing so please do join us if you fancy a game of cards, the next one is 6th December.
Every Wednesday we are offering coffee, cake and snacks along with jigsaw puzzles and board games( including Scrabble). Once again 11-2.
The Thursday hot lunch offer by Warm hub has not been as well attended as was hoped so that has now been discontinued, our thanks to Ashleigh and Charlette for the offer. The Warm Hub Thursdays and Fridays have not been well received so they are discontinued as well.
Bookings for the hall are not usually forthcoming in Dec and Jan and this season is no different.
The Coast Guards are using hall for a training session in early December and the Parish Council meet as usual in hall.
There will be a Christmas Lunch on 20th December for all who would like to join in and a Children's Christmas Party on 23rd December. More details later.
I'm sure my fellow hall trustees will join in wishing all our readers a Happy and Peaceful Christmas and New Year.
All the best, Sue Massey
OUR NATURALIST ON LINDISFARNE
THE EAGLE OF ST JOHN RETURNS TO THE ISLAND
This month's feature is based on a talk I gave at the parish church recently as part of the programme of events to mark the temporary return of the Lindisfarne Gospels to the region.
We are lucky in having in the Lindisfarne Gospels the first clearly recognisable illustration of a Northumberland bird - the Eagle of St John.
Most illustrations of birds and animals in ancient manuscripts involve very strange and fanciful creatures, perhaps the product of heads filled with religious fantasies or perhaps stomachs full of mead and other old forms of alcohol.
But here in the Gospels is a wonderfully colourful illustration of the eagle flying above the head of St John and, of course, his halo. The eagle also has a halo and carries a book in its talons. Experts believe that the colours are as rich now as when they were painted by the Bishop Eadfrith, thought to have been responsible for this elaborate work.
It must have been a colossal undertaking considering the conditions of the time. One expert told me that a modern graphic artist working full time in a warm and well-lit studio with all the paints and velum at hand would take at least two years to replicate the work.
Eadfrith would be working in conditions far from ideal. He'd probably have to rely on natural light or oil lamps. He would also have had to prepare his own vellum from the skins of the estimated 200 calves needed. It's highly likely that they were raised here on the island because at the time the Gospels were being written excavations have revealed that a big cattle-rearing farming settlement existed at Green Shiel near the North Shore. Large quantities of bones from cattle and particularly calves have been found, indicating production on an almost industrial scale. In reality, many more than 200 calves would have perished to produce the vellum as many skins would be rejected because of faults from disease and hole-boring parasites. Eadfrith would have had to produce his own paints from readily available rocks, clays and plants. That would have been another big job. By coincidence, we have a young artist on the island today who is copying Eadfrith and making her own pigments from rocks and plants. So far she's got black, browns and yellows from rocks and clay. She's also planning on other shades by using the flowers such as Red Valerian which covers many walls around the village and castle.
One problem she's found is that from finely crushed rocks you get very little pigment. Obviously, Eadfrith would have needed large quantities to even start.
Early authorities considered that the Eagle of St John was so accurate it must have been done from a living bird, probably a Golden Eagle. Closer examination suggests it's based on an even larger species, the White-tailed or Sea Eagle. They are Europe's largest eagles with very broad wings spanning more than eight feet. It's a bit like seeing a kitchen door sailing majestically overhead.
That same eagle was a symbol of power for the Roman legions and later of the Vikings who, shortly after the Gospels were produced, made first raid on England here on the island in 793. That first raid and the others were to have monumental consequences for our history. After that first raid, which shook Christianity to the core, others followed and eventually led to the monks leaving with the Gospels, the body of St Cuthbert and the bones of one of his predecessors, Aidan.
That departure is often popularly depicted as a bunch of tattered, terrified monks fleeing in panic across the sands. But other authorities, including our own Canon Kate Tristram, believe it was really a well-planned strategic withdrawal. She argues that the monks were the streetwise people of their age with education, medical knowledge and probably good chains of communication with other communities. They recognised that it was time to move and planned their departure accordingly.
793 is largely forgotten in British history, apart from here on the island, but certainly not in Norway and Denmark where it's regarded as the start of the Viking age. Dick Patterson once told me about an England v Norway football match where visiting fans unfurled a banner proclaiming: 793: Norway 1, England nil. Dick reckons that among all the England fans he was probably the only one who understood that message.
The Romans, monks and the Vikings were not the first to be fascinated by this huge bird. At the time the Gospels were being written they were probably present right around Britain but they had religious or superstition importance as far back as 4,000 years ago. In 2,000BC they were obviously of great importance in the Orkney Islands, off northern Scotland. There, beaks and talons from 20 White-tailed Eagles were found in a Neolithic tomb. The site became known as the Tomb of the Eagles, a fascinating place which I visited while staying with friends in Orkney. The tomb contained the remains of more than 300 people interred over a period of 1,000 years.
We know virtually nothing about those people, their language or any religious or superstitious beliefs. But the presence of those beaks and talons shows that the eagles were of great importance to them for reasons which we'll never know.
The Eagle of St John went on to be used as the symbol of the Catholic monarchs of the newly-united Spain and of its first queen, Isabella. She's probably best remembered as being the person, who with her husband Ferdinand, sent Christopher Columbus off to find a new sea route to India. And we all know how that turned out! On a darker side, they also ordered the mass expulsion of Jews from Spain where they'd previously lived alongside Muslims and Christians in comparative peace. They also founded the Spanish Inquisition and ordered the killing of any conquered Muslims who refused to become Christians.
If the Gospels eagle was drawn from real life I wonder if White-tailed Eagles were once here on the island? In Europe and Asia where they breed today they build huge nests in trees near the sea or large inland waters or on high rocky crags. Fish and seabirds are very important to these eagles which also scavenge seals and other dead creatures.
But what of local nest sites? I've always considered, perhaps rather fancifully, that Beblow Crag which now holds the castle might have provided a lofty and suitable nesting crag of the kind used in Scandinavia.
The history of these eagles in Britain is a sad one. Relentless persecution wiped them out in England by the beginning of the 19th Century and in Scotland during the first decades of the 20th Century.
After that the only eagles which appeared were occasional wandering young birds from Norway. In 1881, when a few remained in Scotland, one such eagle spent two months on the flats, surviving by killing geese left crippled by Victorian wild-fowlers. The island postman described it as being: "as big as a canny-sized laddie sitting on the sands. "
When I first started bird-watching around 70 years ago, White-tailed Eagles were mythical creatures you only saw in literature. If anyone had suggested that one day I'd see them on the island I'd have thought they were mad. But now it's occasionally happening, thanks to re-introduction schemes, first in Scotland and now in southern England.
Over the past three decades young birds from Norway have been brought to Scotland and released when they were old enough to fend for themselves. After a slow start the population around the west coast and the islands now stands at 150 breeding pairs. With the present rate of expansion this should rise to around 200 pairs over the next three or four years. That was the forecast early this year. However, this summer the eagles have had a very tough time. Many young have died in the nest after being fed on birds which died in the outbreak of avian flu which has had such a devastating effect on our seabirds. That may well set back their expansion.
In another re-introduction scheme, young birds have been introduced to the east coast of Scotland, no distance at all from us on the island.
In some areas they've have become a big tourist attraction. For example, on the isle of Mull they are now estimated to be worth £5m annually to the local economy.
In October of 2014 I had the pleasure of my first island White-tailed Eagle, for me a dream come true. This bird was a sub-adult, just like the bird depicted in the Gospels. This eagle flew low southwards, just below the Vicarage, and then rested on the sand-bars south west of St Cuthbert's Island. Understandably, it caused total panic right across the reserve. Thousands of geese, ducks and waders were in the air while it all sat calmly preening. Eventually it lumbered back into the air, soared high and drifted away towards Beal. As it approached, three Buzzards began to dive-bomb this intruder on their air space. Buzzards are big birds in their own right but alongside the eagle they looked very small. They may as well have saved their energy as the eagle treated them with distain, completely ignoring their angry presence.
That day I was leading a party from the Natural History Society of Northumbria watching autumn migration. We had a grandstand view from the top of the Heugh near the lookout tower. Like me, these visitors were thrilled to see such a rare creature. Shortly afterwards on the rocks below we came upon a Merlin, our smallest falcon, devouring a Starling. I remember wishing that every time I led a group of visitors I could show them Europe's largest and smallest birds of prey within the space of half an hour!
Since then a further re-introduction scheme has started, based on the Isle of Wight, the last know locality in southern England where eagles nested. Young Scottish birds are being released with the aim of establishing a sustainable southern population.
Young eagles range widely for five or six years before settling to breed. These birds have satellite trackers so we can follow their movements. They have criss crossed the length and breadth of Britain and some of them have also visited France, Germany and Denmark before returning to the Isle of Wight, the place they obviously regard as home.
On three occasions in the past couple of years birds have made brief visits to the island and the reserve, none staying for more than a few hours. Others have visited other local coastal sites including Coquet Island, Druridge Bay and Blyth. Others have appeared briefly inland at Kyloe, Wooler, Blanchland and Slaley. There have been more urban sightings at Gosforth while another soared high over Newcastle Airport.
I like to think that their occasional visit here to the island somehow re-establishes that link with St John and his eagle - and of course with our wonderful Gospels.
Perhaps we should all keep an eye on the sky for any flying kitchen doors. You never know but one of those eagles of St John may choose to make another visit.
As ever with the onset of the winter season at the castle, there comes annual maintenance and the inevitable sight of contractors in high vis jackets, along with a skip or two. This winter sees a concrete floor being removed from the Butler's Pantry in the castle (a room in which Hannah Lilburn spent most of the summer of 1908 in bed, cooped with an unspecified illness which left her lame), something we needed Listed Building Consent to carry out. The concrete is having a detrimental effect on the surround walls and floors, stopping moisture moving out of the structure and away from the castle itself. It isn't helped by the fact that the concrete sits almost directly on the natural crag, which itself is of course impermeable.
While this window of time is available, we are also getting on with repointing brick floors - something that is very difficult/nigh impossible during public opening. The bricks themselves are not structural building bricks, but seem to have been used for ballast in shipping and probably hail from the Low Countries, perhaps around Rotterdam. I realised a few years ago that these very 'Lutyens-y' features were probably not introduced by the architect himself, and were in fact already onsite as early as the 1860s. Lutyens simply re-laid them in what would become his signature herringbone style, something very appropriate on Holy Island at the turn of the 20th century, but visible at several iconic buildings such as the enormous Thiepval memorial near the river Somme. As the bricks are 'building' bricks they are rather fragile, and so it is important that the pointing around them protects the edges and remains as flush as possible. Over the last century or so, various attempts have been made to sort this out once and for all, usually involving rock-hard cement pointing. This stuff lasts wonderfully well, but in doing so, transfers the wear to the bricks. One thing we are trying this winter is to painstakingly cut the cement pointing out, and replace with the softer lime mortar. The word 'painstakingly' can also read 'slowly', and 'expensively' though...! I mentioned iconic Lutyens buildings, and it would be remiss of me not to comment on what a good job everyone has done getting the war memorial back up on the Heugh. I was lucky enough to be there when the cross was lowered into place, and it was great to see it in place for Remembrance Sunday.
Despite a relative small amount of mess being made by the works this winter, we have needed to get a couple of skips on the castle site. One will be gone by the time you read this but the other, down by the Pumphouse, might linger a little longer.
Lastly, we will finally be attempting to rehang the front door bell above the castle door, which has been missing since it was taken down in 2015. The bell and bracket has had rotten luck; firstly a very poorly blacksmith who was unable to repair it, then all that scaffold got in the way, then the pandemic, and so on. Finally though I think we are all set to get it back up. I have no plans as yet to hang a rope from it, although I know it was a common sound on the island back in the pre-NT days, I fear once every passing visitor had a go it might get rather tedious!
Speaking of visitors, I have put aside a date in December for a resident's open day, something we haven't done for a few years and would be lovely to start up again. I should say thank you to Gillian and Hector for reminding me! It is for residents only let me know if you are bringing guests. If you are around on Tuesday 20th December then I'll open up from 11.00 until 13.00 and there'll be a hot drink and a mince pie waiting for you. Although with all the above work going on, I'd better get tidying!
If I don't see you though, then I hope you have a lovely Christmas and a happy New Year.
Best wishes
Nick Lewis - Collections and House Officer
Lindisfarne Castle nick.lewis @ nationaltrust.org.uk
07918 335 471
With the visitor centre closed for the winter, things are both very quiet and very busy here at Lindisfarne Priory. The visitor centre has been closed for refurbishment, and the old museum and shop have now been dismantled. It's very strange to see a space we know so well stripped bare. We're currently sprucing up with a fresh coat of paint ready for the new exhibition to be put in whilst we're closed. The winter period is the time of year where we have a chance to 'catch up', and no doubt we'll see stonemasons, joiners, and conservators visit both the visitor centre and the Priory ruins over the coming months to ensure everything is as it should be, especially at the ruins.
The Priory ruins are still open at weekends, so we've been able to share its unique history with visitors over the winter months, weather permitting! I wanted to share some photos with you which I took last winter whilst the site was closed. The snow had lain, which felt quite surreal, and the only footprints were mine and some deer who'd found their way into the cloister. It was a very peaceful moment.
We wish you a Merry Christmas and a Happy New Year from all of us here at Lindisfarne Priory. We can't wait to see what next year will bring.
Sophie Howard - Site Manager
Lindisfarne Priory
NATURAL ENGLAND LINDISFARNE NNR
It seems since the end of summer that the year has been on fast forward and with the unseasonably warm temperatures it doesn't feel like Christmas is just a few weeks away! The drought that we have experienced for much of 2022 seems to be now coming to an end. As I write this the rain is hammering on the window along with gusty easterly winds. Thanks to a weather station we installed on the island we know that September was a very wet month with 80mm of rain; well over the 55.4mm 30-year average, October was dry again, the 8th dry month out of 10. November already looks to be shaping up for a wet month, with a blocking high pressure over Scandinavia causing low pressures to stall over the UK as they feed in off the Atlantic.
The wildfowl traditionally hit their peak in October and early November. It is always an amazing time to spend time on the Reserve and this year was no exception. Pink-footed Geese counts were strong with over 12,000 recorded in October. One of the highest counts ever. Wigeon were late arriving likely owing to unfavourable winds and very unseasonably warm conditions in the Baltic, meaning that the birds lacked the impetus to escape the usually cold continental climate and still had access to food. They eventually arrived, in dribs and drabs and peaked at 19,000. Whooper Swans hit a peak of 47, arriving on a strong north-westerly. Teal and wader numbers haven't been particularly strong this season.
Our dawn chorus events at Budle Bay were well attended as people stood agog at hundreds of Geese and other wildfowl flying low overhead. People were also able to enjoy seeing various different species of waterbirds, as a member of Natural England staff was on hand to point them out through provided telescopes and binoculars from the Budle Bay platform. There is no better way to start your day injecting some nature into your veins!
The cattle have been on the Links for over a month now and they have been munching their way through the rank grasses on the links, doing a superb job as always. The sheep joined us a couple of weeks ago and are tackling some of the dune invasives in the Snook. Both sets of livestock will be with us through until the New Year.
Our volunteers have begun the winter habitat works programme. We have been tackling a large patch of Montbretia in the dunes for the last couple of years and have now broken the back of it with limited regrowth in the removed areas. We don't use chemicals on the Reserve so removing invasives does take more effort but the environmental benefits of not dousing the coast in harmful chemicals far outweighs the extra effort in manual labour. We will be out over the next few months scrub bashing and litter picking. Aside from habitat management, we offer lots of different activities that volunteers can get stuck into throughout the year. From shorebird wardening and helping out with public events to patrolling and carrying out species surveys. If you are passionate about conserving the Reserve and would like to volunteer please contact andy.denton@naturalengland.org.uk or phone the Reserve office on 01289381470 to find out more details.
Unfortunately, avian influenza is still lingering on site. A dead Barnacle Goose that was collected on the Reserve has recently come back as testing positive for Avian Influenza. The good news is that unlike the summer we are not seeing mass mortality in our wintering birds at the moment. However, any dead birds seen, must be treated as if they have the disease. Please do not touch or go near any dead or sick birds. You can report dead birds to the DEFRA emergency line on 03459 335577.
Finally, we would like to wish everyone a Merry Christmas and a Happy New Year from everyone at Lindisfarne National Nature Reserve.
Andy Denton - Reserve Manager
Lindisfarne & Newham NNRs
LindisfarneNNR Blogspot
In Science, it is sometimes the things you don't understand that point the way to new discoveries. This is certainly true in Astronomy. Two cases in point are the mysterious phenomena called Dark Matter and Dark Energy.
I should begin with a warning. It is far from clear that either Dark Matter or Dark Energy actually exist! They have been postulated quite recently by astrophysicists to explain some otherwise inexplicable observations.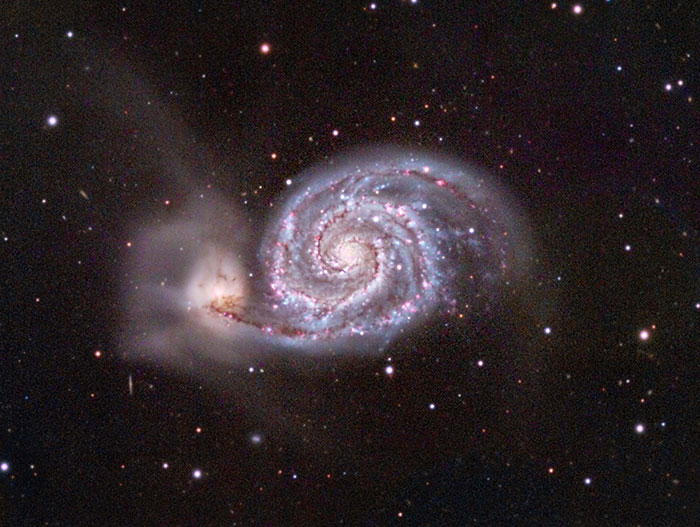 The Whirlpool Galaxy, also known as M51, is just starting to become visible with binoculars from Holy Island in December. It will remain a bright object in the night sky until we lose astronomical darkness for the summer in May. M51 is colliding with another galaxy NGC5195 and their encounter is throwing off a vast tidal tail of stars. Such interactions provide evidence for Dark Matter. (Credit: Charles Bracken & Max Whitby from The Visible Universe)
The first is that galaxies seem to rotate as if they are many times heavier that we calculate based on adding-up the mass of all the stars they contain. Similarly when they collide (as for example you can see in the accompanying photo) they interact as if they are much heavier than expected. So perhaps galaxies are permeated by invisible Dark Matter, which would then conveniently explain how they cavort through the sky.
The second perplexing phenomenon is the rate at which we observe the universe to be expanding. Everywhere we look, we see distant galaxies rushing away from one another. This is evidenced by their red-shift, or the increase in the wavelength of the galaxies' light as they hurtle away from us. The strange thing is that the Universe's rate of expansion seems to be accelerating. Dark Energy has been proposed as a kind of upside-down gravitational force, that actually becomes stronger the further apart two objects are from each other!
If observations of accelerating expansion are correct, and Dark Energy is real, then the implications for the ultimate fate of the Universe are rather bleak. We will end not with a bang but with a whimper... spread out across eternity in a cold dark emptiness. But cheer up... the proponents of Dark Energy may yet be proved wrong.
If Dark Matter exists, then the implication is that there is considerably more to the Universe that science presently explains. The evidence suggests that around 85% of everything that exists is Dark Matter. And there must be undiscovered types of fundamental particles from which it is composed. Physicists around the world are striving to solve this conundrum.
The new Vera Rubin Observatory in Chile can be seen nearing completion beneath the majestic spectacle of the Milky Way. You may suspect that photoshop was used to fake this image. But it is real.
(Credit: Rubin Observatory/NOIRLab/AURA/NSF/B. Quint)
The leading scientist responsible for the observations that provide the strongest evidence for Dark Matter was the American astronomer Vera Rubin. She made painstaking measurements of the spectra of light from different regions of the Andromeda galaxy to accurately determine its speed of rotation. Her achievement has now been recognised in the naming of a great new observatory under construction in Chile. In the coming years the Vera Rubin Observatory promises to deliver a veritable tsunami of data, surveying the Universe with unprecedented thoroughness. I will tell you more about this amazing new multi-billion-dollar instrument in a future edition of The Holy Island Times.
In the meantime, I continue to wish that a large dollop of Dark Matter would land on the refurbished Toilet Block in Green Lane Car Park and extinguish its dazzling security lights that shine from dusk to dawn, despoiling our previously pristine night sky.
Max Whitby
www.thevisibleuniverse.com
ALL WELCOME.
On Thursday 1st December at 7:00pm Max will give a free talk at Holy Island Village Hall entitled 'Capturing The Heavens From Holy Island'.
Max Whitby first came to Holy Island in 1994 to make a film for the BBC. He lives in a house on Chare Ends, where he has built an Astronomical Observatory. He spent the long months of Lockdown engaged in a rashly ambitious project to photography the entire night sky using remotely controlled telescopes located in Spain and in Chile, as well as here on the island. He teamed up with American astrophotographer Charles Bracken and together they have produced a 256-page book The Visible Universe, which was published earlier this year. See thevisibleuniverse.com .
In this illustrated talk Max will explain what it takes to capture high quality images of the wonderful galaxies, star clusters and nebulae that hide in plain sight above our heads.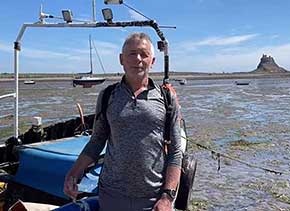 Whisht! lads, haad yor gobs
Landscape means different things to different people. For me it's about its scientific origins (that wasn't a surprise), but it's also about its aesthetic beauty. For others, and especially in our past, it is different. For them their landscape is/was not only a source of food and warmth, it was so often the origin of myths and mysteries.
There are a lot of local examples of landscape folklore. Not so far away from Lindisfarne is the Laidly Worm of Spindleston Heugh. A tale of a princess, turned into a dragon by a witch, the former released by a prince's kiss, the latter turned into a toad. Now for the prosaic bit - the Spindlestone is a lump of Whin Sill, a typical dolerite column resulting from contraction and vertical jointing when thehot magma cooled 295 million years ago. Then there's the Kielder Stone, a huge block of 340 million year old Carboniferous sandstone on the Scottish border. Walk three times round it anti-clockwise ('withershins') and you'll have bad luck. Why would anyone want to do that, especially after the long rough hike you've done to reach it?
Head south into Durham and there's the world-famous Lambton Worm. Another tale of a worm-dragon and young hero. But there are rival hills; the song says Penshaw Hill, the folklore says Worm Hill at Fatfield, two kilometres away. The rocks of Penshaw are much the older; around 260 million years old and from a warm sea called the Zechstein in the Permian period. They are a rock called dolostone, like a limestone but with more magnesium than calcium. Compared to adjacent rocks the dolostone is relatively hard and millions of years of erosion have left it as a 30 - 60 metre west facing scarp running south across Durham to Ferryhill. Penshaw Hill is part of that scarp. Worm Hill is a lot more recent. Geologists interpret it as a mound of sand and gravel that was once deposited by a river flowing from an ice sheet around 20,000 years ago. The 'benches' on its sides are unfortunately probably not giant worm marks but evidence of erosion since. There are others who feel some or all of the Hill might have been constructed by our ancestors, but until someone excavates it the jury is out.
Further south still is the Sockburn Worm. That's a lot of worms. If the pictures in books are to be believed all these worms are more like dragons, or serpents: 'wyverns' which go back into Viking and Anglo-Saxon folklore. The Jabberwock, of Alice and Through the Looking Glass, looked like this too, maybe not surprising as Lewis Carroll once lived in south Durham and like many Victorians was probably also fascinated by the new science of geology that was discovering dinosaurs as well as rocks. If that sounds plausible, are you prepared to believe that the hole into Wonderland that Alice fell down was possibly inspired by a 'bottomless' pond, which was actually caused by gypsum subsidence and is not far away from the Sockburn worm? Too much down-to-Earth science maybe?
So this geologist at least is happy that myth and science can rub along together happily. But lest we be tempted to believe we are far too sophisticated to be taken in by such legends and myths nowadays you have only to look over at the political and social media landscape....
FROM THE COMMUNITY OF AIDAN AND HILDA
These are troubled and unsettled times for everyone. This time last year we were facing warnings of caution over the Christmas season because of Covid and about to experience Storm Arwen. Global pandemic, climate crisis, cost of living crisis, unstable government - phew, there's no shortage of things to worry about.
One of the things I most appreciate about the community of Holy Island are the everyday kindnesses that remind me this is a wonderful world. Chats in the street, gatherings in the pub, someone picking up a parcel for me at the garage, a gift of seedlings from a fellow gardener, a neighbour catching my run-away dog, Janette and Barbara's fundraising, all the work Sam has put into the Warm Hub, Sarah and John's continued efforts to fight for the fishermen. Everyone on the island has a list like this. As advent approaches and we think about the greatest gift of all, in the face of all the reasons to worry, let's choose to be grateful for everyday kindnesses.
ON THE FRINGES OF LINDISFARNE
ADVENT
We are now in the Church's season of Advent. The word means "coming". This is the season of preparation for Christmas, and lasts for 4 weeks. It is meant to be a serious season of preparation (spiritual) for the great event of the Incarnation, in which God gave himself to his human world by living a human life. It is not meant to be a second Lent, though traditionally the parties and other celebrations of joy happened after the great event during the "12 days of Christmas" which lasted until January 6th when the decorations were taken down. Traditionally also the sermons for the 4 Sundays were based on the themes Hell, Purgatory, Eternal Life, Heaven, which shows the serious nature of the season.
The early Church did not easily accept a feast of the birthday of Jesus. Of course we do not know the actual date of Jesus' birth, or even the actual year. I think the Church acted wisely in choosing midwinter.
That had been a pagan feast to celebrate the revival of the sun after the winter solstice. The main Christian message was the victory of light over darkness, but also it is a good idea to cheer ourselves up by a midwinter feast. That does not make it or us "pagan".
I do wonder though about the figure if Santa Claus. I think we should make clear to the children that this is a modern invention. The real St. Nicholas was a medieval saint who, according to the stories about him was an outstandingly compassionate man, a giver of gifts to people in need. So it could be combined with the story of the magi and their gifts to form "the Christmas story" as we now have it.
So we wish to all readers a good and thoughtful Advent and then a joyful festival.
FROM OUR UNITED REFORMED CHURCH MINISTER
The ending of the year is a time of short days and long nights. And, into what could be a season of sustained gloom, bursts the light of Christmas. This is literally the case as decorations go up around the village, and elsewhere. Hopefully, our lives are also lightened by the giving and receiving of gifts and by spending happy times with family and friends.
It seems that there is a human need to punctuate winter with a time of celebration. Pre Christianity there were festivals to mark the winter solstice and the changing of the year. Some believe that Dec 25th was chosen for the celebration of Christ's birth so as to build onto existing traditions - there is no way of knowing precisely when Jesus was born.
The celebration of Christ's birth doesn't detract from the human need to mark the turning of the year, but should also address other human needs, such as the need for hope in a world that can seem hopeless, and the knowledge that beneath all human experience is a Love that will not let us go.
Jesus, the Son of God, arrives in the world in the humblest of surroundings and immediately embodies a knowledge of what it is to be human. Angels, and a bright shining star point to his divinity, but he is soon fleeing for his life from King Herod. Whatever the complexities of our life, or the state of our world, the birth of Jesus points us to the Good News that in times of darkness and of light God is with us.
In the opening verses of John's gospel we read of Jesus:
"What has come into being in him was life, and the life was the light of all people. The light shines in the darkness, and the darkness did not overcome it."
May you and your household know light and love in this season.
Rachel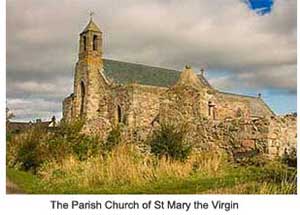 Dear friends
As we come towards the end of 2022, we can look back on a very full year - in many ways. We are still in the midst of our fishing crisis of which I have written before. Please continue to pray for our fishermen, their families and this whole island community. We are doing everything we can to support them in various ways.
This winter will be hard for many people with the rising food and fuel prices. Warm Hub in the village hall is open regularly for everyone to come and have a chat, a hot drink and even a meal in the warmth. Do come and join in! Thank you to Sam Quilty our curate and all who are helping for all their hard work on making this a lovely and enjoyable space to share together.
At St Mary's we have had our 'Art of Words' Festival, celebrating the Lindisfarne Gospels. We have had some amazing and moving concerts, gigs, events and talks. Thank you to everyone who helped to make the festival such a success, including our funders, the All Churches Trust and the Handley trust. A full report will be coming out after Christmas.
We have just had our season of remembering, and now are about to begin the church's year with the Advent Season, waiting for the birth of Christ at Christmas.
We look forward to our Christmas carols and services - everyone is very welcome!
And as we look towards the new year of 2023, my hope and prayers are for a blessed, happy, holy and fulfilled future for all on this Holy Island and beyond.
As I write, the ITV crew for the drama, 'Vera' is outside the Vicarage...we await the episode with bated breath - and thank them for the Christmas tree!
With every blessing
Sarah
---
ST. MARY'S NOTICES
Christmas Services at St Mary's

Sunday 18th December 5.30pm: Carol Service
Christmas Eve 11pm: Midnight Mass
Christmas Day 08:00am: BCP Holy Communion
Christmas Day 10:45am Holy Eucharist
Week from 26th December to 31st December - no daily services.

Worship
(at other times)

Sunday
10:45: The Parish Eucharist
08:00: BCP Eucharist (first Sunday of the month only)
17:00: Evening Prayer
Monday to Friday
5pm Evening Prayer
(Updates or changes will be posted in the church porch and online)

Lord, help us to be with one another... even if at a physical distance. Help us to build a kinder world. To reach out. To love and to care. To be sensible and not to panic. Help us, Lord, to hope. Because together we can.
Amen.
Revd Dr Sarah Hills
A Blessing - for this time and every time

Lift your hearts to heaven
and receive the eternal gift of peace

Keep your feet on the ground
and walk with those who need God's love

This day

You are loved by God
You are held by God
You are blessed by God

Now and for evermore

© Revd Rachel Poolman