(HIT archive: November 2006)
Celebrating on Hobthrush with the late Br.Damian SSF
A bit from me...
Our Community appeals to DEFRA - Parish Council
Our Community appeals to DEFRA - Parochial Church Council
Holy Island C-of-E first school
Crossman Hall
Our Naturalist on Lindisfarne
Lindisfarne Castle
Lindisfarne Priory
Natural England
Heavens Above
Northumberland Rocks
From The Community Of Aidan And Hilda
On the Fringes of Lindisfarne
From the Vicarage
St Mary's notices
Help Save our Future
A Blessing - for this time and every time
Lest We Forget
Dear Subscriber,
Welcome to our November newsletter and hopefully, after the resignation of yet another Prime Minister, Britain can return to a more stable future...
The best of British luck 'Rishi'!
Meanwhile, in the Ukraine, thousands of young men and women fight valiantly for their homeland against overwhelming odds. On the opposing side, seemingly to compensate for an exodus of his fighting-age men, President Vladimir Vladimirovich Putin is resorting to the conscription of young Russians to become cannon fodder - whilst threatening nuclear escalation! Perhaps these thoughts will be in the minds of many on 11th November?
On our tiny island we remain focussed on DEFRA's threat to Island fishing. This month we include the headline from the Parish Council and also the appeal worded by Sarah on behalf of the Parochial Church Council. Perhaps her words may help others inspire their appeal to DEFRA on behalf of our fishermen.
Increasing visitor numbers signal that British schools are in the midst of a half-term recess. Might I caution those routing to this remote location, particularly in the dark, to be wary of the bridge whose balustrades have still not been replaced since damaged by 2021/2022 storms. However, on a lighter note, may we welcome all our visitors and hope they find NCC are getting on top of pothole problems and (at this time of year) ample space in our public car park. REMEMBER: check the crossing times
For those who visit St.Mary's Church to worship or simply just enjoy a wander through the church yard, Church Warden Mark Fleeson has generated a £10,000 appeal fund for the repair of our 'Apostle of England' statue: Saint Aidan. And if you're interested in seeing our community's 'mission statement' for 2072, checkout his excellent 'turning pages' webpage.
If you were here on Saturday 22nd October at 7:30pm I hope you enjoyed the Organ Recital at St.Mary's by Nigel Lockwood. Nigel is one of the stalwarts of our Parish Church having visited Lindisfarne over a great number of years. I regret missing an opportunity to listen to him outside the Eucharist environment.
Most readers will have received their newsletter by 'All Saints Day' - celebrated on 1st November by most western churches. Walking daily in the steps of so many medieval revered feet I found Kate's article particularly interesting. I am tempted by the conundrum what 'All Saints Day' would have meant to them... So, thank you to her and all our authors for giving their time in the hope that you enjoy the fruits of their work - our November issue!
God Bless,
Geoff Porter
editor@lindisfarne.org.uk
www.lindisfarne.org.uk/ezine
OUR COMMUNITY APPEALS TO DEFRA
OUR COMMUNITY APPEALS TO DEFRA
September 26th 2022
Dear Sirs,
Lindisfarne HPMA
St Mary's Church, Holy Island wishes to express its deep concern at the proposal to create a Pilot HPMA in the waters used extensively by our island fishing fleet.
As the supporting documents show not only are the ecological arguments made for the HPMA severely flawed, but little regard has been taken to consider in any depth the appalling effect the proposal would have on our whole community if it went ahead. That our fishing families, which are at the heart of our community, would lose their livelihood is unacceptable when, as became increasingly clear during the consultation process, the ecological gains to be made by banning all fishing are unsubstantiated and, at best, minor.
Our Emergency Service provision would be badly compromised; our Church of England school's viability would be called into question and our future as a community endangered.
We request and expect the Lindisfarne HPMA to be totally removed from consideration and that this decision is taken speedily so that our fishermen can plan sensibly for next season free from the anxiety and fear they currently struggle with.
On behalf of St Mary's Church, Holy Island
Revd Canon Dr Sarah Hills
Vicar of St Mary's and Area Dean of Norham.

Defra Highly Protected Marine Area Team

HOLY ISLAND C
of
E FIRST SCHOOL
Phew! That's our first half term over already! The weeks seem to have flown by and we have managed to squeeze in so much to our busy days. We went on our visit to Jarrow Hall a few weeks ago and the children were fascinated to learn about St Bede and the early scribes. One of our workshops investigated the way the ancient scribes used vellum, quills and natural inks to write. This fitted perfectly with our work on the Lindisfarne Gospels. We explored the Anglo Saxon farm and saw cattle, pigs, geese and horses. Then we visited the Anglo Saxon village to find out how houses were made and to see what they were like inside. We went into the 'great hall' and we sat around the fire as our guide read part of Beowulf to us. This was a rich, atmospheric moment which was so memorable for the children. Class 2 studied Beowulf last year so they really enjoyed hearing it again by the light of the fire.
We thoroughly enjoyed our day with the Ushaw Ensemble. Three of the musicians came into school to teach the children a unique, especially composed piece of music by Paul Edis which combined voice, percussion and body percussion. Have a look on our school website Lowick and Holy Island School - the children performed the composition in church and they were superb! Then continuing the 'Art of Words' festival organised by St. Mary's Church, Holy Island and ourselves, Paul and the ensemble performed their recently composed a piece of music about the life of St Cuthbert. The children were fascinated to see such a range of musicians performing live in the church. There's a list of the 'Art of Words' events on St. Mary's Church website: stmarysholyisland.org
We visited the Heritage Centre on the island where the children had lots of time to explore the exhibits and activities linked to the Lindisfarne Gospels. They used the light boxes to illuminate their drawings, made rubbings, completed puzzles and got to turn the pages in the virtual copy of the Gospels. Thank you so much to Sue Gray for inviting us and for the beautiful book on the Gospels that she presented to the school. We'll be back Sue!
We went to St. Mary's Church to see a very special illumination of sound and light to celebrate the Lindisfarne Gospels. At the front of the church, a series of words, music and images was projected onto a specially designed rack which held a piece of vellum. The lights and sounds illuminated the walls and ceiling of the church and made for an interesting and absorbing experience. Explanations of some of the pages of the Gospels and how the ancient inks were made were spoken in Anglo Saxon and then translated to English. We spoke to Karen from the Projection Studio and she answered the girls' questions. Did you know that the only place in the United Kingdom that vellum is still used is at the Houses of Parliament where laws are written?
We are looking forward to our visit to Newcastle to see the Lindisfarne Gospels. We'll be visiting the cathedral first and then walking to the Laing gallery to see three installations around the Gospels including seeing the real thing at last! I think the children will enjoy visiting the city and I'm sure some of them will be in awe of the buildings and hustle and bustle of Newcastle.
Our Harvest Festival took place this week in St Mary's Church and the children sang beautifully thanks to Mrs Cochrane's music lessons over the last few weeks. Scarlett-Beau and Lily-Ella both sang duets with another two girls. They were amazing! It's not easy to sing in front of an audience but they were great. And Heidi was in fine voice as she sang with the rest of the school. This is good practice for our Christmas performance which is still to be announced to the children but has something to do with stars! Thank you to Sam, Sarah and to Charlotte from Lowick church for leading a service full of giving thanks and thinking of others. The children's generous harvest donations will go to the food bank in Berwick.
We have lots to look forward to after the holidays. We'll be continuing to read Fantastic Mr Fox (the children love Roald Dahl), we'll be making Stone Age stew, bread and butter and will be visiting Kypie farm near Branxton to compare modern farming to what they saw at Jarrow Hall. We'll also be having another STEM day (science, technology, engineering & maths) and this time it's a CSI STEM day where the children will be forensic investigators of a crime scene - a very practical way of learning about science. I think that could be very interesting! I'll let you know how it all goes.
Heather Stiansen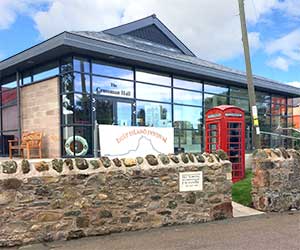 Having had a busy September, the hall is now welcoming groups who were here last year. The Yoga group are returning for the weekend mid October and the dance troupe are here for the day.
November sees a new group of Artists using the hall for the weekend. The Warm Hub are opening up the community area in the hall for any residents who need a warm and comfortable space during the day. This is every week day 11 to 3 starting in November. Every Thursday in November a hot meal will be available, hopefully the Hub will be able to provide some activity/ entertainment during these days such as a soft play area for a parent and toddler group to use, whist drives, craft sessions and, hopefully Yoga sessions will resume.
Discussions are in hand about having a Senior Citizens Christmas Lunch in the hall again and hopefully the film evenings will resume this winter.
OUR NATURALIST ON LINDISFARNE
WINTER VISITORS ENLIVEN THE ISLAND SCENE
Suddenly it seems that winter is here with the days now shorter and colder and all the bird species we can expect around the island for the bleaker months.
You don't even have to go down to the shore to hear some of them. From around the village, the harsh grunting and chuntering of Brent Geese against a chorus of "singing" seals out on the flats can be heard on quiet days.
Depending on the weather, dwindling numbers of migrant Fieldfares, Redwings, Blackbirds and small numbers of Song Thrushes from northern breeding populations in Scandinavia, the Baltic States and Russia, continue to pass overhead, the vast majority quickly moving across to the mainland and better feeding.
These late thrushes are normally the tag-end of our migration season which always peaks during September and October, the period of the year we birders love because it's when so many really rare birds can turn up on our island.
Apart from the Brent geese, many other regular wintering visitors are with us in good numbers. The numbers of Wigeon using the area in early winter continues to impress although other geese, the Pink-feet and Barnacles which have been so prominent during the past few weeks usually start to dwindle in number by November.
The vast majority of the Pink-feet will eventually drift off southwards to their main wintering areas in East Anglia where sugar-beet stubble is a huge attraction although these days 3,000-4,000 winter just south of us around the Druridge Bay area.
Most of the Barnacle Geese usually end up in their main wintering area around the Solway Fifth although increasing numbers are remaining in winter, particularly in the fields around Budle Bay which provides a safe roost for them.
The number of wintering waders, most importantly Bar-tailed Godwit, Oystercatcher, Knot, Redshank, Dunlin and Grey Plover, is once again impressive. You only have to wander down to Jenny Bell's Well at high tide and look out to St Cuthbert's Island. The rocks are often a mass of brown and grey as the tightly mass together for warmth and safety to sit out the period until their muddy feeding areas are available again. The same applies to other roosts across on the Black Law and the slivers of shore left at high tide near the Beacons. Large numbers of Eider, Cormorant and Shag also seem to favour that area to rest where they are more unlikely to be disturbed by us humans.
Trilling flocks of Golden Plover are regularly high overflying the village on their regular short commutes between the flats and the island fields where they tend to gather in their massed ranks at high tide. Large numbers of Curlews are also regularly in the fields. There is national concern over a huge drop in our populations of breeding Curlews with much research underway to try to discover the causes.
The fact that we still get large numbers of Curlew - often several hundred in a single field - tends to give a false sense of security about them. Many of them are probably from Europe rather than birds which breed in Britain.
Of course, with all these birds around the usual winter predators have arrived too. Twice recently I've seen a Merlin, our smallest falcon and a specialist hunter of small birds, flash over Crossgates en route out onto the flats. Several Peregrines, the world's fastest birds and the supreme aerial predator, also regularly present hunting the larger waders and ducks. Kestrels are with us all the year round now as they regularly breed on the Castle rock and I've also noticed one or two Sparrowhawks lurking about the edges of the village.
Of course, the real elephant in the room as far as our larger species of birds is concerned continues to be the impact of avian flu. It certainly caused devastation last winter among geese and then this summer among our seabirds. Many thousands of Gannets died and it also seriously impacted terns and gulls and leading to some large-scale failures at breeding colonies, including locally on the Black Law, the Farne Islands and Coquet Island.
Everyone will be watching in particular for signs of new outbreaks, particularly among our wintering geese. Geese tend to gather in tightly packed groups meaning that any infection can rapidly spread.
Last winter avian flu was responsible for the deaths of around 16,000 Barnacle Geese, a third of the wintering population, around the Solway while locally there were some signs of it among the Brent geese.
As far as Gannets and terns are concerned, we'll just have to wait until next spring to see how many return northwards from their main winter haunts off the coast of West Africa. I've recently seen some aerial photographs taken just weeks apart of the top of the Bass Rock, the world's biggest Gannet colony with around 150,000 usually present in summer.
The first photograph shows the top of this rock in the Firth of Forth white with closely-packed breeding Gannets. The second shows huge gaps in the colony left by the thousands of birds which had swiftly perished as the infection swept through. It was all very worrying.
Hopefully, the disease will burn itself out as happens with other flu-type infections although we just won't know until next April or May as breeding colonies are re-occupied.
The castle's front door bell and bracket removed 2015. Photo: Nick Lewis (National Trust)
As we approach the end of another season (my 15th at the castle) my mind starts to focus on the winter ahead, and the maintenance jobs required to keep the old place going through the next year.
First up is the removal of some concrete flooring in the old Butler's Pantry and replacement by slate flagstones. That work will be carried out in mid-November and should be reasonably straightforward but with the castle being a Grade 1 listed building it needed Listed Building Consent and an archaeologist to be present for the opening up part - so who knows we might find something interesting under the floor. Also getting ticked off my list is the reinstatement of the castle front door bell, which has been missing from the wall since 2015. We took it down basically before it fell down, such was the state of the frame into which the bell was hung. We had a new frame made and the bell rehung on that, but getting it back on during the 2016-18 project didn't make much sense, and since then it has fallen foul various issues (notably COVID) but also the location. To hang it requires a small scaffold to be installed by the front door, which of course restricts the time when this work can be done to out of season.
I am also hoping to get the first bit of regular maintenance done on the castle windows, that is at least since their refurbishment in 2016-18. The effects of the Holy Island environment have long started to show and we need some of the sand mastic pointing repair as well as some repairs done to the opening mechanisms.
We won't have a new visitor installation for next year to worry about as Paul Rooney's Song (After Nature) will continue in 2023, but we are looking at what enhancements we can make to that exhibition so that visitors might want to come back for another look next year.
Trinity House Light House Keeper's buttons from 1851-75 and 1886-99. Photo: Nick Lewis (National Trust)
One nice story from recently involves the Farne Islands (with which I have involvement as far as historic collections and buildings go) where earlier in the summer one of the rangers found a couple of brass buttons in the Inner Farne lighthouse gardens. Having cleaned them up and had a good look we have worked out they are Trinity House Light House Keeper's buttons from 1851-75 and 1886-99. Having checked our archives it would be difficult to attribute either of these to an individual lighthouse keeper, as there were quite a high turnover of men and their families living out there. It could be the that the keeper TH Cutting or TO Hall owned the later button, and perhaps the earlier button once fastened up the coat of keeper Thomas Smith, who in January 1852 helped save a ship which had sprung a leak near the island. I'm sure we'll never know for sure, but it serves to remind us how tantalising the Farne Islands are, and what other potential stories might be uncovered in the future.
Best wishes
Nick Lewis - Collections and House Officer
Lindisfarne Castle nick.lewis @ nationaltrust.org.uk
07918 335 471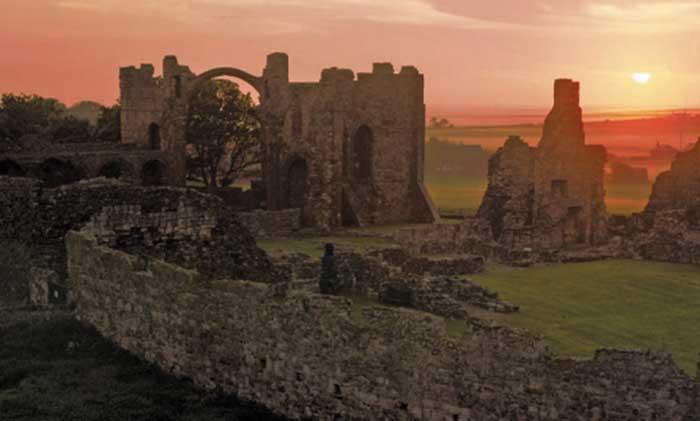 This is my favourite time of year at the Priory. It's always lovely to see the rainbow arch with a blue sky behind it, but in the autumn the ruins seem more peaceful and dramatic. The low sun picks out shadows and highlights in the sandstone, and really shows the depth of the colour in it too. The summer season seems to have flown by, and we're now closing our visitor centre doors for refurbishment.
Over the winter, we'll be carrying out works to rejuvenate the whole inside space. Our new museum will be lighter and more open, with our collections taking pride of place alongside commissioned artwork and spoken word from a local poet. The museum will tell the story of St. Aidan and St. Cuthbert, as well as themes of Pilgrimage, Conflict, and Commemoration. We've been ensuring that the works will have as little impact on our neighbours as possible. Contractors will work to reasonable working hours, keep low noise levels, and will be respectful of the limited parking on the island as well by using our small disabled parking area near the back of the Priory, instead of parking by the green. The Priory grounds will be open as usual on weekends throughout the winter months, so if there are any issues or you'd like to find out more, please feel free to get in touch or pop in to say hello.
Whilst our museum is closed, we'll be offering visitors a leaflet to tell them more about the Anglo-Saxon connections to the Norman priory. You can download one here https://tinyurl.com/3srpa683, but feel free to pop in and pick up a copy too.
Best wishes
Sophie Howard - Site Manager
Lindisfarne Priory
NATURAL ENGLAND LINDISFARNE NNR
Autumn is in the air as the Reserve is filled with a choir of avian sounds. Around 60,000 birds descend onto the mud and sandflats of the Reserve utilising the rich food and frost-free habitat created by the vast intertidal areas. Whether it be the echoing 'wink wink' of Pink-footed Geese or the constant chatter of the Light-bellied Brent Geese. The high-pitched whistle of the thousands of Wigeon or the rhythmic call of Golden Plover - the Reserve is a really magical place to be at this time of year.
The drought of the previous 9 months has been well and truly broken over the last few weeks as frequent heavy rain showers have recharged much of the water table across the dunes leaving the previously parched dune slacks with standing water once again.
The cattle have once again graced the dunes with their presence. They will be munching their way through the rank grasses on the Links for the next few months. This will shorten the sward and allow the rich botany to burst forth next spring. The cattle are chosen for their docile nature but as with all livestock; dogs should be kept on a lead or at close heel - this is also a byelaw across the Reserve. The sheep will also be arriving soon and will spend the next few months on the Snook nibbling their way through some of the dune invasives such as Michaelmas Daisy.
We have been holding several dawn chorus events at Budle Bay with the last one taking place on the 24th October. The lucky visitors that arrived at 7am were treated to the spectacle of thousands of Geese other wildfowl and waders taking flight as Budle Bay awoke from its slumber as the sun began to rise. If you are interested in attending any of our events please visit http://lindisfarnennr.blogspot.com/p/reserve-events.html. There are also occasional pop-up events so keep your eyes peeled on our social media pages.
Our volunteers have also begun the winter practical work program removing Montbretia - a lovely garden plant but a dune invasive that forms a monoculture in the areas where it has become established. The area is almost cleared but will have to be monitored over the coming years for regrowth. We will be tackling scrub and also litter picking as we head through the rest of winter. We are always looking for new volunteers so if you are interested in helping out please contact the Reserve office on 01289 381470 or contact andy.denton@naturalengland.org.uk
Finally, our long-term volunteer warden John Woodhurst has just completed his series of walks/talks on the island outlining his new history of the early medieval monastery based on the latest archaeological evidence. The Laing Art Gallery asked John to include his talk in the Lindisfarne Gospels Exhibition programme and he delivered it to a sell-out audience in Newcastle on Oct 20. His related article, 'The Gospel truth of Lindisfarne' is now in the current edition of The Northumbrian.
Andy Denton - Reserve Manager
Lindisfarne & Newham NNRs
http://lindisfarnennr.blogspot.com/p/reserve-events.html
The news has been so remorselessly gloomy this year that it is welcome relief to have something positive to trumpet - and from outer space no less! At 14 minutes past midnight Holy Island time on 27th September 2022 NASA's DART spacecraft crashed into the asteroid Dimorphos at a distance from Earth of around 11 million kilometres (6.8 million miles).
This collision was no accident. The energy from the intentional impact of the 500kg spacecraft travelling at a relative velocity of 6.6 km/s (4.1 mi/s) was the equivalent of three tons of TNT. The crash altered the velocity of the asteroid by approximately two centimetres (one inch) per second. While miniscule, this is enough of a velocity change to very slightly deflect the trajectory of a potentially dangerous asteroid heading towards our planet.
Dimorphos photographed by the kamikaze DART spacecraft 11 seconds before it intentionally collided at high speed. The asteroid is about the size of Holy Island Castle. (credit: NASA)
In the course of a decade, a deliberate collision like DART's could cause the path of a hazardous object to shift by as much as 30,000 kilometres. That is the diameter of the Earth and therefore enough to avert Armageddon. So the good news is that NASA just demonstrated a way to save us from suffering the same fate as the dinosaurs.
Dimorphos never was on a collision course with us. Nor does it present any danger now following DART's impact. It was chosen because it is one half of an unusual binary asteroid system in which 160m (520 ft) Dimorphos orbits larger 780m (0.5 mile) Didymos at a distance of about one kilometre. This explains the mission's acronym: Double Asteroid Redirection Test. The advantage of choosing Dimorphos as the target is that the time it takes to orbit its companion can be accurately measured by astronomers. The impact shortened its 12 hour orbit by 32 minutes. A reduction of only 73 seconds would have been enough to declare the mission a success.
A few days after DART's impact a long trail of debris ejected from Dimorphos can be clearly seen in this photograph taken with a ground-based telescope in Chile. (credit: CTIO, NOIRLab, SOAR, NS, AURA, T. Kareta, M. Knight)
Observant readers will have noticed a critical number in the explanation of DART's accomplishment above. To avert catastrophe, an asteroid deflecting mission must be prepared, launched and executed many years before any predicted impact with Earth. This is perfectly possibly... provided the trajectory of dangerous asteroids can be established well in advance. And this in turn requires constant, diligent surveillance of the heavens to identify and track the tiniest specks of light moving against the stellar background.
Fortunately, there are a number of organised international programs in place to undertake this important task. In his last book, the physicist Stephen Hawking identified asteroid collision as the greatest threat to the planet. Governments are waking up to the danger and funding is flowing to support this critically important work.
Dark skies are absolutely essential to allow astronomers to spot potentially lethal asteroids early enough to launch a deflection mission. You will forgive me then for pointing out yet again the harm caused by light pollution... such as that from the recently refurbished Toilet Block on Holy Island. In this case the hoped-for mitigation promised by Northumberland Country Council might quite literally save the planet.
Max Whitby
www.thevisibleuniverse.com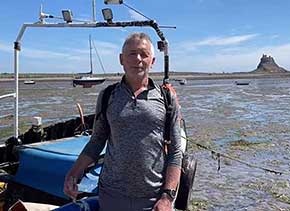 Rocktober
I'm wondering (hoping) that it's not only scientists (read geologists) who suffer this syndrome. A subconscious impulse to make connections between things that they see in their daily life and their profession (read obsession?). Maybe it's because, in reality, being a geologist isn't really a job, it's a vocation, almost a calling. Instead of ploughing on in the abstract, this article may make more sense if I give you some examples.
We'll start with the more obvious and perhaps more forgivable (?). Like pretty well all geologists I love to hike. Last week, while visiting family, I was out walking in the Cascade mountains of Oregon and couldn't stop myself explaining to fellow walkers (I know, another troublesome trait) how this landscape and mountains were the result of dramatic eruptions of lava and pumice around 150,000 years ago. Plane journeys are too good an opportunity to miss. I'm the annoying guy who keeps his window blind open and spends his time gazing out - but then I don't miss incredible views of melting Greenland ice sheets, or stunning vistas of the Grand Canyon - to name but two on this trip.
I'm a season ticket holder at St James' Park (I can hear you, what's this got to do with the price of fruit?) and in the tedious moments of Toon matches (has to be said there are a lot less nowadays) I sometimes find myself wondering whether the rest of the crowd realise that a few tens of metres beneath the pitch are extensive pillar and stall mine workings in the High Main Coal seam - the coal that made Newcastle the great northern city.
It gets worse. In a restaurant recently I had to endure a rather pretentious chap at the next table extolling the health virtues of Himalayan rock salt. I wanted to tell him that its geochemistry is, to the extent that it matters, the same as sea salt and table salt (also produced from less elevated rocks), and that if he wanted to benefit from the Himalayan salt trace elements he was quoting he'd have to eat so much salt that he would suffer a sodium overdose. Not to mention that many table salts have iodine added that actually does benefit the body. I resisted of course and kept my own counsel; geologists are polite too....mostly.
Links to rocks are everywhere - in Wordsworth's poems, in Turner's paintings, in Northumberland's mining history, in Marston's Pedigree beer, in Grey Street's buildings and ancient stone circles, and of course our landscape - its coast and hills, moors and plains. Close to home and to repeat something from my first piece for HIT, without a humble blade of dolerite, the Whin Dyke, there would be no Castle or Heugh or St Cuthbert's Island on Lindisfarne... and a lot less tourists....
I think I ought to be completely honest and say this tendency to make connections between rocks and everything else has got worse since retirement from a full-time job. It moved up a gear in the last three years. But I've got an explanation/excuse for this. I've been writing books with the aspiration to help people engage with their landscape and understand how it is like it is. I could blether on about rocks and geology in an academic drone but that rarely does anything for people who live outside the geological bubble (aka normal people).
So I actively seek out connections between rocks and history, or economics, or social issues, or art, or food and drink. Most people are quite happy to absorb a little rock content as long as it's leavened with other stuff. If that's a recipe that appeals to you (and Geoff leaves this very obvious plug in) then you just might want to head to the bookstore and leaf through the two books I've written: Northumberland Rocks and Cumbria Rocks. As I'm planning a third and I'd like the books to get better I'd be very happy to receive your feedback!
FROM THE COMMUNITY OF AIDAN AND HILDA
GREAT EXITS
Last month the magnificent church of St. Mary's Church, Beverley asked me to lead a day on Celtic Christianity, Creation and Contemplative Spirituality. Some of them hope to visit Holy Island.
As the host drove me home (because of the train strike) he said 'Will you write a book on 'Great Exits'?' He says increasing numbers of people want an informal funeral in a woodland and stories about 'Great Exits'. I thought Lindisfarne's Aidan had a great exit: he was standing in prayer at Bamburgh and angels escorted him. I often suggest people sit on the heugh and think of this as they gaze towards Bamburgh. This reminded me of King Charles praying that singing angels would escort the late Queen to heaven.
Then my brother who has been a pastor of a church in Ireland all his adult life rang me. He told me about George, who when his wife Lily was passing over raised his hand, not only to say farewell but to salute her as she 'went up'.
If you have a Great Exit story about ordinary people, please let me know.'
Revd. Ray Simpson
Founding Guardian, The international Community of Aidan and Hilda
ON THE FRINGES OF LINDISFARNE
ALL SAINTS
On November 1st we keep the Feast of All Saints. Clearly there have been, and here are, far more saints than those we can name. But how can we know them? What is it that makes a saint? Once I picked up, in a retreat house, one of those holy cards that seemed to answer my question. This is what it said:
Why were the saints saints?
Because they were cheerful when it was difficult to be cheerful
patient when it was difficult to be patient;
and because they pushed on when they wanted to stand still,
and kept silent when they wanted to talk,
and were agreeable when they wanted to be disagreeable.
THAT WAS ALL.
It was quite simple and always will be.
Wow, I thought when I first read it; that's impressive. But as I thought about it I realised that it reminded me of something: of that joke where a harassed mother of a tribe of small children calls out to an older child, "Go and find out what little Johnny is doing and tell him to stop it". Does God really treat us like this? Then I realised that this card does not even mention God, yet God is the main passion in life for the saints. And surely they were immensely positive about the things they did for God. Surely no saint ever said "I'll find out what I really want to do and then do the opposite." I wrote my own version of that holy card, and this was it:
Why were the saints saints?
Because they loved God, and gave time to pray and think with him, even when it was an effort;
Because they loved people as God's people, and gave time to listen, talk and help even when it was a nuisance;
Because they loved themselves as God's children and so denied themselves the things that would spoil their lives, even when they wanted them.
THAT WAS ALL
It was quite simple and always will be.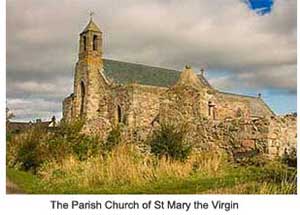 Dear friends
The autumn is a season of festivals and special days in the church's year. We have just had our Harvest Festival, where we celebrated the good foods and gifts God gives us - including here on the island, the fishing harvest. Thank you for the lobsters and crabs! We also had a lovely service with our school when we remembered those who don't have enough to eat and gave thanks for what we have. And we are now entering a season of remembering. All Souls is when we remember those we love and see no more. And then comes Remembrance Sunday of course when we remember those who have given their lives for us in war. Really important moments in our life together on Holy Island.
And of course, we are in the midst of our fishing 'crisis'. We continue to work and pray for a good outcome, and especially to pray for our fishermen and their families. Below is my latest letter concerning the fishing. Please do let me know if you want to know more.
This comes with every blessing
Sarah
---
ST. MARY'S NOTICES
Current Worship Times
Worship Times

Sunday
1045am The Parish Eucharist
8am BCP Eucharist - first Sunday of the month only
5pm Evening Prayer
Monday to Friday
8am Morning Prayer
5pm Evening Prayer
(Updates or changes will be posted in the church porch and online)

Lord, help us to be with one another... even if at a physical distance. Help us to build a kinder world. To reach out. To love and to care. To be sensible and not to panic. Help us, Lord, to hope. Because together we can.
Amen.
Revd Dr Sarah Hills
A Blessing - for this time and every time

Lift your hearts to heaven
and receive the eternal gift of peace

Keep your feet on the ground
and walk with those who need God's love

This day

You are loved by God
You are held by God
You are blessed by God

Now and for evermore

© Revd Rachel Poolman