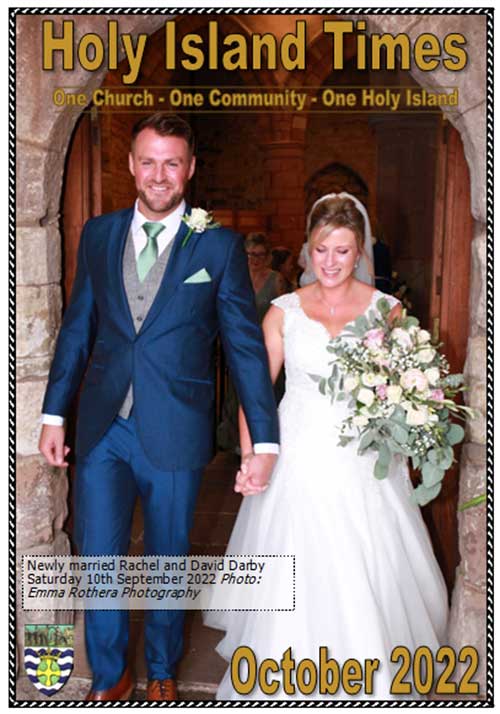 'Tying the knot'
Islander Rachael and David Darby
A bit from me...
The Community Appeals to Defra
Crossman Hall
Our Naturalist on Lindisfarne
Lindisfarne Castle
Lindisfarne Priory
Natural England
Heavens Above
Northumberland Rocks
From The Community Of Aidan And Hilda
On the Fringes of Lindisfarne
From the Vicarage
St Mary's notices
Help Save our Future
A Blessing - for this time and every time
Our future King Charles III visits the Island
photo: Nick Lewis
Dear Subscriber,
Welcome to our October newsletter and little did we know what was to come after we welcomed you last month.
As a youngster, I watched her Coronation, on the "latest" black-and-white, 14inch TV at my uncle's house, in Totley, Sheffield. Then, in cub-scout cap, waved through the crowds as she passed the bottom of Burgoyne Road with Prince Philip in her fabulous, ceremonial, black Rolls Royce. In later years, I watched her son, in Dartmouth, sail though the harbour during his naval-training days. In very much later years, I was amongst those who shook his hand when he visited Holy Island parish church. The majority of our population will have similar golden memories.
But now, our beloved Queen is no longer. The world will have witnessed the love of a nation and commonwealth in mourning. Farewell to the nation's longest-serving Monarch and a 'Second Elizabethan era'. We now welcome our new King and a second 'Carolean Age'. We wish him well and with many a tearful eye say, "God Save our gracious King Charles III". Long may our noble King and Queen Camilla reign over us!
Yet, amidst all this, were her last formal acts as she accepted the resignation of Boris Johnson and appointed, in his place, her new Prime Minister 'Liz' Truss. Having witnessed the footage, could anyone have foreseen that she was to die just days later.
The best of British luck 'Liz'!
Meanwhile, we still remain acutely aware of the misery of natural disasters around the world. The Floods in Pakistan, 'Storm Ian' currently wreaking havoc on the west coast of Florida, the Korean Peninsula - the list goes on. In a previous Christmas speech our late queen once coined the phrase 'annus horribilis' - certainly a most fitting summary of 2022...
Also, not to forget are those man-made ones: The war in the Ukraine. Tens- of-thousands of young men giving their lives. Can there ever be justifiable reason in the minds of mothers, fathers, families, communities on either side?
Then, the disruptive effect on world finance: how to keep warm this winter, avoid black-outs, feed the family...
Many will recall Margaret Thatcher's words, "could do business together" referring to Soviet, President Mikhail Sergeyevich Gorbachev. I wonder how history will record this period of European history about President Vladimir Vladimirovich Putin...
Finally, on to our news:
"DEFRA Death threat to Island Fishing: Last time, Sarah and John headlined 'The fishermen and community of The Holy Island of Lindisfarne strongly oppose Defra's selection of the waters around the island as a proposed site for Highly Protected Marine Area (HPMA) designation'. (We re-publish their summary at the end of our newsletter.) We included Lesley's excellent article 'DEFRA proposal would ban all fishing off 'Holy Island' explaining the threat levelled at our community and fishing families. Our particular thanks to Michael Grey who highlighted our plight with a letter 'When the boats come in' which appeared in 'Maritime Advocate' www.themaritimeadvocate.com
The Island websites and tide-table direct those wishing to express their views to the various associated bodies, and our local Member of Parliament, Anne-Marie Trevelyan, can do so via the above Holy Island Parish Council website link. Perhaps you are one of those who would like to support us?
An Island Wedding for Rachael and David Darby on Saturday 10th September 2022
[Emma Rothera Photography]
"THE COMMUNITY APPEALS TO DEFRA: On behalf of the Island community, the trustees of the 'Holy Island of Lindisfarne Development Trust' wrote and sent supporting information to DEFRA. The "Chair's" letter is included immediately below.
"AN ISLAND WEDDING: Following on from Jodi, in June, we are so delighted to announce a second 'Islander Wedding' this year. The very best of wishes to David Darby and 'our own' lovely Rachael. 'May the wind be always at your backs.'
Having thanked Michael previously, thank you also to Karel (in Belgium) and all who took the time to write to us. Our authors look forward to your feedback.
Thank you to all our authors. With the exception of Anne (URC) all have contributed this month. We hope that you enjoy our October edition and look forward to getting in touch in November.
God Bless,
Geoff Porter
editor@lindisfarne.org.uk
www.lindisfarne.org.uk/ezine
✔ Stop Press: For visitors coming to the Island on 3rd October - Sarah asked me to let you know there will be a 'CODEX Exhibition' (Sound and Light projection) in the 'Parish Church of St.Mary the Virgin' between 10am and 7pm. And, At 4pm there will be a talk by Dr David Petts (Durham University Department of Archaeology) and artists Ross Ashton and Karen Monid (The Projection Studio).
OUR COMMUNITY APPEALS TO DEFRA
HOLY ISLAND C
of
E FIRST SCHOOL
The children arrived back to school at the beginning of September - my goodness how they've grown. I always notice this after not seeing them for over six weeks! It was lovely to welcome everyone back.
Just a few days into the new term we heard the sad news that Queen Elizabeth II had died. The morning after the news, we were all together at Lowick and we spent some time having a quiet think about our Queen. The children were silent. We listened to some music and afterwards, the children were most thoughtful and remembered such a lot from their learning around the recent 70th Jubilee celebrations. We decided to take the time to reflect on our thoughts using art and words. We then made a book of remembrance which is filled with beautiful paintings and written thoughts or prayers. We have put a copy of the book in St Mary's Church, Holy Island and at the Parish Church of St John the Baptist in Lowick. There's also a copy in St Andrew's Wallace Green and Lowick Church of Scotland in Berwick. The children were delighted to hear that we have sent a copy to King Charles III at Buckingham Palace - we are all hoping that this will help our new King to feel a little better.
Our theme of Food and Farming is linking well to our work on growing conditions for plants in science and we are making connections in history by looking at the beginning of farming in the Stone Age. The children made a replica river valley (lots of paper and glue!) and sowed cress seeds to see how they grow in the 'river' and in the areas further away. This is helping us think about settlements along rivers and how water is vital for growing crops.
This week we will be going on quite a journey because we are visiting Jarrow Hall - we are all looking forward to going through the Tyne Tunnel. We'll be spending the day finding out about Anglo Saxon farming and will be visiting the Bede museum. We'll be taking part in a workshop about Bede and the Saxon scribes. I'm sure we'll have a very interesting day!
We have some exciting events coming up - you might know that the Lindisfarne Gospels have arrived at the Laing Gallery in Newcastle. We will be working with musician and composer Paul Edis and the Ushaw Ensemble. As part of the 'Art of Words' festival organised by St. Mary's Church, Holy Island and ourselves, Paul has composed a piece of music to celebrate the creation of the Lindisfarne Gospels on Holy Island. We'll be taking part in a workshop with the musicians and watching them perform the special composition. There's a list of the 'Art of Words' events on St. Mary's Church website: stmarysholyisland.org
We will be travelling to Newcastle to see the Lindisfarne Gospels in October. Our visit will include a tour of St Nicholas' Cathedral. Then we'll be welcoming artists from the Laing Gallery who will be coming into school on the island to work on an art project celebrating the gospels with the children. What a wonderful way to celebrate our rich island history.
Finally, I promised I'd let you know how our visit to the Farne Islands went. We had an amazing day. We had just left Seahouses Harbour and were met by a small pod of dolphins that stayed with us for quite a while. As you can imagine, this was an incredible sight for the children and adults! We saw seals and lots of sea birds including puffins. We sailed past where St Cuthbert spent time and we saw where the Darling family lived - we'll be learning the Grace Darling story in our summer term. And of course, the crazy golf on the sea front afterwards was a great success!
Heather Stiansen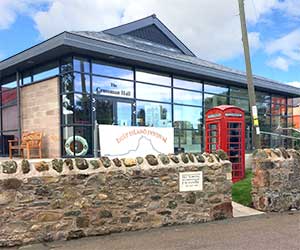 September was a busy time for the hall with a day with the author LJRoss( a ticket event only), then Rachael and David's wedding, a super day, enjoyed by all who attended. After the wedding the archaeologists moved and are here till early October.
We have a weekend retreat at beginning of October along with a Yoga weekend later in the month.
Our (new to us) cleaners are proving very reliable and are a great help.
Marygate are hosting a 2 day Christian Aid event in mid October in hall
The Warm Hub continues on a Tuesday and Yoga classes start on Wednesdays later in the month.
Hopefully the roof will be repaired over the next few weeks as Richardson's work on Cambridge House finishes.
At present the winter months appear to be quiet regarding bookings but hopefully some Christmas events will be held in the hall.
OUR NATURALIST ON LINDISFARNE
WHAT A DIFFERENCE AN EASTERLY BREEZE CAN MAKES!
One of the things we bird-watchers hope for at this time of autumn is that the westerly winds which dominate our weather in Britain will drop for a while and allow easterly or northerly airstreams to take over, bringing cooler air towards us from the North Sea.
When this happens - and it does occasionally - the scene can be set for impressive arrivals of small autumn migrants who have been making their way down the coasts of the continent from Scandinavia and other parts of Northern Europe towards their wintering areas in Africa.
These small travellers can then be drifted from their normal courses and end up being carried eastwards across the sea to make landfall on the island and other parts of the east coast. When that occurs, the results can be spectacular, as recent events have shown.
The island was then the scene for the arrival of large numbers of small northern woodland species including flycatchers, redstarts and warblers and a few of the rarer birds that make the autumn migration period so exciting for us locally.
For a few days the island was home to some very special small birds. For example, there was a peak of at least 48 Pied Flycatchers, small and very active birds which as their name suggests rely almost totally on insects and their larvae as food. They breed mainly in deciduous woodlands in northern Europe with small nesting populations here in Britain, predominantly in habitats dominated by Oak.
Breeding males are very striking birds in plumage, as their name suggests, of black and white although at this time of year they have moulted into more sober browns but retaining their white wing bars.
Also present were at least 35 Spotted Flycatchers which largely breed in similar places to their pied cousins. They come in shades of streaky brown. When present they can often be very prominent, dashing out from high and often bare vantage points in trees and bushes to snatch passing insects. If you manage to get close enough to them you can actually hear the quick snap of their beaks.
Redstarts, yet another woodland breeder and so called because of their flashing rusty coloured tails, also arrived with the others with around 35 present at their peak.
Reasonable numbers of really common species, including Chiffchaffs and a few late Willow Warblers also arrived on the island as a result of that sudden change in weather, as did good numbers of upland and open country breeders including Wheatears and Whinchats.
But, of course, we birders are never really satisfied with even good arrivals of small common and even reasonably uncommon birds. The real goal in autumn is always the rarer species which make the island such an exciting place for both us locals and for visiting enthusiasts.
This time the most interesting feature was the arrival of Wrynecks. These small relatives of the woodpeckers come in rich shades of brown. Their name comes from their ability to pivot their heads so they can almost look backwards. Wry necks indeed!
They're another woodland species which were formerly rare breeders in Britain. But that was in the past and we now only see them are rare and always welcome occasional visitors in spring and autumn. During the period under review at least eight were on the island, setting a new record. Normally only one are two are seen annually so that arrival really was something really special. The previous best was five sightings back in 1996 with three seen in 2005, 2006, 2008 and 2014.
One had been found along the Chare Ends track in late August but the latest arrival involved birds in at least five localities across the island. It's highly likely that one or two other went undetected.
Other autumn "goodies" included a Red-backed Shrike at the Strawberry Field, an unusually confiding Icterine Warbler at the willow patch in the Straight Lonnen and another at Snook House. A single Greenish Warbler was also in the willow patch for several days. Barred Warblers were at the Greenshiel excavations and at the Snook and a dainty Red-breasted Flycatcher was also found at the Snook.
One of two Rosefinches also appeared at the Strawberry Field and in the Vicarage garden. I hope visitors to the garden remembered to drop a donation in the church collecting box on the wall!
My own favourite sighting during that exciting patch was a larger species - a Hobby, the country's rarest member of the falcon family and a streamlined, high-speed aerial predator on birds, which it simply snatches on the wing. Hobbies are very rare breeders in the north although there are reasonable populations further south. Breeding has occurred on only two or three occasions in Northumberland although there have been recent signs of a slow northward expansion.
My particular bird flashed past low only a few yards away as I made my way down the Straight Lonnen heading to see the various birds at the willow patch just to the north. The dark brown juvenile shot low across the Hemel Field and I lost it as it disappeared out towards the Lough. A fine but very brief sighting of a species I'm lucky to see once a year in the county.
Around an hour later a colleague was near the Vicarage when he heard a sudden alarm calling from the village Swallows. They had good reason to be very nervous as, a moment later, what was almost certainly the same young Hobby flashed overhead and vanished towards Chare Ends and the Snook.
Next day another Hobby, this time an adult, was seen briefly over the Snook, no doubt completing a very satisfying period of birding for another lucky observer.
As you are reading this, we're in the middle of the autumn migration period. October is often the best month of all for common migrants and, of course, their much rarer fellow travellers. Watch this space!
Taking the Union flag down on Tuesday morning was a strange feeling. It probably only took me a minute or so to untie the halyard, pull down the flag, unclip it from the Inglefield clips, tie everything back together, and fold up the flag. But even in that short space of time I found so much going through my mind; the Queen's visit in 1958, the King's visit in 2012, the jubilees in 2012 and 2022, and indeed the Queen's visit to Alnwick in 2011 when I got see her close up for the only time (and a mate of mine ended up sitting next to her at lunch in the Alnwick Castle Dining Room, but that's another story). It certainly was the end of an era, and it really all came to the fore in that moment below the flagpole.
I wrote something last year about the naming of Osbourne's Fort on the harbour, and the theory that it - like Clifford's Fort on the Tyne - was named after the Lord Treasurer at the time. I didn't have space then though to dig into the real dirt of the story of Osbourne's Fort, so now seems as good a time as any to shine a light on it. Considering the place was built 350 years ago, the records are surprisingly good. These are mainly down to the survey of the island by Major Martin Beckman in 1682, six years after the building was completed, although there are also some other useful contemporary documents in Newcastle Library. Beckman made exhaustive inventories of both the castle and the fort, capturing the number of guns, powder barrels, and even mattresses. His attention to detail would be the undoing of the late Colonel Daniel Collingwood who had overseen the work. Collingwood had a notable military career in the Queen's Life Guards and then was MP for both Morpeth and Berwick. At the same time though had been rather dishonest with the Crown's money granted to him for the fort. Beckman didn't mince his words, writing to King Charles II he said "You Majesty has been so much abused by the building of this pretended fort..." and "that Your Majesty may be repaid the sum... you have apparently been defrauded of to deter others of like fraud in the future". Looking at the figures, Collingwood had been granted £1149.11.00 and had paid only £549 of that out to Robert Trollope, the architect. Of the remaining money, £331.06.06 was owed to Trollope, while £268.13.08 was to be paid back to the Treasury. By this time though Collingwood was long dead, leaving his son and executors with the task of dealing with these debts, and no doubt the disgrace. Osborne's Fort was derelict by the end of the next century, so perhaps it is apt as Collingwood's legacy, initially glorious but ultimately, ruined.
Best wishes
Nick Lewis - Collections and House Officer
Lindisfarne Castle nick.lewis @ nationaltrust.org.uk
07918 335 471
After a busy summer, Lindisfarne Priory is much quieter than it has been. Visitors are taking their time to explore the ruins in an autumnal light, and we're enjoying rainy days, hot drinks, and time to chat.
The long-awaited Gospels exhibition is finally open, drawing interest from lots of different groups. The Laing Art Gallery in Newcastle is hosting a contemporary exhibition on the manuscript and its connection with the world today, showcasing several archaeological finds from across the country. English Heritage has been lucky enough to contribute to the exhibition with a beautifully carved stone cross fragment on loan to the gallery for the exhibition's duration.
The Priory has been the subject of a number of TV spots over the years, with film crews coming from as far as Japan, but in September we welcomed HistoryHit, an online streaming service for documentaries, to the Priory. Their presenter, Dan Snow, met with one of our Visitor Assistants to talk about the Anglo-Saxon Priory and the cult of St. Cuthbert, and we look forward to seeing it on our screens soon.
The film crew were also able to line up their day to film DigVentures, who have started their most recent dig in Sanctuary Close. They've found some amazing objects in past years, and I'm sure they'll be unearthing more treasures soon, revealing the Anglo-Saxon world buried beneath our feet...
Finally, the Viking Raider Stone, or Domesday Stone, has made its journey safely to Germany, where it'll be until our shiny new museum is ready for it to come home. We'll be closing the visitor centre at the end of October to reopen in February, and I can't wait for you all to see the new layout and stories we have to tell.
Best wishes
Sophie Howard - Site Manager
Lindisfarne Priory
NATURAL ENGLAND LINDISFARNE NNR
Once again autumn is upon us. On the Reserve we don't need calendars to tell us this; it is heralded by the seasonal flows of bird migration to and from the shores. Over the past few weeks wader numbers have been steadily increasing and now the sky is beginning to fill with the 'wink-wink' of skeins of Pink-footed Geese, the light chattering of Light-bellied Brent Geese as they feed on the Zostera beds and the excited whistles of Wigeon as they make their way from their breeding grounds in the high Arctic.
Thankfully the extraordinary period of dry weather appears to have broken. Seven out of the first 8 months of the year were either dry or extremely dry resulting in the dune slacks drying out and 2 wildfires within the links on Holy Island, an unprecedented situation. So far September has been the wettest month of the year. Periods of dry weather have been peppered with intense heavy downpours. This has reduced the fire risk somewhat but the dune system is still dry and will require a lot more rain to recharge the water table.
The fencing has been collected from the Shorebird Protection Areas at Goswick, Ross Sands and Budle Bay. As we crunch the numbers it has proved to be a great season with very high productivity across the sites for both Ringed Plovers and Little Terns. Goswick, in particular, has been a great success with Little Terns breeding and fledging chicks there for the first time. This is thanks to our wardening team, volunteers and the public by and large respecting the protection areas. The report for this season is being finalised so we shall be able to share a full breakdown soon. Despite the Shorebird Protection areas being removed the byelaws remain in place. It is still important to give the returning wintering birds plenty of space when accessing the Reserve.
As we move into autumn and winter the annual programme of winter works begins. With help from our volunteers we will be cutting scrub, removing invasive species and cutting some of the dune slacks. To help us with removing the rank grasses the cattle will be returning to the Links in the next few weeks to graze over winter and the sheep will also be returning to the Snook to feast on rank grasses and Michaelmas Daisy.
We have been continuing with our events line-up for the Festival of the National Nature Reserves - celebrating 70 years of the establishment of the first NNR. This included the Lindisfarne Nature Festival in late August as we played games, rockpooled, seal watched and created family crafts while engaging with over 900 people. We still have several exciting events to come this month. We will be holding dawn and dusk chorus events on 22nd, 24th and 28th October where you can experience the wildlife spectacle of thousands of wildfowl coming and going from the Reserve right over your heads. Our events programme is available on our blog website: http://lindisfarnennr.blogspot.com/p/reserve-events.html
Andy Denton - Reserve Manager
Lindisfarne & Newham NNRs
I wrote in this column back in May about severe light pollution from the refurbished Toilet Block at Green Lane Car Park and the encouraging response I received from Bob Hodgson, Area Manager for Neighbourhood Services at Northumberland County Council. I had written to Bob pointing out the problem. He replied promptly, promising that a solution would be sought.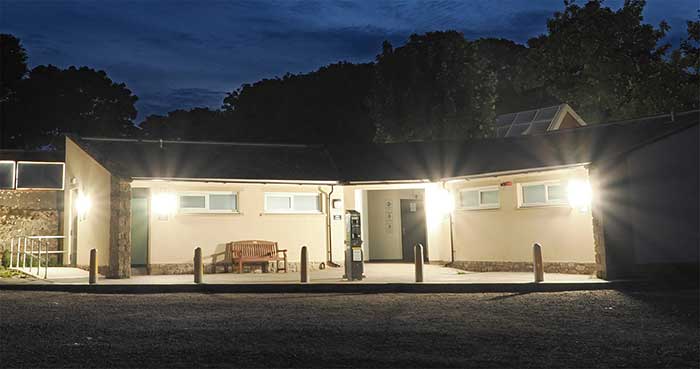 Light pollution from the refurbished Holy Island Toilet Block spews forth from dusk until dawn, pointlessly
illuminating the surrounding trees, houses and spoiling the very darkness of the Heavens Above.
August came around and disappointingly nothing had been done. I again contacted Bob. This time I received a courteous reply from Lee Anderson, Senior Architectural Technician at the Council again promising action. But five weeks later the Toilet Block lights still shine brightly and the issue is becoming increasingly acute with the lengthening nights.
There are multiple reasons why this light pollution is a legitimate cause for concern and needs to be addressed. My own selfish complaint is that it spoils astronomy on the island by drowning out the faint starlight from distant galaxies. Because of light pollution from the Toilet Block lights, Holy Island has lost its precious Bortle 2 (Dark Sky) status. I won't repeat that argument any further here. Instead let me mention some of the other harmful consequences that flow from this thoughtless piece of building design.
A topical concern is the sheer waste of ever-more expensive electricity. The lights are not on any timer, nor are they controlled by a motion sensor. So they burn from dusk until dawn consuming many kilowatt hours of valuable power for no sensible purpose. Hundreds of pounds of ratepayers' money is being wasted.
Less obvious is the harm being caused to wildlife. Migrating birds are known to be diverted from their course by bright city lights. And the mammals and invertebrates that live in the trees and fields around the village are having their biological rhythms disturbed in ways that are detrimental to their well-being and ultimately their survival.
In this 2010 map of light pollution in Northern England and Southern Scotland, Newcastle is bottom right and Glasgow and Edinburgh are at the top. Berwick-upon-Tweed is the blob in between on the East Coast. You can just make out the faint dot of Holy Island Village surrounded by the lost darkness that used to be. © 2010 AVEX https://www.avex-asso.org
People are also affected. This year scientists at the University of Exeter published a study demonstrating the harmful effect of modern LED lighting (exactly the type installed in the Toilet Block). These lamps produce much more blue light than the traditional lights they have replaced. Here is a quote from a published summary of the report:
Chief among the health consequences of blue light is its ability to suppress the production of melatonin, the hormone that regulates sleep patterns in humans and other organisms. Numerous scientific studies have warned that increased exposure to artificial blue light can worsen people's sleeping habits, which in turn can lead to a variety of chronic health conditions over time.
For me at least light pollution also causes a palpable spiritual harm. No longer am I able to gaze out at night towards the Castle to appreciate the magnificence of the Milky Way arching overhead against the total velvet blackness that once added to the beauty of our island. Instead, I am dazzled by the lights of the refurbished Holy Island Toilet Block spewing forth a pointless and destructive glare.
Max Whitby
www.thevisibleuniverse.com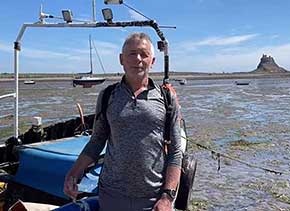 Climate change - what's a rock got to do with it? - part 2
I didn't really cover all I wanted to in the last piece I wrote, so I hope you'll forgive me for returning to the subject of climate change (aka global warming)? As I'll get into this later, and as to some it may seem rather dispassionate, it's probably worth stating the obvious upfront: geological processes - erosion, deposition and the factors that drive them like sea level rises and falls, and driving that, changes in climate - are indifferent to human needs and accomplishments.
Until a couple of hundred years ago (arguably) those drivers were natural, but since then our species has been steadily accelerating the rate of change. Even the geological profession who usually like to chunk Earth history into millions of years are seriously debating the establishment of a new epoch - the Anthropocene. A key question is whether humans have changed the Earth system to the point that it is reflected in the rock strata. You won't be surprised to hear that the date at which the Anthropocene started is also part of the debate - should it be the beginning of the agricultural revolution or the industrial revolution or the first atomic bomb?
If this all sounds rather academic the factors and issues behind it are brutally relevant to us all. Even if we limit it to the current baked-in global temperature rise of 1.5°C, average sea level in the north east of England is predicted to rise by 0.1 metres by 2100 (this figure takes into account rebound of the land taking place after the last ice sheet left). If we take no action, then under a high emissions scenario global temperatures are predicted to rise to between 3.3-5.7°C by 2100; in this case there is a fear that sea level will rise by 2 metres.
Geologically speaking sea level rises and falls are not new. Our rocks, fossils and landscape provide evidence of times when sea level was much higher and also much lower. Even in the most recent geological era, the last 2.6 million years of the Quaternary, with its cycles of ice ages and warmer inter-glacial periods and the expansion and melting of polar ice caps, sea level was at times almost 120 metres lower and at other times 10s of metres higher than today. The evidence is there to see: the raised beaches and fossil cliffs left high and dry above Britain's current coastline and closer to home the submerged forests at Hauxley and Druridge extending beneath the North Sea. You could have walked across from the continent then and 7000 years ago our ancestors did.
For Lindisfarne and other low-lying areas along our coasts this is all too close to home. A warming climate will bring more visitors to an already stressed island and even a small rise in sea level will mean that the twice daily higher tides will have an impact on access to the island. What makes the island beautiful and unique and popular also make it vulnerable.
FROM THE COMMUNITY OF AIDAN AND HILDA
This summer we have welcomed guests from around the world to our retreat accommodation. It has been fun to share stories, times of prayer, meals and the odd glass of wine with people from all walks of life. But by September my enthusiasm was waning. Perhaps it's a sign that I am settling into the rhythms of this community that I'm looking forward to November! I wish I was more like my cockapoo puppy, who continues to see every person and dog in his path a potential friend.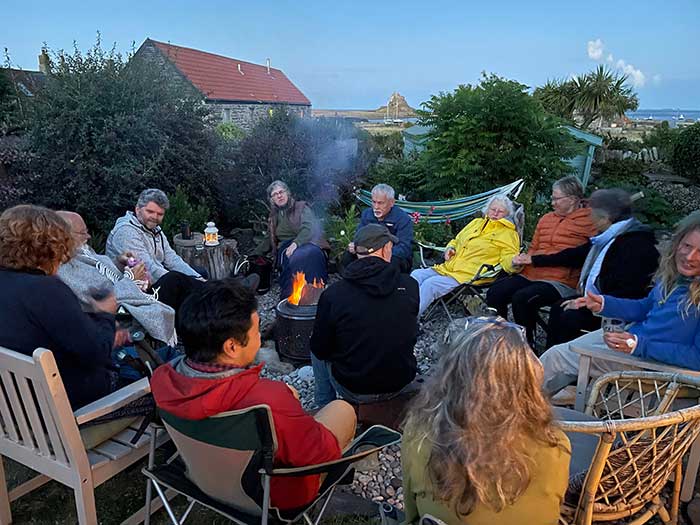 Guests from around the World
This autumn brings more than a change of weather and pace. The dark clouds of the pending Defra decision loom over the island. In this small community, what a winter it would bring to have the fishing industry closed. I'm hopeful that sense and justice will prevail. I'm reminded of Saint Aidan who bought and freed slaves in his own, quiet campaign against injustice. Surely our island's unified protest against this unjust proposal will be heard.
Faith Brennan
cah@holy-island.com
Ray writes:
Last month I spoke at a pilgrim festival at Norway's Holy Island of Selja, and in Newcastle Diocese's link Diocese of More. The pastor of the packed Selja church said that holy islands can offer something useful for the future of the world.
Then I went on to a Youth with a Mission conference on Celtic Christianity. Some of them had recently returned from a visit to Holy Island to say sorry for the harm their ancestors the Vikings had done centuries ago. An American film maker who was present asked to film me on the island the following month on the theme of angels. As we looked out to where Saint Aidan died at Bamburgh I told him of a local school boy who, when asked why so many angels escorted Aidan to heaven replied 'So many things pull us down, we need an angel to pull us up for each thing that pulls us down'..
Arnt Sollie came from Norway to take his first vows in The Prayer Room last month.
I signed the petition to preserve Holy Island's fishing livelihood. I criticized DEFRA'S lack of joined up thinking. It is crazy to destroy the human eco-system that sustains the island community, and all the efforts towards improvements in recent years, when there are varied ways of preserving nature's balance.
Revd. Ray Simpson
Founding Guardian, The international Community of Aidan and Hilda
ON THE FRINGES OF LINDISFARNE
ST. BARTHOLOMEW OF FARNE
In the years after our 'Age of Saints' we occasionally meet references to hermits. Often these are not named, but give the impression that they helped to maintain the Christian faith in their own neighbourhoods. Occasionally they are named and something of their story is told. One of these is called Bartholomew of Farne, whom we meet here today.
We don't know his date of birth, except that it was near Whitby, early in the 12th century. He was of Scandinavian family (Viking?!) and after a rather wild youth he went to Norway where he was ordained deacon and priest. He then returned to England apparently intending to join the monks of Durham, but a vision of St.Cuthbert showed him the Inner Farne Island, where Cuthbert had lived and died. Bartholomew went there, at first having to share the island with a monk called Aelwin, who left. Bartholomew lived on the Inner Farne for the remaining 42 years of his life. (42 years! Just imagine it.)
About his style of life we are told that he was very austere. We don't know whether he made a hermitage for himself, or possibly used whatever remained of Cuthbert's. We know that by the time he died he had an oratory on the Inner Farne, where he was eventually buried. He was content to sleep leaning up against the rocks. He made bread from his own corn. He had a cow and could drink its milk. Of course he had a great variety of fish, if he could catch it. He spent some of his time singing psalms all around the island in a ringing voice. He was cheerful and friendly and had many visitors, including some of the rich and powerful whom he persuaded to change their oppressive ways. He died in 1193.
Of course we are often told that hermits received visitors, who usually would be hoping for a miracle of healing or spiritual advice. We are not often told that the hermit had an attractive personality. But this one clearly did!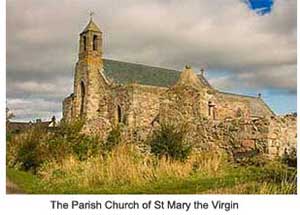 Dear friends
Many of us have our own memories of the Queen. Certainly when she came to the island in 1958 several of our island community remember being here and meeting her. I met her briefly as an 11 year old when she came to visit NI during the Troubles where I grew up. I presented her with a rather childish picture - on one side, fields and flowers and trees, and on the back, a scene of bombs and burnt out houses and cars. I still have the letter her lady in waiting sent me afterwards. And we will all have memories of our Queen - watching the Queen's speech is a tradition on Christmas Day for many families; and of course the news coverage over the days before, then her funeral, and since has been very moving.
Near the start of the pandemic in 2020, the Queen gave an Easter message. She said:
Easter will be different for many of us this year, but by keeping others apart, we keep others safe. But Easter isn't cancelled; indeed, we need Easter as much as ever. As darkness falls on the Saturday before Easter Day, many Christians would normally light candles together. It's a way of showing how the good news of Christ's resurrection has been passed on from the first Easter by every generation until now. The discovery of the risen Christ on the first Easter Day gave his followers new hope and fresh purpose, and we can all take heart from this.
We have lost a wise, courageous, compassionate, inspiring Monarch. A woman of great faith. A mother and grandmother, as some have been saying 'for the nation'. I don't know if you saw her grandchildren keeping vigil at her coffin, or walking behind the hearse? Our Queen was also their grandmother - and our hearts and prayers must go out to the family who will have to deal with their private grief when they get a chance to be out of the public eye.
And in the days and weeks to come? We pray for King Charles and the Queen Consort. We pray for our nation, and our own communities. Our friends, neighbours and families. For ourselves. As we try to follow the example of the Queen - in her great faith in Jesus Christ, in the wonderful hope of the resurrection, in lives lived in service of the other. This Holy Island is an inspiring, courageous community. Let us together face the weeks and months to come drawing on our faith in Christ and our Queen's great example of fortitude and love.
God save our gracious King.
With every blessing
Sarah
---
ST. MARY'S NOTICES
Current Worship Times
Worship Times

Sunday
1045am The Parish Eucharist
8am BCP Eucharist - first Sunday of the month only
5pm Evening Prayer
Monday to Friday
8am Morning Prayer
5pm Evening Prayer
(Updates or changes will be posted in the church porch and online)

Lord, help us to be with one another... even if at a physical distance. Help us to build a kinder world. To reach out. To love and to care. To be sensible and not to panic. Help us, Lord, to hope. Because together we can.
Amen.
Revd Dr Sarah Hills
A Blessing - for this time and every time

Lift your hearts to heaven
and receive the eternal gift of peace

Keep your feet on the ground
and walk with those who need God's love

This day

You are loved by God
You are held by God
You are blessed by God

Now and for evermore

© Revd Rachel Poolman