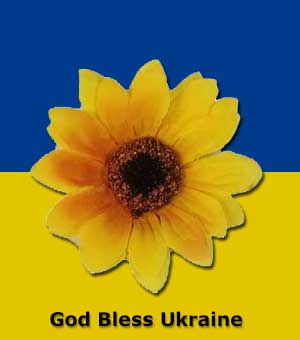 A bit from me...
Readers Write
Holy Island C-of-E First School
Crossman Hall
Our Naturalist on Lindisfarne
Lindisfarne Castle
Natural England
Heavens Above
Northumberland Rocks
Northumberland Area Of Outstanding Natural Beauty
On the Fringes of Lindisfarne
From The Community Of Aidan And Hilda
From our United Reformed Church
From the Vicarage
St Mary's notices
A Blessing - for this time and every time
Dear Subscriber,
Welcome to our May newsletter - particularly to those who have joined us over the Easter period.
I reproduce below Kate's words of wisdom from our May issue of 'Holy Island Times':
When you are not thinking of anything else, what are you thinking of? Something miserable? There are plenty of those things about. We may think Covid - will it never go away? Or we may think Ukraine - how much more sorrow to be inflicted? Or of the energy crisis - pointing to a life of practical worrying, or of Partygate - have we not had enough? Recently I read of one person in Ukraine who had survived a horrible lockdown and said she needed above all "something beautiful".
Guess who wrote this: "and now, my friends, all that is true, all that is noble, all that is just and pure, all that is lovable and attractive, whatever is excellent and admirable - fill your thoughts with these things". Yes, it was St. Paul. He makes the point that we do have a lot of choice about what we put into our minds. So, when we are feeling flat, not exactly depressed but perhaps tired by the news, we can draw on our own mental treasures.
Happy thinking, Kate.
Later in the newsletter, as her topic for this month, Reverend Canon Kate Tristram chooses Adomnan. A thousand years ahead of his time, Adomnan focuses on the "non-combative" (women, children, clergy) during times of war. Today, not only for those brave combatants fighting, being maimed and dying for their countries, the world looks to the United Nations to take account of the tens-of-thousands of non-combatants who find themselves in harm's way.
Thank you to all our writers. This month we very much welcome an input on behalf of our 'United Reformed Church' from Ann Tunnard. Please pass on our very best wishes to Rachel. It is particularly good to welcome Ian Kerr back - who brings us fiery news! Faith has again written on behalf of the Community of Aidan and Hilda. And Heather includes a 'lively link' on the report from our island school. I am sure most will agree with Max's 'dark night' comment. And a reflection on one of our greatest poets from Ian J. We have another important article from Andy - note his warning... For good measure we include a couple of articles from our local AONB. And I include a brief summary of those who have taken time to write to us.
From us all, we hope that you enjoy our newsletter and look forward to getting in touch again in June.
God Bless,
Geoff Porter
editor@lindisfarne.org.uk
www.lindisfarne.org.uk/ezine
Dear Geoff
I have just finished reading the latest newsletter and I am particularly excited by Catherine Gray's article on "Accessing Aidan". I have been fortunate to visit Holy Island a couple of times, the last occasion being in 2009. I am from England originally and I am a scholar of history, by inclination. The development of Christianity in the North East and of St Aidan's role in particular have been of particular interest and have tied in with my research in Ireland and Scotland from where my family originally derived. My visits have therefore had that as a catalyst. A key outcome of these studies occurred in 2011 when I made my commitment as an Oblate of St Benedict at Jamberoo Abbey in NSW, Australia, taking Aidan as my Benedictine name. The attached photo shows my clear pact with St Aidan in 2009!
My one great disappointment with much written about religion in the North East is the "obsession" with Cuthbert and the miniscule attention given to St Aidan. I know that Aidan did not agree with Rome re the timing of Easter, choosing to remain with the Irish interpretation, but he established Christianity in the North East and provided a firm foothold for Cuthbert and followers. I am, therefore, excited to see the provision of new ways for the public to come to know St Aidan and I would welcome further information as it progresses.
At 75 years of age I think it is unlikely that I shall be able to visit your beautiful region again - I was full booked for a five month visit in 2020, but covid put paid to that one! In the interim health issues have surfaced so I rely upon material such as your excellent "zine" for regular, valuable, news and information; thank you to you and all of the contributors.
Kind regards,
Leslie & Violet W
AUSTRALIA
ED: Thank you for writing. Whilst there is sparse evidence regarding Aidan's pre-Iona background I am still one of those in favour should we ever decide on an alternative to 'St.George of England'. Yet, undoubtedly, Cuthbert is the one many of us find so much more easy to identify with.
PS: Around these parts you'd still be regarded as 75years young!
---
Geoff:
I continue to be blessed each time I receive this ezine about Lindisfarne. Thank you.
I was only on the island for a week back in May 2001 but have a lot of fond memories of the place and the people.
I am sorry to hear about the war memorial. It was one of the most striking places on the Island.
Thank you again for allowing me to wander around the island each month.
Blessings,
Thom
ED: Lovely to hear from you Thom and you are so welcome to join us on the island. On 'Remembrance Day' , like those in Whitehall, we gather together on the Heugh alongside our Cenotaph created by that same British architect Sir Edwin Lutyens.
---
Dear Geoff
Thought I would just say how much I enjoy the newsletter, as a Northumbrian-by-adoption living in Wooler. We have a deep fondness for the Island, a quite magical place, and it's always good to hear your news.
All the best
Susan
ED: Hello Susan. Unlike those born into this most secret kingdom of Northumbria, we are here by choice...
---
Dear Geoff,
Once again thank you for news of Lindisfarne. I am resolved to try and make it once again this Summer as it has been too long!
Teresa
Sister Teresa K,PBVM
Presentation Sisters,
DERBY
ED: It's always good to hear of folk appreciating our efforts. So many more tens-of-thousands are visiting this year. So, use the tide times to plan for maximum exposure to our 'thin places'.
---
Stephen's 50th Anniversary of Ordination to the Priesthood
Hello Stephen, we continue to think of you and Janet as this incredible anniversary approaches. Saturday, 25th June, 2022 isn't far now....
To all at: St John's Parish Church, Fishponds, Bristol - the very best wishes from 'The Holy Island of Lindisfarne'.
ED: Fingers crossed for Sunderland AFC !
HOLY ISLAND C-of-E FIRST SCHOOL
We had an incredible day here on Holy Island last week! You may remember that we've been researching the events around the Lizzie Porter lifeboat rescue of 9 crew from the trawler James B Graham in 1922. The children were inspired by the visit of Thelma Dunne a few weeks ago and went on to research and find out all they could about this historical, local event.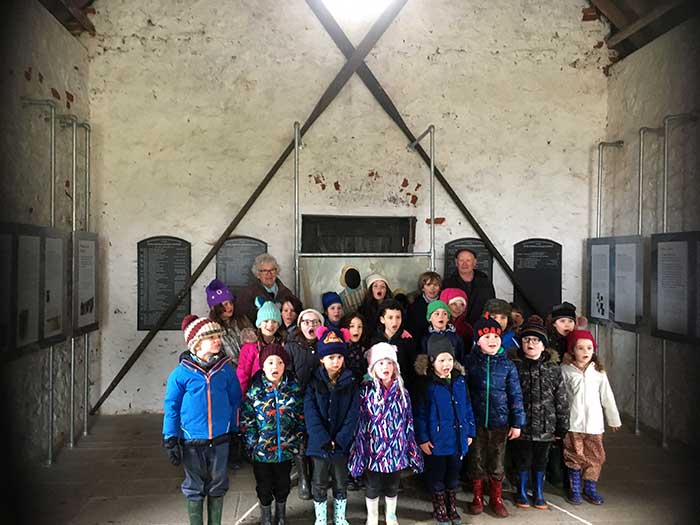 We decided that re-enacting the events of January 15th 1922 would be a memorable way of the children bringing the rescue to life for the children. So, we set to work building a replica of the Lizzie Porter. Using our metal archery trolley as a base, we built up the model using cardboard boxes and tubes, glue, tape, paint and rope. After lots of hard work and superb leadership from Sara Morgan our teaching assistant in Lowick School, the model was complete! The boat measured around 3m in length and 1m in width.
So, on the 7th April our adventure began with the children arriving from Lowick School around 10am. We proudly processed through the village with our Year 4 children carefully guiding the Lizzie Porter onwards and forwards. Alas, the weather was against us and although it was nowhere near as bad as that dreadful stormy night in 1922, the wind and rain certainly added an element of reality to the day! We were met at the Lifeboat house by Holy Island residents Thelma Dunne and Dick Patterson, both descendants of the rescue party of 1922. Then the excitement began as a group of children raised the alarm, clustered around a rock on Jenny Bell's beach. Instead of flares they were waving silver cheerleading pom-poms and shouting, "Help!" at the top of their voices!
The lifeboat 'crew' tried to rescue the men by launching rockets (foam javelins and skipping ropes) but, they were unable to reach the freezing survivors. The crew ran back across the beach to the Lifeboat house to launch the Lizzie Porter. The crew tried in vain to pull the boat on its trailer over the sand. Just like the real event, the children found it really difficult to pull the boat over the sand.
Shouts for help rang across the beach as the rain lashed down and the wind battered the lifeboat. A band of villagers, men and women, charged down the beach to give help to the crew. The strength needed to pull the boat across the sand made it so realistic and memorable for the children. They had to battle against the wind, heaving and hauling their way over a short length of beach.
Eventually, the crew and the villagers got the Lizzie Porter into the 'sea'. (We were nowhere near the water!) The crew imagined the hard work, rowing against the wind and blizzard conditions and to gather their strength they sang an old sea shanty - we all joined in, and finally, the crew of the James B Graham were plucked from the rocks and brought back to shore. We all dragged the (battered) Lizzie Porter back to the Lifeboat house.
The children were windswept and cold but were so excited and thoroughly enjoyed the re-enactment. Thelma and Dick were delighted to see this event being brought to life and understood by the children. Thank you to you both Dick and Thelma for inspiring the children to learn about the rescue.
Back in school the next day, the children put the finishing touches to their newspaper reports about the rescue. There will be a display of their fantastic work in the Lifeboat House over the next few weeks. We've made a short film of the rescue which can be found on our website in the photo/video gallery. I know you'll enjoy watching it as much as we enjoyed making it!
LIZZIE PORTER RESCUE CENTENARY 2022
Heather Stiansen
heather.stiansen @ lowick.northumberland.sch.uk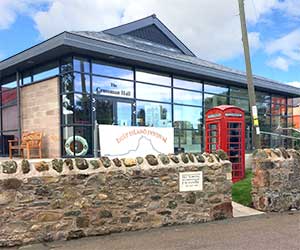 The Jubilee Celebrations are foremost in our efforts at the moment. A very successful coffee morning on Easter Monday will help to fund various planned events. 2000 metres of bunting is on order so towards the end of May, beginning of June any help at all to put bunting up would be appreciated. We are hoping to have bunting on all the streets around the village so "all hands on deck" please. More specific details nearer the time.
We have some bookings for May, the Pipes and Fiddles concerts are starting up again on 25th May, they are usually well supported, It will be great to hear live music once more in the hall.
The concerts will play once a month throughout the summer.
The roof, as you will all have noticed, is still not repaired, Mr Richardson keeps telling me ' he hasn't forgotten us' (we live in hope!) The Warm Hub continue to use the hall regularly with the coffee and cake mornings on Tuesdays, Yoga classes on Wednesday and the Craft group fortnightly. A Warm Hub Open Day is planned for end of April but will have happened by the time you read this magazine.
The Queen's Jubilee will be upon us by the time the next Holy Island Times is available, hopefully the weather will be warmer and all our outdoor events will go ahead.
OUR NATURALIST ON LINDISFARNE
SPRING ARRIVES LATE BUT ALL THE MORE WELCOME FOR THAT
Spring really did seem to be very slow in starting this year, didn't it? After the totally unexpected dry, mild and sunny March, which encouraged all the usual spring flowers in both gardens and across the island, April brought us back down to earth.
With day after day of chilling northerly winds it seemed like nature had been having a good laugh at us for feeling so smug about the lovely weather of the previous month.
Fortunately, our flowers depend more on the lengthening hours of daylight rather than warmth to bring them forward and the whole place has been a picture. The usual drifts of Daffodils have been magnificent while the Wallflowers on the Heugh have really shone forth.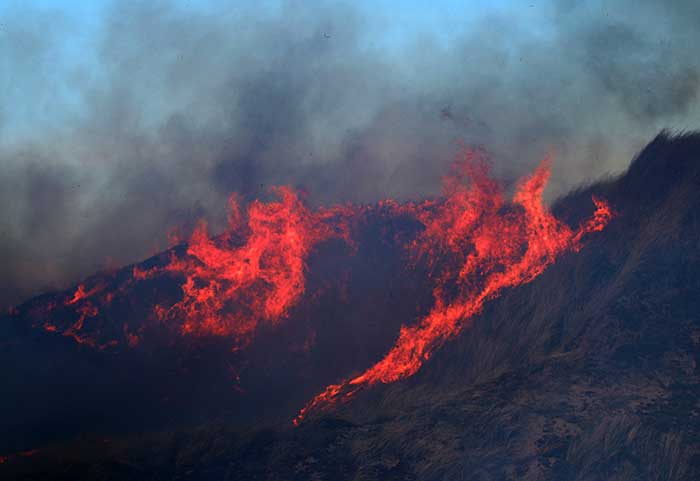 The Blazing Dunes - 9th April 2022 Photo: Andy Mould
In grassy areas, swathes of shining yellow Lesser Celandines have already started to fade to white and along the road near the Snook entrance there are the first pink tints of the glorious spreads of Thrift or Sea Pinks which we'll be seeing during May.
Birds I normally expect to see very early in the season were very few and far between. It wasn't until the second week in April that the first Sandwich Terns appeared noisily offshore, a good couple of weeks later than we've become accustomed to seeing them.
Those other very early favourites, Sand Martins and Wheatears, which usually cheer up the late March scene, were also conspicuous by their absence apart from a small handful of hardy individuals. It was also well into the month before the first Swallows and House Martins arrived.
By then I was out of it anyway, struck down by the dreaded Covid which kept me indoors and out of circulation for a while at the very time of year when I've always looked forward to the real start of serious spring birding on the island around the Easter weekend. Never mind, May is always a wonderful month to be out and about around the place.
Most of the geese, ducks and our wintering waders of the flats had departed by early April, leaving the place strangely quiet. However, things will liven up again during May when thousands of birds, particularly waders, which have wintered as far south as the coasts of Africa, will be passing through en route to their Arctic breeding grounds.
The one thing we haven't been short of during April was visitors with the car park packed even when it has been pretty cold and windy. Then, of course, we had the big fire in the dunes out towards Sandham Bay.
A birding friend and very regular island visitor, Andy Mould, was close by when he noticed smoke rising ahead of him. He ran to the top of one of the dunes to find out the cause and was confronted with a huge blaze being swept straight towards him by the strong north westerly wind.
He immediately dialled 999 and gave the fire service details. He was forced to retreat but was able to stay on the line and give the brigade more information about the direction of spread of the flames which by then were very obvious from the village.
"They were on the scene very quickly, running from Chare Ends with backpacks and beaters. It took them only about 20 minutes to put the fire out - a fantastic effort - but they criss-crossed the dunes for a couple of hours afterwards tackling hot spots" recalled Andy.
The Blazing Dunes - 9th April 2022 Photo: Andy Mould
The fire left a large area blackened but it will no doubt quickly recover. If it had occurred later in the spring it would have been much more damaging as ground-nesting birds would have been affected. Fortunately - if that's the right way of looking at it - it occurred before most of them had settled down to breed.
In closing, can I thank everyone who attended Hazel's memorial service and contributed towards my family's chosen charity. We've sent a donation of £430, raised at the service and at the cremation in Newcastle, to Arthritis Research UK.
The first month of the castle being open has gone really well, with some decent numbers coming up and feedback being almost entirely positive. There have even been cases of visitors being moved to tears by Paul Rooney's Song (After Nature) installation, and as emotional engagement is not something we have ever really excelled at, I'll take that as a win.
We finally got the admission hut roof repaired after damage done by the winter storms, although it is only a temporary one with the replacement metal corrugated sheets currently being in short supply. The steeplejack has also been up on the castle roof and hard-to-reach elevations repairing damaged guttering, replacing lost roof tiles, and generally taking care of things we can't get to. He has reinstalled a rope for the flagpole with the Jubilee coming up. We have more high-level work planned for the summer, when temperatures should allow lime washing and mortar work to be carried out to the north elevation, which bore the brunt of Storm Arwen.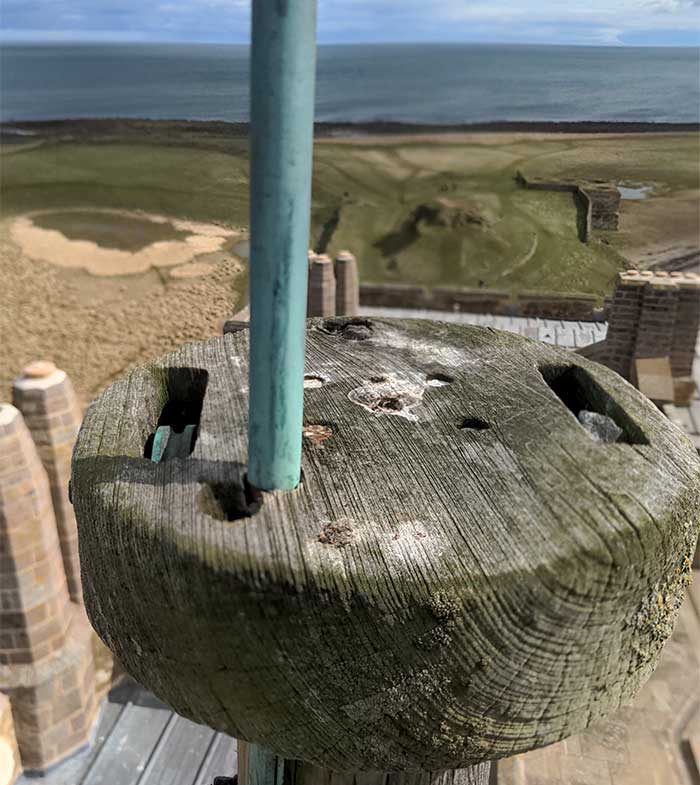 Speaking of the flagpole, I have never really looked at it in any great detail but speaking to the steeplejack, he felt that it could with a bit of TLC; such as perhaps a protective coat of clear wax oil. I'm running this past the conservator, but in the meantime I have accessioned the flagpole in to the castle's historic collection, so it now has an inventory number and therefore a record to which we can attach any future treatments and capture important details such as dimensions and material, as well as condition reports. The steeplejack was good enough to get some photos from the very top, which gives us an idea of how it looks up there (as we don't get that high very often!) and interestingly the wheel up there for the rope is plastic, suggesting it is a relatively recent intervention. The flagpole was originally an important part of the fort's function, in that it allowed communication with other sites such as Bamburgh Castle. A document from 1779 records a meeting at Alnwick where a series of signals between Holy Island Castle and Bamburgh Castle were agreed; a detail of this is shown in the transcription below:

Both sites required other flags, in addition to the 'Large Red Ensign', however the Union flag wasn't to be used for signalling, as Bamburgh used it for "occassions". We know Edward Hudson flew the Union flag during his time on the island, but probably only while he was in residence. I'm fairly sure the flagpole dates to at least the mid-19th century but could well be older. Images going back to the late 18th century show the same support mechanism at the base that is shown on photographs from 1901, so it could even date to the 1700s.We know Lutyens altered this base support, removing the old angled timber props and installing a solid timber base which is concreted into the crag. It also incorporates a pivot which allows the pole to be dropped down to the Upper Battery (which was done in 2018 to allow the scaffold roof to be installed). The top of the flagpole is the highest feature on the island, so it is good that it is finally getting some attention.
Best wishes
Nick Lewis - Collections and House Officer
Lindisfarne Castle nick.lewis @ nationaltrust.org.uk
07918 335 471
NATURAL ENGLAND LINDISFARNE NNR
Spring is well and truly in the air now with Primroses, Cowslip and the other early flowering plants in full bloom. The majority of geese and wildfowl have now left the Reserve heading north to their frigid breeding grounds in the tundra of the northern latitudes. Replacing them and making themselves known are the Sandwich Terns, newly arrived from west Africa. It won't be long before the other 4 species of breeding UK Terns arrive on the Reserve.
Already here and already setting up territories are Ringed Plovers. Lindisfarne National Nature Reserve is the most important site in Northumberland for this diminutive wader which after 30 years of accelerating declines have now found themselves on the Red list. The main drivers of the declines are habitat loss, and increasingly, human and dog disturbance.
Unlike louder colony nesters, like the Tern species, Ringed Plovers are territorial nesters, making a small nest bowl directly in sand or shingle and laying up to 4 eggs. This makes them highly vulnerable to disturbance. They will scurry away from their nest long before people or dogs approach, relying on the nests camouflage to keep it safe from predation.
Shorebird Protection Areas will be installed next week and will be manned around the clock by staff and volunteers until September to ensure that the Shorebirds get the best chance to breed, feed and roost. The protection areas also have a wider benefit, allowing migrating birds a safe refuge to stop and feed before moving on and Seals to haul out and rest without disturbance.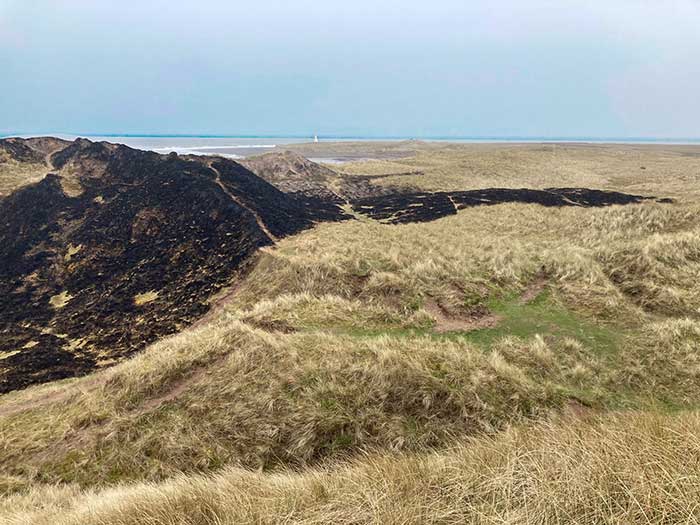 On Saturday 9th April, a wildfire was reported within the NNR on the Links of Holy Island. The Northumberland Fire Service and Coastguard promptly arrived and managed to put the fire out quickly. The vegetation across 2 acres was scorched and turned to ash. Luckily the fire took place in an area dominated by Marram and Pirri-pirri Burr and fortunately no one was injured; but there will have been several ground nesting birds on eggs within this area. As it is still early in the season these birds will have the opportunity to nest again.
The fire's cause is unclear at this stage but further emphasises the importance of not having any fires anywhere on the Reserve. Dune grassland can dry out rapidly in any fine weather and if fires take hold they can spread astonishingly quickly, putting lives of people and wildlife at risk.
If visiting the NNR do not have any fires, don't use camping stoves and don't discard any cigarettes...
After 5 years of being lashed by the ferocious Northumberland weather, we have taken in the Willow sculptures along the nature trail this past winter and have been working with our volunteers and Anna Turnbull of Biteabout Arts (who designed and created the sculptures) to give them a bit of well needed TLC. The Willow sculpture trail will be reinstalled in the coming weeks and is a fun way to navigate the nature trail to see if you can spot all the sculptures and learn a little bit about the key species found across the Reserve. Once installed the leaflets will be available at the start of the trail at the Window on Wild Lindisfarne building.
Andy Denton - Reserve Manager
Lindisfarne & Newham NNRs
I had intended to write this month about The Visible Universe, the astrophotography book that I have been working on for the past four years and which has just been published hooray. However, in the past few days a worrying development has threatened the very future of astronomy on our island. Bringing this problem to your attention must take priority. The culprit is the refurbished Toilet Block on Green Lane.
In early April electricians installed an array of exterior security lamps around the edifice. These new lights are dazzlingly bright - as shown in the accompanying photographs. When they switch on automatically at dusk - and remain on until dawn - the Toilet Block resembles a brightly illuminated casino in Las Vegas. The resulting light pollution is catastrophic.
The newly refurbished Toilet Block at Green Lane in its dazzling glory.
Up until the installation of the Toilet Block lights, Holy Island was an exceptional dark sky site. The quality of the night sky here on a moonless night free of cloud was world class. In confirmation, NASA has designated an image acquired from Skylark Observatory at Chare Ends international Astro Photograph Of The Day.
Now the darkness of our night sky is imperilled. The most serious problem for astronomers is the upwards spill of light from the new security lights, which pointlessly illuminate particles in the atmosphere high above Holy Island Village. This raises background sky level and makes it no longer possible to observe literally millions of faint stars. A wide area of the island is affected, not just the immediate vicinity of Green Lane. This deleterious effect is evident as a grey sky in the second photo, showing the view at night looking south from my observatory towards the village.
The solution is straightforward: 1) modify all the external lights to prevent them needlessly shining upwards; 2) fit motion sensors to switch them off when no-one is near the Toilet Block. Apart from making astronomy possible once again, this will of course avoid substantial waste of energy due to the lights being left on throughout the night. Islanders in the surrounding houses may also appreciate restoration of darkness while they are trying to sleep.
I am greatly relieved to report that there is hope. The first morning after my astronomical observations were ruined by light pollution from the Toilet Block, I wrote to Bob Hodges, Area Manager for Neighbourhood Services at Northumberland Council. Impressively Bob replied promptly, promising to investigate possible ways to rectify the problem. At the time of writing, I have yet to learn what steps are to be taken, but the initial response from Northumberland Council is at least encouraging.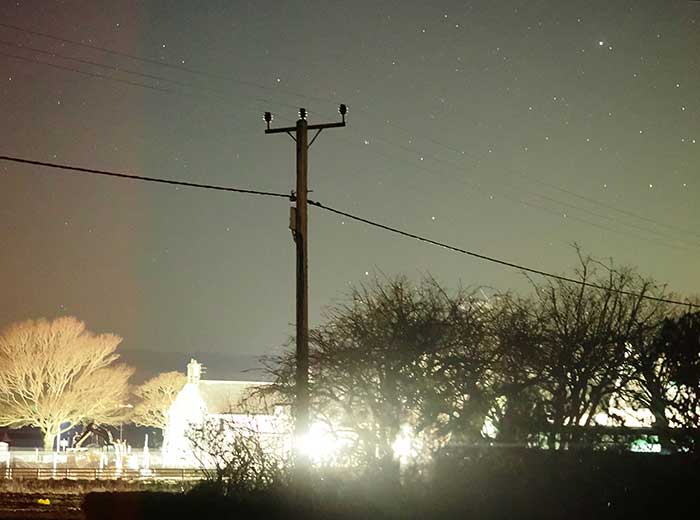 The view from Skylark Observatory on Chare Ends looking south at night with the exterior lights on the toilet block lighting up the trees, buildings and sky in every direction. Unless something can be done about this catastrophic light pollution, Holy Island's status as a pristine dark sky site will be lost.
There may be some people reading this moan who think: well why does it matter? For me there are several answers. One is that an important component of Holy Island's unique character is that it is a place of peace and a sanctuary from the modern world. Darkness at night is one of these special privileges to be treasured and protected.
But there is also a scientific reason for wishing to preserve our hitherto magical dark skies. And that is to enable again the astronomical discoveries that require true darkness at night. In the past few years, astronomers have discovered more than 5,000 planets - many of them not unlike out Earth - in orbit around other stars. This is significant because these are the places where extra-terrestrial life is most likely to be found.
These exoplanets have been discovered by measuring miniscule fluctuations in light as a relatively tiny planet orbits its parent star. As the exoplanet passes in front of its star, the level of illumination reaching Earth is fractionally reduced. And this faint signal can be measured. But not alas if the starlight is swamped by light pollution from the Toilet Block.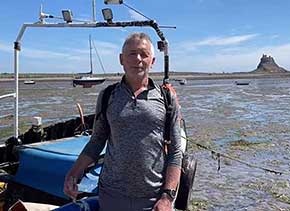 Religion, art and science are unequal branches of the same tree - Discus...
This is becoming a recurring theme. I'm currently researching stuff for a new book, a book like the Northumberland Rocks one, but this time about Cumbria. One of the subjects that I'm curious about is the relationship between science and the more philosophical-aesthetic-political things in life and I guess also the relationship between scientists and people who are not.
There's a great example of that in the rapport between William Wordsworth and Adam Sedgwick. Everyone knows William - born in Cumberland, writer of eloquent poetry about his Lakeland surroundings that many of us as children (I'm assuming it wasn't only Cumbrian children?) read in school. Adam may be unknown to you? Son of a vicar he was born in Dent in 1785 and so by a quirk of today's political geography he is also a Cumbrian. He was a smart young man, a 5th Wrangler (answers on a postcard if you know what that is without resorting to Google). He was offered the Woodwardian Chair of Geology at Cambridge despite admitting he had no formal geological education, nor experience. But to his eternal credit he corrected that and went on to become a leading light in the rock world, and defined the Cambrian and Ordovican geological periods.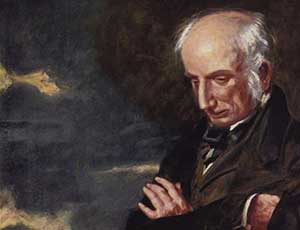 He and Wordsworth corresponded and met. They and other science and literary worthies - no lightweights here, we are talking poets like Southey and Coleridge, astronomer Hamilton and polymath Whewell - enjoyed after-dinner conversations that ranged across the physical and the meta-physical landscape. William and Adam would walk in the fells together frequently and exchange views; Wordsworth requesting that he prepare chapters for his Guide to the Lake District which he eventually did. Darwin was once tutored by Sedgwick, and suffered his strictures - the heresy of his theory of evolution conflicted with Adam's long-held, deeply religious beliefs.
Where is this going? I suppose one of the things that intrigues me is whether science and "art/spirituality" were in those early days much closer than they are now. There were certainly separations even then, Wordsworth often wrote about the weaknesses of science in the context of the "whole man", but key people from the two worlds met nonetheless and exchanged views. How often does that happen today? In everyday life science is much less well understood and discussed than the arts, or sociology, or economics, or politics. It takes a time of crisis (like Covid) for that to be remedied, but the old priorities quickly return. Even if it sounds like it, I'm not saying science is a victim here - the responsibility to encourage people to take more interest and to make the subject accessible, lies equally, if not more so, with us scientists. But there may need to be some affirmative action if we are to redress the balance in schools and in other important aspects of our lives - like politics.
That leads me nicely to an (almost) relevant conclusion. It would be a surprise to most I think to hear that, arguably, Margaret Thatcher advanced the cause of dealing with our changing climate more than any other British politician (it didn't last regrettably). She possessed a degree in chemistry and in 1980s when CFCs and their impact on the atmosphere and climate was being discussed she got it; she understood what was at stake and lobbied for a truly global strategy. How many scientists in the House of Commons today - you won't need two hands. Now count how many BAs there are - ok I am biased.
NORTHUMBERLAND AREA OF OUTSTANDING NATURAL BEAUTY
Tenth edition of popular AONB Visitor Guide ready for distribution
This year's Northumberland Coast AONB Visitor Guide has been launched to coincide with the Easter holidays.
It is the tenth edition of this popular publication, which this year features a beautiful image of Dunstanburgh Castle - taken from Embleton Bay - on its front cover, impressively captured by local photographer Gavin Duthie.
The guide is designed to be used once visitors are here. It is full of information, great photos and aims to help visitors make the most of their stay whilst encouraging them to help conserve this unique landscape. This year, the guide includes an extra 16 page pull out - Drive Less, See More - to help visitors get around the Northumberland Coast without a car.
The AONB Partnership strongly encourage small business and attractions get their copies of the Guide, ready for the year ahead. They have printed 50,000 copies to meet demand.
Catherine Gray from the Northumberland Coast AONB Partnership said: "Two years ago, we were ready to launch the guide but were faced with a national lockdown. We couldn't justify putting nearly 50,000 guides into landfill, so decided to distribute them last year instead. It's great to be able to bring it up to date again and provide the 'must-have' guide for our visitors."
The Guide is distributed through A-ha Distribution. If local businesses wish to be added to their mailing list, then please contact them on 0191 267 1220 or e-mail: ne@aha-distribution.co.uk. You can also collect copies from local Tourist Information Centres.
Would you like to help shape the future of the Northumberland Coast Area of Outstanding Natural Beauty?
The Northumberland Coast Area of Outstanding Natural Beauty (AONB) Partnership are looking to recruit someone from the tourism sector to help guide their work.
The Northumberland Coast, between Berwick and the Coquet Estuary, is designated as an AONB in recognition of its superb landscape quality and with the purpose of conserving and enhancing its natural beauty.
The responsibility for championing the conservation and enhancement of the AONB lies with the AONB Partnership, which was formed in 2003. An important role for the Partnership is to oversee the production and implementation of a Management Plan to guide Northumberland County Council and other organisations in securing a sustainable future for the AONB and the people that live and work, and enjoy visiting, the area. Comprising of local people, representatives of statutory agencies and interest groups, the Partnership guides the policies of the council and the work of the staff team.
There are four Special Interest Members on the Partnership, covering access and recreation, farming and land management, planning and economic development. A vacancy has arisen for a Special Interest Member, primarily someone with specialist knowledge of tourism. Other expertise, alongside tourism, would also be welcome.
Patrick Norris, Partnership Chair, said: "We are looking for people to apply who have a special interest in the area. Ideally, the new Special Interest Member will live or work in the AONB; what is essential is that they have specialist knowledge of the tourism industry in the area."
If you care about the future of the AONB and can spare three days a year to attend meetings, events and site visits - as well as attend meetings of the tourism working group - then the AONB Partnership would like to hear from you.
The closing date is Monday 2 May 2022. To apply, please contact Iain Robson, AONB Manager, by email: Iain.robson@northumberland.gov.uk or ring 07774 715744 for an informal chat...
For further information, visit the website at www.northumberlandcoastaonb.org
FROM THE COMMUNITY OF AIDAN AND HILDA
We live in a world where almost everyone is busy. Much of that busyness is external - our work, family, and other commitments. But when the work is done and we try to put our feet up, how many of us find our busyness is also internal. We struggle to switch off and unwind, much as we want to. Thousands of people will visit this island over the coming months. Many are retreating, trying to get away from the busyness and stress of life. This is a place where many find peace. Walking the island, gazing at the sea or the stars, listening to the seals and the birds, sitting in a church. They say life is a journey, sometimes that journey is full of joy, other times it's really hard or even seems impossible. Let's take a thought for those coming to our island to find peace in these troubled times.
ON THE FRINGES OF LINDISFARNE
ADOMNAN 1
Early medieval Ireland had many small kingdoms and perpetual warfare. The kings were often judged by how many successful battles they fought. The upperclass men were 'the fighting classes'; boys of this class were trained for nothing else and were expected to join the army at 14 years old. The three groups who did not bear arms and fight were women, children and clergy.
Today I introduce Adomnan, one of the most interesting people I have met in medieval history.
In the late 7th century he was Abbot of Iona, which was then at the height of its power and influence.
He has been called "the most learned man in the medieval west before Bede." He is best known now for his Life of Columba, but he wrote other things. Today we concentrate on a remarkable set of laws which originated with him.
Adomnan became convinced that the "non-combative" (women, children, clergy) should have special protection during a war. This seems to have been an idea no-one else had had before and many centuries passed before anyone had this idea again. Adomnan proposed that a synod should be held at a central place in Ireland and the monastery at Birr was chosen. So great was the prestige of Adomnan himself and of Iona that it seems that everyone wanted to be at this synod. We still have a list of those present which historians reckon to be genuine. Kings, abbots and other leaders of both church and state were there. They discussed a series of laws, which Adomnan had drafted, which imposed fines for physical attacks on the non-combatants. It seems that there was special attention to the position of women, so that in some sources "Adomnan's Law" became known as the "Law of Women".
What is astonishing in the first place is the Law was so widely accepted, which says a lot for the personality of Adomnan. We want to ask the question: "Did it succeed?" Sadly, we don't know. This period is horribly short of the sort of written evidence we would need.
Editor: Revd Canon Kate Tristram MA (Oxford) MSC (Edinburgh) and honorary Canon of Newcastle (emerita)
FROM OUR UNITED REFORMED CHURCH
In Rachel's absence I have been asked to write a prayer for your publication, from the St Cuthberts Centre.
It is too late for Easter but feel the theme is still relevant.
I hope this is ok?
With Kind Regards
Ann Tunnard
A prayer inspired by the worship song: 'Once Again' by Matt Redman
Thank you Jesus for the cross.

Lord Jesus, when you knew what was before you, you knew it was going to be horrific, you knew you would suffer terribly, you prayed so hard to be spared. Yet you showed us that your faith was stronger than your fear. You showed us that even when it appears that our prayers aren't answered, God knows what is best for us. You said 'Not as I ask but as You will.'

Help us to remember that when it appears that God has not heard us.

Help us to have faith that God always hears us and gives us what we need generously.

When you were suffering on the cross, when you could hardly think for pain, you prayed for forgiveness for your tormentors.

Help us to forgive those who hurt us in such insignificant ways compared to what you suffered.

When it was nearly the end you took time to reassure the thief crucified with you that he would be with you that day in paradise.

Help us to care for others even when we are preoccupied with our own worries and fears.

At the end you still ensured that your mother would be cared for. You still showed love and care.

Help us always to put love, care and forgiveness above all our worldly needs and concerns.

Lord Jesus, May we never forget the incredible sacrifice you made when you died for us,

May we never forget your example to us and may we always behave, make decisions and live our lives as you would.

Thank you Jesus for the cross.

Amen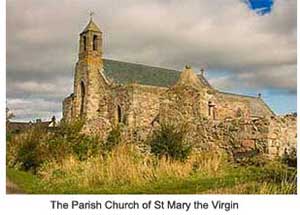 Dear friends
Happy Easter! I hope you had a wonderful and blessed Easter - but it's not over yet! In the church's calendar, Easter lasts for 50 days. The risen Jesus appears to his disciples, giving them his peace and letting them know that he is still with them. And with us.
Peace is something our world could do with - the war in Ukraine continues, as in many other parts of the world which have gone out of our news headlines. I am often asked, 'But what can I do to help?' Well, we know that many people have kindly offered Ukrainians refuge in their homes. And many others are offering to help in other ways - practical support, offering hospitality, helping with school applications, and so on. No act of kindness is too small to make a difference in someone's life, whether they are a refugee or our neighbour. This Holy Island community has a long history of pulling together to help one another. We have just had a wonderful 100 year celebration of the Lizzie Porter lifeboat rescue when the island women and men bravely worked together to rescue the James B Graham trawler and all onboard. A hugely inspiring act of selflessness.
And we look forward to another celebration, marking the Queen's Platinum Jubilee in June. The Queen, who gives us another example of inspiring selflessness throughout her reign.
So in this season of Easter, let us indeed share the peace that Jesus brings us. Peace in our hearts, our lives, and for our world. Small acts of kindness add up to change for the better - for everyone.
With every blessing
Sarah
---
ST. MARY'S NOTICES
Current Worship Times
Worship Times

1045am Sunday Parish Eucharist
8am BCP Sunday Eucharist - first Sunday of the month
5pm Evening prayer - Sunday, Monday, Wednesday, Friday
(Updates or changes will be posted in the church porch and online)

Lord, help us to be with one another... even if at a physical distance. Help us to build a kinder world. To reach out. To love and to care. To be sensible and not to panic. Help us, Lord, to hope. Because together we can. Amen.
Revd Dr Sarah Hills
A Blessing - for this time and every time

Lift your hearts to heaven
and receive the eternal gift of peace

Keep your feet on the ground
and walk with those who need God's love

This day

you are loved by God
You are held by God
You are blessed by God

Now and for evermore

© Revd Rachel Poolman