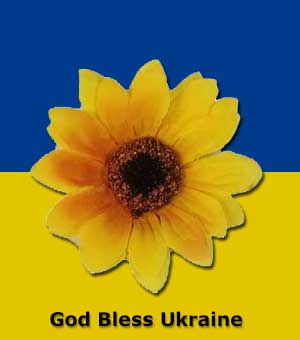 A bit from me...
From a Reader
Holy Island C-of-E First School
Crossman Hall
The War Memorial
Lindisfarne Castle
Natural England
Heavens Above
Northumberland Rocks
Northumberland Area Of Outstanding Natural Beauty
On the Fringes of Lindisfarne
From The Community Of Aidan And Hilda
From the Vicarage
St Mary's notices
A Blessing - for this time and every time
Dear Subscriber,
Welcome to our April newsletter.
Last month I again paused for thought, "in midst of political uncertainty in eastern Europe". The parallels with the events of 1936/39, when diplomacy gave way to the 'big stick and bloodshed', now seem even closer. Remember hundreds of arctic convoys, thousands of spitfires and tons of war ordnance we supplied to Russia when their back was to the wall. Today we hear of a conscripted Russian army; scores of generals killed on Ukarinian soil while teenage soldiers attempt to surround major cities with tanks and field guns shelling and bombing innocent citizens and children into submission...
Moving nearer to Easter, last weekend we celebrated 'Mothering Sunday' in St.Mary's Church. Atop this page is a picture of the sunflower received as we prayed for Ukrainians - for those unable to leave; those defending their country and the millions continuing to escape across borders to neighbouring nations.
Spring has certainly Sprung: Roadside daffodils are bursting into bloom alongside the Lindisfarne Hotel. And the sound of singing, pilgrim footfall and flower-adorned crosses is expected as Good Friday approaches. As I write, beautiful azure-skied anticyclone-days are giving way to an approaching weather front. Rain, wind and even snow are forecast! Fingers are crossed as Northern Cross Pilgrims wend their way across the countryside. See our St.Mary's Holy Week programme later in the newsletter!
The car park looked to be nearly 80% full when I drove across to the mainland yesterday and captured this picture. At long last the road surface repairs on and around the bridge seem complete. But, much of the ballustrade is still missing so, beware of a fast flowing tide! And, as ever, always check out the SAFE CROSSING TIMES.
This month we are without a naturalist contribution from Ian whose wife passed away on Friday, 11th February. The couple with son Michael have had a second home on the island for a great many years and are much part of our community. Indeed, in earlier years, some of you may well have heard Hazel playing organ at St.Mary's. Our thoughts are with Ian and Michael as they come to terms with life without a Hazel. The village came together at the island parish church at noon on Saturday, March 26 for a service of remembrence. Such a sad loss - Hazell will be much remembered.
Thank you yet again to our authors for their monthly reports. Having said goodbye to Ray last month we welcome Faith Brennan with her report from the community of 'Cuthbert and Hilda'. John Bevan has information on repairs to our wind-damaged Cenotaph. And a special thank you to Barbara P who took heed of our request to get in touch!
From us all, we hope that you enjoy our newsletter and look forward to getting in touch again in May.
God Bless,
Geoff Porter
editor@lindisfarne.org.uk
www.lindisfarne.org.uk/ezine
In this months edition you asked your readers to tell you what they like about the sitezine..... so here goes
I first discovered Holy Island in the second half of the 1970s. At that time we lived in Guisborough not far from Redcar. Our birdwatching friend told us about it and we drove the 111 mile journey to investigate. Over the years we had two children and spent as much time as possible taking them to Holy Island. We stayed with Clive and Sue Massey at the Lindisfarne Hotel for our holidays.
My family and our two good friends (who had shown us the place to begin with) all stayed on Holy Island to see the first sunrise of the new millennium. Recently I made a stained glass picture of that amazing event. I attach a photo.
When we lost our lovely friend to cancer, my daughter and I came to Holy Island and visited the church for her. David Adam saw us there and took us to the alter and we spoke about her. He brought us such peace with his kindness.
Circumstances changed and I moved to Retford but still managed to visit my safe haven. 193 mile trip to Holy Island now. Barry and I stayed at The Bungalow for weekends and walked on the island to recharge our batteries. I can still picture the Bungalow breakfast room and smell that bacon.
Now we only live 22 miles away in Eyemouth - and yet have not visited for several years.
As soon as the emailed Holy Island monthly newsletter became available back in the '90s I lapped it up every month from virtual cover to cover. I have always looked forward to the first of the month and finding it in my inbox.
I love the school news because I can image the little building (we once stayed in a little cottage up by the water tower when my son was about 6 and we let him take his little sister on his own to the post office round the corner to buy daddy a newspaper ...with me following at a safe distance to make sure all went well). I love the Village Hall news because I remember the old hall and the jumble sale we all attended and my children bought toys. I love the bird news because I remember all the birds we have seen over the years. Reading about the castle has me remembering every room as if I was there yesterday.
So please thank all your contributors from me - for bringing news of my favourite place in the world and helping me to walk there in my memory.
Barbara P
HOLY ISLAND C-of-E FIRST SCHOOL
First of all, we have some extremely good news! This month we have welcomed Thea to our school. Thea has joined our nursery and will be coming to our island school for mornings or afternoons depending on the tide. We are looking forward to Thea's sister Heidi joining us after the summer - Heidi will be in Year 1 and will travel with Scarlett-Beau and Lily-Ella to Lowick when the tide is open. We are delighted to welcome Victoria, Andrew and their girls to our school community - how lovely it is to see our school numbers growing.
We had a very exciting morning last week. You may remember that our older children have been studying William Shakespeare's Twelfth Night. On Thursday, we invited Rev. Sarah Hills to Lowick to watch our performances. The children chose their favourite scene and wrote a play script of their own version of the scene. A lot of work and preparation went into getting the scripts ready for the actors - the children included stage directions and dialogue. After some rehearsal, the children were ready to perform. We were extremely impressed with the acting skills of the children! They managed to put their own twist on the scenes but still included a flavour of the original works. Thank you to Sarah for joining us. It was a joy to watch!
This week the children from Lowick visited the island. We met Rev. Sam Quilty on Jenny Bell's beach for a service to remember St Cuthbert. The weather was clear, bright and glorious and we sang, read our own prayers and listened to Sam as she told us about St Cuthbert. We were joined by three swans who flew above us, with great ceremony, at exactly the right time! Thank you to Sam for such a beautiful service.
We have begun our research on the Lizzie Porter rescue on Holy Island in 1922. When we got back from our beach service, we were met by Thelma Dunne from the Holy Island Archive Group. Thelma enthralled the children with her retelling of the events of that stormy night. The children responded with thoughtful questions. Thank you to Thelma for coming to spend time with the children. We will be writing newspaper reports about the rescue and we are looking forward to displaying our writing in the lifeboat house on the island shortly.
After Easter, we will begin our new topic on Anglo Saxon Britain, focusing mostly on the ways of life in Northumberland. I'm sure this will be another very interesting topic for the children.
Our garden is in bloom - ablaze with a mix of blonde, golden and lemon daffodils. Our potatoes are chitting and we have lots of seeds to sow. Our gardening club starts again soon so we'll be able to get busy with all sorts. We are all hoping for some warm weather - the sunshine certainly does us all good!
Heather Stiansen
heather.stiansen @ lowick.northumberland.sch.uk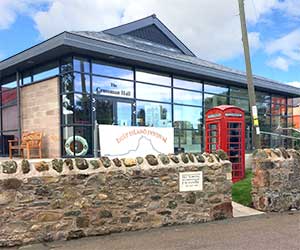 Hello, unfortunately this month's newsletter is rather short. Bookings for the hall are coming in slowly, mainly for later in the year, whether it's a nervousness about Covid or a sign of the times, who can tell?
The hall continues to be used by the community via the Warm Hub with regular Tuesday coffee morning get-togethers and the Wednesday Yoga classes.
We hosted a coffee morning on the 12th March in aid of the Ukranian refugee relief fund which was an outstanding success, was well supported by visitors and the community. There will be another coffee morning on Easter Monday to raise money for the Jubilee Celebrations in June.
Hopefully things will pick up with the longer, lighter days and warmer weather.
I would like to update everyone on the current position regarding the War Memorial. We have applied for Listed Building Planning Consent for the restoration work, as we are legally required to do. However, we do not expect this to be anything more than a formality.
We have been in touch with a Berwick Company who can supply the correct stone and we have asked two specialist stone mason companies to quote for the work. Our main problem has been trying to find architectural drawings of the Memorial.
Thanks to considerable help from Nick Lewis, we have been contacted by Martin Lutyens and other members of the Lutyens Trust and have been provided with a drawing of a Memorial at Rochdale which has a different style of base but where the tapered cross is very similar to ours. According to Mr Lutyens it is very likely to be identical and it will form the basis of the reconstruction. We are keeping the Lutyens Trust advised as things progress.
I will let you know when the final details are completed and we have a date for the work will be done.
John Bevan
Clerk to the Parish Council
Editor: The Parish Council reminds on the matter of dog fouling...
Your dog has done its business...
Now do yours
bag it and bin it!
If you're found to have not cleaned up your
dog's mess, you will be issued a fixed
penalty notice of £100
If payment is not received within 14 days you
will be prosecuted. Offenders face a court
appearance, with a maximum penalty of
£1,000
Claiming ignorance of the dog's actions is not a valid defence.
Registered blind dog-owners are exempt from any fines.
After a slight delay the castle reopened to the public on Saturday 5th March. It was a relief to be open, but also a slightly strange feeling; we haven't had anything approaching a 'normal' opening since March 2019 for obvious reasons so to get up and running on a beautiful Spring morning was a nice experience (saying that, I wasn't here, as the boys and I had tickets to see Zog and the Flying Doctors on stage down in Newcastle, but I know where I'd rather have been!).
It has also been good to get the castle dressed again, at least to a certain extent. In the context of Paul Rooney's Song (After Nature) sound installation, the rest of the castle is set as if a dinner party has just ended and the guests have dispersed around the rooms. I'm really happy with how this looks now it is up and running, and although there are still a few things to add over the coming weeks, the feedback so far has been positive from visitors.
We're still dealing with the aftermath of the winter storms but are getting towards the end of our repair list. The roofers should have been by the time you read this to repair the pumphouse and garage tiles along with the admission hut. Then we have a steeplejack attending who will be tackling the hard-to-reach places up on the north roof (where we have a damaged gutter and some lead flashing has lifted). Later on, in the summer we will be repairing the dreaded north elevation which will consist of three operatives on ropes descending down the wall to attend to harling losses and lime-washing areas. This is a job we knew we'd have to do post-project probably once every 10 years but given the weather in recent winters I think that might have to be every 5 years.
I think I mentioned last month how Madame Suggia had held concerts to raise money for the war memorial back in 1920, and what a shame it was to have seen it also suffer such damage with the recent storms. I know that the Parish Council have this in hand as John describes elsewhere in this issue, but it was nice to get an email (somewhat out of the blue) from the Lutyens Trust, who's mission it is to preserve the legacy of the architect so of course they take an interest in situations such as this. With their help it has been established that although no original specific drawing of the Holy Island memorial survives, it is very similar to a drawing Lutyens produced for a generic memorial cross (and could well have come from that drawing), so that may be of use in the repair work. Edward Hudson is undoubtedly the root of Lutyens designing the memorial for the island, along with the choice of Doddington stone which was also used in his restoration of the castle. He even used Wm Tully & Son for the work, the same contractor that worked on at least some of the castle. Hudson had also asked Lutyens to design him a tomb so he could be buried on the island, although for some unknown reason that never happened.
He was at least keen that it shouldn't be any eyesore, saying to Jack Lilburn in 1922 that "when things finish I shall be buried on the Island + Lutyens will design a respectable tomb business that won't worry the landscape."
Best wishes
Nick Lewis - Collections and House Officer
Lindisfarne Castle nick.lewis @ nationaltrust.org.uk
07918 335 471
NATURAL ENGLAND LINDISFARNE NNR
March is already here, and we are finally emerging from what has been a relatively mild but incredibly windy winter. The recent glorious spell of weather has awakened the wildlife across the Reserve. Skylarks singing in their mechanical staccato above the dunes while the Meadow Pipits ascend and 'parachute' above there territory while letting out there flutey babble of calls. These birds are ground nesters and will lay their eggs in nest bowl within among the grasses in the dunes, making them easy to trample. Alongside the important scarce and rare flora that the dunes possess, this is another reason why it is vital that visitors stick to the desire lines and paths and keep dogs on a short lead or at heel and prevented from disturbing any wildlife when accessing the dunes on Holy Island.
Another sign of spring is the first sighting of frog spawn within the dune slacks. This rare habitat provides a crucial freshwater source for many amphibians such as frogs, toads and newts to breed and lay eggs. The first pollinators have also been seen on the wing too in recent days with bees already observed.
We have started the first events of a jam-packed schedule that will take us through the rest of the year. The events programme has something for everyone. From enriching wildlife experiences to fascinating history walks. All events are free but our history and geology walks will require a booking.
Local historian and Natural England volunteer, John Woodhurst, is leading a series of history walks exploring the origins of the early Medieval monastery on the island, based on the most recent archaeological evidence. John was involved in the Peregrini-Lindisfarne archaeological digs on the Heugh 2016-19 led by Richard Carlton. With the Lindisfarne Gospels returning to the North-East in September, John is keen to bring this new interpretation of the early medieval monastery to a wider audience.
If you would like to book a place on one of these innovative walks the details of dates and times can be found here: SEARCHES FOR CHURCHES
A leaflet of all our events can be viewed and downloaded our blog website www.lindisfarnennr.blogspot.com under the events tab.
Shorebird season is upon us again and so it won't be long before the Shorebird Protection areas are installed to create safe refuges for these vulnerable birds. Vast numbers of birds are currently in the midst of migration; winging their way to their summer breeding grounds. Some species will make Lindisfarne NNR their nesting site whereas other will use the shorebird refuges as a refuelling stop before making their way on to their breeding grounds. Ringed Plovers have utilised the good weather and have already begun to set up territories along the coast of the NNR. By the end of next month these birds will be well into incubating eggs and the Reserve will be accommodating 3 breeding tern species including Little Tern - Britain's rarest breeding shorebird. While this season the dog zonation scheme comes ceases, it is important to remember the bylaw enforced at all times across Lindisfarne National Nature Reserve states:
"Any dog must be kept on a lead or at heel and prevented from disturbing any animal or bird"
The dog zonation scheme which ran in tandem with disturbance surveys last year has given us some valuable information. The results of the independently analysed report are almost complete and will be shared in forthcoming ezine articles.
Following an interminable run of cloudy nights at the end of last year, 2022 so far has turned out to be much better for astronomers in Northumberland. Persistent areas of high pressure have taken up residence over the North Sea, and this has meant clear skies for us on Holy Island. I have been able to make frequent use of Skylark Observatory.
In the northern hemisphere, Spring is galaxy season. The reason for this is that as winter ends, we orbit around the Sun so that the night side of Earth points away from the dense centre of our own galaxy the Milky Way. In consequence there are fewer obscuring stars to block our view of the Universe beyond. So we can look up at night time and gaze out at the myriad other galaxies that fill space beyond the Milky Way extending in all directions as far as our telescopes can see.
Galaxies come in a variety of shapes and sizes. What all of them have in common is that they are vast aggregations of stars. The Milky Way is typical, containing some 200 billion stars, including of course our very own Sun. In fact, this 200 billion estimate is surprisingly uncertain. It may be as few as 100 billion or as many as 400 billion. What has recently become more certain, is that for every star, there is on average at least one orbiting planet.
The Pinwheel Galaxy (M101) is a "grand design" spiral galaxy similar in structure to our own Milky Way.
Galaxies can be organised into three main categories: spiral, elliptical and irregular. The Milky Way is a "grand design" spiral galaxy, with several well-defined arms of more closely spaced stars. The greater density of stars in these spiral arms gravitationally attract clouds of dust and gas, so the arms appear brighter. The galaxy as a whole is slowly spinning. It is flattened into a thick disc that rotates once every 250 million years or so. This time span is known as a cosmic year.
Our Solar System is located in the suburbs of the Milky Way within one of its arms, so the view we have of our own galaxy makes it difficult to discern its spiral structure. However, there are a number of "nearby" spiral galaxies that present themselves to us face on. One of my favourites is the Pinwheel Galaxy (also designated Messier 101). The image of M101 accompanying this article gives a good impression of what the Milky Way must look like to an observer from some distance away.
Spiral galaxies can look very different when they are oriented to us edge-on. The Splinter Galaxy and the Needle Galaxy both have names that provide clues to their appearance. In both cases good photographs will reveal a thin dark central line. This is due to flattened clouds of dust orbiting the galactic core.
The Antennae Galaxies are a cosmic car crash. A pair of galaxies (NGC4038 and NGC4039) are in the process of passing through one another. In this photo, taken from my observatory in Spain, you can clearly see the long tail of stars that have been thrown off as a result of gravitational interactions.
Elliptical galaxies are rather less photogenic. They appear as fuzzy blobs of light. There is no discernible structure in the vast aggregation of stars of which they are composed.
Irregular galaxies are much more interesting. They typically form as a result of collisions between one or more galaxies. Sometimes there can even be multiple collisions in a sequence over time. Surprisingly when galaxies collide rather little happens! Their constituent stars are spaced so far apart that the galaxies simply pass through each other. But gravitational attraction is enough to perturb their structures, often throwing out great "tidal tails" of trailing stars. The Antennae Galaxies, far in the southern sky and only visible to us on Holy Island around this time of year, is a fine example.
Back on Earth I have exciting news. The astronomy book that I have been working on for the past four years has gone to press. In next month's column I'll tell you all about it.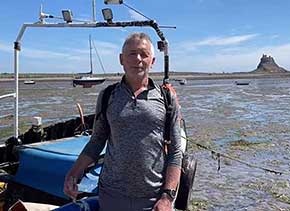 Time and Place
One of the hardest things to get your head around is the concept of geological time, the other is that our little island (that's Britain, not Lindisfarne) hasn't always been where is sits now. Even geologists who've lived with these realities for years struggle to envisage them and more so to get them over to society at large.
There are several allegories we use to try to explain that the Earth is 4.54 billion years old and that most of the rocks in our country are only a small fraction of that age, and that the human race is an awful lot less. There's the face of a clock comparison. All 12 hours equals that 4.5 billion and we humans appear at less than one second to midnight. And there's the standing up tall metaphor; stand up straight, stretch your arm up above your head - all of that height is the age of the Earth and a lot less than the white bit at the end of your fingernail is human existence.
But here's one deep time metaphor to try at home with your kids... Take a roll of toilet paper with around 200 sheets, so 4500,000,000 years divided by 200 is about 22.5 million years per sheet (if you are into luxury paper then you'll have less sheets and if you have been economising lately, you'll have more - but you can do the math!). Sticking with my 200-sheet roll, unroll until sheet 14 and put a bit of black tape on it - that's the age of the Carboniferous rocks at Snipe Point. Stick a red bit of tape on sheet 13 - that's the Whin Dyke under the castle. The first glacier of the ice age - that's a blue bit of tape on sheet 1 about half an inch in from the leading edge. Oh yes, us homo sapiens, well we are around the width of the perforation at the beginning of sheet 1. Now the fun bit; let your kids gently but expansively unroll the whole roll around the house. The last sheet is the start of this planet. Hopefully it should make you start to think about our significance in the grand scheme of things.
That's time done, now place. If we go back to the time that the rocks at Snipe Point were being deposited in a warm coral sea 330 million years ago Britain was about on the Equator. 150 million years before that we were 60 degrees south of the Equator and under a deep ocean and on an unrelenting course to collide with another primeval continent. Our drift continued northwards as the Earth's tectonic plates waltz around the globe and today Holy Island is 55 degrees north. We are not done moving. Only 60 million years ago or so we and North America were on the same continent, now we are 3500 kilometres apart and increasing that distance by around 4 centimetres a year.
This is all good factual stuff and fun to know, but there is a deeper, less prosaic, point. Just up the coast from Lindisfarne, north of Berwick, is Siccar Point. Only 234 years ago a geologist called James Hutton studied the rocks there and came to a conclusion, at the time heretical, but now accepted by rational folk worldwide. The Earth was not, as asserted by James Ussher, the Archbishop of Armagh and Primate of All Ireland, created on Sunday 23 October 4004 BC, but was many millions of years old. That discovery challenged a literal interpretation of the scriptures, and led to accusations of blasphemy and atheism, something Hutton compounded when he came to another conclusion about our planet "We find no vestige of a beginning, - no prospect of an end." Who said rocks don't have anything profound to say?
NORTHUMBERLAND AREA OF OUTSTANDING NATURAL BEAUTY
Accessing Aidan
The aim of Accessing Aidan is to develop the Crypt as an appropriate and high quality new interpretive and community facility for Bamburgh, which will deliver an enticing, inspiring and coherent experience for a variety of audiences. Ultimately, we aspire that more people who visit the village will understand Bamburgh's significance in Anglo-Saxon times, a period often called the Golden Age of Northumbria.
The Accessing Aidan project will provide a new safe public access into the crypt, allowing it to become open to visitors on a daily basis. It will also create new interpretation in the crypt and in the church to enable visitors to learn about the story of St Aidan, the Golden Age of Northumbria and the characters who now rest in the Bamburgh Ossuary. The new visitor experience will be supported by new website which will include the 'digital ossuary' where people will be able to learn more about the skeletons and their excavation. A range of project activities including guided tours and walks, talks and lectures, school activities, outreach events, storytelling, creative writing and arts, an Academic Symposium and a high-profile travelling exhibition, will bring the heritage stories to life and allow the project to engage new audiences and reach beyond Bamburgh.
Bamburgh Heritage Trust
Bamburgh Heritage Trust (BHT) was formed in 2012 to provide education, interpretation and information about the history and heritage of Bamburgh. In 2016 the Trust was registered as a Charitable Incorporated Organisation, managed by a board of charity trustees. BHT is supported by three partner organisations working together to address the heritage need and develop a more holistic heritage visitor experience.
St Aidan's Parish Church
St Aidan's Parish Church is the only church in the village of Bamburgh. It stands on the site of the original place of worship founded by Saint Aidan in 635. Almost no trace of that wooden building can now be seen (other than, perhaps, the beam in the Baptistery which St Aidan is reputed to have been leaning against when he died). The greater part of the current church was built in around 1200, with some extension in the 14th century. As well as being the Apostle of Northumbria, Aidan is rightly regarded as the Apostle of England. This parish church is therefore not only the "mother church" of the modern-day Diocese of Newcastle but also central to the history of Christianity in this land. The PCC manages the Church which includes the Crypt.
FROM THE COMMUNITY OF AIDAN AND HILDA
I can hardly believe it's been over a year since Scott and I arrived on Holy Island during the lockdown of February 2021. Scott has been coming to Holy Island regularly for 20 years. For him, like so many other visitors, it is a place of peace and reflection.
I've been asked to write something to introduce us, not a task I'm comfortable with but here goes. Scott and I were born in Perth (Scotland!), we moved to Edinburgh in our 20s, then East Lothian - they say Scots either move down the road or across the world. Between us we have worked our way through a few careers and businesses. Early on we were both Edinburgh business people, then spent time as church ministers and community outreach workers while starting property and art businesses on the side. Our last church was a community hub at the heart of Prestonpans with a community café, foodbank, debt centre and many local groups.
In 2020 we were offered the opportunity to come and live on Holy Island, working alongside the Open Gate, providing support and spiritual accompaniment to church leaders. Few of us could have predicted in Spring 2020 how different the world would be just a year later. By the time we arrived in 2021 the Open Gate had closed and there was a shift to self-catering retreat accommodation.
It has been very sad to see a much loved retreat house close and a joy to see a family find a new home on the island. So much of these last two years have contained joy and pain for so many of us, haven't they? In 2022 the Community of Aidan and Hilda continues to work out what we can usefully offer people coming to Holy Island on retreat. And Scott and I continue to be thankful for the welcome we've received and the help so many give us as we find our feet. As people who have never lived in a village, on an island or in England we have a lot to learn.
ON THE FRINGES OF LINDISFARNE
KENSWITH
Today, in the series on the fringes of Lindisfarne, we write about the only Anglo-Saxon woman from this time, not being a queen or an abbess, whose name we know. That name is Kenswith. She was St. Cuthbert's foster-mother and brought him up from the age of 8, until, at 14 or 15, by their standards he was reckoned a man. Fosterage is worth pausing to think about. As far as I can see it was very sensible. It was practised mainly by the upper classes, the warrior classes, who enjoyed killing each other in battle. This might leave orphaned children, and fosterage was a kind of insurance policy which provided a second alternative family. Sometimes the child got to know his foster-parents better than his natural parents. He might also have foster-siblings which would increase his sense of belonging.
We know nothing about Cuthbert's original parents, or about Cuthbert's new foster-father who presumably taught him to fight. Kenswith was a keen Christian woman who later, in widowhood, became a nun. Just imagine the awesome job of teaching the Christian faith and life to the one who was to become the greatest Northumbrian saint! They had a good relationship: he called her "mother" and in later life visited her as often as he could. She must have been pleased when, after a brief experience of a battle in his mid-teens, Cuthbert decided to become a monk in the Melrose community, founded by Aidan. Later there is one story of particular interest. Cuthbert was visiting Kenswith in her home village of Hruringaham, probably somewhere near Melrose. In a strong wind a fire broke out on the edge of the village. That was serious, among wooden and close-built houses. But Cuthbert said, "Don't worry, mother, you and yours are safe." He prostrated himself at the entrance to the house and prayed. The wind changed, the flames were carried away, and the village was saved.
Editor: Revd Canon Kate Tristram MA (Oxford) MSC (Edinburgh) and honorary Canon of Newcastle (emerita)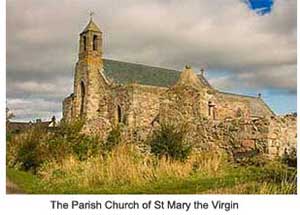 Dear friends
We know that Easter is coming, and yet we still have some way to go on our journey through Lent. As we journey towards the cross and resurrection here on this beautiful and peaceful island, I can't help feeling sad beyond belief at what is happening in Ukraine. Where people are journeying towards the cross and resurrection in very different circumstances. As we know, millions have fled already, living in the reality of Lenten suffering. And it can make us feel helpless, watching on our news the plight of these people. But there are things we can do to help. Our Bishop Mark wrote last week - 'In the face of the ongoing horror and tragedy unfolding in Ukraine, as we witness the continuing invasion by Russian armed forces and the displacement of Ukraine's people, we might feel helpless and powerless to do anything. Yet the Scriptures tell us time and time again that God can be at work through our weakness and in our helplessness. There are three main ways we can respond, and in which God is working through the Church:
Pray As God's peacemakers let's pray for the people and leaders of Ukraine, and for the people and leaders of Russia, praying above all for peace.
Give As God's generous people let's give generously to those in desperate need. The Diocese in Europe has joined with USPG to launch an emergency appeal for the people of Ukraine. There is also the Disasters Emergency Committee Ukraine Humanitarian Appeal.
Welcome As God's gracious people, some of us might have capacity to offer accommodation to Ukrainian refugees arriving in the UK, while others of us may be able to befriend and support those arriving. Whatever way you feel moved to respond to what is happening in Ukraine, know that God uses us in our weakness and helplessness: 'But God chose the foolish things of the world to shame the wise; God chose the weak things of the world to shame the strong.' (1 Corinthians 1.27)
A Prayer for Ukraine
God our deliverer,
when the foundations are shaken
and justice has departed,
defend the poor and needy
and give your people strength to fight all wrong
in the name of your Son,
Jesus Christ our Lord.
Amen.'
This Mothering Sunday in St Mary's we will be giving out the Ukrainian sunflower as a sign of our love and prayers for the grandmothers and mothers of Ukraine, and grandmothers and mothers that we ourselves know.
As an island community and beyond, we have already given so generously at the coffee morning to the DEC fund to support the relief effort in Ukraine - thank you so much for your compassion and generosity.
And above all, even in the midst of suffering, we know that Christ is with us, and that at Easter, His rising from death brings God's love.
With every blessing
Sarah
---
ST. MARY'S NOTICES
Current Worship Times
Worship Times

1045am Sunday Parish Eucharist
8am BCP Sunday Eucharist - first Sunday of the month
5pm Evening prayer - Sunday, Monday, Wednesday, Friday
(Updates or changes will be posted in the church porch and online)

Lord, help us to be with one another... even if at a physical distance. Help us to build a kinder world. To reach out. To love and to care. To be sensible and not to panic. Help us, Lord, to hope. Because together we can. Amen.
Revd Dr Sarah Hills
A Blessing - for this time and every time

Lift your hearts to heaven
and receive the eternal gift of peace

Keep your feet on the ground
and walk with those who need God's love

This day

you are loved by God
You are held by God
You are blessed by God

Now and for evermore

© Revd Rachel Poolman