so far so good but
when it snows it snows ....
A bit from me...
Holy Island C-of-E First School
Crossman Hall
The War Memorial
Our Naturalist on Lindisfarne
Lindisfarne Castle
Natural England
Heavens Above
Northumberland Rocks
How well do you know the island?
On the Fringes of Lindisfarne
From the Vicarage
St Mary's notices
A Blessing - for this time and every time
Dear Subscriber,
Welcome to our March newsletter.
Last month I paused for thought, "in midst of political uncertainty in eastern Europe".
Those aware of the events of 1936/39 might well be concerned that diplomacy seems to have given way to the rule of the 'big stick' and bloodshed. I make no apology for pausing to say our thoughts and prayers are with those who find themselves in harm's way - on either side of the 'big stick'!
In common with the rest of the region, Holy Island is having to cope as a succession of gales wreak havoc across the country. Some were expecting the above scenic pictures and bitter cold of recent years... Despite the appearance of daffodils we have a traditional British expression of 'March Winds'. I wonder what weather pattern lies ahead for us.
As I write, our car parks are filled with visiting familes - no doubt a sign of British schools half-term holidays. Lindisfarne is known internationally as a spiritual 'thin place'. Many years ago I used to look upon a visit to Lindisfarne as a 'stand and stare' opportunity. I wonder how many of today's visitors are aware of the island's ancient heritage and might also be seeking a 'stand and stare' moment - there is surely a need to take one!
During March, we 'understand' the highways department will be maintaining the bridge and its approaches. Take heed. Whilst there is 'usually' a 30mph sign, you will quickly discover even this speed is far too fast to negotiate the missing road surfaces and the many huge potholes. ESSENTIAL: As ever I remind you to always check out the SAFE CROSSING TIMES.
Thank you to our authors for giving up their time and without whose efforts there would be no newsletter to publish. And as I say every year, thank you to our readership without whom we would have no reason to publish! Thank you also to John (who writes on our Cenotaph) and Livia (who questions 'how well you know the island.) Rachel is still unwell so we still await a 2022 report from our United Reformed Church. Additionally, we say farewell to Ray for his support over many years. He is passing on 'the pen' to Faith who plans to write next month.
From us all, we hope that you enjoy our newsletter and look forward to getting in touch again in April.
God Bless,
Geoff Porter
editor@lindisfarne.org.uk
www.lindisfarne.org.uk/ezine
PS: It's always useful for our authors to know if their work is appreciated and of equal importance what you don't like - so if you get a moment please get in touch.
HOLY ISLAND C-of-E FIRST SCHOOL
The first half of our spring term has flown over! We've had such a busy time over the last few weeks and the children are ready for a well-deserved break.
Last week we had a STEM (science, technology, engineering and maths) day in school. The focus this time was animals and we focused on the classification of animals and their adaptations and habitats. Our day began with an exciting visit from the team at the Andy Howey Birds and Reptile Centre. We had a great morning meeting two corn snakes, a bearded dragon, a tarantula called Bob, a giant millipede, a giant hissing cockroach and a young barn owl. The children were able to handle the animals which was great fun! Scarlett-Beau and Lily-Ella were enthralled by the snakes and both girls got to handle Jessica the corn snake and had Bob sitting on their heads! The children then enjoyed classifying the animals they'd met and comparing them to other animal groups.
We then went on to invent our own animals and built habitats for them out of junk and natural materials. Later in the week, the children designed and made their animals out of clay. Once they were painted we added them to the habitats. It was lovely to see the girls going home yesterday, proudly clutching their habitats and animals!
We've been continuing to compare lives and times of Queen Elizabeth I and Queen Elizabeth II. We've been studying clothing and how this has changed. After the holidays we'll be researching and writing a biography of Queen Elizabeth II.
Did I tell you we've been reading Shakespeare? This links so well with the Elizabethan element of our historical studies. In Class 2, we've been enjoying an adapted version of Twelfth Night. The children have been engrossed in the humorous series of events and have really surprised me with their love of the story! We will be writing our own versions of our favourite scenes and will have the chance to perform them in front of our friends.
In a few weeks we will be beginning our research on the Lizzie Porter rescue on the island in 1922. Look out in the Lifeboat house during the Easter holidays - the children will be writing newspaper reports which will be going on display. We'll also be re-enacting the events on the beach - lots to look forward to!
Finally, I have some extremely good news. We have a new pupil! We are delighted to welcome Jack to Holy Island First School. Jack will be three years old in March and he's coming into school for a couple of morning or afternoon visits each week depending on the tide. It's such a pleasure to welcome Jack, his mum Bex and dad Peter to our school community. Scarlett-Beau and Lily-Ella have been very excited to meet Jack and have shown him around our school with great pride. A huge hello to you Jack!
Heather Stiansen
heather.stiansen @ lowick.northumberland.sch.uk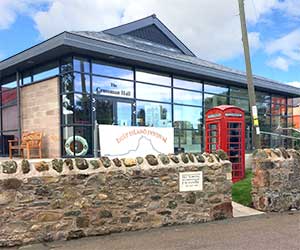 February has been another quiet month on the hiring side of the village hall. The Warm Hub programme has started up with coffee, cake and chat on a Tuesday and Yoga on Wednesday. The hall is hosting a three day movie weekend at end of February which is something new for the present hall and is again organised by the Warm Hub.
The hall has incurred more damage since storm Arwen, but hopefully by the time you read this magazine the roof will either be fixed or in the process of being repaired, MT Richardson has said by end of February he will be able to sort roof out.
Some of the trustees are involved in the organising of Queens Jubilee Celebrations.The aim is to have something organised each day of the long weekend starting on 2nd June. The hall will host a Jubilee social evening on Friday 3rd June.
In spite of requests to return the missing side door keys, they are still missing. At a meeting of the trustees on 31st January there was a report of the hall being used over the Christmas period when no one was officially booked into hall. A mess was left behind and a fire door was left open, a unanimous decision was made to change both exterior door locks. This has now been done and the trustees will decide how to make fitness area, pool room area available to locals. In the meantime anyone wanting to use fitness area and/or pool room can get a key from Janette Johnson or Sue Massey, they will be required to sign in and the fitness area users requested to pay the £2.00 usage fee. CCTV cameras are to be fitted for extra security precautions.
The remaining base section of our war memorial, erected in 1919 and designed by Sir Edwin Lutyens.
Photo: Ian Kerr
If there is good news relating to the damaged War Memorial it is that it is covered by the Parish Council Insurance and a claim has been submitted to our insurers. They require two quotations which we are obtaining from Stone Masons who are experienced in the high-quality work required.
A brief history of the Monument. While towns and villages throughout the nation have their War Memorials, that on Holy Island is a Grade 2 Star Listed Building in the form of a simple stone Cross and plinth standing high on the Heugh overlooking the Island and the sea.
It was designed by Sir Edwin Landseer Lutyens (1869 to 1944) the architect behind the conversion of Lindisfarne Castle in 1903 - 06 from a military fortification into a luxurious family home, on behalf of its new owner Edward Hudson. After the First World War Sir Edwin was tasked by the Imperial War Commission to design The Cenotaph (meaning empty grave in Greek) in Whitehall. This was originally built in 1919 as a temporary, wooden, structure but was rebuilt in Portland Stone in 1920 to serve as Britain's National Monument. Considered the outstanding designer working in this field, Lutyens also designed fifteen War Crosses, all in a similar style, of which Holy Island's is one.
During the work on the Castle, Lutyens had employed a building firm from Belford originally founded in Wooler in 1830 by William Tully. It was the founder's Grandson, also William and a Master Mason, who had worked on the Castle and, as a consequence, was asked by Lutyens to create the Island's Monument. The materials and the workforce were transported to the Island by horse and cart, with the loss of one horse in the sands.
Lutyens chose Doddington Stone for the Memorial to echo the stone of the Benedictine Priory. The slender Cross is about 5 metres tall and tapers up from a three-stage base to which it is linked by stop chamfers and cyma moulding. The base stands on a low, circular step. On June 4th 1922, in an ecumenical service, it was unveiled by Major Morley Crossman DSO and dedicated by the Reverend W.B. Hall. The top section was replaced following storm damage in 1983/4
The East face is inscribed with: "To the Glory of God and in grateful memory of our glorious dead 1914-1918" - followed by the names and ranks of the fallen
Similar wording is repeated on the West face for those who gave their lives in the war of 1939 - 1945.
Every year on the Sunday nearest to the 11th of November, after the conclusion of the Remembrance service in St Mary's Church, members of the congregation make their way through the Churchyard and Market Place and across the Sanctuary Close before climbing the path to the Memorial. There the names of the fallen are read out; followed by a hymn, prayers with the Blessing bringing the ceremony to a close.
OUR NATURALIST ON LINDISFARNE
LARKING ABOUT AT THE QUARRY
One of the problems with writing a column like this a couple of weeks in advance to meet a publication deadline is that you can be overtaken by events!
It happened to me back in March 2018 when I wrote about looking forward to the coming of spring. Unfortunately, by the time it appeared we were in the midst of the unforgettable Beast from the East with deep snow, sub-zero temperatures, power cuts and all the other problems it brought to everyone.
Last month I'm afraid I was caught out again after suggesting putting the damage, power cuts and other problems of Storm Arwen behind us and, again, looking forward to spring. Sadly, it appeared on the very day Storm Malik was blasting the island with 100mph winds with Storm Corrie just a few hours behind! The result was the damage to, among other things, the war memorial on the Heugh and my cottage roof.
I can only say I'm useless at forecasting the future: I gave up the National Lottery years ago and realise that I'll never make a living as a fortune teller.
But storms or not, there are many signs that spring is coming so let's just hope that by the time you're reading this nothing else untoward has happened to force me to eat my words again.
Some of our common island birds, including Blackbirds, Song Thrushes, Robins and Collared Doves are already singing around the village, something that's always cheering after the winter.
Out across the island Skylarks are up there pouring out their songs and the first Lapwings are diving and rolling in noisy display. By the end of the month, if conditions are reasonable, we'll also be hearing the first far-carrying calls of Sandwich Terns, always the first of the terns to appear. Then in early April we can look forward to the first Swallows.
Then there are the spring flowers to admire. The first of the Snowdrops were flowering back in January and now the early Daffodils are now just starting to show. Those catching the sun and reflected warmth from the old stonework of the south side of the church are normally among the first. It won't be long before the first Wallflowers are out, at least on the sunny south-facing side of the Heugh and sheltered village walls and Sanctuary Close turns yellow with low drifts of the brilliantly coloured Lesser Celandine.
The late winter period was, as usual, rather quiet for smaller birds across the island. The days are long gone when we had large flocks of Linnets, other finches and Skylarks wintering with us. I'm afraid it's all part of the steep decline in bird populations right across the country and Europe in general. However, there was a notable exception with the appearance of a species which has in recent decades become a winter rarity. I refer to Shore Larks which belong to the same family as our familiar Skylarks but are much more colourful. They breed in the mountainous Arctic regions of Europe and Asia and across the whole of the northern half of Canada and the United States.
Like our Skylarks, they are basically brown with pale under-parts but differ in having striking yellow and black head and face markings. In full breeding plumage which, unfortunately, we seldom see, they also have little black feather tufts on their heads, giving them their alternative American name of Horned Larks.
A few decades ago they were a rare but regular visitor to beaches and similar areas along our coastline during the colder months. In recent years numbers have declined sharply so in some winters only one or two are found.
SHORE LARKS: rare winter visitors to the island. Photo: Andy Mould
So I considered myself fortunate one very gloomy and murky afternoon when I came across two on the island. I'd walked along Sandham Bay and then gone up to check around the top of the old limestone quarry. I was lucky and flushed three Lapland Buntings, other uncommon Arctic visitors, who vanished into the gloom, fortunately giving their very distinctive flight calls.
When I was crossing the muddy and rather bare area at the south west corner of the quarry two birds rose and flew ahead of me. My first impression, based on size and flight pattern, was that they were Skylarks. They dropped among patches of short tussock grass about 50 yards away and vanished.
As I approached, one of them ran to the top of a ridge and faced me. Despite the very poor light conditions, I could see the yellow and black patterning on its head. The second bird, a little further back, was much duller. I immediately realised they were Shore Larks, the brighter bird an obvious male and the other probably a female or juvenile. They were the first I'd seen on the island for perhaps a decade.
The very bare patch they were using was probably the nearest we can come on the island to their native high tundra. Birds really do have a habit of seeking out the type of terrain to which they are accustomed at other times of year.
I put out a text message to a handful of birders who are very regular visitors to the island. One of them, Andy Mould, went to the spot next day but they had vanished. Being a persistent sort, Andy checked out Sandham Bay and other likely spots before returning to the quarry and finding the pair back in the spot where they'd been the previous afternoon.
In better light conditions he managed to get the photograph which accompanies this article.
It seems to confirm that one bird was a bright adult male and the other probably a female or youngster, as I'd suspected. The two birds remained in the same general area for a fortnight, enabling a lot more visitors to enjoy their very welcome presence.
The castle will probably be open by the time you read this so hopefully the long list of things I still need to do will all be done and dusted - actually that me reminds me, dusting, lots and lots of dusting!
Paul Rooney has been up this past week putting together his audio/visual installation in the Upper Gallery, so the next step is to knit that together with the rest of the rooms. It will be nice this year to be specifically featuring individuals from the castle's story, rather than just the building itself, and funnily enough I have been able to draw on past issues of this very publication as inspiration. One of the characters focused on will be Madame Suggia, the cellist from Portugal who was a frequent visitor back in the castle's Edwardian heyday. Many of you will remember the wonderful Elfreda Elford, who regularly wrote a column in the Island Times, and a couple of her memories of Suggia have made it into the castle's interpretative scheme this year. One that didn't is maybe something we can revisit in the future, but apparently on one visit Suggia brought a huge Steinway grand piano with her - the mind boggles as to how they got it up into the building - but Elfreda remembers seeing the huge crate it came in (presumably by rail) stored in the Lime Kilns awaiting the return journey. Elfreda wrote of how glamorous Suggia was, and I remember her telling me the story about sitting on the bank below the castle listening to the strains of cello coming out of the Ship Room windows, along with seeing her perform a concert in the village to raise money for the war memorial, which Edward Hudson had commissioned Lutyens to design. Elfreda went to one of the afternoon shows and her mother lifted her up onto the windowsill so she could see properly. Suggia was wearing a spectacular ball-gown, similar to the one she wore for a painting by Augustus John, which I think is in the Tate. What a shame it was to see that memorial damaged in the recent storms, hopefully it can be repaired soon. I've managed to get hold of some never-before-seen pictures of Suggia at the castle from the British Library, along with a cracking one of her and Jack Lilburn by the jetties, so I'm looking forward to getting those on display.
Elsewhere in the castle visitors will hear about Lytton Strachey's opinions of Suggia - very positive - and the castle itself - very negative. Strachey was a critic by trade and he certainly threw himself into his job when he visited in September 1918. Pretty much everything about the place annoyed him apart from Suggia with whom he was absolutely captivated. He disliked the architecture ("typical Lutyens, cold and nowhere to sit"), despised Hudson ("a pathetically dreary figure - so curiously repulsive too"). At one point, while sitting through yet another of Hudson's long after-dinner speeches, Strachey resolved that "the only thing to do was to get altogether drunk". I think I might have a similar sentiment once we're up and running on 1st March!
Best wishes
Nick Lewis - Collections and House Officer
Lindisfarne Castle nick.lewis @ nationaltrust.org.uk
07918 335 471
Stop press: Due to unforeseen circumstances, the castle will now be opening to the public on Saturday 5th March, as opposed to Tuesday 1st March. Visitors can book their visit as per last year on our website, but we will still be accepting a limited number of walk-ups each day.
Please let me know if you have any questions about this.
NATURAL ENGLAND LINDISFARNE NNR
Following the fixed-term dog zonation trial that was in effect last summer we have published our key findings and conclusions. Bird disturbance surveys and zone adherence surveys were carried out to collect data on the effectiveness of the trial. Data was collected by NNR staff, volunteers, an MSc Student from Newcastle University with data forwarded to Ecological Consulting for independent analysis. Several letters, emails and phone calls were also received by NNR staff relating to the scheme. These have been collated to draw together the following key findings which can be found on our blog either on the main page or on the Dog Zonation findings tab at the top of the blog:
http://lindisfarnennr.blogspot.com/
It has been a remarkably sunny and dry start to the year with high pressure dominating much of January and into the first part of February. Indeed, our weather station recorded just 11.2mm of rain in January which is just 20% of the 30 year average January rainfall recorded at Boulmer. However, this winter the strong winds will be what is remembered. The sunny dry interludes have been interspersed with very strong storm events. Storm Arwen battered the Reserve with storm Malik and Corrie causing additional damage in late January. Now as I write this storm Dudley and Eunice look set to reek havoc in quick succession. For the wintering birds left on the Reserve the storm surges associated with these wind storms leave less time for them to feed and the wind chill and colder temperatures mean that they require more energy to stay warm. Accompany that with incidences of disturbance from walkers and dogs and it becomes a real battle for many birds to survive.
It has been one of the worst winters for Avian Influenza across the UK. Sadly, an outbreak of the highly pathogenic H5 N1 strain of Avian Influenza has been discovered adjacent to the NNR. This puts the island part of the Reserve within a 3km protection zone and the rest of the Reserve (from Cheswick in the north down to Budle Bay in the south) within a surveillance zone. It has not been confirmed within the wild bird population but if you are visiting the Reserve and see any sick or dead birds please report them to the DEFRA emergency line on 03459 335577 and inform the Reserve office on 01289 381470. Don't approach or touch any sick or dead birds and keep dogs on short leads.
Our events leaflet is now available to view on our blog website and posters will be up in the bird hides and at Chare Ends car park. News of upcoming events will be also published on our social media feeds. We are really excited to get out and run a full events programme this year after a difficult few years with COVID. So, come and attend one of our events and find out what an incredible place Lindisfarne National Nature Reserve is.
Andy Denton - Reserve Manager
Lindisfarne & Newham NNRs
ED: Andy has kindly sent a picture of their 2022 NNR event list. For updates and much more check out his blog: http://lindisfarnennr.blogspot.com/
Our neighbouring planets Venus and Mercury orbit closer to the Sun than does the Earth. This means that both are actually present in the sky above our heads for most of the day. But that is no good for actually observing them, since the brightness of the daytime sky makes them impossible to see. The right time to look is just after sunset or just before sunrise. Then Venus in particular can appear as a dramatically bright object shining in the twilight: the Evening Star or the Morning Star depending on our relative orbital positions.
The planet Venus rises in the eastern sky shortly before sunrise to the right of the Castle as viewed from Skylark on Chare Ends in January. The small point of light on the horizon beneath Venus is the lighthouse on Inner Farne.
Since January, Venus has been by far the brightest visible "star" in the East for up to an hour around dawn. Viewed from Skylark on Chare Ends, Venus rises to the right of the Castle behind the Farnes. It quickly climbs in the sky until it becomes lost in the glare from the rising Sun.
Venus has been in the news recently following the discovery last autumn of the chemical phosphine in its atmosphere. A team of researchers at Cardiff University used telescopes in Hawaii and in Chile to detect the characteristic spectrum of this highly toxic compound of phosphorus and hydrogen. Despite being a noxious substance, there are few processes that could account for its present in the clouds of Venus... except for a biological source such as bacteria. Hence the great excitement.
However, the jury is still very much out. Several scientific papers have been published in recent weeks refuting the claim that this is evidence for extra-terrestrial life. This is exactly how science is supposed to work.
A remarkable phenomenon called a solar pillar photographed 10 minutes before sunrise on the early morning of Sunday 30th January 2022. I am hoping that it may be an omen of good fortune for my asparagus crop in the raised bed below the "flaming spear" in the sky.
In the early morning of Sunday 30th January, after the violent winds of that battered Holy Island on the previous day, there was another notable apparition in our dawn sky. For at least ten minutes prior to sunrise, an extraordinary vertical shaft of bright orange light hung above the Farnes resembling a burning spear in the sky. As you can see in the accompanying photograph, it floated mysteriously above my hibernating asparagus bed... a portent perhaps of an excellent crop to come in the Spring?
But no... this was a rare and beautiful meteorological phenomenon called a solar pillar. It is caused when light from the as-yet un-risen Sun is reflected off myriad ice crystals in high cirrus clouds. I sent photographs of the Holy Island Solar Pillar to several knowledgeable friends. Not one of them had ever witnessed this phenomenon, despite being widely travelled.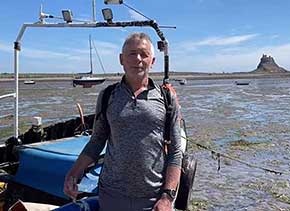 My favourite rock is ......?
If I asked you what you think is the greatest rock or stone in the world what would you say? Maybe Uluru in Australia, or Mount Rushmore's presidents, or the Black Stone of Mecca, or the Temple at Petra in Jordan? Closer to home would it be the White Cliffs of Dover, or the Stone of Scone-Coronation Stone, or the Giants Causeway? The list of deserving places is long.
You'll notice I'm being inclusive here; we could go round in circles debating the subtle and subjective differences between a rock and a stone, so for the purposes of this piece of text rocks and stones, at least as far as this geologist is concerned, are interchangeable.
But back to choosing the best rock; let's make it a bit easier, let's stay within Northumberland. What would you choose? Perhaps just as importantly, how would you choose? Would you go for one which was stunning or spectacular in a landscape sense - somewhere like the iconic Simonside sandstone crags, or the contorted rocks of the foreshore at Berwick and Scremerston. Or maybe somewhere that had strategic and historical relevance; lots of those hereabouts - the dolerite Whin Sill under Hadrian's Wall and Holy Island and Bamburgh castles. Maybe you'd choose a place that was once important to communities - like the Duddo Stone circle where our ancestors gathered, or the Kielder Stone, where families split by 16th century border conflicts left messages.
Some of us may be more prosaic and stress the importance of rocks that created wealth (and at the same time, unarguably, played a role in our shared heritage and culture). Rocks like limestone, ironstone and coal. For the latter especially, we are left with proxies: mine headgear at Woodhorn and drifting sea coal on beaches. But there are also stone memorials to those who died, tragically, creating that wealth (for others), like the sandstone obelisk at Earsdon commemorating the 204 men and boys who died in the pit disaster at Hartley Colliery.
Then there are folk like me who get excited about the geology, such as where are the oldest and youngest rocks in the county. I'm sure you're dying to know. Shattered and broken, 425 million year old Silurian rocks that were once mud at the bottom of a deep ocean and now sit quietly at the head of the River Coquet. The youngest rock? A 3 metre wide rib of dolerite that was injected as a vertical blade of molten magma through the rocks right beside the North Tyne Pier; a red-hot visitor from the Isle of Mull only 60 million years ago
Maybe your choice would be much more personal? Simply a rocky place that means something to you and those close to you? A place that brings back memories, a place where you can reflect on life, a place where you can see clearly for miles, inwardly as well as outwardly.
Geologists would say this, but it is a truism; rocks and stones have always played a fundamental role in our material lives, for their practical utility, for energy, raw materials and construction, that's well-known and a given. But there's a deeper and more philosophical and spiritual connection. It's no accident that in languages across the globe rocks and stones, and their durability and prominence, are not merely a physical presence, they are a universal metaphor for stability, continuity, security.
They anchor us, they are our touchstones and, literally, our bedrock.
If you'd like some inspiration for your choice of your greatest, most favourite, Northumberland rock and find out more about their characters and origins, here's a plug for a new book: Northumberland Rocks, written by 'you-know-who' ! :
HOW WELL DO YOU KNOW THE ISLAND?
What am I? and where would you find me?
1. Fishy business
2. S.O.S !
3. Look out
4. See you down the pub
5. Rock art
6. Make a wish
7. Stuck on you
Answers:
Upturned old herring boat in the harbour.
Old Lifeboat House on St Cuthbert's beach.
Old navigation beacon on top of the Heugh.
One of the eye-catching railings at the front of what used to be the Iron Rails Pub.
The stone stacks along the beach near the castle.
Popplewell in the centre of the village. It used to provide the community with all its fresh water.
Pirri-pirri bur in the sand dunes. This New Zealand invader is thought to have arrived via seeds caught on sheep's fleeces. The imported wool was washed in the mills on the banks of the river Tweed.
© all photos - Snook
ON THE FRINGES OF LINDISFARNE
ALCUIN-2
Last month we met Alcuin, an Anglo-Saxon of the 8th-9th century, who left the earliest evidence of the Viking attack on Lindisfarne. The rest of his life is worth knowing about. He was a Northumbrian, but from the southern part of the Kingdom with its centre at York (not Bamburgh).York had been a major Roman city and became the centre of a Christian archbishopric in 735. Near here Alcuin was born into an apparently landowning but not noble family.
He was a naturally academic child. The important thing for him was the existence of a school he could attend. The early monasteries offered education but mostly for those who would become monks. But another type of school was coming into existence centred on the local bishop's household, to train boys to be deacons, priests, even bishops in the developing local churches.Alcuin became the star pupil at this school. Eventually he became its head teacher.
The school prospered and had a large library; pupils were taught reading, writing and then the Latin language; then the whole of European Christian culture would have opened to them. I don't suppose Alcuin ever wanted to leave. But then the will-of-God, in the form of the most powerful man in the Western world, the Emperor Charlemagne, overtook him. This emperor was clearly very good at fighting and ruling, but was also a very active Christian, and was supporting a movement for Christian education , especially of the clergy, in his lands. He met Alcuin on a journey to Rome, and immediately head-hunted him. Alcuin left York with regret but did become one of the leading lights in Charlemagne's project. He never returned permanently to England.
Editor: Revd Canon Kate Tristram MA (Oxford) MSC (Edinburgh) and honorary Canon of Newcastle (emerita)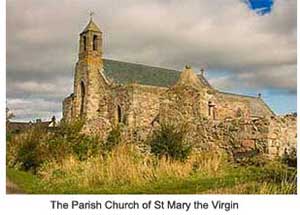 Dear friends
As I write it is surprisingly calm outside my study window - what a lot of weather we've been having!
Yesterday in church we heard the reading from St Luke's gospel of Jesus calming the storm, while the wind was raging around outside...most appropriate!
But we do know that spring is on the way - the snowdrops are here and the daffodils starting to appear. In the church's year, we are about to enter the season of Lent, beginning on Ash Wednesday, March 2nd. For 40 days we will follow Jesus towards the cross of Good Friday, and the resurrection on Easter Day. Lent is a time for reflection, for repentance (literally meaning 'turn around') and for giving time to grow closer to God. On Ash Wednesday, we remember that 'we are but dust, and to dust we shall return'. Do join us in St Mary's on that day (March 2nd) for a service of Eucharist and imposition of ashes, at 1pm.
We also remember at this time Stuart Moffitt, and Hazel Kerr, sadly passed away. Stuart's service of thanksgiving will be held in St Mary's on Saturday March 5th at 11am. Hazel's service of thanksgiving will be at St Mary's on Saturday March 16th at 12pm. We keep their families and friends in our prayers.
As Lent is a time to draw close to God, we will be holding a Lent Course at the Vicarage. This will be 4 sessions looking at aspects of Christian faith. As they say, 'no prior knowledge expected'! - it will be informal with tea and cake and lots of time for discussion and questions - do come along! Sarah, Sam and Kate will be running it. The dates are (all at the Vicarage):
Wednesday March 16th at 1130am
Tuesday March 22nd at 2pm
Wednesday March 30th at 1130am
Wednesday April 6th at 1130am
Also, during Lent we will be restarting daily morning and evening prayer (Monday to Friday) at 8am and 5pm. This starts on March 14th and unless we have more covid restrictions will continue in that form. It is such a relief to be able to start getting back to some sort of 'normality'. Morning and evening prayer is a short service with bible reading, prayer and time for reflection - a great way to ease into and then end the day. Again, 'no prior knowledge' expected! Do feel free to come and join us.
After Easter we will be starting a midweek Eucharist on Wednesdays at 1pm, from Wednesday April 27th. A good opportunity to pause at lunchtime and join in with others in church.
So, I hope you have a good start to Lent and are able in whatever way suits you to take some time to pause and reflect on your journey through life.
With every blessing
Sarah
---
ST. MARY'S NOTICES
Current Worship Times
Worship Times
(Please wear face Mask in church)

1045am Sunday Parish Eucharist
8am BCP Sunday Eucharist - first Sunday of the month
5pm Evening prayer - Sunday, Monday, Wednesday, Friday
(Updates or changes will be posted in the church porch and online)

Lord, help us to be with one another... even if at a physical distance. Help us to build a kinder world. To reach out. To love and to care. To be sensible and not to panic. Help us, Lord, to hope. Because together we can. Amen.
Revd Dr Sarah Hills
A Blessing - for this time and every time

Lift your hearts to heaven
and receive the eternal gift of peace

Keep your feet on the ground
and walk with those who need God's love

This day

you are loved by God
You are held by God
You are blessed by God

Now and for evermore

© Revd Rachel Poolman