Dear Subscriber,
Welcome to the first of 2022 newsletter - particularly to those who have joined during our winter break.
Firstly, pause for thought, as in midst of political uncertainty in eastern Europe, we are reminded of all Bravehearts being placed in harm's way - serving far from families and loved ones...
Before Christmas we reported on widespread power cuts and awful damage wreaked by storm 'Arwen'. Yesterday, the island experienced a short power out as Northumberland experienced storm 'Malik' and winds peaking at 93mph. And, as I write, by 6pm this evening, storm 'Corrie' is forecast to produce windspeeds of around 55mph. Hopefully, conditions will still permit 'The pressing of the button' to send our newsletter on its way to you tomorrow evening...
So, to brighten up my day and I hope yours too, I include the above picture of "the editor's assistant" who wears a broad grin regardless. If you plan to visit the island and the bins happen to be full, please take your rubbish away when you go. As well as noticing damage from the recent storms, you might be disappointed to discover the variety of rubbish previous visitors have left strewn across the carpark. Caution: The bridge and its approaches await resurfacing and, on the causeway, the temporary 30mph signs have either been removed or washed away. Finally, as always, please check out the SAFE CROSSING TIMES.
Sadly, due to illness, we are again without a report from Revd Rachel (St. Cuthbert's) and wish her a speedy recovery. However, apart from a shortage of pictures we are pleased to welcome back our authors after a well-earned rest! And, particularly for those now living far from our shores although also for folk who simply like to see how we look after 'our patch': we are pleased to reproduce a report from our Parish Council.
We hope you enjoy our February newsletter and look forward to getting in touch again at the beginning of March.
God Bless,
Geoff Porter
editor@lindisfarne.org.uk
www.lindisfarne.org.uk/ezine
HOLY ISLAND PARISH COUNCIL
Windsor Cottage, 3 Lewin's Lane, Holy Island, Berwick-upon-Tweed, Northumberland TD15 2SB
Clerk: John A Bevan Tel: (01289) 389359 Email: holyipc@btinternet.com
As we are at the start of a new year and as we all hope the end of the pandemic which has restricted our ability to hold public meetings, the Parish Council would like to give a brief update on matters it is dealing with at present.
Causeway: NCC have advised that the causeway with be closed between the hours of 21.30 (9.30pm) and 5.30am for two nights between March 23rd and March 25th for resurfacing work to be carried out. It will be open during that period outside those hours.
Market Place Tree: The response of the village to the question of whether there should be a 'living' Christmas tree or another Cherry to replace the one blown down resulted in a clear majority for the Christmas Tree. However, since then we have been advised that the Christmas tree is unsuitable for Island conditions and would be unlikely to survive and that it is bad practice to plant a new Cherry tree where one has been growing before. There was a clear request from the village that the tree should be replaced and after we have taken further advice, we will be consulting with residents again about what is the best option for the site.
Holy Island 2050: The Parish Council remains a strong supporter of the 2050 Project and has helped in producing the initial Strategy Document which will be presented to residents in early February.
Neighbourhood Plan: Before Covid struck we had been progressing a Neighbourhood Plan in conjunction with neighbouring parishes in Norham and Islandshire. The Pandemic brought work to a halt. However it has just resumed and we are hoping that 2022 will see the plan ready to be presented to residents for approval - as by law it must be. A Neighbourhood Plan is intended to give residents a say in Planning Policy for their area. For example on possible restrictions that new build houses be for permanent residence only. Once implemented it has full legal power unlike the referendum we held about the Green Lane Car Park, the results of which planners have to take into account but are not legally bound by.
Parking and traffic: Although these are not matters on which we have authority we are in continual discussions with NCC about how best to improve the situation. While our unofficial Parking Permit scheme had some effect in reality it is not enforceable and we have been discussing with NCC for several years without success the possibility of an enforced residents parking scheme. Again Covid made it very difficult to make any progress or even to hold discussions however we have had some encouragement recently that progress is happening on the introduction of a 20MPH speed limit within the village starting at the entrance to the Chare Ends Car park. Car Parking we are now taking up directly with the head of NCC.
Dog Mess. Once again there is a growing problem with dog mess and irresponsible owners not clearing up after their pets. We have asked for the Dog Warden to come here more often. Offenders caught will be fined.
Holy Island Parish Council.

HOLY ISLAND C-of-E FIRST SCHOOL
New Year to everyone! The children arrived back at the beginning of our Spring term full of life and enthusiasm. It's always good to be together after Christmas to hear all the exciting stories of Santa, toys, surprises and special times with family. As usual we have been getting straight back to work with our new topics for the new term.
This term we are comparing the difference between the lives and times of Queen Elizabeth I and Queen Elizabeth II. This links well with the upcoming Platinum Jubilee which we will of course be celebrating in style. This week we have been painting magnificent portraits of Queen Elizabeth I in the style of Hans Holbein the Younger. Soon we'll be using printing techniques to create a repeating portrait of Queen Elizabeth II in the style of Andy Warhol. We'll also be using clay to create a sculpture of Queen Elizabeth II.
Looking back at our October issue, I notice I'd written that we were hoping that no more strong winds would damage our greenhouse. Well of course, Storm Arwen came along and with it went our greenhouse. The damage around the island was shocking for us all - we are still waiting for our garden gate to be rebuilt and we have had lots of roof tiles replaced. The destruction and mess was awful but I found it quite curious that some potatoes had landed in the middle of our lawn! Now that is very unusual.
In February we will be taking part in the RSPB Big Schools' Bird Watch. This will be a great way to encourage our children to get involved with nature by looking really carefully for birds for short, measured periods of time followed by uploading the data they collect directly to the RSPB. I'm sure the children will enjoy getting out and about and taking part in this important 'young citizen science' event.
We have begun finding out about the James B Graham rescue - one of the most famous rescues carried out by Holy Island Lifeboat men which took place off Ness End in 1922. The children will be researching and mapping out the rescue and will be writing about the events. I'm hoping that we'll be able to display the children's work as part of the memorial event taking place in April. We are also planning to set up a re-enactment here on the island (staying on the shore of course!) - I'm sure the children will really enjoy that!
Heather Stiansen
heather.stiansen@lowick.northumberland.sch.uk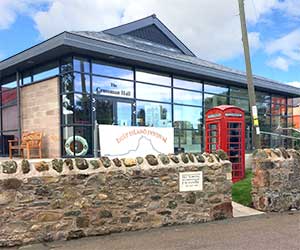 The past two months have been quiet regarding the use of the hall.
The birthday party in late November was our last "busy" event, mainly because of fears of the Omicron variant.
Ashleigh Johnson and her band of helpers erected Christmas Lights and trees they were lovely and looked good both inside and from the outside. Thank you Ashleigh.
The Warm Hub held a senior citizens Christmas lunch which started off with about 30 folks coming but ended up with only 10. Never the less the afternoon was really great, we had a slap up Christmas lunch with sherry beforehand and wine with the meal, the meal was delicious and very substantial! We were entertained with a slide show of bygone days on the island. Thank you to all who helped.
The Christmas village social evening was cancelled because of fear of the Omicron virus.
We have had issues with the hall heating, mainly because of power cuts, the engineer has been to check and repair so all now in good working order.
The Warm Hub together with the hall have bought a projector and the necessary sound system with help from a substantial grant from Northumberland County Council. This means the hall will be able to show films and slides. Mark Fleeson has been our expert in buying the equipment and setting it all up, it's a very impressive state of the art piece of work and am sure will be much enjoyed by all who use it. Thank you Mark for your time and effort for the hall.
Storm Arwen damaged the hall roof, M T Richardson, who built the hall, came to inspect and is confident no rain will get in the hall. He will repair roof when he has dealt with other more urgent repairs. Our insurers have been informed.
The Warm Hub coffee mornings and the yoga classes are starting up in February, as the restrictions are lifted we should continue to be fairly busy over the coming season.
Sue Massey
OUR NATURALIST ON LINDISFARNE
FORGET STORM ARWEN, SPRING IS COMING
With gradually lengthening hours of day light, we can now tentatively start looking forward to spring on the island with the destruction wrought by Storm Arwen now largely cleared up.
The roofers, jobbing builders and tree-choppers have mainly completed their work although I suspect - old cynic that I am - that it will take the insurance companies a bit longer to do their stuff and cough up some money.
The 100mph winds, mountainous seas and, of course, those inevitable power cuts were certainly exceptional with our oldest villager, George Moody, telling me that although he'd seen many a gale Arwen was something in a class of its own.
However, looking back across the island's history of the last couple of centuries there have certainly been other very spectacular and punishing events.
The Victorian and Edwardian wildfowler, naturalist and prolific author Abel Chapman recorded how in October 1881 his brother Alfred, another keen shooter, and his punts-man had narrowly escaped death when the area was hit by a sudden and very violent storm.
Their punt was overturned and they struggled for three and a half hours through water and mud to reach the safety of firm ground. Their experience, hazardous as it seemed to them at the time, paled into complete insignificance compared with events the same day just over the border.
The whole country was shocked when the terrible news broke that the storm had caught fishing fleets of Eyemouth and Burnmouth in its full fury of hurricane-force winds and sudden raging seas. 170 men and boys had perished, the manhood of both communities wiped out in a tragedy of appalling proportions.
Another local chronicler, Richard Perry, whose 1946 work "A Naturalist on Lindisfarne," is one of my most regularly used reference books, recounted several spectacular storms during the Second World War when he was living on the island.
Perry was a coastal watcher, a band of locals whose job was to be on the alert for enemy submarines and other warships and, of course, our own vessels which might be in trouble.
One of the regular watch-points was the in the meagre shelter provided by an old car dug into the top of the cliffs at Coves Haven.
Perry recalls how on one occasion when he was on night duty spray was bursting over the 70-foot cliffs on to the vehicle's windscreen making it even more difficult to see what was happening out at sea.
On the same occasion spray was recorded being blasted over the 100-foot top of the Castle into the meadow beyond. Similarly, the harbour was lashed into a fury of breakers which hurled spray over the top of the Heugh into Sanctuary Close. The sea also crashed up the beach to flood the area behind the Herring Houses.
Much more recently, in 2015, waves swept across the Castle road, beaching one boat and smashing the mast of another. The original wooden stables on the beach corner was also blown over the wall and left looking a bit like a flat-pack from a DIY store.
Many of my bird-watching friends and others with a more general interest gloomily thought that Storm Arwen would have caused much more damage to the wildlife and the environment.
There were reports of young Grey Seals, just a month or two old, perishing when they were swept away and there was certainly an increase in the number of seabirds, particularly Guillemots, being washed up dead along the coast. However, in the couple of months preceding the big storm many Guillemots which appeared to be starving were off-shore in a weak condition. Perhaps the storm was just the last straw for them.
Some beaches were also left littered with the remains of crabs and other creatures which had obviously perished during the storm. But apart from that the damage seemed to be much less than originally feared.
Many people out walking across the island recently cannot have failed to notice the big flocks of Brent Geese which have regularly been grazing in the fields off the Straight and Crooked lonnens. The favoured food of the geese and the many thousands of Wigeon which winter out on the flats, is Eel Grass or, to give it its scientific name, Zostera, which roots in the mud and sand.
Rough seas can tear up and destroy large swathes of this plant and that may have happened this time, forcing the geese to seek alternative feeding on grass which for them is far less attractive and less nutritious.
Another effect of the storm is clearly visible in Sandham Bay where the foot of the dunes along the beach has been sheared away to leave almost vertical walls of sand. This has happened many times previously with probably the next storm sweeping back much of the lost sand. Nature really does have a remarkable way of healing such damage.
Despite it being almost two months since Storm Arwen hit, we are still dealing with the impact of what was hopefully a once-in-a-century storm. Before Christmas, the main issue for us was the damage to the roof of the admissions building next to the boat sheds. Simply replacing the corrugated roof sheets wasn't an option initially due to supply chain issues (especially if we wanted black sheeting which would be like-for-like) and the cost of a repair in plyboard and felt was excessive for something that would only be temporary. The other issue with this and all other repairs was that most of the damage caused by the storm was subject to an insurance claim. This has impacted on getting fencing repaired around the site. Up at the castle itself, we suffered some damage but not half as much as I'd expected given the severity of the storm.
Unfortunately, with Arwen being a northerly storm the worst of the damage to the castle was to that elevation, which is one of the trickiest to access - evidenced by the complexity of the scaffold we had up in 2016-18. Much of these repairs are going to have to be done by steeplejacks but given there are multiple types of work needed (leadwork, guttering, tile repair, limewash), this is taking a fair bit of time to work out. Now we are a little clearer on the insurance situation we can start to tackle these jobs and hopefully we will be attending to these in the next few weeks. There was also substantial damage to the roof of St Oswald's but that was repaired before Christmas.
The castle is due to open on 1 March so of course preparations for this are well underway. We are again hosting an art installation in one of the rooms which will be very different to those in the past. Alongside this we have returned a number of collection objects for the rest of the rooms and this will help us tell stories from the castle's past. As part of this I am getting three of Hudson's original brass chandeliers electrified; two for the Ship Room and one for the Dining Room. This is quite an important step as for much of its history the castle has been lit by a combination of candles, open fires, and oil lamps. From 1970, we have had electricity and that has had a major impact on the interior experience and atmosphere. It hasn't always been authentic though and although we have taken steps to address this in the past - such as using softer colours in lightbulbs - the lighting scheme in the castle hasn't really felt very satisfying. Use of plug-in table lamps throws light up into the rooms where that wasn't previously how it was done, especially where we have had wall- or ceiling-mounted sconces and chandeliers. Of course, we have to be careful how some areas are lit; such as stair wells and rooms where we ask visitors to read information, but I have always felt we could do better in other parts The idea to electrify the chandeliers came from having acquired some really good quality battery-powered LED candles, which have a both a 'flicker' and 'dimmer' that can be controlled using a remote controller. We have now managed to get these candles hardwired to the original chandeliers using a process which doesn't use any drilling or glues to fix the wires to the brass. The wires themselves are bespoke to the chandeliers and are fixed using a heat-shrinking process. When installed, we should be able to flick as switch and have extremely realistic candle chandeliers in two key rooms. This should make a massive difference to the atmosphere in the castle, and really help visitors get a feel for how the place was back in Edward Hudson's day.
Best wishes
Nick Lewis - Collections and House Officer
Lindisfarne Castle nick.lewis@nationaltrust.org.uk
07918 335 471
NATURAL ENGLAND LINDISFARNE NNR
Happy New Year. 2022 is already upon us and it has been a glorious start to the year. Large spells of sunny weather and slightly longer days have made it feel quite spring like at times; although the mornings have been very frosty.
On the subject of weather, since the last edition the most notable event has been the onslaught of Storm Arwen in late November. Winds reached over 100mph on the coast with extensive tree and some structural damage. The Reserve itself got off lightly with only some damage to bird hides and loss of signage but the causeway was heavily damaged. Wildlife also suffered heavily during the storm. Stormy seas prevented birds from feeding and the severe cold and wind chill accompanied by the exceptional winds meant that all their energy was focused into keeping warm. A storm surge accompanying the winds caused the intertidal area to be covered for longer periods than normal depriving Wildfowl and Waders from the mudflats and essential food.
During the winter months it is vital that the wintering bird populations are not disturbed as many of the birds at Lindisfarne NNR have migrated thousands of miles to reach this protected oasis. When they arrive, they are exhausted and need time to feed and replenish resources, having used huge amounts of energy to fly here. All their time is spent feeding up and resting, gaining fat reserves to make the daunting journey.
Regular disturbance effects the birds in two ways. Firstly, birds waste important energy resources and fat reserves flying away from disturbance sources. If this happens frequently enough the birds won't lay down enough fat reserves to keep warm through the winter months and to make the long journey back to their breeding grounds in the high arctic thus resulting in a death sentence for many. Secondly, the feeding grounds on the Reserve are intertidal with many species feeding on the worms and molluscs within the mudflats or on the eel grass beds. This means that the feeding areas are only uncovered by the tide for certain parts of the day. If the birds are moved off these areas the amount of time they can feed is vastly reduced resulting in less fat reserves and less resilience to bad weather. Please be aware of feeding birds when visiting the coast and give them the space they need to feed and rest.
Our dedicated volunteers have been out on the Reserve spending several afternoons removing scrub regeneration and some invasive species from the dunes. Targeting areas of regeneration stops the rare dune slack habitats turning into scrub woodland which has relatively low ecological value in comparison. The more mature trees are left as important cover for breeding and migrating birds as well as habitat for invertebrates.
After a winter on the Reserve, the livestock have now left the island for another year with the cattle and sheep doing a fantastic job, removing the rank grasses allowing the botanical diversity to burst forth come spring.
As we look ahead to the spring and summer we will be starting to roll out our 2022 events programme covering everything from rockpools, birdlife and the human history of the site. Hopefully, this year will be less COVID effected and we can get back to sharing and educating people about this amazing National Nature Reserve. Keep your eyes peeled on our social media platforms and blog website for more information about upcoming events
Bird flu has been affecting the UK widely over the last couple of months with large numbers of Barnacle Geese seen dead on the Solway. As of now, on the Reserve there has been a very small number of dead birds reported, which have currently not been confirmed as having Bird Flu. There is no evidence of the mass infections as seen in other areas of the country. We are continuing our Avian Influenza surveys, covering all areas of the National Nature Reserve every month. If you do happen to see any dead wildfowl please inform us at the Reserve Office on 01289381470.
Andy Denton - Reserve Manager
Lindisfarne & Newham NNRs
There are two main types of astronomical telescopes: refractors and reflectors. Hitherto I have exclusively used refractors at Skylark Observatory, but at the end of last year I decided to try out a reflecting telescope. In this month's column I will explain the difference between the two designs and report on my early use of the new instrument.
Refracting telescopes use transparent glass lenses to focus light. Their ability to zoom in to a small region of the night sky is measured by their focal length. And their ability to gather starlight is defined by their aperture, which is the width of the objective lens at the front. I use two superb refractors made by the Japanese company Takahashi. One has a focal length of 530mm and an aperture of 106mm. My other Takahashi has a longer focal length at 1000mm and a slightly larger aperture at 130mm. 1000mm is about the maximum practical focal length for a refractor, both in terms of size and cost. The field of view using this telescope with a typical camera is around 1 degree: which is around twice the apparent diameter of the Full Moon.
Not a fancy shaving mirror! Max reflected in the primary mirror of his new telescope. The reflection of the smaller secondary mirror can be seen within the black circle at the centre of frame. The dark tube pointing at the secondary mirror is a hollow baffle down which starlight travels to the camera.
Many deep space objects appear far smaller in the night sky than the Moon, so longer focal lengths are called for. This is why I decided to acquire a reflecting telescope, as this type is capable of greater magnification. The recently launched James Webb Space Telescope is an example of a reflector. I chose the telescope shown in the accompanying picture, with a focal length of 2000mm. This means that it should be capable of taking high quality images of galaxies and planetary nebulae at least four times smaller than I can capture with my refractors.
To focus light, a reflecting telescope employs curved mirrors instead of lenses. These mirrors are front-silvered, which makes them vulnerable to being scratched. Cleaning to remove the inevitable accumulation of dust over time must be carried out with extreme care.
The diameter of the new reflector is 250mm or almost twice the size of my larger refractor. However the effective aperture is considerably reduced by the telescope's secondary mirror, which bounces the incoming photons that have been reflected off the primary mirror back towards the camera. Both mirrors are precisely curved to focus and concentrate the starlight. They must be very precisely aligned to obtain a high-quality image. The process of adjusting this alignment is called collimation and it is notoriously tricky. Avoiding collimation has been one of the reason that I put off getting a reflector.
Max's new telescope: a 10-inch (250mm )RC reflector with a carbon fibre truss.
In fact the telescope turned out to be well-collimated straight out of the box. This was a huge relief! So far I have not had to use the complicated laser alignment aid, artificial star and optical inspection scope that are standing by in case adjustments are needed.
Another positive has been the new telescope's thermal stability. As I have explained previously, even slight changes in temperature during a night of observing can cause the structure of the telescope to contract or expand. With my metal-tube refractors, this has a pronounced impact on focus and it is necessary to re-focus after as little as a half-degree temperature change. But the frame of the new reflector is built using carbon fibre, which hardly alters length as the structure cools or warms. This means fewer time-consuming focus runs during an observing session.
So what about the quality of images taken with the new system? The answer is that the jury is still out, mainly due to so few opportunities for astrophotography in December, which was a cloudy month on the island as you probably noticed. I take full responsibility for this: clouds are a known consequence of any exciting new piece of astronomical equipment being delivered! Hopefully the weather in the coming weeks will be kinder, and I will be able to show you some initial results from my reflector as we head towards welcome Spring.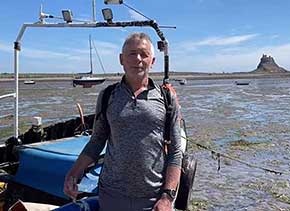 What do Vera and British geologists have in common...?
If you happen to live in Utah, or the high Andes, knowing what the rocks are under your feet isn't much of a challenge. There's little or no soil, even less vegetation and not a lot of human interference with the landscape. So knowing you're standing on a sandstone or a granite isn't usually an issue to a geologist (unravelling the tale of why and how they got there is, however, a different matter).
Come back closer to home, to the temperate latitudes and older terrains of the UK, and knowing what the rocks are gets more difficult. We don't see a lot of rock sticking out, most of it is buried under clay and soil and then grass, crops, trees and buildings. Which is why the geologists who make the maps of rocks in Britain turned detective and learned to read the landscape, and did it 200 years before Vera was invented.
Northumberland is a good place to explain how Rock Cluedo works. Arguably, in our county, the relationship between the shape of the landscape (topography) and the underlying rocks is clearer to see here than any other county in England. Plus we have a bit more rock poking through here and there than most.
Fundamental to interpreting the topographic clues is a very basic principle, one that applies the world over: hard rocks resist erosion and weathering and stick up, soft rocks are easily eroded and wear down.
Back to Northumberland - in the north we have the high Cheviot mountains, they exist because of their enduring granite and volcanic rock foundation. To the south is the most pervasive landscape in the county, a series of parallel ridges and troughs, produced by alternating sets of harder and softer rocks. The harder rocks, of which the most dramatic are the Whin Sill and the Fell Sandstone, stand proud and give us stunning iconic locations - places like Peel Crags and Simonside. These are the most prominent of many, many ridges that cross the county from north east to south west. The softer rocks that alternate with them - the shales and siltstones - erode more easily and produce the relatively lower ground - the damper troughs and flats. Drive along the B3618 Military Road and take a distant view of that repeating mix of hard and soft rocks together and you see the classic up and down (scarp and dip, or cuesta) landscape - it can often look like a set of stairs tipped backwards.
But even when the ups and downs aren't so obvious, when the shape of the land isn't as helpful, with a little bit of botanical detective work you can use other clues to work out what lies beneath. Geodiversity is one of the major influences on biodiversity and so we can use that veneer of vegetation to interpret the bedrock. Heather and heath like sandstone; short lush grasses and thyme enjoy limestone; rushes prefer ill-drained shales and clay; the thin soils that whinstone parsimoniously allows, produce their own thin vegetation that frequently gets stressed in dry weather.
We can use historic clues as well as botany - the human evidence. If you see a limekiln, limestone rock won't be that far away - even in the past no-one carried bulky material any further than they had to. Shafts and adits (tunnels driven horizontally into the valley side), plus uneven, hummocky, ground that often indicates subsidence, tell of mining in the past. Mostly that mining will have been for coal but in the Pennines there is lead as well. The spoil heaps from the working of both minerals are usually obvious and will give clues as to what was mined.
So geology is very much a detective science. Of necessity in Britain a geologist must often draw their conclusions from few facts (a rare outcrop, or borehole) and many clues, the indirect evidence, proxies if you like. The corollary of that statement is pretty important too; it is that any geological map or document can only be as good as the information the geologist had at their disposal. If new evidence becomes available (from a new road cutting, or a water well), then more than likely the geologist's interpretation - and the geological map and document - will change. In that respect geology is no different to any other science - change the data and the scientist must review their conclusions. If nothing else the current Covid pandemic has brought that maxim to the fore.
But back to reading the landscape, it hasn't always been a geologist's preserve, our ancestors were pretty good at it - it was an essential life skill. 1900 years ago the Romans recognised the strategic value of the Whin Sill ridge as the place to build the frontier of their Empire. They also knew how to locate and extract sandstone, limestone and coal to build their defences. Even 250 years ago people knew what was best put where. You might notice that many of the old villages in south Northumberland are built on higher, drier, sandstone, "islands", not lower, wetter, floodable plains. You could argue that we (and in particular those who take planning decisions) need to rediscover that skill. After all if we understand our landscape, its virtues and limitations, won't we use it and look after it a little better?
THE COMMUNITY OF AIDAN AND HILDA
A resident went down to the beach. He bumped into a holiday-maker who asked 'Why did you come to live here?' 'My life needed balance' the resident replied. 'How do you get that?' the visitor asked.
A conversation ensued. It is a conversation that The Community of Aidan and Hilda continues in varied ways: in its books, prayer rhythms, mentoring and retreats in local centres.
In March we sponsor a retreat on 'The Contemplative Activist' led by David Cole and Scott Brennan. A Celtic Library Management Group has been formed to make our library - which includes books on balance - a better facility.
During Covid we have missed our Norwegian friends' visits to the island at the end of St. Cuthbert's Way pilgrimages. To make up for this, as I write Graham Booth and I are due to fly to Worth Island in Norway when I hope to give talks on Balance and the Beatitudes. This is high risk. I had a heart attack in May, and recently, while with a group of locals walking the monks' trail at OId Melrose, the original site of the monastery and cell of Saint Cuthbert, I was rushed to Melrose hospital with another attack. Someone thought I was departing this life and sang over me. So I hope this 'Bucket List' visit will mark a restoration of the Melrose-Lindisfarne fellowship.
Ray
ON THE FRINGES OF LINDISFARNE
ALCUIN-1
The year was 793. Some people thought that there had been warnings. The Anglo-Saxon Chronicle records: 793. 'In this year dire portents appeared over Northumbria and sorely frightened the people. They consisted of immense whirlwinds and flashes of lightning, and fiery dragons were seen flying in the air. A great famine immediately followed those signs and, a little after that, in the same year, on 8 June, the ravages of heathen men miserably destroyed God's church on Lindisfarne, with plunder and slaughter.'
We know more about this attack from the letters of a Northumbrian scholar called Alcuin, who was a friend of the bishop and the monks of Lindisfarne, and who we believe had spent part of the summer on the Island in the previous year, 792. He wrote to the king, Ethelred: 'Never before has such terror appeared in Britain as we have now suffered from a pagan race, nor was it thought that such an inroad from the sea could be made... Behold, the church of St.Cuthbert spattered with the blood of the priests of God... a place more venerable than all in Britain... What should be expected for other places, when the divine judgement has not spared this holy place? '
The same writer, Alcuin, in a letter to the Bishop of Lindisfarne and his monks, wrote, 'What assurance is there for the churches of Britain if St.Cuthbert, with so great a number of saints, defend not his own? ...Truly, it has not happened by chance...' Not by chance, says this writer, and gives as his opinion that some major sins must have been committed, either by the people generally, or even in the monastery. But this opinion, that disasters are God's answer to human evil, was normally held at this time. The only answer then to a disaster was to reform the style of life and seek to win God's approval. So Alcuin thought, and so he advised the stricken monastery of Lindisfarne.
Editor: Revd Canon Kate Tristram MA (Oxford) MSC (Edinburgh) and honorary Canon of Newcastle (emerita)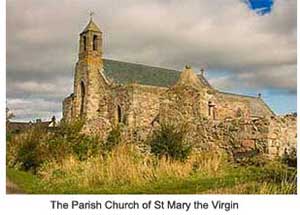 Dear friends
Happy New Year! I hope 2022 has started well for you. It was lovely to be able to this year hold in person Christmas services at St Mary's, as we came together to celebrate Christ's birth.
And in fact, in the church's calendar, we are still in the Christmas season, which lasts until the end of January, finishing with the celebration known as Candlemas.
Candlemas is the day that all the churches candles for the whole year are blessed, and on Candlemas night people used to put lighted candles in their windows as a sign of the light overcoming the darkness. Candlemas also is the occasion, as St Luke tells us in his gospel that Jesus was presented in the temple. Simeon, a very old and wise man, held the baby Jesus in his arms, and called him 'the light to the world'.
I have read that some people thought that Candlemas predicted the weather for the rest of the winter. I hadn't heard this before... had you?
'If Candlemas Day be fair and bright
Winter will have another fight
If Candlemas Day brings cloud and rain,
Winter won't come again.'
There is much to look forward to as we begin another year, not least the Queen's Platinum Jubilee in June. We look forward to more opportunities for getting together as restrictions lift. The Warm Hub is starting up again with the coffee morning and other events, and as the days get longer we look forward to spring and the new light of the world born again for us.
So, happy Candlemas!
With every blessing
Sarah