Dear Subscriber,
Welcome, to our winter newsletter and for those who have joined us this year, the winter issue covers both December 2021 and January 2022.
Storm Arwen: bridge sides swept away and 4inch surface cracks
case reference number: 101007463066 at northumberland.gov.uk -
Christmas is coming....
Those visiting over the weekend of 27th November will undoubtedly be acutely aware of the damage the village sustained from storm 'Arwen' and over 100mph wind gusts damaging several of our homes, flattening fences. As usual, it seems, there was widespread power failure throughout the north which continues, for some, even as I write. We are grateful to Scottish Power and their valiant maintenance staff that for us this lasted 'just' over a couple of days. I am sure that bitingly cold winds and electricity-dependant homes brought home the arrival of winter to all. I wonder if our readers in Norway and Alaska have similar power distribution issues. But, thank goodness I resisted the temptation of an electric car. And, I certainly rue the day Britain rejected its 1960s leadership in nuclear physics.
An African Covid variant has been announced reminding island visitors of the continued need to wear face masks. Whilst the council is aware of the damage, please keep speeds down on the bridge. When I crossed, the 4-inch cracks had sheer and sharp edges. Walkers: winds can be strong and currently nothing to prevent falling into the often very strong currents. As always, please avoid undue strain on our coastguard service by checking the safe CROSSING TIMES.
The real Christmas....
Toilets/Rubbish: Other than the removal of scaffolding, no further work has taken place and the temporary portable toilets remain in place. As the photo above reminds, if you notice someone leaving a rubbish bag alongside a bin, please encourage them to put inside the bin or simply take it home with them.
Thank you to all who supported Holy Island's facilities, attractions and businesses throughout the year. We are still hoping for more feedback so if you have time over the Christmas break do drop us a line.
We wish all readers the joy of Christmas and the best of health in the year ahead. We're looking forward to getting in touch again at the beginning of February.
God Bless,
Geoff Porter
editor@lindisfarne.org.uk
www.lindisfarne.org.uk/ezine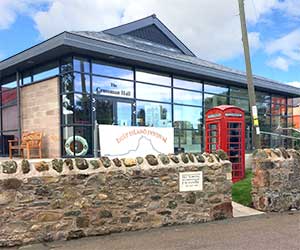 The hall has hosted a variety of activities in November, with the Warm Hub events i.e. coffee and chat on a Tuesday morning and crafting on a Thursday afternoon, being our most regular user at this time of the year. The 2050 Committee and the Parish Council also use the hall for their meetings. The North East & Cumbrian National Lottery Community Fund held a team meeting in the hall and also had a 'guided tour' of the hall - they were one of our major funders for the hall build. They were naturally very impressed with the hall , interested in the activities we had started to offer the local community via the Warm Hub and hope to return in the future.
We have a birthday party booked for late November and hopefully the fitness area will be fully operational for the winter months. The side door key which is kept in the key safe is missing, this prevents any would-be users of the fitness and pool table area to enter. If anyone has any information about the whereabouts of the keys, please help to ensure their safe return. In December the hall is quiet as regards lettings, one group have hired the hall at the beginning of the month, but the Warm Hub events will continue and hopefully a senior citizens' Christmas lunch and a Christmas social evening will happen. I'm sure the Trustees will join me in wishing everyone a Happy Christmas and a peaceful New Year.
All the best
Sue Massey
REFLECTIONS ON RETIREMENT (FOR THE THIRD TIME)
When work ended for the first time, I had some ideas and soon developed two paths. First and most important was acquiring Planning Consent to demolish the old hall, clear the site and build the replacement. Second was to go back to sea I headed back to sea. At that time I only had a few lengthy passages under my belt. The longest being a delivery passage to Bodrum, Turkey, spread over two years and leaving the boat in several locations for family use. The remainder sailing rarely left European Waters. Memorable trips included one owner wanting to visit the Alund Islands and the Stockholm Archipelago and another keen to tick off Hanseatic Ports. It was great fun and sights were seen.
I recall a 'Small World' experience when we were returning from Scandinavia via Lerwick, heading for the West of Scotland. After rounding Cape Wrath we had to put in to Kynlockbervie for fuel. I been into the Ice House to sort out diesel and was filling the tanks when a well-known voice shouted Hello and there was Caitlin + buggy, her Ma & Sister, enjoying their summer holiday. What a surprise.
You see how I ramble on, typical old man!!! Like a tap once I start. So what am I doing now. For much of October I was working in the house and now that much is done, I enjoy contemplating days gone-bye, good old days when we all knew each other and if you had an illness or injury in the house you had the bar the door to keep the Vicar out. Now I sit back and remember the small development group (Tinko, Clive & David) working on the hall Project, much supported by Lady Rose. Our philosophy; do it ourselves, don't pay consultants. It was hard word but we had fun and stretched the little grey cells.
I remember the first occasion Crossman Hall paid the initial insurance fee for the premises, £1M. I renewed the Hall Policy prior to retirement and now the rebuild costs, including fees, is in the region of £1.8M. That's a canny sum, so look after the place. One other thing I did before heading to Fiddler's Green, was acquire a cosy sum of £30K+ for hall funds. I know too well how some of you 'do gooders' like to spend. Gane Canny and don't forget to generate some dosh.
OUR NATURALIST ON LINDISFARNE
ROBINS - JEKYLL AND HYDE OF THE WINTER GARDEN
If you're doing a bit of winter tidying up in the garden, sweeping leaves or pulling out dead plants, there's a very good chance you'll quickly be joined by a local Robin, sharp-eyed for any tasty morsel you might uncover.
Winter is the season when Robins are most prominent, both in our gardens and in our lives. It's regularly there on the bird table or lawn with its bright red breast, beady dark eyes, jauntily manner and, most of all, amazing tameness.
It's therefore little wonder that in 2015 the Robin was voted Britain's favourite bird by the kind of overwhelming majority which would make any politician green with envy.
In that ballot, in which 225,000 people took part, it received 75,000 votes, way ahead of Barn Owl with 26,000 and Blackbird (which got my vote) in third place with 25,000 supporters.
It's just a hugely popular bird. I reckon if you check your Christmas cards as they drop through the letter box its picture will certainly rival those other perennial favourites, the fat Santa with his sack and the jolly snowman with his carrot nose.
A winter Robin in the snow, popular on so many cards. - picture: Mike S Hodgson
It certainly is a little charmer, beloved of most folk, and its attraction is further increased by it being one of the very few birds to sing in winter.
It's always a joy to watch as it brightens up the rather drab winter scene and it's usually among the first to appear if you throw out any food. If you have a bit of patience and arm yourself with something irresistible, such as a little pile of mealworms, you can easily get it to feed from your hand.
I've lost count of the folk who've told me that they've had the same Robin coming to their gardens year after year. I hate to disillusion them but, like most small birds, mortality rates are very high. Although there's a record of one Robin reaching the ripe old age of 12, the average lifespan is just over one year. Studies have shown that one in four doesn't even make it to its first birthday so the chance of a bird regularly returning to a particular spot is very slim.
When I watch winter Robins and enjoy their presence, I often wonder if those who put it on its national pedestal realise what a little Jekyll and Hyde character they'd chosen.
This is because there's a very different side to the Robin and it comes as a shock to many people. In short, the lovable little bird of our imagination is a fallacy because both males and females are really angry little thugs.
Even that sweet winter song isn't innocent. It's a clear warning to other robins: this spot is taken and they enter it at your peril.
Despite their great public image, they are extremely aggressive to each other and to other small birds who share their winter territories. When a strange Robin dares to enter an occupied territory the GBH can begin and feathers really can fly. The resident bird will angrily chase and attack the intruder, relentlessly flying after it around the area. Eventually the resident, having the advantage of possession, usually manages to drive the other off. But there have been recorded cases of murder being done.
Robins holding territories in gardens in our village and other coastal sites have particular problems. During autumn and early winter, thousands of hungry migrant Robins from Scandinavia and other parts of northern Europe arrive along the coast seeking temporary shelter and food.
Fighting Robins then become an everyday sight for birdwatchers checking coastal gardens and similar patches of cover for the rarer migrants they also regularly attract. It's not just other Robins which come in for stick. In my own garden, humble Dunnocks are regularly chased off by the resident Robin as they attempt to scour the lawn and the soil of the flower beds
I also remember an occasion when a Red-flanked Bluetail, a rare migrant from Russia and Finland, turned up in the Vicarage garden which was large enough to provide territories for two Robins, one at each end, and living in a guarded truce.
The poor Bluetail was constantly attacked and harried by both Robins as it attempted to settle, first at one end of the garden and then the other.
The aggression continued all afternoon, robbing it of any chance to find food. Just before dusk it gave up and flew off. It was re-found the following day in the roadside trees opposite the Lindisfarne Hotel where it remained for several days, probably a site without a Robin in occupation.
A classic Robin showing that fine red breast.: - picture: Mike S Hodgson
Robins are presumable so aggressive, particularly to each-other and similar sized species, because they see them as competitors for limited winter food.
Bluetails are closely related to Robins and are a similar size and shape. They feed the same way, usually dropping briefly to the ground from a perch to snatch a morsel and return to feed in cover. That could be why this particular individual came in for so much violence.
Another possibility is that the two residents simply mistook it for another Robin. The term 'bird brain' does spring to mind!
Next time you watch a Robin in the garden look out for its reaction to other local small birds. You might be surprised.
Since we last spoke the castle has closed for the winter, the 2021 exhibition Limelight has been dismantled, and preparations for next year have begun. The winter is of course the time when some of the more complex jobs on the list can be attended to; so, at various points we'll have masons, joiners, steeplejacks, electricians, and conservators all here with us to get them done.
Most of these jobs are recurring tasks which we are committed to doing annually, but a few are more unusual. For example, I'm planning to get the ship model Henrietta looked at by a proper ship model conservator, which would be the first time since 1975 it has had that kind of attention. That time the model was sent to the conservator down in Derbyshire, in the back of an Austin 1300 Countryman. That was an option this time round (transporting it to the conservator, not the Austin 1300) but we've decided to get the conservator up here, primarily because we want to review the hanging system in the Ship Room, which dates from 1975 and incorporates a complex pulley arrangement and even padlocks. The original system from 1906 was much simpler, so I was thinking a return to that one might be appropriate. The Henrietta is the only ship model in the National Trust collection that hangs from a ceiling, as opposed to being in a cabinet, and there are 298 of them in total. I can only think of one other ship model which hung from a ceiling (although there are probably more) which is in the other Lutyens castle on an island; Lambay off the coast of Dublin ' although their model is now sitting sensibly on a cabinet ' so the Henrietta remains a hugely significant item in the castle, aside from the fact it gives the Ship Room its name.
Actually, that reminds me; a while ago I visited the V&A in London to see the letters of Sir Edwin Lutyens and managed to photograph a good few of those relevant to the island. However, a combination of lack of time and old Ned's dreadful handwriting, I never got around to transcribing them. That is at least, until now. I still have a load to go but most of his writing while here goes on not about the castle itself, but about the island more generally. I've often thought he was more of a tourist than an architect while here and that is probably unfair, but these letters seem to back that up! One thing that leapt out in the castle was the naming of rooms, and there seemed to have been a disagreement between Lutyens and Hudson about the Ship Room. One felt it could be the 'Boat Room' (not sure who, probably Hudson) because I guess of the similarity to the boat sheds at the harbour '" the three at the castle hadn't been installed by then '" while the other (probably Lutyens) thought 'Ship Room' was grander. Regardless of this little discussion, Lutyens was in his element on Holy Island, and wrote regularly of his pleasure at swimming in the sea and going for walks on the north shore, although the weather wasn't always kind to him:
'Oh the wind and the rough weather! How tiring and depressing! It is cold today. I keep all the Holy Island weather stories for after I have exhausted what I have to say on other things...'
I think we can probably all empathise with him there!
Best wishes
Nick Lewis - Collections and House Officer
Lindisfarne Castle nick.lewis@nationaltrust.org.uk 07918 335 471
NATURAL ENGLAND LINDISFARNE NNR
When the clocks go back and bonfire night is over it always feels as if the winter has set in and Christmas is looming on the horizon but the remarkably mild weather has meant that I have barely broke out the winter coat yet! This time of year is always so special with thousands of wintering wildfowl and waders utilising the expansive mudflats and eelgrass beds to feed and rest after migrating from the high arctic. Vast aerial displays of Golden Plover and Knot can regularly be viewed and the chattering of hundreds of Light-bellied Brent Geese feeding close into the causeway is always an amazing sight.
It is a tricky time of year to get essential practical works complete, fighting against the tides and the limited hours of daylight. However, this hasn't stopped us getting stuck in with some of our regular volunteers as we commenced our practical task days again for the first time in 2 years. First up was clearing patches of Montbretia '" a lovely garden plant but has escaped and become established in some parts of the dunes. This forms a monoculture and outcompetes native species resulting in it's quick spread. We have also been tackling areas of scrub regeneration which can take hold and spread across the floristically diverse dune slacks around the Snook. We will be holding several more task days in the run up to Christmas so if you would like to volunteer please email andy.denton@naturalengland.org.uk for more information.
Events have been held throughout the Autumn providing wildlife experiences and educating people about the NNR and about best practice for viewing wildlife. Our last event '" Dawn chorus at Budle Bay was particularly memorable as thousands of Geese flew low right over our heads filling the air with their iconic 'wink wink' calls as the sun slowly rose above the horizon casting pink and orange hues across the sky. We will still be holding some pop-up events so keep your eyes peeled on our social media sites and blog website. We will also be putting together our full events programme for the 2022 season over the winter months. All events are free so please drop-by in and experience the amazing habitats and wildlife and learn more about the National Nature Reserve.
The data collected from the Trial Dog zonation Initiative in place during the summer, has now been sent away to be independently analysed. Once this report has been finalised it will be available for public viewing.
Natural England is now lead partner in an exciting new EU life project called WADER, aiming to address some of the biggest environmental issues on the North Northumberland Coast. This project will give us extra resource to deliver our management plan and add value to the National Nature Reserve. For more information follow @LifeWader on Twitter. A website will also be up and running soon.
We here at Lindisfarne National Nature Reserve wish everyone a Merry Christmas and a Happy New Year.
Andy Denton - Reserve Manager
Lindisfarne & Newham NNRs