Visitors....
A bit from me...
October gales fell tree!
Holy Island C-of-E First School
Crossman Hall
Holy Island Community Archive Group
Our Naturalist on Lindisfarne
Lindisfarne Castle
Natural England
Heavens Above
Northumberland Rocks
Areas of outstanding natural beauty (AONB)
From the Community of Aidan and Hilda
On the Fringes of Lindisfarne
From the Vicarage
St Mary's notices
A Blessing - for this time and every time
Dear Subscriber,
Welcome, to our November newsletter.
For those not familiar with the UK way of life, schools take a mid-term break round about now. It was a sharp reminder as I returned from a Covid-Jab to find a heavily-filled car park and threading my way home through visitors over-spilling onto the road.
New visitors will soon discover that car parking and traffic congestion remain critical island issues, particularly for those reliant on our sparse, rural emergency services.
Tip 1: To avoid putting undue strain on our valiant, coastguard - always check the island's safe CROSSING TIMES . Remember that, as well as the weather and state of the sea, both parties will be affected by the possibility of ultra-long long traffic queues...
Tip 2: The council have sited four charging points in the emerging blue-badge carpark. So, if you are amongst our thousands of daily visitors and have an electric or hybrid vehicle this 'tip' might be reason to arrive early...
Whilst Northumberland council have failed to manage the completion of our toilet block, we understand that a new contractor is to be appointed 'soon' to complete the work. Apparently, disabled and long-awaited, baby-changing facilities are to be incorporated.
A few years after we moved to the island, mainland 'visionaries' decided to build a new visitor car park at the end of our road. Just behind it a sewage treatment farm was also to be built. (Yes - it's human and not the fields or livestock you can smell! ) The grass verges and single hardened track was replaced by a 6-foot, tarmac path.
Editor's assistant....
By the end of this year, 750,000 visitors will have used this path which passes my door. The 'Editor's Assistant' looks up at me reminding that, previously, rather than the occasional doggy pal, today very many passers-by are accompanied by 'man's best friend'... Lots of opportunity for friendly doggy sniffs and woofs. Of course, not all dogs are friendly and not all handlers pick up - which new visitors will begin to discover with the seasonal fall of leaves...
The "Editor's Assistant's" evening walk often includes a circuit of the main car park. Regular visitors may well have noticed his human pal (me!) has just changed from black to green doggy-bags. And, as we skirt the field, he discovers much evidence of human visitors. Even if only one-in-a-thousand leaves their rubbish, used doggy-bags, nappies, face-masks for others to deal - that's one too many. On behalf of those that live here - apologies if the despoiling of our island home disappoints you.
Thank you to all who supported our attractions and local businesses last month - particularly those who took advantage of the coffee-morning at the village hall and contributed towards our Christmas lights. The lights will be switched on at 5:30pm on Saturday 4th December in the village square.
As I mentioned last month, where we have the expertise, we try to take into account items of interest that you indicated when subscribing. We would welcome your feedback and with this in mind, thank you too to our writers who have given their time in writing for us. Our thoughts and wishes are with Sarah who is unwell at the moment. The team will steady the ship during what we hope will be a short absence.
We wish all our readers well in the coming weeks and look forward to getting in touch again at the beginning of December.
God Bless,
Geoff Porter Editor (SitEzine)
editor@lindisfarne.org.uk
www.lindisfarne.org.uk/ezine
But our Queen's trees survive the Autumn Gale Photo: Lesley Rogers
This is a photo of the cherry tree that was blown over in the Market Square during the gale force winds on October 5th.
Fortunately no other damage was done by this tree. The other two trees in the square, planted by our Queen and Prince Philip when they visited the island in 195?, have so far survived. However, they badly need attention as they could cause much damage if they fall victim to future gales.
HOLY ISLAND C-of-E FIRST SCHOOL
It's half term already! This half term seems to have flown by. We've been very busy as usual and the children as usual, have been active, interested and enthusiastic learners.
We held our Harvest Festival at St Mary's Church on Holy Island this week. The children sang and played percussion instruments beautifully and it was so good to be with Sarah and Sam to celebrate harvest together. We sang the 'Harvest Samba' which was great fun and then enjoyed singing the traditional hymn, 'All things Bright and Beautiful'. This is the first time the children have been to an event like this in a long while so some of them were in awe of their surroundings! We all wrote prayers on little fish and Scarlett-Beau and Lily-Ella carefully hung them on the net at the Fishermen's Altar in church.
We visited the archaeological dig site at Hunting Hall near Lowick last month. This was such a big success with everyone – it was a very practical, hands-on visit which was perfect for the children. They all really enjoyed getting on their hands and knees in the trench and using the trowels to scrape carefully in the soil. We found a small piece of bone and some pottery which was very exciting! The children got to work on the site, collect soil, wash and process it and look closely at some of the finds. They also dressed up in replica Iron Age clothes. It was a wonderful experience and the children were very articulate in talking about what they had seen. Looking at the work by archaeologists helps our children understand about how we know about the past. We will be looking at the Bronze Age in China in more depth over this term and in particular some of the amazing artefacts which have been found from the Shang Dynasty.
This half term we have enjoyed forest school sessions every Friday. Pippa Willits has worked with us all to build up an awareness, love and understanding of nature. Our forest school sessions blend art, science, drama, poetry, topic and design technology together throughout each Friday afternoon. We look forward to having Pippa back in school again in the summer term.
We are planning some exciting STEM (science, technology, engineering and maths) days over the next few months. We've found that days like this and our forest school days really bring curriculum learning to life for the children in such a memorable way. I'll tell you what we get up to next time!
Finally, we lost our PE shed in that terrible wind we had a few weeks ago. I'm delighted to report that Karen and Richard Ward have now built a completely new, very sturdy replacement. Thank you Karen and Richard. We just have to hope our greenhouse survives now!
Heather Stiansen
Heather Stiansen
heather.stiansen@lowick.northumberland.sch.uk
The Crossman Hall has had a fairly busy four months in spite of cancellations because of nervousness about coronavirus.
We welcomed a "singing workshop" in early August who very much enjoyed themselves and hope to return next year.
There was an afternoon tea party to celebrate the life of Richard Binns who died during the lockdown months last year and is laid to rest on the island.
Towards the end of August Anthony LaGuidia and his dance troupe used the hall for rehearsals. Anthony is a regular user of the hall.
August Bank Holiday Monday we hosted the 'Tin Shed' artists who had a successful day.
St. Mary's church held their annual coffee morning a little later this year - usually May. It was held on St Aidan's Day (31st August) and once again was very well attended.
September saw 'Dig Venture' archaeologists in the hall. Love 'em or hate 'em they do bring welcome coins to our coffers!
The Parish Council and 2050 Committee use the hall regularly for meetings and the "warm hub" initiative is now hosting "Coffee, Cake and Chat" every Tuesday from 11-12:30 in Melville's Room.
The Trustees have met several times to discuss new ideas for the use of the hall. One of them is to use the hall more regularly for residents. The fitness area, Melville's Room and the games area (where the pool table is) will not be available for hire but for use only by residents. We are hoping to organise some social evenings during the winter months and to get some film nights under way - these are in the early stages of planning.
Victoria and Jake's wedding celebrations were held in the hall in early October. The hall looked fabulous - all credit to Lesley, Paul and their family and friends for this super day.
'Linda's Lights' raffle, coffee and cake morning was the next event - a very pleasant morning with enough money raised to maintain the Christmas Lights for another year.
A Yoga Group has just been in the hall for the weekend and hope to return in the future.
The Harvest Supper, organised by St. Mary's, was very well attended. 50-plus locals ate enormous portions of fish and chips, listened to great music and had a good island get together.
David O'Connor (pictured) has now retired from the post of hall secretary to the trustees. We thank you, David, for the sterling work you have done for the village hall over the past 20 years. He is still in touch as a "consultant" to matters concerning the complicated heating, and ventilating systems in the hall.
We welcome Gary Reed as our new secretary.
HOLY ISLAND COMMUNITY ARCHIVE GROUP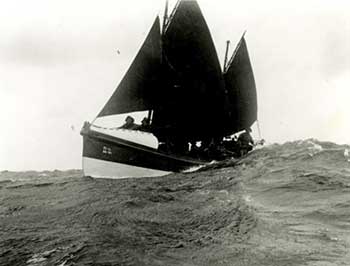 JAMES B. GRAHAM RESCUE CENTENARY 1922 – 2022
Almost one hundred years ago one of the most famous rescues carried out by Holy Lifeboat men took place off Ness End.
At about 8.00pm on January 15th 1922, during a vicious winter storm with snow driven by a strong South Easterly gale, the Hartlepool trawler the James B. Graham struck the Castlehead Rocks that lie offshore from Ness End (or False Emanuel Head) on the northern coast of the Island. The crew of nine men set off distress flares that were seen in the village and rescue efforts began. Attempts to reach the stricken vessel with land-based equipment were unsuccessful as she was too far from the shore for the Coastguard Dennetts Rockets to reach her with their safety lines.
Meanwhile, the Island Lifeboat the Lizzie Porter was launched into the freezing water by some 60 helpers, mainly Island women, who hauled her trailer through the soft mud, wading waist deep, until the boat could float free. The Lifeboat crew then rowed the lifeboat the four miles to the wreck site through the storm, the snow and the dark night. Once there they tried several times over the next few hours to find a way safely through the rocks to get alongside the stranded ship. Through their skill and courage, they eventually managed to do so and rescued all nine crew members bringing them safely ashore at around 2.00am
For this rescue the Coxwain George Cromarty received a bar to the Silver medal for life saving he had already won in 1916 and Second Coxwain William Wilson and Bowman Thomas Stevenson were awarded Bronze medals. Daisy Cromarty, on behalf of the women of Holy Island, received a special letter of thanks from the Governor of the RNLI. The awards being presented to them in London by Stanley Baldwin the then President of The Board of Trade.
The Holy Island Community Archive Group are planning to commemorate the rescue and the long history of the Island Lifeboats and Lifeboat men with a celebration in April 2022 to be held at the old Lifeboat House and the beach from which the Lizzie Porter was launched.
The event is to involve all the Island Community and in particular the descendants of the crews of both the Lizzie Porter and of the James. B. Graham. The Archive Group are working now to trace as many of these as possible.
If you are a descendant of one of the Lizzie Porter's crew or have stories you were told about the rescue, or have photographs or any other information you would like to share please contact Thelma Dunne or John Bevan. (johnabevan@btinternet.com or 389359)
OUR NATURALIST ON LINDISFARNE
THE EAGLE HAS LANDED BUT ONLY BRIEFLY
Dramatically, a young White-tailed Eagle, our largest bird of prey, has been making brief appearances around our island - and it's something which is likely to occur more often in the future.
After a gap of two centuries, these magnificently huge raptors with a wing span of over eight feet, making them a bit like a flying door, are making a strong comeback in Britain. Being fish eaters and scavengers, places like the flats with abundant fish and the occasional seal carcases seem particularly attractive to them.
Relentless persecution by gamekeepers, shepherds and others wiped them out as a breeding species in England by 1800 and in Scotland during the first couple of decades of the 1900s.
But the successful reintroduction of young birds from healthy Norwegian populations means that Scotland now has around 150 breeding pairs and this is expected to rise to 200 by 2025 and things are now underway to restore them to England.
The latest sightings involved a juvenile from the first English re-introduction project on the Isle of Wight, one of the last localities where they were known to have bred. 25 young eagles have been released there over the past three years. All carry satellite trackers so we know exactly which individuals are involved and where they have wandered. These birds have covered the length and breadth of the country with individuals also visiting France, Germany and Denmark.
The young eagle rises over the flats just north of the Causeway. Photo: Ross Ahmed
White-tailed eagles habitually wander long distances during their first few years of life before settling into territories to breed when they are five or six years old. Birds which have occurred across the north have usually later returned to their south coast release area which they regard as home.
Our latest eagle was discovered resting on the sands just north of the Causeway. It then flew low over the Causeway at high tide, much to the delight of a few lucky birders present waiting for the tide to open. It eventually disappeared over the flats, heavily mobbed by gulls. A couple of days later it was on the sands near the Pilgrims' Way. There was also a report of one seen flying over the Snook back in July but no-one got a close view on that occasion.
This latest youngster, released last year, is in brown juvenile plumage and won't get its white tail until adulthood. I'd like to think that by the time you're reading this other reports of its presence may have come in.
This particular bird has been regularly satellite-logged spending much time wandering north of the border but now appears to be on its way southwards again back towards its release site.
Other Isle of Wight birds have been seen this year at various locations in the county including two over Beal and singles at Coquet Island, Blyth and Druridge Bay and inland at Wooler, Blanchland and Slaley. Another soared high over Newcastle Airport.
If they become more regular visitors, as is highly likely given the growth of the population, it would re-establish a very old link with the island because the Eagle of St John, depicted in the Lindisfarne Gospels, and the oldest known illustration of a Northumberland bird, was almost certainly based on this species.
Throughout their huge European and Asian breeding range, these prefer coastal areas perhaps make them likely to have been known to Eadfrith and his fellow monks when the Gospels were being produced.
They usually nest in trees or on on sea cliffs, rocky islands and similar safe sites. I've always thought, perhaps rather fancifully, that that Beblowe Crag, the rock on which our castle stands, might have provided such a site in the Anglo-Saxon era. Could it be that seeing eagles locally proved the inspiration for the Gospel bird?
This wonderful close shot was taken as the eagle passed low over the Causeway. Photo: Neil Cairns
Long before the Gospels, these eagles played an important role in human life and perhaps religion. Beaks and talons from around 20 eagles from 2,000BC were found in a chambered Neolithic tomb in Orkney, along with the remains of over 300 people.
Fascinatingly, scientific dating suggests that the beaks and talons were placed there 1,000 years after the remains of the humans. This seems to indicate that the Tomb of the Eagles, as it has become known, was an important sacred site for a very long time although we know nothing about the beliefs of those responsible.
Later depictions of these huge eagles were widely used as symbols of power by the Roman legions. Shortly after the creation of the Gospels, they were also used as emblems of the Vikings whose arrival on the island in 793, their first raid in England, was to have momentous consequences for our nation's history.
But now back to the island and its latest arrival. Until recently there were just a couple of records of White-tailed Eagles. One was present for two months in 1881 when it survived by catching geese which had been crippled by shot. A contemporary account described it: "As big as a canny-sized laddie sitting on the sands."
The second was as recently as October 2014 when a juvenile, presumably from Scotland, flew low past St Cuthbert's Island causing total panic among the thousands of geese, duck and waders right across the flats. It then settled for a while on the sand bars off to the south west before eventually rising and soaring high to move off slowly and majestically towards Beal.
I was lucky enough to be with other birders on the western end of the Heugh where, through our telescopes, we had a grandstand view as it departed westwards and was mobbed by three Buzzards as it approached the mainland. Buzzards are fairly big birds themselves but alongside the eagle they looked very small. The eagles treated them with total distain, completely ignoring their angry presence.
At the time I was leading a party of visitors from the Natural History Society of Northumbria who, understandably, were absolutely delighted to see such a rare creature. Shortly afterwards, on the rocks just north of St Cuthbert's, we came across a Merlin devouring a Starling. I remembered wishing that every time I led a trip I could show them Britain's biggest and smallest raptors within half an hour of each-other!
The appearance of this latest eagle proves the point that just about anything is possible. If anyone had suggested just a few years ago that White-tailed Eagles would occur locally I'd have written them off as, at best, simply deluded and at worst just sheer bonkers.
It feels like the end of a long season is nigh (even though the castle has only been open since the end of May…) but visitor numbers to the castle are still steady; usually by mid-October the chilly winds have put off all but the most dedicated of travellers, but this month's mild weather keeps them coming.
I think I said last month that I was going to write about Captain Rugg, but I'm afraid I'll have to postpone that piece again – nothing personal against the self-styled 'Great Commander of the Cormorants' (he really did call himself that), but something else has come up that is worthy of your attention. I know it was it was only a couple of months ago I last wrote about Osborne's Fort but bear with me.
John Bevan (with his Islandshire Archive hat on) very kindly forwarded me an email he had received from a gentleman in Ireland called Dr Kenneth Ferguson who had been looking at the Islandshire Archive website and noticed a picture of Osborne's Fort. The picture was sourced by me from Yale University last year and I forwarded it on to John for use on the website. This is picture I mentioned a couple of months ago in this publication, drawn by the architect of the fort, Robert Trollope. Apparently, Dr Ferguson had recognised the picture as having been erroneously included in a book by Anne Crookshank and the Knight of Glin, called The Watercolours of Ireland, published in 1994. The authors believed the pictured showed a fort at Wicklow in Ireland, rather than here on Holy Island.
Dr Ferguson contacted the Department of Fine Arts in Trinity College who thought that the original drawing might have been at Shelton Abbey, belonging to the Earls of Wicklow (a family called Howard) but they had no idea of what had become of it. The original drawing was professionally photographed for the book by Brendan Dempsey, so the assumption is that the picture was at the time in Ireland. How then did it get to Yale University in Massachusetts? According to the Knight of Glin it is possible that family in question sold it due to financial difficulties, so happily it made its way to an institution perfectly equipped to preserve it and make it publicly accessible.
The main reason I wanted to write about this though is that Dr Ferguson has done some research and has a possible answer to the one question that has bugged me for years and which I asked in September's article in here; who on earth was Osborne? The key to the answer seems to be with Clifford's Fort at North Shields, which was built in 1672 - three years before Osborne's Fort. The 'Clifford' in question was at the time the Lord High Treasurer, Thomas Clifford, 1st Baron Clifford of Chudleigh (1630-73) and he was succeeded in his role by – yes, you've guessed it – Thomas Osborne, Earl of Danby. It seems perfectly reasonable that the two forts would be named after the men that – ultimately – paid for their construction. On that thread though, I need to write something for you about the building of Osborne's Fort in detail – especially given the embezzlement of government funds which occurred! I have also uncovered a fair bit of information about the construction, including a list of labourers (Allisons, Ords, Grahams etc). At Clifford's Fort there is a blue plaque commemorating its construction and namechecking Baron Chudleigh, maybe Thomas Osborne could be similarly remembered here?
Best wishes
Nick Lewis - Collections and House Officer
Lindisfarne Castle nick.lewis@nationaltrust.org.uk 07918 335 471
NATURAL ENGLAND LINDISFARNE NNR
The nights are drawing in, as we are losing up to 4 minutes of daylight a day but despite the darker days the weather has been remarkably mild, feeling almost tropical on the odd sunny day.
After a very dry spring and summer the dune slacks have been all bone dry and resulted in us having to ferry water out to the cattle everyday. Thankfully, after a few rainy days the water table seems to be recharging and we once again have some standing water in the dunes, not just providing water for the cows but also a place for insects to lay their eggs and a habitat for frogs and toads to use.
The cattle have been grazing the Links for over a month now and are doing a fantastic job as always, munching their way through the long grass. They have settled in well and will be on the Links until early in the . Alongside the conservation grazing we are also manually cutting some of the more floristically diverse areas to get a harder cut, removing more of the rank grasses, allowing species such as Lindisfarne Helleborine and Coralroot Orchid to have the best chance to bloom in spring and summer.
We have now had time to analyse the figures from the Shorebird season and the results are in. There were record number of Little Terns breeding on the Reserve with the site holding all the Little Terns in North Northumberland. Sadly, a big storm coupled with spring tides resulted in many of the Little Tern nests to be washed out. Some of the early nesters already had chicks at this stage and so were able to move away from the high water. Arctic Terns also had a record breeding season. Ringed Plover nesting attempts were down across the Reserve but within the protection areas productivity was high. All in all, it was a relatively successful season with the protection areas providing valuable disturbance free areas for birds to attempt to nest in what has been yet another exceptionally busy visitor season. However, we can't control the weather, and this had a major impact in productivity on several sites.
Wildfowl have been arriving in good numbers since late August and now as we enter late October numbers are beginning to peak. The mornings and evenings are now filled with the sound of thousands of geese flighting in and out of the Reserve and the high-pitched whistle of Wigeon echoes across the shoreline. Over 20,000 Wigeon and 4,000 Light-Bellied Brent are now utilising the extensive Eel Grass beds across the Reserve. You may have also seen the incredible display of more than 3,000 Golden Plovers at Chare Ends in the last few weeks. They make up a proportion of more than 50,000 birds that winter across the Reserve, making Lindisfarne National Nature Reserve not only regionally but also nationally important for it's wintering aggregation of birds. The birds need our absence not our presence in order to rest and feed, following mammoth migrations from the high arctic to get here. So please be aware of the bird life on the Reserve and give them plenty of space. If you have are out walking your dog please follow the current byelaw:
"bringing into, or permitting to remain within the Reserve; (i) any dog unless it is kept on a lead or at heel and is prevented from worrying or disturbing any animal or bird, or (ii) any other animal;"
In the coming months our volunteer groups will carrying out our winter practical works programme. We will be out dealing with non-native invasives, scrub clearing and litter picking across the Reserve. If you are interested in volunteering at Lindisfarne National Nature Reserve. Please email andy.denton@naturalengland.org.uk to find out more.
Our next exciting event is a dawn chorus watch at Budle Bay on the Tuesday 26th October. Why not come down to the Budle Bay platform and start your day with the restorative spectacle of wildfowl migration. The dawn chorus at Budle Bay is really a full sensory experience. A Natural England staff member will be on hand to tell you about the different species that winter in Budle Bay and why Lindisfarne National Nature Reserve is such an important site to protect. The event kicks off at 7:30am and runs through until 9:30am we hope to see you there.
Andy Denton - Reserve Manager
Lindisfarne & Newham NNRs
At last! The rolling roof on my Observatory Greenhouse is operational. It has been quite a battle, involving considerable trial and much error to get right.
The roof itself is constructed using steel scaffolding to support a timber frame with polycarbonate conservatory panels. It runs along steel rails on six bearings suitable for Austrian cable cars. The whole contraption measures 4m x 4m and is very heavy in anticipation of Holy Island winter gales.
On the left, Plan B the rejected "Narwhal Tusk" mechanism. On the right, Plan D going badly wrong.
Plan A was low-tech: two ropes, one at either end. This worked fine – although hauling the roof requires some effort. Plus it is an unpleasant nuisance to carry out in one's pyjamas at midnight racing against an approaching shower.
Plan B was dreamed-up (probably after consuming too much cheese) during a long night tossing and turning. A sceptical friend has dubbed it the "Narwhal Whale Tusk". It turned out to be better in theory than in practice. Basically the concept is inspired by those handles you turn on certain dinner tables that wind a long screw to open and close the gap for an extra leaf. I procured the necessary components and duly installed the tusk along with an electric motor to turn it. This worked, but with two fatal shortcomings. First, I scrimped on the specification of the 3m long screw. At 16mm diameter it was too small and had an alarming tendency to flop about under high load, especially when pushing the roof open. Secondly it was dreadfully slow… taking at least 10 minutes to open or close the roof.
Plan C was to use a left-over electric winch, once famously used to raise my intrepid mother into the attic to inspect Skylark Observatory Mark I. This new deployment of the winch was a nerve-wracking failure. I had not reckoned with its steel cable's determined inclination to become tangled on the drum, especially when wound in a loop. The winch worked, but only while making alarming scrunching noises suggestive of impending failure.
And so we come to Plan D… which of course is what I should have implemented in the first place. I found a garage door opener from a Chinese manufacturer. It was suspiciously cheap at £101 including delivery. Nevertheless it arrived within a week and has turned out to be well-made. I did have a nightmarish experience with its 6m long chain (see picture) which is a remarkably difficult to un-tangle should you be stupid enough to introduce any loops in the process of wrestling it into the mechanism. YouTube – as is often the case – came to the rescue.
Max in Skylark Observatory Greenhouse with the roof open. On the right is first light: wondrous M31 the Andromeda Galaxy.
George Moody and Rob Parker (Master Engineer from Goswick) have both provided stalwart assistance and moral support during this lengthy roof saga. Now thanks to their kind help I have a remote control fob that I can click from the conform of my warm bed. Lo and behold the roof glides majestically open and (even better) closed. Hooray!
Progress on other aspects of the Observatory Greenhouse has since been rapid. The steel pier is bolted to the concrete floor and it is solid as a rock. The mount and telescope are fitted on top. And this week I managed to capture my first test image… good old M31 the Andromeda Galaxy.
There are still numerous refinements to make over the coming months. Top priority is a rain sensor that will automatically close the roof on detecting any drops of rain. Also I plan to install a camera to keep an eye both on the equipment and on the ever-changing night sky overhead.
Then it will be time to move on from a seemingly endless list of construction tasks and actually start taking fresh images from Skylark's brand new Observatory Greenhouse.
As a postscript, for those of you who read October's Heavens Above, the discarded Holy Island mask count is now up to 47.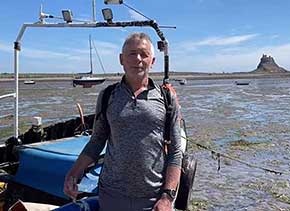 CONNECTED
There's a lot of things that connect us northern folk, and I'm talking north-north, north of Barnard Castle here, not the mid-north south of it. There's the people – our pervading qualities of resilience and humour and short-vowelled accents. There's our tolerance of weather, and the dislike of warm, flat beer and crowded Tube trains, of course. But I'm betting you'd never guess that one thing that connects an awful lot of us in the true north is a rock?
That dark grey rock that makes the Heugh and the Hermitage and which provides the foundation for the Castle, is physically connected to the dark grey rock on the coast at Bamburgh and Craster, and to the dark grey rock on which Hadrian built his Wall. On westward the rock extends; to Tindale in Cumbria and round the Pennine escarpment to Cross Fell and its still there at High Force in Durham. I'm talking about the Whin Sill of course – and on Lindisfarne its little offshoot, the Whin Dyke.
And all those places are literally just its exposed extremities, it intrudes over a much larger area – but that is underground beneath other rocks and we just can't see it. It probably extends to well over 4000 square kilometres and at average of around 25 metres thick it's got to be one of the largest igneous intrusions in Britain. But how did it get there and what precisely is it?
Well around 295 million years ago our part of the world was being pulled and stretched a bit. We were a dynamic bit of the planet, a lot nearer a tectonic plate boundary, not the stable craton we are now. Stresses and tensions in the Earth's crust meant that molten magma, maybe at a temperature of 1200C was injected between existing (Carboniferous) rocks as a series of connected horizontal sheets. It cooled and crystallised into an igneous rock called a dolerite, or as quarrymen and everyone else knows it, the Whin Sill. They called it Whin because it's hard and Sill because its horizontal like a windowsill. It is hard, harder than all the rocks around it so even after millions of years of erosion it stands proud.
This dramatic, enduring, piece of bedrock, once the edge of an empire, and home of saints and barons, is justly famous amongst geologists the world over. It is the original sill and gave its name to the formal term "sill". Definition "an igneous rock that is injected at a consistent horizon within other rocks and does not cut across other rocks". But there's an embarrassing problem for the Whin Sill and us geologists….. the Whin Sill doesn't conform to its own definition; it does cut across other rocks and occurs at different levels. That's why you will now hear geologists refer to it as the Whin Sill suite of rocks. Best keep this between us I think.
So not only is the Whin Sill a bit of bedrock that connects a lot of us northerners, it could be a metaphor for true northerners. We are tough, resilient, proud and useful. But maybe also we could be seen as grey, dour, unbending and non-conformist. I guess like most of us the Whin Sill can both at the same time.
AREAS OF OUTSTANDING NATURAL BEAUTY (AONB)
ACCESSING AIDAN
Bamburgh Bones is thrilled to announce that they are hosting a special 'Two Talks, Two Authors' event at St Aidan's Church, Bamburgh on Saturday 13th November at 3pm.
Authors Max Adams and John Connell will be speaking about Early Medieval Northumbria and St Aidan respectively.
Max is a renowned author, biographer, and archaeologist, His critically acclaimed books include The King of North, The First Kingdom, Aelfred's Britain and In the Land of Giants. Inspired by art, travel, heritage, literature, and landscape Max is a brilliant speaker and a joy to listen to.
John, heralding originally from Alnmouth, recently published 'The Man who Gave His Horse to a Beggar' a lavishly illustrated biography and travelogue of St Aidan, his times and his travels. John is a true champion of St. Aidan and his talk will focus on his life and works and reaffirming Aidan's position as one of, if not the most, important Northern Saints.
Books will be available purchase from the authors. Given the current and forecasted delivery crisis, this is an ideal opportunity to sort out many a Christmas present for loved ones!
The event is free to attend, but donations to Bamburgh Bones are most welcome. Registration for the event is via the Eventbrite website; it can be found by searching 'Bamburgh Bones'.
The Bamburgh Bones project, telling the Anglo-Saxon story at Bamburgh in the crypt of St. Aidan's Church, has been made possible by a grant of £355,600 from the National Lottery Heritage Fund. The grant enables a partnership of the Northumberland Coast AONB Partnership, St. Aidan's Parochial Church Council, Bamburgh Heritage Trust and Northumberland County Council to work together to reopen the beautiful 12th century crypt to the public once again
For more information, visit the Bamburgh Bones website: https://bamburghbones.org/visit/events/ or call 07774 943157
Catherine Gray
Phone: 01670 622644 or E-mail: catherine.gray@northumberland.gov.uk
Website: www.northumberlandcoastaonb.org
THE COMMUNITY OF AIDAN AND HILDA
Many readers will know of Holy Island's link with the Norwegian island of Flekkeroy. When Hitler invaded Norway five Flekkeroy students took a boat, stole petrol from the airport at night, and boated across the ocean. The airplane petrol was unsuited to boats. So in order not to seize up they had to clean their engine frequently and re-fill it with petrol. They showed heroic courage and became ill. They were washed up five days later on Lindisfarne, and given beds in the Manor House Hotel. British Intelligence were informed and recruited three of them for intelligence work!
Some years back Flekkeroy residents sang and danced in Holy Island Village Hall to celebrate this event led by their former pastor Nils Nielson. The island's oldest resident, Peggy Taego, shook hands with the oldest surviving student, and a public seat commemorating their names now greets visitors on their left before they reach Lindisfarne castle.
Five weeks ago Graham Booth and I circumnavigated incredibly complex Covid regulations and made a return visit following a retreat we led in Lillesand for church and youth workers. Before and after the retreat we stayed in a house on Flekkeroy owned by the parents of the retreat organizer. His mother is a chiropodist and gave me the best feet treatment in my life – I shall be proud to be lowered to my grave with those feet! They live near the present pastor of Flekkeroy, Haken Borgenvik, leader of The Community of Aidan and Hilda (Anamcara) in Norway, who is a seasoned sailor and leader of Cuthbert's Way groups. He cooked a delicious meal for us and various friends on our last night. This revived memories of the link between Flekkeroy and Holy Island.
Haken told us that plaques commemorate these students at the place where they took the boats from Flekkeroy. At the end of October he and one other plan to take life vows with the Community of Aidan and Hilda. In due course they will resume Cuthbert Way walks and sit on the seat that commemorates the five students.
Last month the renovation of our library was almost completed and a book of yearly readings by Haken Borgenvik was added to its Norway section.
ON THE FRINGES OF LINDISFARNE
HERMITS
One day I was standing at the back of our church on Holy Island and visitors were flowing in and out. Among them in came a teacher with a group of schoolchildren, who looked about 10 years old and bright and eager. She was telling them the story of St. Cuthbert and the part that I heard, in her own words, went like this: 'So you see, children, that St. Cuthbert was a busy man, a very busy man indeed. So he got very tired. He decided to go away for a good rest and he went to an island called Inner Farne. After a few years there he felt better, so he came back into real life again.
I stood there silently screaming. Nothing could have been more different from the idea of a hermit as St. Cuthbert and the rest of the Middle Ages would have seen it. St. Cuthbert would have thought that when he went to be a hermit on the Inner Farne he was going to the most demanding challenge of his life. Hermits were God's frontline soldiers, engaged in the most important war of all, the spiritual conflict with the forces of evil. The malevolent figure of the Devil, intent on spoiling God's creation, would have been very real to him, and also the activities of large numbers of lesser demons. He had to fight this evil, and do it alone. It was the hardest vocation , and in the Christian church it was the most respected .
After Cuthbert's many years as a hermit, ending with his death there in 687, other hermits followed. We know the names of a few of these: Felgild, and (later) Bartholomew of Farne, who spent no fewer than 42 years there. But in 1155 the big and powerful monastery at Durham decided to build a hermitage on the little island They built it for two hermits.,We know the names of some of them, and specially one, John Whiterig, who wrote the only book known to have been written there. But he deserves a chapter to himself...
Editor: Revd Canon Kate Tristram MA (Oxford) MSC (Edinburgh) and honorary Canon of Newcastle (emerita)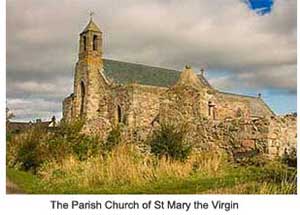 Dear friends,
We have just celebrated Harvest Festival with a lovely service in church where we gave thanks to God for his goodness and all the gifts he gives us. The church looked beautiful – thanks to all who decorated it, and to the fishermen for their delicious contribution!
We were joined by pilgrims walking from Europe to Glasgow for the COP26 climate change meeting and their message of climate justice was very powerful. Some had been walking for 103 days and with more to go!
We enjoyed a Harvest fish and chip supper in the Crossman Hall in the evening – huge thanks to the chef and to our musicians! A lovely evening of friendship and fellowship and fun!
Our schools will be coming into church later this week to celebrate Harvest and we look forward to welcoming the children and staff.
Our 'Warm Hub' coffee mornings in the Crossman Hall started this week, and we will continue to meet every Tuesday from 11 – 1230pm. Do drop in for a free coffee and chat! Everyone is very welcome.
Looking ahead, we are entering the season of remembering. On Sunday 31st October at 5pm we will be holding a service in church for All Souls – the time we come together to give thanks for and remember those family and friends who have died in the past few years. This year we will also be remembering all those whose lives have been affected by the global covid pandemic, and giving thanks for all who have and are still working hard to care and support for those affected. If you would like a name of a loved one to be included in the service, do let me or Sam know.
Sunday November 14th brings our Remembrance Sunday service, in church and on the Heugh. Please do join us to give thanks for, honour and remember those from our community who lost their lives for our freedom.
A prayer if you would like to pray at this time:
The Coventry Litany of Reconciliation.
All have sinned and fallen short of the glory of God.
The hatred which divides nation from nation, race from race, class from class,
FATHER FORGIVE
The covetous desires of people and nations to possess what is not their own,
FATHER FORGIVE
The greed which exploits the work of human hands and lays waste the earth,
FATHER FORGIVE
Our envy of the welfare and happiness of others,
FATHER FORGIVE
Our indifference to the plight of the imprisoned, the homeless, the refugee,
FATHER FORGIVE
The lust which dishonours the bodies of men, women and children,
FATHER FORGIVE
The pride which leads us to trust in ourselves and not in God,
FATHER FORGIVE
Be kind to one another, tender hearted, forgiving one another, as God in Christ forgave you.
With every blessing
Sarah Hills
Vicar