Visitors....
A bit from me...
Crossman Hall
Our Naturalist on Lindisfarne
Lindisfarne Castle
Natural England
Heavens Above
Northumberland Rocks
From the community of Aidan and Hilda
On the fringes of Lindisfarne
From the Vicarage
St Mary's notices
A Blessing - for this time and every time
Dear Subscriber,
As a stiff westerly wind blows a fresh downfall of crispy leaves past my window, I welcome you to our October newsletter.
To all our visitors this year, again my apologies that Northumberland council have still been unable to complete refurbishment of the public toilets and car parks or provide a 21st century solution to our traffic congestion and emergency services. So, as well as checking out the causeway's safe CROSSING TIMES, if you are planning to come, I suggest taking into account the possibility of 1+hour long traffic queues...
For many of us, the end of September is the end of an era as we see a change of management at the Holy Island Post Office. Of course, we look forward to welcoming Peter and Bex Naylor into the centre of our community but there will be a tear in many an eye over the departure of much-loved postmasters Jill and Michael. Thank you so much to both of you for being there for us throughout the good, the bad as well as the uncertain times.
Our October issue include articles from regular authors: Andy Denton, Sarah Hills, Ian Kerr, Nick Lewis, Ray Simpson, Kate Tristram, Max Whitby and Ian Jackson as well as a 'note from Nicola' on the island's protest against having a 'Land Train' foisted upon us. Where we can, we try to take into account items of special interest which you included on our subscribers register. It would be really useful to hear any feedback to find out how well we are doing?
We look forward to getting in touch again in November.
God Bless,
Geoff Porter Editor (SitEzine)
editor@lindisfarne.org.uk
www.lindisfarne.org.uk/ezine
HOLY ISLAND C-of-E FIRST SCHOOL
And we are back! It has been lovely to see all the children back at school after their summer holiday. Lily-Ella and Scarlett-Beau are both so much taller than they were just a few weeks ago! Both girls have come back to school brimming with enthusiasm and ready to learn.
During our first week in school, the children prepared their entries for the Lowick Leek Show. Scarlett-Beau and Lily Ella decided to enter the 'three veg' vegetable competition and chose a courgette, a potato and a runner bean from the school garden. They were keen to find the biggest courgettes possible! The girls weren't placed in that competition but they were pleased to discover that Scarlett-Beau had come second in the handwriting competition and Lily-Ella had come second in the painting competition. Well done girls!
We have begun to learn French this term and we have enjoyed getting to know a little about the geography of France as well as learning how to greet each other in French and ask how someone is. We will be learning more French conversation as the weeks pass along with some French songs. Studies have shown repeatedly that foreign language learning increases critical thinking skills, creativity, problem-solving skills and flexibility of mind in young children. And, they enjoy it!
We are delighted that the children have started their swimming lessons again. It's over eighteen months since their last school swimming lessons so you can imagine how glad they are to be doing another 'back to normal' activity. We have an early lunch on Wednesdays and then travel to the Swan Centre where the children have their swimming lesson followed by a PE lesson in the sports hall at the centre. It's good that the children are getting out and about more this half term.
This week, the children will be having a go at being archaeologists. We have arranged a visit to Hunting Hall near Lowick where a dig is taking place. The site is believed to be a Bronze Age or Iron Age enclosure and possibly Medieval. The children will get the chance to use some of the tools: scraping with a trowel, sieving soil through various sized sieves, looking at some of the curious stones, fossils and some of the archaeological finds and using a metal detector. Our older children visited the Dig Ventures site on Holy Island a couple of years ago so this is a super way to build on their previous learning in a practical, hands-on way. I'll let you know how we get on!
Heather Stiansen
heather.stiansen@lowick.northumberland.sch.uk
Sadly, I must report that I am no longer able to cajole a long term friend David O'Connor into a monthly report on our village hall. Last month David announced a new board of trustees and I am informed that Gary Reed has now taken over as Secretary.
From the beginning David has been one of the hall's driving forces in bringing it from dilapidated through to a glistening 21st century building to stand in this most ancient and hallowed landcape.
As a new immigrant, I well recall the old village hall. A strangely sloping stage - having to improvise chocs to prevent the piano from sliding towards the audience with drummer (Thomas Fosten) gradually rumbling past the back of me. Many still remember the pantomimes, the children's parties, their first dance, weddings, whist drives... Undoubtedly, the centre of the island community.
Thank you David for all your work. Let us hope that the new 'Crossman Hall' committee might continue in your footsteps to replicate that centre for the island community.
I hope we might also look forward to a continuation in monthly reports....
THE STOPPING OF THE LAND TRAIN
I just want to thank David O Conner for mentioning me in last months Holy Island Times. Never ever did I expect the response I've had to the petition nor the media coverage. I can not take all the credit for this, yes I've been the face and voice on social media and media in general but I have had alot of help and support behind the scenes from Mark, Mary, Anna, Janet, Laura, James, Brian, Annette just to name a few so from me a massive thank you and couldn't have done it with out you all.
Many of you know I do not want the land train and the reasons why but my own personal reason is simply Holy Island is my home......I don't want some theme park looking train ride here , its not what Holy Island is about and its not needed here and the island will not benefit from it as the majority of signatures are from visitors who find it wrong and off putting. We do need a shuttle bus service but not a land train.
The Island does need to move forward but in ways that the island as a whole will benefit a long with the residents.
Change has to happen its part of life, I have seen good and bad changes on the Island and I've kind of went along with them but not now..... I love the Island but now I've realised how passionate I am towards it and how as a community we need to look after it yet help it move forward for the years to come.
Again thank you
Nicola
OUR NATURALIST ON LINDISFARNE
AN AUTUMNAL TREAT OF NORTHERN THRUSHES
One of the questions I'm often asked as a keen birder is about my favourite seasons of the year. It's something I find difficult because on the island they all have something different to offer.
Spring brings freshness and hope, summer can be glorious if you can escape the crowds, a more difficult task this last couple of years, while winter in its starkness but with chilled crystalline air can be exhilarating on bright days.
But I suppose it has to be autumn which wins as it's the season of mass migration of species fleeing the coming severe winters of the Arctic regions, Scandinavia, the Baltic states and Russia as far eastwards as Siberia and even northern China.
These mass arrivals of migrants usually provide a bonus, bringing some of the real rarities all birders are eager to find and, in East coast terms, the island is among the prime locations.
For example, last October produced a Brown Shrike, first at Chare Ends and later near the Straight Lonnen, which may have come from as far away as China. There was also a rare Siberian speciality, a Pallas's Warbler, at the seaward end of the Crooked Lonnen. This brightly coloured little gem takes its name from an 18th Century German explorer. There was also the now expected good showing of those other Siberian long-distance migrants, Yellow-browed Warblers, mainly in village gardens.
Also present were a couple Dusky and Barred warblers from Russia or other parts of northern and eastern Europe. Again from Russia or perhaps from a rapidly expanding breeding population now as close to us as Finland, were several Red-flanked Bluetails, beautiful rare birds closely related to our very familiar Robins.
Naturally, all were a huge attraction and birders will be hoping that this month will be similarly exciting. Of course, it will all depend upon the weather. What birders (although not many other folk) crave are steady winds out of Russia into the Baltic and northern Europe to carry these little strangers across the North Sea.
Recently I was asked to provide an article about the island for British Birds, by far the most respected ornithological journey in the country, if not the world. In it I made the point that like virtually every other bird-watcher I've always enjoyed seeing these rarities. But as I've got older I've found myself getting more and more pleasure from observing the seasonal rhythms of the island. Autumn migration of common species is always a highlight.
I also said that there was nothing finer than to walk out on the kind of brilliant red morning which October can provide as wave after wave of common migrants sweep low across the island towards the mainland.
A Fieldfare - an autumn bird in autumnal colours Phote: Mike S Hodgson
These flocks consist primarily of just three species of northern thrushes, namely Fieldfares, Redwings and continental Blackbirds. Their arrival also usually involves lesser numbers of Song Thrushes, common northern finches such as Brambling and Siskin as well as Robins and Goldcrests.
Singly, none of these excite keen bird-watchers but when they appear en masse, as they often do, they create a terrific spectacle. It's one of the few times of year when you can experience mass migrations before your very eyes.
As anyone who knows me will confirm, I'm not exactly a fashion icon. But I've always thought it very appropriate that the largest of these migrant thrushes, the Fieldfares, appear in suitable autumnal colours of grey, brown and black. Redwings have orange flanks to brighten up the day while the Blackbirds, many of them young birds, come in warm browns or sooty blacks, depending on their sex.
In suitable weather conditions many thousands can pass through the island daily. When these flocks have had an easy North Sea crossing most will head directly to the mainland with its better cover and feeding. They will gradually disperse to winter across Britain and Ireland while some will press on down to Iberia and other parts of southern Europe.
When conditions have been bad, as they often are, many drop on the island. They first rest and then feed in the the lonnens, ripe with berries of Hawthorn and Elder, or in village gardens, seeking out the fruits of various shrubs. Others forage the fields for invertebrates.
The numbers involved, particularly of Redwings, by far our most common visitor, can be huge. There's one record of more than 20,000, perhaps as many as 30,000, being briefly grounded on the island during thick fog back in autumn 1991 while on a single October day in 2017 a co-ordinated count showed 17,200 crossing the island during daylight hours.
However, Redwings and other thrushes often move at night, revealed by contact calls as they pass overhead, so the true figure for that day was probably very much higher.
All this means that if October proves normal bird-watchers and others could be in for a real seasonal treat. Please enjoy it before winter sets in.
Around about this time last year we were all reflecting on what had thankfully been a fairly busy summer, after the spring lockdown and the uncertainty of the winter ahead. I suppose not an awful lot has changed; we had lockdown and restrictions earlier this year and while the vaccine promotes confidence there is still some uncertainty about the colder months ahead and how COVID cases seem to be on the rise again. One difference with last year though is that no one on Holy Island could describe the summer of 2021 as 'fairly busy'. I think I am right in saying it has been a period of unprecedented numbers of visitors, and I have never before been sittting in my car looking at Snook Tower and at the same time been in a queue for the A1...
We retained the COVID-compliant cooking system at the castle after the lifting of restrictions in July and plan to keep it until the end of the season. Despite the lower numbers we have found it does spread visitors out a little bit (with the inevitable quiet periods towards the end of the day) and gives us an idea beforehand when the busier and quieter bits will be. This also has a positive impact on the wear and tear to the building and collection that comes with opening and allows us to make more informed decisions about repairs and maintenance.
I was reading through some of the castle's archival material recently (as I tend to) and was looking for info about the well-known Captain Rugg who was here in the 17th century. Amazingly enough, I had actually been contacted by one of his descendants over in Australia, and was reading the memoir of Gilbert Blakhal as he gives one of the best descriptions of Rugg, having met him in 1643. I'll do a piece on Rugg next month I think as his story is getting more and more interesting, but this month I thought I'd share a bit of Blakhal's account with you. I bet some of you will recognise it even if you haven't heard it before, because this is the source of the old story about how folk on the island used to pray for shipwrecks so they could help themselves to the cargo! It is also the source of a fantastic detail about a fight over one particular piece of treasure from a shipwreck which occurred just after Blakhal's own vessel had been driven into the harbour by rough seas: "... people conveined the next day, to tak the goodes which the sea had cast to the land, among which ther was a casset ful of castor hates, with gould hattebandes, for the which the minister of the parishe, a Scotsman called Lindsay, and a gentleman dwelling nere the yland, did feight ..."
So, it seems a churchman and a local gentleman had a fight over a case of gold hatbands, and the minister seemed to be coming out on top when things got out of the pair's control: ... "the minister did sore wound the gentleman; and the common people did get away the casset, and brack it, and every one tak away what he could get of it, whilst the church and the state were feighting for it in vane ...."
There is then a lovely image of a man of the cloth having a full-blown punch-up with another local notable, and all the while the islanders took the case, broke it open, and took away the golden contents!
Best wishes
Nick Lewis - Collections and House Officer
Lindisfarne Castle nick.lewis@nationaltrust.org.uk 07918 335 471
NATURAL ENGLAND LINDISFARNE NNR
Now the dust has settled over the frantic last few weeks of the breeding season we can finally sit down and analyse the results of the shorebird breeding season. The preliminary findings are broadly positive for Terns but Ringed Plover breeding territories are down. There were record numbers of Arctic Terns breeding across the Reserve with good productivity. Little Terns were doing very well with Lindisfarne NNR holding all the North Northumberland birds with 76 pairs, the highest level since records began. Sadly, the weather hit us with a cruel blow when the spring tides accompanied with a strong northerly wind resulted in large proportion scrapes getting washed out at one of the 4 protection areas, in late June, despite a valiant effort from our staff and volunteers.
Ringed Plover breeding attempts were lower across the board despite approximately 3,500 migrating through the Reserve in spring, often utilising the protection areas as a safe haven to roost and feed. A combination of high tides and disturbance were the likely cause for pairs failing at egg stage or just giving up entirely. This was particularly evident at Budle Bay where immense visitor pressure has been the likely cause of no pairs attempting to breed for the first time in many years.
The first wildfowl began arriving in late August. To me they always herald the end of summer and a return to the dark cold mornings filled with the cacophony of calling Geese as they move from roosting to feeding site - a real treat to experience and probably my favourite time of year. The Reserve currently holds over 2,000 Light bellied Brent Geese and around 9,000 Wigeon although these numbers will swell significantly as new birds continuously arrive through the end of September and into October. Pink-footed Geese have been late this year but the first flocks are beginning to arrive now with numbers increasing into the thousands by mid-October.
September is also the month that we turn our attention to the return of livestock to the Snook and Links to carry out conservation grazing. As usual a herd of cattle will be grazing the Links area from next week until early in the new year. These cows are specially selected for their calm demeaner. Sheep will return to the Snook where they will graze movable 1 hectare fenced blocks. The livestock remove much of the rank grasses that have grown up through the summer months and reducing the height of the sward. This allows the diverse range of botany unique to dune ecosystems to burst through by next spring. The sheep also nibble away at invasive plants such as Michaelmas daisy and occasionally some Pirri-pirri Bur.
Our events programme is back in full swing, staging a wide array of activities from Fulmar and history walks to seal and migratory bird watches. Our events schedule can be found on our blog website and also in any of the NNR bird hides and also Chare Ends car park. On Saturday 25th September we are litter picking the North Shore and Goswick Sands as part of the Cross Border Costal Clean-up from 11am - 1pm. You can find more details on our Twitter, Facebook and blog. Please come down and help us clean up the stunning coastline that makes up the National Nature Reserve.
The Dog Zonation trial ended on September 1st. The monitoring data collected is currently being independently analysed. We will share the results of this report in due course. Please be aware that the Reserve has now reverted back to the original bylaw which states:
"bringing into, or permitting to remain within the Reserve; (i) any dog unless it is kept on a lead or at heel and is prevented from worrying or disturbing any animal or bird, or (ii) any other animal;"
This is applicable across the whole National Nature Reserve.
Andy Denton - Reserve Manager
Lindisfarne & Newham NNRs
Excuse me if I start this month's column by briefly addressing a subject not strictly connected with astronomy. Litter. This is a phenomenon I encounter without fail on my daily bicycle rides for exercise around Holy Island village. I make a habit of collecting littler as I go, the necessary bending-down being a form of beneficial stretching or Tai Chi.
The most common species of litter are torn-off corners of sweet wrappers. It is amazing how many are scattered like confetti by visiting tourists. During the pandemic, less savoury offerings have included numerous discarded face masks. I keep a tally of masks collected. At the time of writing I am up to Douglas Adams' magic number 42. Maybe this means they will now stop appearing?
Top prize however must go to an unspeakable item that I encountered one afternoon resting on the pavement at Chare Ends. It can be inspected - if you are curious - in the photograph accompanying this column. Here I shall only say that it is associated with babies.
Two delightful items discarded along Chare Ends by visitors to Holy Island this summer. The object on the right is a gravid baby's nappy.
I am aware of just one celestial object with a connection to babies. This is the Soul Nebula, 6,500 light years away in the constellation of Cassiopeia. I am sure you will agree, if you examine the image I captured from Skylark Observatory last year, that this emission nebula does indeed resemble a very young child lying on his or her back next to the equally well-named Heart Nebula.
The Heart and Soul, as this pair is often called, is presently well-positioned for observation from our northerly latitude. These nebulae rise together above the horizon at dusk and ascend steadily higher in the sky all night until they are almost directly overhead by dawn. This makes them ideal astrophotography targets, as imaging is best when objects are high above us, with minimum intervening atmosphere.
The Soul Nebula on the left and the Heart Nebula on the right. This photograph was taken from Skylark Observatory in 2020.
The Soul Nebula glows a dim pink (appropriately for a baby I suppose) in normal colour photographs, essentially capturing what the human eye can see. But with narrowband imaging, as shown in the accompanying photo, the Soul stands out brightly against the inky black background. This is because the nebula is composed of clouds of ionised gas, emitting light in the characteristic wavelengths of hydrogen, oxygen and sulfur. Note that I have spelled sulfur with an f and not the traditional ph, in accordance with official guidance these days.
The Soul Nebula is - appropriately given our baby theme - a stellar nursery. The vast cavities that make up its "head" and "body" are thought to have been hollowed out by the pressure of radiation and energetic particles from ancient stars at their centre. The spherical shock waves compresses interstellar gas, leading to the birth of innumerable new stars.
As I study the beautiful Soul Nebula, three thoughts take shape in my mind. The first is that in the vastness surrounding us are countless solar systems with planets capable of supporting life. My second belief is that among these myriad planets, there must be many on which civilisations have arisen. And the third is that whatever alien creatures have evolved there, they will almost certainly be dropping litter...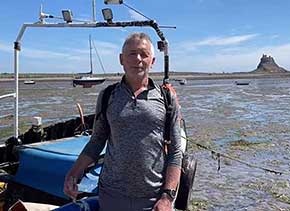 Looks peaceful enough. Or Can't see the join?
I don't know about you but watching news stories or documentaries about earthquakes in places like the Himalayas or California always leaves me in awe of the sheer power of nature. The dynamism of the Earth around the Pacific rim and other edges of tectonic plates is astounding. At the same time it seems so far away and has very little relevance to the Northumberland landscapes we know and love.
Or does it. We haven't always been a quiet, stable, peaceful place. Want evidence for that statement? Take a walk out to Snipe Point. On the foreshore are layers of limestone bent into a series of troughs and elongated domes. 300 million years ago Lindisfarne, Northumberland, in fact the whole of Western Europe was far from the stable bit of Earths crust it is today. It was being pulled and squeezed hard and was about to be uplifted into a huge mountain chain. Those bent rocks are the proof.
A short drive north along the coast from Lindisfarne there are more spectacular examples of our time as a dynamic place on Earth. At Saltpan Rocks, near Scremerston, you can see rock - a limestone full of fossils of shells - bent into the tightest of folds. Just east of Berwick-upon-Tweed, there's Ladies Skerrs and Bucket Rocks where the rocky foreshore at low tide is a mesmerising pattern of whorls and swirls. It looks like a bit like a bomb crater, or as if someone has sliced through a stack of enormous pudding bowls. Yes you can bend solid rock if you do it slowly and steadily enough.
But go back a few more million years and there's an even better story to tell about our unstable past. Lindisfarne is pretty much on the centre line of something called the Iapetus Suture; the Suture - more a linear zone, stretches across to Ireland and beyond. Around 420 million years ago two ancient continents collided here, finally closing an ocean called the Iapetus (after Iapetus father of Atlas, the eponymous Atlantic) and stitching together what are now the foundations of Scotland and England. There's not a lot of surface evidence but some deep geophysics (seriously deep - several kilometres - not the superficial stuff of Tony Robinson and Time Team) shows the join in the older rocks deeper in the Earth's crust.
There is some corroboration at surface though. A series of major faults - dislocations in the rocks with more than 150 metres vertical displacement - run from the Cumbrian to Northumbrian coast. These faults used to frustrate miners following coal seams and they christened one the 90 Fathom Dyke. Another bit of evidence is the fundamental difference between the types and thicknesses of Carboniferous rocks in the North Pennines and the rest of Northumberland south of the Cheviots. The deep suture and these faults have basically been a hinge line for hundreds of millions of years.
So next time you get home after a walk around Lindisfarne and your mates asked you what you did, tell them you stood on a place where two continents collided. They'll not look at you the same again.
THE COMMUNITY OF AIDAN AND HILDA
A resident went down to the beach. He bumped into a holiday-maker who asked 'Why did you come to live here?' 'My life needed balance' the resident replied. 'How do you get that?' the visitor asked.
A conversation ensued. It is a conversation that The Community of Aidan and Hilda continues in varied ways: in its books, prayer rhythms, mentoring and retreats in local centres.
In March we sponsor a retreat on 'The Contemplative Activist' led by David Cole and Scott Brennan. A Celtic Library Management Group has been formed to make our library - which includes books on balance - a better facility.
During Covid we have missed our Norwegian friends' visits to the island at the end of St. Cuthbert's Way pilgrimages. To make up for this, as I write Graham Booth and I are due to fly to Worth Island in Norway when I hope to give talks on Balance and the Beatitudes. This is high risk. I had a heart attack in May, and recently, while with a group of locals walking the monks' trail at OId Melrose, the original site of the monastery and cell of Saint Cuthbert, I was rushed to Melrose hospital with another attack. Someone thought I was departing this life and sang over me. So I hope this 'Bucket List' visit will mark a restoration of the Melrose-Lindisfarne fellowship.
ON THE FRINGES OF LINDISFARNE
UNEXPECTED KING
These little articles deal with people who lived 'on the fringes of Lindisfarne' rather than on the Island itself. Today we meet a man who unexpectantly became King of Northumbria in the last years of the 7th century. His English name was Aldfrith, but he had an Irish name also, Flann Fina. He was the result of a connection between Oswiu, King Oswald's younger brother, and an Irish lady called Fina, from the highest class in Irish society. English people thought he was illegitimate but Irish marriage laws were different. It seems that he was brought up in Ireland at first and lived there from time to time, speaking Irish as his first language. In Ireland he became noted for his learning, which he probably began at one of Ireland's excellent monastic schools, and eventually he was rewarded (in Ireland) with the very honourable title of 'sapiens'. There are some Irish writings which could have come from him, but we are not sure. Probably he visited the Northumbrian court in his youth, but we don't know. His father Oswiu was now King, and seems to have acknowledged his eldest (but bastard, in English eyes) son. It was clearly not expected that he would be in line for the throne.
On the death Oswiu his half-brother Ecgfrith became king. He was very warlike as kings were expected to be, and at first he was successful. But he took on too much in deciding to invade the northern and mountainous territory of the PIcts. They lured him into the mountains and annihilated the English king and army. There was no obvious successor only Aldfrith who had never been trained in the military arts. He was found on the island of Iona where he was clearly more comfortable and was persuaded to leave.
But he turned into a surprisingly good King. As he was about 45 when he took the throne (and most people were dead by 40) he was not expected to lead the army in battle. His loyal nobles guarded the frontiers and Northumbria did not lose territory. He supported the church and peaceful actvities
Most kings and nobles could not even read and write (why should they when they kept scribes?) but Aldfrith was actually a scholar and perhaps his influence was behind 'the golden age of Northumbria'. He married and had sons but unfortunately did not live till they grew up. The years that followed his reign were confused and confusing.
Editor: Revd Canon Kate Tristram MA (Oxford) MSC (Edinburgh) and honorary Canon of Newcastle (emerita)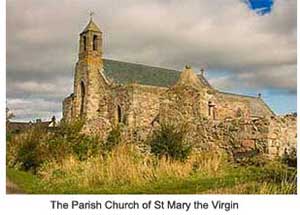 Dear friends
As I write, the September sun is shining as the leaves are just starting to turn. It is the end of another, and extremely busy summer season. It has been a joy to welcome the many visitors into St Mary's church over the summer, and we look forward to seeing them again next year.
But as autumn comes on Holy Island, we look forward to a new season of community get togethers to combat the nights drawing in. Our first event will be Harvest - on October 17th - with a celebration Harvest Festival in St Mary's at 1045am. This will be followed by a Harvest fish supper in the village hall. Everyone is very welcome and it will be lovely to see everyone there!
From October 19th every Tuesday morning we will be having a drop in coffee and chat in the hall. Just come along - again, everyone welcome! A way of getting out and reconnecting with each other after such a long time. Please see more information about both of these in the next few pages.
During October we will be welcoming some pilgrims on their way to the climate change summit, COP26 in Glasgow. An important issue which our Diocese has pledged to tackle. If you would like to know more, do let me know.
And a huge thank you to everyone who helped make the August coffee morning such a success!
It is a joy to look forward to Jake and Victoria's wedding in October. We wish them every blessing and prayers with them as they prepare for their wedding and life together.
Please do be in contact if there is anything you would like prayer for, or just a chat.
With love and blessings
Sarah Hills
Vicar