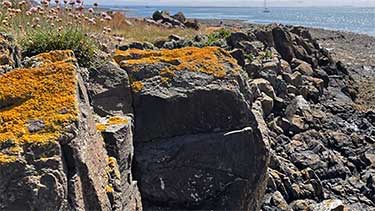 Lindisfarne's Geology
A bit from me...
Crossman Hall
Our Naturalist on Lindisfarne
Lindisfarne Castle
Natural England
Heavens Above
Northumberland Rocks
From the community of Aidan and Hilda
On the fringes of Lindisfarne
From the Vicarage
St Mary's notices
A Blessing - for this time and every time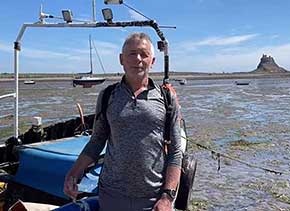 Ian Jackson
Dear Subscriber,
Following our customary summer break, welcome to the September issue of our newsletter.
May I firstly begin with an apology to those visiting during the summer to find overwhelmed car parks, renovations to our public toilet incomplete and up to an hour to return the 5-mile journey back to the mainland.
On occasion you may well have travelled patiently alongside those manning our emergency services, haulage services, farming vehicles, coaches and local buses, residents commuting to business or carrying out weekly shopping visits. Perhaps having completed this just the once you might well understand the frustrations of residents when faced with this every single day. Yes, we all know how privileged we are to live in a place regarded as Northumberland's 'jewel in the crown' - but...
Most have grown up experiencing visitor numbers reaching 600,000 per year. For whatever reason ! my estimation is that, in a single season, numbers may well have doubled. Our businesses are having to cope with covid-hygiene restrictions - the community is - our visitors are too. Holy-Islanders are reputed for directness and affability.
Bearing in mind the aforementioned, we really hope that your personal 'visitor experience' has not suffered.
For the 'statistically-minded' amongst you, this year the website has experienced 6.5 million hits deriving 1.3 million unique visitors including over 69,000 checking out our accommodation links. And since June over 31,000 have downloaded the causeway's safe CROSSING TIMES!
Our September issue include articles from regular authors: Andy Denton, Sarah Hills, Ian Kerr, Nick Lewis, David O'Connor, Ray Simpson, Kate Tristram and Max Whitby. To these I am delighted to welcome Ian Jackson - pictured above.
Since 2011 Ian has settled back in Northumberland (near Bardon Mill) after retirement from being Operations Director of the British Geological Survey - the organisation responsible for producing the definitive geological maps of the UK. Between 1983 and 1994 he worked in Northumberland surveying the geology of a block of the county between Rothbury and Newcastle. In particular, his feature on Lindisfarne rocks can be viewed on the island website.
Thank you so much to all our authors who have written for us this month and enjoy the fruit of their labours.
We look forward to getting in touch again in October.
God Bless,
Geoff Porter Editor (SitEzine)
editor@lindisfarne.org.uk
www.lindisfarne.org.uk/ezine
Note: Our thoughts and prayers are with the helpless who live in daily fear of reprisal - particularly those 39million people in Afghanistan following America's recent decision, against the requests of other nations, for delay.
After two decades or so this aged dyslexic thought he was moving to pastures new. But I've had an ear bending from our Editor, so for the moment that wee bit of peace and quiet and the odd nip is on hold.
For those who have not experienced the Island this summer, this tiny village has been stowed-out! Yes bloody-swamped by thousands of visitors. It has on several days taken more than an hour to travel, by car or coach, from the Island to the A1 road junction at Beal. That gives an indication as to the volume of visitors and there are those who want to increase tourist numbers!
As you may have guessed, business for the hall has been well down, but luckily I was able to secure 'grant aid' during the Covid 19 crisis and that will be a great help taking the hall finances forward. During the quiet period I have been able to sort out most of the maintenance. So we should be OK for a while unless there's a equipment major breakdown
It's been a while since I listed the hall Trustees and there have been some changes, listed below are our Trustees;
• Sue Massey (Chair & Treasurer)
• Jane Crossman
• Christopher Douglas
• Lesley Douglas
• Janette Johnson
• Andrew Johnson
• David Lishman
• Jacqui Parkin
• Gary Reed (Secretary)
• Ashleigh Johnson, from next meeting
The Trustees have recently bought eight freestanding interlocking stage units that are currently awaiting some additional safety fittings. H&S checks, Risk Assessment and Insurance approval needs to be sorted before it can be used.
Once again, thanks to Billy for keeping the grounds clean and tidy. The grassed area around the hall is often used by visitors for picnics.
Several Coffee Mornings have been cancelled, including one for Christmas Lights support. It will be replaced by Grand Christmas Fund Raising Draw which will be held to raise funds to meet the cost of electricity nearer the time.
Finally, well done Nicola for organising the petition against that 'rolling road block' known as the 'train'. Nic's lobbying has been VERY successful, train proposal now on hold. Well done.
David O'
Secretary/Trustee - doconna@hotmail.com
OUR NATURALIST ON LINDISFARNE
ALL CHANGE IN THE BIRDING WORLD
One of the most fascinating things about our bird-life is how it is constantly changing across Britain and, of course, this is reflected on our island. Happily in recent decades there seems to be more winners than losers.
Spectacular species which were once great rarities are now regularly breeding while others have dramatically increased in number.
The extent of the changes occurred to me recently when I was putting the finishing touches to my regular write-ups for the Birds in Northumbria 2020, the annual report of the Northumberland & Tyneside Bird Club.
As I checked my final text, it struck me that I'd been going through the same process for more years than I cared to remember. On checking, I discovered I'd been writing various sections over the past four decades since my first contribution in 1982.
Compared to recent reports that 1982 edition was a very modest effort. It ran to just 73 pages with no photographs, just pen and ink illustrations, and everything in old-fashioned black and white.
These days' annual reports run to almost 300 pages with superb colour artwork and scores of photographs of the highest quality.
Wandering a bit further down memory lane, by settling to have a good read of the 1982 report, I was immediately struck on how things have also changed for the birds themselves.
Today's iconic Northumberland breeders, including Avocets, Marsh Harriers and Ospreys, were then nothing more than rare migrants passing through the region.
The 1982 report detailed a single Avocet in Budle Bay, just five records of Marsh Harriers and seven of Osprey. Now Avocets are breeding around Druridge Bay and are fairly regular visitors to Budle Bay and I can recall one at the Causeway last year.
Marsh Harriers have successfully bred this year as close as a farm just outside Berwick and are regular visitors to the island, particularly the Lough. In early May I watched a female apparently prospecting nest sites in the reed-beds before being driven off by angry local Carrion Crows and Lapwings.
Ospreys are, of course, regularly breeding around Kielder Water and migrants, probably from the thriving Scottish populations or perhaps from sites in the Tweed Valley, are rare but regularly passage visitors to the flats in spring and again on return passage in August and September.
Their favoured spots include the poles along the Pilgrims' Way which make superb look-outs as the tide rises. On one occasion I watched an Osprey simply glide down into the water below its chosen pole, snatch a large fish and flapback heavily with it to settle down and feed. It can't have flown more than 30 yards to get its dinner. It made it look so incredibly easy.
Other more recent county breeders, Little Egrets and Cetti's Warblers, didn't get a mention at all back in 1982. In those days you'd have had to visit the wetlands of the Mediterranean to see them. Now Little Egrets, small and pure white with rather ridiculous banana yellow feet, are a familiar sight at the Causeway pools and across the reserve. As many as 30 have roosted in late summer in trees at Fenham-le-Moor. It seems only a matter of time until they breed locally.
Cetti's Warblers are reed-bed specialists and for the past three years or so have appeared at the Lough. They have a very loud, almost explosive chattering song which is usually the first indication of their presence. They are already breeding further down the coast at East Chevington and I look forward, fairly confidently, to the day soon when the Lough could become another nesting site.
Yellow-browed Warbler: once rare but now a very regular autumn visitor to the island from Siberia.
Photo Andy Mould
But that old report shows that by far the biggest change in our local birdlife has involved our now very familiar Buzzards. They're now an everyday sight across the county, found just about everywhere there are suitable woodlands to provide them with nest sites.
The 1982 the annual report gave just 11 sightings of Buzzard. The latest report involves more than 450 records involving at least 850 individuals, a very good indication of just how common they have become. Sightings now far outstrip those for our supposed commonest birds of prey, Sparrowhawks and Kestrels.
Among small migrants, the 1982 report had just eight records of tiny and colourful Yellow-browed Warblers, long-haul visitors from Siberia. In recent years it's been possible to find that many in a single good October day here on the island. In fact, on one notable September day in 2017 no fewer than 22 were present.
But there have also been losers. Back in 1982 there were records of 15 Turtle Doves which were always fairly rare birds locally. Since then the British population of these summer visitors from Africa has crashed by over 90%. Now county birders struggle to see a single Turtle Dove during the course of a year. Last October many put in long hours of watching to see one which turned up among the Collared Doves around the poultry pens at St Coombs Farm
Back in 1982 another typical farmland species, Corn Bunting was still a well-represented species. Now they've extinct as a breeder with only the very occasional sightings of single birds. In some years none are seen.
My co-authors back in 1982 were Mike Hodgson, Alan Heavisides and Tom Cadwallender. Mike and Tom are still very active on the local birding scene. Mike's great photographs regularly illustrate this column. Tom now serves as the Northumberland representative for the British Trust for Ornithology. Alan, now in Edinburgh, is a leading light in Scottish birding.
Amazingly, the 1982 list of contributors included more than a score of people whose names continue to feature in today's reports. I'd like to think that some of today's younger enthusiasts will still be there when Birds in Northumbria 2060 appears, whatever the format, paper, electronically or perhaps some other system still to be devised.
Since we last spoke back in June things have changed for the better at the castle, mainly concerning the lifting of restrictions in England on 19 July. This allowed us to remove most of the one-way systems we had installed in the castle, along with most of the COVID-19-related signage. We have kept the booking system for admissions but have been able to increase numbers due to the removal of social distancing restrictions and have also been able to accommodate casual visitors without a booking. It is difficult to be certain about anything at the moment, but the booking system has been largely successful here so in some form, I would imagine it is here to stay. The benefits have been noticeable; such as visitor numbers being spread out through the day rather than heavily weighted in the first few hours of opening. Over a season, we would hope that levelling-out would also be visible, lessening the pressure of the high season and encouraging more visitors outside of the busy months, although looking at how busy the island has been over the last few weeks especially, we would need to wait until the end of the year before we can see any patterns emerging.
Although not quite my remit, I have always been interested in Osbourne's Fort over on Steel End, on the opposite side of the harbour from the Castle. Over the past few years I have come to see how for a short period the two forts were intimately linked to the point for example that repairs were commissioned at the same time, and that soldiers served at both sites (possibly, can't prove that yet). I have also uncovered a number of new sources regarding Osbourne's, most amazingly some 17th century papers pasted into a copy of Mackenzie's Northumberland in Newcastle Library. Among these papers is a list of labourers who built the fort in 1677 and how much they were paid. There are some familiar island names on there like Patterson and Allison as well as that of William Browne who is probably the same William Browne who was Master Gunner at the castle at that time. After discovering a letter a while back saying that island residents helped build fortifications in 1542, it is nice to know that the inhabitants were also involved in building the other major fortification on the island more than a century later. Another nice discovery was from the Centre for British Art at Yale University, who very kindly send me copies of two drawings held there. They are a plan and elevation by the architect of Osbourne's Robert Trollope, who was responsible for several far grander buildings round here (such as Capheaton Hall and Callaly Castle). One is include here, but if you want to see the plan please let me know. Looking at the image it is easy to see how formidable Osbourne's once was – we know in 1683 it had 21 guns to the castle's 22 – but one thing still alludes me... who or what was Osbourne? If any one has any thoughts on that please get in touch!
Best wishes
Nick Lewis - Collections and House Officer
Lindisfarne Castle nick.lewis@nationaltrust.org.uk 07918 335 471
NATURAL ENGLAND LINDISFARNE NNR
Late August is always a passing of the guard; as the summer breeding birds feed up and begin their epic migrations to their southern wintering grounds and the first wintering waders begin to move in to feed on the Reserve. However, this doesn't mean the Reserve is quiet. Lindisfarne NNR is not only an important breeding ground for many Shorebird and duneland species of birds but is also a vital staging area for many birds that have nested outside the Reserve and use the rich feeding areas in and around the Reserve to lay down those critical fat reserves to survive their long migrations. It is therefore imperative to still give the roosting and feeding birds space and reduce disturbance. For them it really is a case of life or death. This is also the case for our wintering birds arriving from the high arctic. They will have raised young and just finished a marathon migration to reach the shores of the Reserve
It isn't all about the birds on Lindisfarne NNR as regular butterfly transects and botany surveys have also been carried out throughout the summer. Lindisfarne Helleborine was found in a new location which is always an encouraging sign. Although most of the Orchids have now gone over there are many other plants just coming into flower such as Grass of Parnassus which forms extensive white carpets across parts of the dunes. Pirri-pirri burs are now ripe and ready to stick to just about anything so please read signage, stick to paths when walking in the dunes and remove any seed heads before leaving the Reserve, as it will readily seed and spread to anywhere else you travel.
The trial Dog Zonation Initiative will be in place until 1st September. After that the Reserve will revert back to the current bylaw.
"bringing into, or permitting to remain within the Reserve; (i) any dog unless it is kept on a lead or at heel and is prevented from worrying or disturbing any animal or bird, or (ii) any other animal"
This means that the North Shore will return to a dogs on lead or at close heel area. Results of surveys and monitoring of how successful the scheme was will be shared in due course.
As we have entered a second summer of the COVID-19 pandemic and foreign travel is still a struggle; visitor pressure is unprecedented once again. While most people are respectful of the bylaws the increase in visitors has resulted in higher incidences of anti-social behaviour, disturbances, wild camping and fires. While we want to welcome visitors to this incredible site, it is important to remember that the site is a National Nature Reserve in which many of the habitats and species are fragile and susceptible to disturbance. Please enjoy the site but adhere to signage and bylaws.
We have finally restarted our events programme over the last month. There has been something going on most weekends throughout late July and August from Seal watches to Guided walks and seawatches. All events have been well attended and it has been great to get out and speak to you all face to face once again. This Sunday 29th August we will be running a Rockpool Ramble event around the rocky shore of St Cuthberts Island. Please come and join us to discover the fascinating array of marine creatures that lie within the rockpools of Lindisfarne NNR. Our staff and volunteers will also be dotted around the Reserve over the long weekend so please come and say hello.
Andy Denton - Reserve Manager
Lindisfarne & Newham NNRs
An astronomical observatory needs to provide at least three and sometimes four essential facilities. The first one is particularly important on Holy Island: protection from the weather. Modern telescopes and their associated paraphernalia include sensitive optics and electronics that are highly susceptible to water damage. So reliable shelter from the elements when the weather is unsuitable for observing is vital. In my case, the roof rolls away on horizontal rails to reveal the sky. Waterproofing the various gaps that allow this sliding to occur is going to be a challenge. My design must withstand the worst Holy Island winter storms.
The second essential feature of any observatory is to provide rock-steady support for the telescope. And not just the telescope, but also its heavy motorised mount that keeps the camera precisely pointed at a chosen star, galaxy or nebula proceeding through the sky in the course of a night. Even the slightest vibration (for example caused by gusts of wind) can ruin an astro-photograph. The solution is to bolt one's apparatus to a stout steel column, known as a "pier" (no relation to Steel End), which is in turn anchored firmly to the ground. Readers of this column may remember the extra-thick concrete foundations poured in the Spring for this exact purpose.
The Observatory Greenhouse at Skylark taking shape behind a Cardoon that seem to be going all out for World Domination.
The third requirement is automated weather monitoring. If an un-forecast shower should occur when the roof is open (and while I am sound asleep) then the system must be able to park the telescope in a safe configuration and activate the motors to close the roof. To this end I have adapted some exquisitely sensitive sensors from the automatic windscreen wiper controllers of high-end motor vehicles! These are capable of detecting just a few drops of precipitation.
Max's observatory at E-Eye remote hosting facility in the mountains above Seville in Spain. The blue object is the rock-solid pier prior to equipment installation. The facility is shared with other astronomers and my neighbour's red and black reflector telescope can be seen in the background.
Finally, some observatories feature a moveable dome with a viewing slit. This must be precisely rotated to synchronise with the spin of the Earth on its axis, thereby allowing the telescope an unobstructed view of the same patch of sky throughout the night. This design brings the advantage of added weather protection, but it also adds a layer of complexity (and therefore more things to go wrong) which fortunately I have been able to avoid. My roll-off roof is a simpler solution. The compromise is that my telescope is unable to target objects lower than about 30 degrees above the horizon. But for me this is perfectly acceptable, since below that altitude the"seeing" tends to be poor, resulting in unsatisfactory photographs.
All being well, by the time October arrives – with exciting migrant birds and properly dark night skies – my Observatory Greenhouse should be swinging into operation.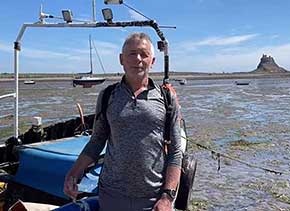 2021 is the 50th anniversary of Northumberland Wildlife Trust. A whole range of events will take place, from Big Wild Walks, to spotting 50 birds in a day; in there too is a Rock Festival. It is a celebration of 50 extraordinary rock sites across the old county of Northumberland, showcasing these special places through web pages, trail guides, video hikes and podcasts.
Why is a Wildlife Trust covering geology you might ask? Well biodiversity absolutely depends on geodiversity and so the conservation and promotion of geology was wisely included in the Trust's legal articles. In any case, it's not easy to ignore rocks in a place like Northumberland, they make a massive contribution to its tourist industry and previously to its economy and culture. Without the Whin Sill Lindisfarne and its hermitage and castle wouldn't be, and Hadrian would have had nowhere to build his Wall. And it is a fact that few, if any, counties have a heritage with a closer association with coal and mining than this one.
Saltpan Rocks
This Rock Festival is, unashamedly, targeting the lay person. The aim is to engage and encourage the general public to look at their county through different eyes and better understand its origins and its habitats. And perhaps, just as importantly, appreciate how changing climates and environments over time have created this precious landscape….. and are still changing it.
Cuddy's-Crags
Each of the 50 sites has a very special story to tell. From rocky connections with our landscape and wildlife, to the history and the origins of our heritage and culture. Some you will know well, some less so – but all 50 of them has something that is guaranteed to surprise you! You can see where earthquakes have bent solid rock, or visit a 400 million year-old volcano, or walk over a border mire that started when the last ice sheet left 15000 years ago. The information provided is an eclectic, and hopefully attractive, blend of geology, biology and history.
Curious? Here is the link to the Rock Festival web site.
Should you like a virtual taster of the Northumberland landscape there are 11 videos available: you could try a hike around Holy Island, or along Hadrian's Wall, or even listen to a history of Northumberland told through 10 stones!
THE COMMUNITY OF AIDAN AND HILDA
31 August is a big day in the calendar of Community of Aidan and Hilda members. It is the day when Aidan of Lindisfarne (whose name means Flame) died at Bamburgh. It is the day for Aidan and Action when CAH members around the world take an action for justice.
In 2021 Faith Brennan was due to make her vows on August 31 in Whitehouse Garden, received by Deputy Guardian David Cole, and witnessed by Graham Booth and myself in person – and many others on zoom. Graham returned for this and a committee to re-launch our library for the 21st century.
It was also the day when in USA three new guardians were commissioned in a 'Pass on the Flame' ceremony. This meant that those of us this end were present on zoom at 1.30am in the morning!
It was good to welcome back our friend Donna Worthington, who brought a retreat group. Following a You Tube of Pope Francis on the life of Francis of Assissi they invited me to tell them about – you've guessed – Aidan of Lindisfarne, who loved God in both the poor and creation.
ON THE FRINGES OF LINDISFARNE
Last month we met Aelfflaed, Abbess of Whitby, consulting St. Cuthbert on Coquet Island. She is worth knowing more about.
Her father was Oswiu, King of Northumbria. As his way of giving thanks for the entirely unexpected victory over Penda, warlike king of the Mercians, in 655 Oswiu decided to dedicate his baby daughter to life as a nun. (In those days fathers could do that.)S she was sent to St. Hild, who was later to become Abbess of the greatest monastery in the North at Whitby. Undoubtedly Aelfflaed was 'groomed' to succeed Hild, as she did in 680.
Her main interest for our historical sources was her friendship with Cuthbert. Two further stories may be quoted. Once Aelfflaed was very ill and thought she might die She wished for any contact with Cuthbert. Then to her surprise an unexpected messenger arrived with a gift him. It was a girdle, which healed her when she put it on. It then healed another sick member of her community, bur later when she looked for it again the box was empty. On another occasion Cuthbert was able to know, by second sight, of a workman from her community who had fallen and was fatally injured. Both these stories are to remind the reader that Cuthbert was a saint, endowed with spiritual gifts.
The reader will be interested to know that many Anglo- Saxon monesteries were 'double' i.e. monks and nuns in the same community, and in newly-Christian England always headed by an Abbess, not an Abbot. Why were the women so prominent at that time? One historian has suggested that there was then a lucky gap for them. The fighting men (kings and nobles) had indeed become Christian but were too busy in the early days of the church (fightng) to give time to church growth and church affairs. So the women, meaning the ladies, stepped in, and having position, money and inclination, founded many monasteries, which were the main Christian centres before there were any parishes. Of course they took the leadership role of Abbess and although they could not be priests they had great inflence and power.
Aelfflaed was clearly very widely respected. Stephen of Ripon, the biographer of St. Wilfred, wrote of her that 'she was always the source of consolation for the entire kingdom, and the best of advisors'.
Editor: Revd Canon Kate Tristram MA (Oxford) MSC (Edinburgh) and honorary Canon of Newcastle (emerita)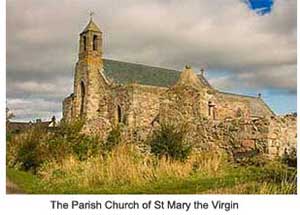 Dear friends
I can't believe the summer is nearly over! It seems like yesterday that the schools broke up for the 'long holidays'. A lot has been happening here on Holy Island this summer. At the beginning of July we were delighted to celebrate with Revd Sam Quilty, our curate, as she was ordained priest, followed by a lovely party in the Crossman Hall. We have celebrated with the Patterson and Darby family as Eleanor was baptised, and with Ian and Hazel on their diamond wedding anniversary. We were thankful to be able to hold a memorial service for Richard Binns, and we look ahead to one for Rita Douglas on Friday September 3rd here at 11am. We received the sad news of the death of Sue Rylance's partner, Ken. And we mourn with all who have lost loved ones, giving thanks for their life and the memories we treasure. We have been pleased to welcome two 'trainee Vicar's on placement with us here for a month and thank them for all their hard work while they were with us, and we wish Sally and Jason every blessing on their continuing training for ordination. We are also very grateful to Chris Hudson of 'Lindisfarne Tales' who has led informal walks on the island about the lives of our saints Aidan and Cuthbert..lots of fun, and Chris has generously donated us all the proceeds. It is lovely to be able to again open the church during the day for visitors and those wanting to pray, and to hold Evening Prayer some days of the week. In order for us to move to daily Evening Prayer, we are looking for volunteers to sit at the back of church during the time of prayer and help to welcome people in. If you would like to help, please do let me know. And we have enjoyed welcoming pilgrim groups back to the church and the island, as well as of course the thousands of visitors now that the covid restrictions have lifted.
Lots to look forward to as well – our first coffee morning since covid, St Aidan's celebrations, a pet service on St Cuthbert's beach on Sunday 12th September at 2pm – do come with your pet! – and a 'fishing Harvest' and fish supper on Sunday October 3rd. Also, more 'warm hub' and Holy Island 2050 events in the Crossman Hall. More details to follow…
If you would like to be involved in the life of St Mary's church in any way, or if we can help you with anything, please just come or let me know. It will be lovely to welcome you!
With prayers, love and every blessing.
Sarah Hills
Vicar