charging points
A bit from me...
Holy Island C-of-E first school
Our two grandsons
Crossman Hall
Our Naturalist on Lindisfarne
Lindisfarne Castle
Natural England
Heavens Above
From the community of Aidan and Hilda
On the fringes of Lindisfarne
From our Churches
St Mary's notices
A Blessing - for this time and every time
Coach Park - viewing west from bus terminus
showing current status of toilet block refurbishment and 4 new electric charging stands.
Dear Subscriber,
Welcome to our July/August newsletter.
Before moving on, let me remind subscribers that during the busy summer months we take a 'rest' from publication returning (hopefully) refreshed at the beginning of September.
If, like us you're watching the European Football Championship, what a brilliant performance by both teams in last night's quarter final. For the first time in 55 years we beat Germany! Thank you England and very well done to both teams,
Holy Island continues to be blessed with fine weather but those blazingly hot temperatures on Canada's western seaboard sound horrific. We remember those bushfires in Australia and the havoc wreaked across huge community regions and animal populations. Our thoughts are with you all especially the emergency services who will have to cope - regardless.
On a much lesser scale, please take heed. Even on the island authorities are cautioning the public against causing fire in island's tinder-dry vegetation.
Causeway Safety: During periods of bad weather ruts of hard sand can form on the road surface making for uncomfortable driving conditions. Beware: expansive salt water puddles can form obscuring road markings and the underlying rough surface.
Toilet Facilities: For those visiting us, our main toilet block within the coach park remains closed during the county council's, continuing major refurbishment programme and limiting its coach parking capacity. Temporarily, a row of portable toilets has been sited along the east side of the park although visitors are reminded that there is a nearby public toilet block adjacent to the village hall.
EV/Hybrid: For those visiting with electric/hybrid vehicles (and an appropriate charging lead!!), four parking stands have been constructed in the 'blue-badge' section of the coach park sharing either an 11kw(16A) or 22kw(32A) charging points.
Crossing Times: From the time the tide opens our car parks gradually fill to capacity. When departing, please take into account that almost all visitors will be trying to cross before it closes again. Lesley's picture below is historical - today there are more visitors and now can be long holdups on the mainland side of the causeway. The tide times are PUBLISHED HERE. If tide has begun to cross the road no force in nature can hold it back...
Lesley Andrews' picture - published earlier in the year
checkout the tide times!!
I am delighted to announce that, after Kate's involvement in the development of the island website and this newsletter almost 25 years ago, she plans to produce a range of articles entitled 'On the fringes of Lindisfarne'. We include the first of these: 'a rendezvous on coquet island'. Please let me have your thoughts.
Thank you so much to Kate and to regular authors Andy, David, Heather, Ian, Max, Nick, Ray and Sarah who have written for us this month.
We hope you enjoy our newsletter and look forward to getting in touch again in September.
God Bless,
Geoff Porter Editor (SitEzine)
editor@lindisfarne.org.uk
www.lindisfarne.org.uk/ezine
HOLY ISLAND C-of-E FIRST SCHOOL
Hasn't it been lovely weather for gardening! We've been busy planting and tending to our vegetables in the school garden- we have peas, broad beans, red cabbage, sweetcorn and purple sprouting broccoli all doing well. Our potatoes are getting bigger and our rhubarb is still going strong.
We have been spending some time in a special corner of the garden - you may remember we found an old wooden cross there a couple of years ago. Scarlett-Beau and Lily-Ella have decided to call this our -Peace Garden' and they've been removing weeds and clearing the space around the beautiful cross ready for some new plants. We have planted some sweet peas, petunias and scented stocks and our gladiolas are about to bloom. Our next job is to install a small solar powered bubble fountain which we hope will trickle tunefully over the little cairn of unusual stones that the girls have collected. To complete the scene, we have some cushions and a wooden bench where we can think, draw, sit, read or just enjoy listening to the birds and bees our garden.
We are looking forward to our pilgrimage walk with the children from Lowick School along the poles to the island next week. We're hoping for some sunshine on the day! The children are quite excited about the walk which I'm sure will be memorable for lots of reasons. We have been learning about routes of pilgrimage for different religions around the world in their RE lessons. During our collective worship we have been finding out about the Northern Saints and we know that the Pilgrim's Way across the sand to Holy Island is a route walked by St Aiden and St Cuthbert. What better way to bring our learning to life than to walk this very special route.
We are also hosting the Lowick children in July when they will stay on the island during a closed tide. This means they will see the way the poles are surrounded by the sea when the tide is in. We'll also be walking along to the Gertrude Jekyll Garden where we can compare the planting scheme and characteristics to our own school gardens. Unfortunately, due to the extension of Covid restrictions, our Cricket Festival at Etal has been cancelled and although we will have our Sports Day, we won't be able to invite parents and friends as we usually do.
A couple of months ago the children wrote to Anne-Marie Trevelyan to ask her to speak to other MPs and leaders around the world to see if they can help with climate change. We were delighted to hear that after reading the children's letters, Anne-Marie has arranged to visit us at Lowick. The children are preparing some questions to ask and have made some posters illustrating their concerns for the Earth. I'm sure it will be a good morning!
As we come to the end of our school term it's true to say that this has been a school year like no other. But despite closures, home and blended learning, and all the trials and tribulations of the last few months, our children continue to inspire us all with their resilience and positive outlook on learning and life. We are all looking forward to being together again after the holidays and we already have some exciting topics and activities planned. Watch this space!
Heather Stiansen
heather.stiansen@lowick.northumberland.sch.uk
Our two grandsons, Theo and Will were walking the Pilgrims Way recently and, as inquisitive boys do, decided to explore one of the refuge boxes. Hidden in a corner Theo found a small box with a plastic bag inside. Inside the plastic bag was something the size of a door knob painted with a picture of an interesting face. Alongside this object was a handwritten piece of material which said that this was number 8 in a series of items that this person had left concealed in various locations around the world. The writer encouraged whoever found the object to take it and conceal something else somewhere in a similar manner. There was also an email address which Theo contacted but has not so far received any reply.
Fascinating the things that can be found if you look in the right places!
As strict Covid 19 Regulation eased, the numbers of visitor to the Island increased, but people appear to exercise few Covid precautions.
REMEMBER : Hands > Face > Distance
The Indian variation, now known as Delta is increasing in Northumberland, so be careful when mixing with visitors, many show little if any symptoms or -social distancing'
We know another 4 weeks of control will prevail. Why are Politicians so awkward when they make decisions and seem to drift on? We now know that we must extend current controls until Monday 19 July 2021.
The Trustees want to fully open the hall but even if Covid disappeared overnight we are facing difficulties. Our cleaner moved to Derbyshire last month so we are in a difficult position. Currently, after each hire, Regulations require that the building is cleaned and sanitised!
The virus has without doubt impacted on the halls business plan, but slowly bookings are coming forward. Fingers crossed.
The eagle eyed among you will have noticed that the wonky old telegraph pole outside the hall adjacent to the Telephone Box has been replaced. There is now a fine tall standing new job standing proud.
David O'
Secretary/Trustee - doconna@hotmail.com
OUR NATURALIST ON LINDISFARNE
BIRD BRAINED: THE ODD PLACES BIRDS CHOOSE FOR NESTS
Something which never ceases to surprise me are the odd and often foolish places our birds decided to lay their eggs and attempt to rear their young.
Most species, both large and small, will sometimes settle down in some very strange places even when much better and safer options, at least in our human eyes, are available.
This thought sprang to mind this spring when I was busy gardening and went to an old plastic trough half filled with soil onto which I stacked spare plant pots.
As I approached, a Robin shot out from behind the pots and flew off. I picked up one stack without finding anything. But under the second stack, in the dry soil, was a wonderfully deep-cupped and soft nest with six eggs.
The Robins had burrowed down under the pots to create a very well concealed nest. I took a couple of quick photographs on my phone and then carefully replaced the pots. Sadly, a week later we had heavy rain. When I next checked the trough and its soil were sodden. The drainage holes in the pots had channelled the rainwater straight onto the nest and the Robins had deserted.
While it was a bitter disappointment for Hazel and me, I've no doubt that those resourceful little birds will have simply moved somewhere else nearby and started again.
We've also had a couple of other instances this year of birds on the island choosing the wrong nest sites. The first were a pair of Oystercatchers which settled down on St Cuthbert's Island and laid their clutch of four in the grassy area.
I suspect they'd prospected the site in early spring when the coronavirus lockdown was in force and things were very quiet with little disturbance. Once we were into May the crowds returned and scores of visitors wandered across to the islet. The pair faced constant disturbance and eventually gave up. One sunny day over the late spring bank holiday St Cuthbert's appeared unusually crowded. Out of curiosity, I counted and found no fewer than 31 people on the top of the island. With pressure like that there was never any chance of success.
Another species which has suffered this spring from choosing the wrong sort of nest site are our most important and rarest local breeders, Little Terns. They always nest on sand or shingle or among the dried seaweed just above the high tide line, unlike Arctic and Common terns which prefer the slightly higher and safer grassy areas.
On beaches elsewhere this makes Little Terns highly susceptible to distance. The very places they nest are the places we like to walk and exercise our dogs so disturbance, often leading to failure, often follows.
Locally, our Little Terns don't have that disturbance problem as their favoured nesting site is fairly inaccessible. But it only takes one slightly higher than normal tide, perhaps driven by wind or swell, to wash out nests. That happened to several pairs during the big tides at the end of May. Hopefully it occurred early enough for them to lay again and perhaps have better luck.
Little Terns are nationally threatened as a breeding species and are down to under 2,000 pairs, Lindisfarne having one of only two small colonies in Northumberland. We need every successful pair we can get.
Odd and dangerous nests sites are nothing new. When I was younger a friend and I did wildlife survey work for the Ministry of Defence on the Otterburn Training Area. It's a place where wildlife flourishes, despite gunfire and explosions, simply because its use by the military has preserved huge swathes of pristine heather moorland, craggy areas and sheltered valleys with the kind of old, scattered deciduous woodland which is now rare elsewhere.
I remember a couple of very strange nests of larger and normally success species which we came across during our work.
In one Scots Pine plantation we put up nest boxes for local Tawny Owls. The next season we checked and from a few yards off the box looked clean and unused. It was empty because, amazingly, the local owls, instead of using the box had laid their clutch right underneath it in an earth hollow at the base of the tree.
The next time we checked the eggs had gone, no doubt sniffed out by a Fox or other predator. Whatever it was, it probably couldn't believe its luck. So much for the popular image of the "Wise Old Owl."
Among all the species I've help monitor I suppose that Peregrines will always stand out. Not only are they the supreme aerial hunter they're also the fastest creatures on earth, quite capable of reaching almost 200mph when diving, often almost vertically, to strike down prey.
They usually nest on ledges or rock holes on inland or sea cliffs or quarries. However, in recent years they have also colonised cities where ledges of concrete or stone on high buildings, including cathedrals and churches, have proved an ideal substitute.
In some places nesting trays have been installed to encourage them and sites have been fitted with cameras. I think we must all have seen television footage of the family life of these magnificent birds.
When we monitored our Peregrines the aim was always to fit the chicks with identification rings. This usually involved carefully-planned climbing on some very precarious places, the aim being to get in and out as quickly as possible to keep disturbance to a minimum. Needless to say, we needed special training and government licences to do the work.
I recall one occasion where we watched a pair of Peregrines displaying in early spring over a cliff which looked eminently suitable with ledges covered with grass, heather, bilberry and other vegetation.
When we returned the pair was still in residence but we couldn't spot the nest-site. We than made out way to the cliff-top in the hope of looking down to spot where they'd set up home. We discovered that instead of using an inaccessible ledge they'd laid their eggs in a scrape in the heather on the top of the cliff. No ropes, no climbing involved and, for us, no hassle.
My colleague later recalled: "The site was so easy you could walk in whistling with your hands in your pockets."
The eggs hatched and the three chicks grew large but within days of being ready to launch themselves into flight they suddenly vanished. Scuff marks around the nest indicated that a Fox had taken them. I'd previous seen Peregrines drive off Foxes by repeatedly swooping at them, one even raking its talons across the fleeing animal's back. But Foxes have a justifiable reputation for cunning and if one knew the chicks were there it would eventually get them. A hope that pair of Peregrines learned from their experience!
The castle has been open for almost a month now and all things considered it has been largely positive. The fact remains that numbers are being heavily restricted and all visitors must book one of the precious slots in order to get access, so while the island and wider coast have been heaving with visitors so far this summer, inside the castle remains relatively quiet.
Those who have come inside though have largely enjoyed the Limelight installation we have in the Ship Room, although we are considering alerting the visitor route slightly to put the Ship Room at the end of the visit meaning visitors unfamiliar with the building will at least have seen it all by the time they see the projection.
Speaking of visitors to the castle I was working on something for next year and ended up going down an online rabbit-hole of sorts. While down there I started thinking about all the notable visitors we have had to the island over the years (and by years, I mean centuries). I began writing names down and actually it looks pretty impressive. In terms of the castle's lifetime, things really get going with Lord Hertford (who would end up ruling England as protector to Edward VI), then we get the Scottish reformer John Knox, the Earl of Bothwell (later to be husband to Mary Queen of Scots). In the 1600s we know James VI stopped at Fenham to visit the aging Sir William Reed, former Captain of Holy Island, and I think it is fairly likely Charles I might have popped in at some point during the Bishop's Wars in the 1630s (he certainly sent courtiers to check the place out anyway). I just recently found a reference which suggested that good old Oliver Cromwell used Holy Island as a drop off point on his way to the battle of Dunbar in 1650. I am often surprised more kings and queens didn't go to and from Scotland by sea from the island; maybe they did and it just wasn't recorded, but for much of the past 500 years or so the roads haven't been adequate and travelling by ship would have surely been far quicker.
Another interesting visitor famous by association comes later on in the nineteenth century although unfortunately for him he didn't know much about it. On 28 May 1808 an armed cutter arrived from Leith having aboard the body of a Captain Bettesworth, also known as George Edmund Byron Bettesworth, cousin of the poet Lord Byron. He was killed on 16 May 1808 while commanding the frigate Tartar in the battle of Alvoen with some Danish ships off Bergen in Norway. Captain Bettesworth's body was landed at the Old Law and transferred into a hearse to be conveyed to Howick to be buried. The Captain was interred in the Grey family vault at Howick (having married into the family). He was only 23 and apparently had been wounded 24 times prior to his death according to Byron himself:
Bettesworth will do it, for he has received four-and-twenty wounds in different places, and at this moment possesses a letter from the late Lord Nelson stating that Bettesworth is the only officer in the navy who had more wounds than himself.
Best wishes
Nick Lewis
Collections and House Officer
Lindisfarne Castle nick.lewis@nationaltrust.org.uk 07918 335 471
NATURAL ENGLAND LINDISFARNE NNR
As we have just passed the summer solstice the days will slowly be drawing in from now on. For some in the UK, June has been a wet month but the North-East has remained stubbornly dry. Many of the dune slacks have dried out. As a result, the dune grassland is now tinderbox dry and is a high fire risk. Please don't have a fire or BBQ and refer to all fire safety signage that is located at main access points across the Reserve. It only takes one spark or ember to cause a fire that can quickly get out of control.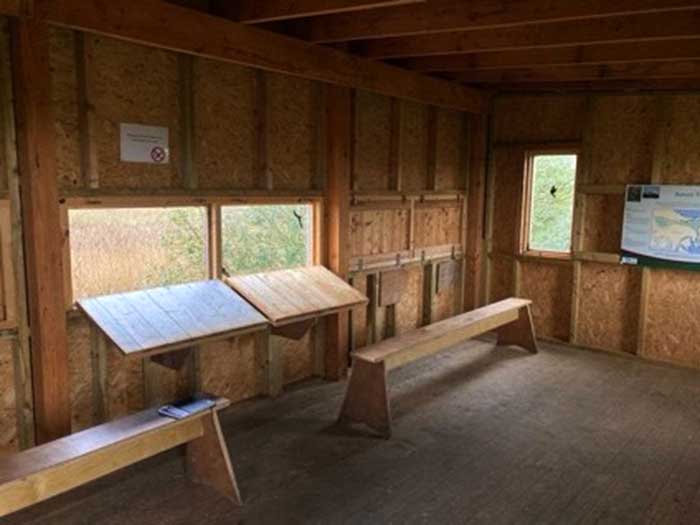 Lindisfarne - Lough-Bird-Hide
Late June on the Reserve and wildlife activity is at its zenith with ground nesting Skylarks and Meadow Pipits buzzing to and fro feeding a multitude of hungry mouths in deftly hidden nest bowls within tufts of dune grassland. Shorebird nests across the Reserve, from Cheswick black rocks to Budle Bay, including Holy Island, have also begun to hatch with tiny long-legged Ringed Plover chicks zipping along the sandy beaches with their parents frantically chasing after them. Tern chicks have also hatched and will have to mature quickly as they will have to make their epic migrations across the globe in just a few short weeks. All these breeding birds are extremely vulnerable to disturbance so please adhere to the seasonal restrictions and the trial dog zonation that are in place. All signage can be found at the main access points of the Reserve so spend some time reading a familiarising yourself with the sensitivities of the area.
After the late frost in April and May the botanically rich dunes have now come into flower with vibrant purples and Pinks of Northern Marsh Orchid and Common Spotted Orchid and the bright yellows of Birds-foot Trefoil and Hawksbit carpeting the ground. As a result of the fresh nectar source a plethora of butterflies and bees have taken wing with Dark green fritillaries a speciality of the Reserve.
Our bird hides at the Lough and Fenham-le Moor have now officially opened again. There are some restrictions that are still in place such as capacity and the use of face coverings but this information can be found on the front doors of both the hides.
Now restrictions are easing somewhat, we will also be looking to carry out some bird and seal watching events in the coming weeks. Also keep an eye out for our Shorebird Protection van which will be out and about from Cheswick to Budle Bay - Give us a wave!
Andy Denton - Reserve Manager
Lindisfarne & Newham NNRs
Regular readers of this column will know that I frequently moan about the impossibility of performing astrophotography during the summer months on Holy Island. The sky is simply not dark enough between mid-May and late-August. You can however still enjoy the "night" sky provided the weather is clear, even if it looks more like twilight. A highlight in recent weeks has been Jupiter.
Jupiter is the fifth planet from the Sun. It is the biggest by far being over 1,000 times larger than Earth by volume. Its sheer size makes it a good reflector of the Sun's light, so when Jupiter is visible in the night sky it is often one of the brightest objects easily outshining any star. This was the case in June when the planet was impossible to miss as it rose in the small hours just behind Lindisfarne Castle as viewed from Chare Ends. See my blurry iPhone photo proving the point.
Jupiter rising over Lindisfarne Castle photographed in the early hours of 5th June 2021. The planet was by far the brightest visible object in the sky. The other spots of light in the gloaming are two lighthouses on the Farnes and a navigation buoy to the right of the Castle.
When people ask about my observatory, one of the first things they expect to be shown are the planets. I have to disappoint them. My current telescope does not provide sufficient magnification for even mediocre photographs.
The problem is apparent size. Jupiter may be comparatively massive, but it is also a long way away. The closest it gets to us is 365 million miles (588 million kilometers). The gas giant is about 87,500 miles (140,000 kilometers) across. If you do the maths, you will discover that its disc subtends an angle of only 50 arc seconds for an observer on Earth at closest approach. The Moon for comparison occupies half a degree in the night sky.
What does this mean in practice? Well there are sixty arc seconds in one arc minute. And sixty arc minutes in one degree. So the apparent size of Jupiter, even when it is closest to the Earth in its orbit around the Sun, is a miniscule 1/36th the diameter of the Moon and less than a thousandth of its area.
My telescope is designed to photograph deep space object such as nebulae and galaxies. These are typically much larger in terms of apparent size in the sky, although mostly too faint to be seen with the naked eye. The Andromeda Galaxy for example is a whopping 3 x 1 degrees or six times the apparent size of the Moon.
So attempting to photograph Jupiter using the equipment at Skylark Observatory would be futile. Much better to use a space probe! That of course is what NASA does with great success. Take a look at the amazing recent image from the Juno spacecraft accompanying this column.
NASA's Juno spacecraft captured these complex atmospheric swirls on 10th April 2020 during a close fly-by of Jupiter. At the time the image was taken, the spacecraft was about 5,375 miles (8,650 kilometers) from the plenet's cloud tops at a latitude of about 50 degrees North. It was traveling about 127,000 mph (204,000 kilometers per hour) relative to Jupiter at that time.
Image credit: NASA/JPL-Caltech/SwRI/MSSS processed by Kevin M. Gill ? CC BY.
Even the most powerful telescopes on Earth are incapable of capturing the quality of Juno's images. You simply have to visit Jupiter to acquire close-ups of this calibre. Nevertheless it is possible to take reasonable photographs of the planets from Earth... even with modest equipment.
To photograph Jupiter from Earth you need a telescope with around ten times the magnifying power of my system. But this alone is insufficient. You also need luck! To be precise, you need to use a technique called "lucky imaging" that involves capturing a video of the planet rather than a series of long exposure still pictures. Ingenious software is then automatically analyses every frame in the video and retains only the very clearest. These occur when fluctuations caused by layers in the Earth's atmosphere happen to cancel out, allowing a relatively clear image briefly to be seen. By combining these "lucky images" a surprisingly decent photograph can be taken.
When The Holy Island Times returns in the autumn I will update you on progress with my Observatory Greenhouse.
THE COMMUNITY OF AIDAN AND HILDA
It has been lovely to welcome back pilgrim groups to our two retreat houses that our working party has re-ordered. We are now working to re-order the library and quiet room.
Many items from The Open Gate were given to the Holy Island Support Group. The rest was taken to the Salvation Army or the re-cycling dump and now it is cleared.
Last month we invited CAH friends and members to send in photos and recorded memories of The Open Gate when we had our Annual Gathering on Zoom. I recorded items from my autobiography Monk in the Marketplace.
I hope it may be possible to create a permanent record. No need to place it in the British Library (!) - we can keep it on Holy Island.
Following a heart attack I was advised not to drive to the island for a period - but it has been a delight to welcome people from the island to my house. You are always welcome.
ON THE FRINGES OF LINDISFARNE
A RENDEZ-VOUS ON COQUET ISLAND
Coquet Island is a tiny outcrop just off the coast of Northumberland. It is currently the home of kittiwakes (no humans). 70,000 nesting birds have recently been counted, and artificial extra nesting ledges have been provided by the kind humans on the cliffs.
But in the 7th century a notable meeting of humans took place there. (Historians apply all your usual caution). Cuthbert, saint and hermit of the Farnes, met Aelflaed, Abbess of Whitby, at her request. No doubt suitable companions for both sides were there. St. Cuthbert we know about, but Aelflaed might be a new name to you. She was the daughter of King Oswiu of Northumbria, but from infancy had been brought up by St. Hild, the great Abbess of the double monastery at Whitby. Clearly Aelflaed was "groomed" to succeed Hild, which she did. She was herself a very powerful person, rather political as we might expect of a king's daughter. But at the time of the meeting she was worried. The currect king was her brother, Edgfrith. She knew him to be rather trigger-happy; he might die in battle, and he had no heir.
Would that be the end of Aelflaed's family on the throne.? Could Cuthbert give her any answers?
He could and he did. He reminded her that she had a half-brother in Ireland. Perhaps she didn't even know of his existence. He was currently on Iona, but he would come to be the next king, when Edgfrith was killed in battle, as Cuthbert knew he would be. Aelflaed would find him a good brother. She also wanted to know whether Cuthbert would become a bishop. It seems that he said yes, provided that he was called to it.
So, after a successful meeting, they both went home.
To us this little story shows something of what people of the time expected of a saint. Saints essentially lived close to God, and so could know His mind and mediate His power. They were expected practise spiritual healing, and both to foretell the future and to know of contemporary happenings elsewhere. Of course they could preach and teach and give personal counsel. Many saints were recognised only after their death, but Cuthbert was "discovered" during his life.
More about Aelflaed next time...
Editor: Revd Canon Kate Tristram MA (Oxford) MSC (Edinburgh) and honorary Canon of Newcastle (emerita)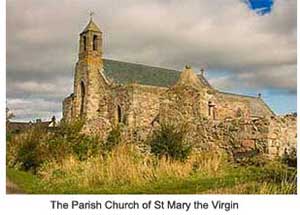 Dear friends
Summer is here and I hope amidst the business of the island we are finding some time to breathe and make the most of this lovely sunshine. In the churches calendar, this next few weeks is known as -ordination season'. Our very own Sam Quilty, our curate, is being ordained priest on Saturday 3rd July. We wish Sam every blessing and pray for her and for Don her husband, as she makes this very special step in her ministry.
Of course, summer is a time of transition for many people. And so we pray for our school children as they end another academic year, and for their teachers and staff preparing for a well-deserved summer break.
Over the summer months, St Mary's will be open every day from 11am - 4pm for people to come in and pray and visit. We warmly welcome those who are visiting for the first time, and welcome back those who come year in year out. As covid restrictions ease, we hope to be able to start our daily services again, as well as continuing our Sunday services.
Starting this summer, jointly with Lowick and Holy Island C of E First Schools we are celebrating the life of the scribe of the Lindisfarne Gospels who died 1300 years ago.
It is believed that the Gospels were written on here on Holy Island by Eadfrith, between 715-720 AD, and we will be shining a light on this world-famous book.
Acknowledged as a masterpiece of Anglo-Saxon England, the book is a decorated copy of the Gospels of the bible, recounting the life of Jesus. It features ornate painted lettering, drawings and patterned pages with multi-cultural influences.
Eadfrith, who was Bishop of Lindisfarne from 698, devoted years of his life to producing the book as a dedication to God and to his famous predecessor, St Cuthbert.
The celebrations will include lighting up the Royal Border Bridge at Berwick-upon-Tweed in the Northumberland colours of red and gold, and concerts, writing workshops and a podcast this summer.
The Lindisfarne Gospels are a beautiful depiction of the story of Christ and they also tell us about how the island community and its culture survived terrible persecution and how the people of the North East united to save this book.
Sharing ideas, treasuring diversity and reconciling our differences, as expressed in the pages and journey of this book, can help us all to achieve peace and reconciliation in our lives and communities today.
After nearly a hundred years of Viking raids, the monastic community abandoned Lindisfarne in 875, taking with them the body of St Cuthbert and other relics, including the Lindisfarne Gospels.
The community spent over 100 years at Chester-le-Street, County Durham, before settling at Durham. The Gospels had to be protected again during the violent dissolution of the monasteries by Henry VIII and were eventually rehomed (minus the original jewels that decorated the binding) in the British Museum in 1753 and passed on to the British Library where they remain today.
Head of Lowick and Holy Island Church of England First Schools, Rebecca Simpson, said: "We will be making a pilgrimage across the sands to the island and investigating the science, history and cultural influences of Eadfrith's amazing work and the history of writing."
Eadfrith pioneered the use of a candle-powered lightbox to enable him to trace the complex patterns and intricate lettering on the book's vellum pages.
Our Bishop of Newcastle, the Right Reverend Christine Hardman, said: "The North of England is recognised as the cradle of northern Christianity and Eadfrith's masterpiece provides timeless inspiration to us all.
"People across the world are inspired by the spiritual influence of the northern saints and the unique heritage of Holy Island, the birthplace of Christianity in the north of England and the Lindisfarne Gospels."
The Eadfrith Gospels celebrations are supported by the Handley Trust and Allchurches Trust. The Lindisfarne Gospels will go on display at the Laing Art Gallery, Newcastle, on loan from the British Library in 2022.
More information on dates and events will be published - do come and join us!
With every blessing
Sarah Hills
Vicar