A bit from me...
Holy Island C-of-E first school
Crossman Hall
Dog control
Our Naturalist on Lindisfarne
Lindisfarne Castle
Natural England
Heavens Above
From the community of Aidan and Hilda
From our Churches
St Mary's notices
A Blessing - for this time and every time
Spring Bank Holiday - the tide opens...
Dear Subscriber,
Welcome to our June newsletter.
As we enter the Spring Bank Holiday and with the relaxations in lockdown, it's great to be welcoming back so many previous visitors - not forgetting the thousands of new ones. (Thanks for these evidential photos from my visiting daughter .)
Only a few days ago, after a pretty glum month weatherwise, we bumped into a couple of friends revisiting the island from 'God's country'. It was the sunniest day of the month - and the forecast promises better to come as we enter the Spring Bank Holiday.
A high spring tide and imminent causeway closure curtailed conversation far too soon - particularly after we mentioned the possibility of them encountering a bottleneck of traffic strewn across the causeway at the Beal shore.
Lindisfarne Causeway
(sometimes a major bottleneck)
In previous years visitors used the adjacent car park to pause their journey before crossing the causeway whilst checking the tide tables. But today, the car park is closed using massive concrete blocks to line the highway. As might be imagined, visitors still need to check the tide tables and seemingly, whilst stopped, begin to take in the spectacular views. Stopping to check becomes parking leaving passengers to wander onto a major road and capture pictures as the flooding tide covers the road. There appears total ignorance of frustrating the efforts of 'last-minuters' desperate to get on or off the island before the North Sea inevitably closes the road.
Last year, this hiatus sometimes caused as much as an hour's delay in reaching the A1 from the bridge. Emergency services were disrupted as well as some of us missed hospital appointments...
Yes, we are welcoming you back very much indeed but we do suggest that you keep this in mind when planning your journey.
Thank you to writers Andy, David, Heather, Ian, Max, Nick, Ray and Sarah who have written for us this month.
We hope you enjoy our newsletter and look forward to getting in touch again in July.
God Bless,
Geoff Porter Editor (SitEzine)
editor@lindisfarne.org.uk
www.lindisfarne.org.uk/ezine
HOLY ISLAND C-of-E FIRST SCHOOL
You may remember that to say thank you for many years of hard work, we invited Brian Pattinson and his wife Annette in to school for a grand afternoon tea. We had a lovely time catching up and hearing stories about how the school has changed over the years. Both Brian and Annette are former pupils of the school so it was fascinating to hear how different the school was. Margaret our cook at Lowick School made a special cake to mark the occasion. The cake was delicious - we just had room for it after our scones and jam. Thank you again Brian, we'll miss seeing the cheery smile and wave you'd give us as you mowed the grass.
At our gardening club we have planted our peas, sweet peas and broad beans in the raised beds. I've been very impressed with Scarlett-Beau and Lily-Ella's planting skills and with their interest and enthusiasm in the garden. Our potatoes are through and growing and our sweetcorn and lettuce are coming along well. We harvested some magnificent rhubarb which the girls took home. We've been doing a lot of weeding around a very beautiful part of the garden where we found an old cross during our renovation a couple of years ago. We are planning to make this quiet corner of the garden into a special place and we have begun drawing and discussing our ideas. We'll let you know how we get on!
Did you hear about the dragon that visited Lowick School a couple of weeks ago? Lots of unusual, magical things had been happening at both schools. We found secret messages, fairy dust and clues which led us to a mysterious book with nothing written on any of the pages. Then we received a tiny card which told us that only the rightful owner of the book would be able to read it! Well, the next day, you can just imagine how excited the children were when a dragon turned up at school. The dragon was very friendly and the children learned how to train it to do tricks. The dragon's keeper was the rightful owner of the magical book and he had a magical light which revealed the hidden story. But, can you believe that the end of the story was missing? So the children became engrossed in planning and writing the ending of the story. I don't think they'll ever forget the day the dragon came to school!
As part of Christian Aid week, the children learned more about climate change and how this is affecting the lives of people in poorer countries around the world. In Scarlett-Beau's class, the children decided to write to Anne-Marie Trevelyan to ask her to speak to other MPs and leaders around the world to see if they can help. They also wrote prayers for children and families around the world. In Lily-Ella's class, everyone sent a post-card to Boris Johnson asking him to help to stop climate change. We have put lots of the letters, prayers and post-cards on display at St Mary's church.
We have lots of exciting activities planned for after half term. We are all hoping that the restrictions around Covid19 continue to be lifted and that our sports day, our pilgrimage walk along the poles to the island and our cricket festival at Etal will go ahead. Fingers crossed everyone!
Heather Stiansen
heather.stiansen@lowick.northumberland.sch.uk
As the Governments Roadmap progresses, Charities must take reasonable measures to reduce the risk of transmission of Covid 19. The communal nature of Village Halls places them vulnerable to the spread.
Therefore the Trustees will act with caution and ensure, as far is reasonably possible, that the hall is safe to use. But to achieve that we must have full support from those hires.
Providing that there are no outbreaks of the virus or new strains in the area, meetings of up to 30 will be permitted where it is necessary to provide a service. I remind users and hirers of the hall when they have control over the premises share a legal responsibility to comply with H&S Regulations and appropriate Codes of Conduct.
Those using the hall must continue to use a mask, wash hands and sanitise any equipment used and don't forget to leave your Test & Trace details.
David O'
Secretary/Trustee - doconna@hotmail.com
Spare a thought...
Having read in the latest edition of the Island's splendid Newsletter, I note that Natural England REQUIRE all dogs to be kept on a leash over the greater part of the Lindisfarne National Nature Reserve. That's more than 3,500 hectares or 8,000+ acres stretching along approximately 50km of prime North Northumberland beach, greenshore and sand dunes. It's barmy.
As our Government begins easing the 12 month lockdown restrictions and allowing people freedom of movement to exercise out of doors (as well as visit shops, pub's and stay overnight), this Quango pops up and wants to re-establish control over an important visitor asset - after only a few days of freedom! What the Quango is really saying is "lock dogs and their handlers down when visiting North Northumberland".
I understand the threat to ground nesting shorebirds and some are particularly at risk, but banning dogs off leash just when our freedom has been restored is extreme and unthinking. What about the welfare of the animals and the wellbeing of their custodians, particularly those who have been cooked-up in towns and cities!
Introducing any control FAILS unless enforced. I understand that Natural England will use existing byelaws. Enforcing a byelaw is complex and potentially costly. Further, to patrol and control dogs and handlers using the shore from Cheswick Black Rocks in the North to Budle Bay, including a circuit of the Island and Ross Back Sands, will likely have numerous Enforcers running around like Blue Tailed Flies. Capturing any miscreants and taking evidence for a byelaw prosecution will be challenging, complicated and near impossible. As said earlier, it's barmy!
I also noticed the GREEN AREA on EN's map where dogs can run free. I don't know how closely the height of the Sand Rig is monitored, but it was for years a regular nesting spot for a few Little Tern, Ringed Plover and Oystercatcher surviving the summer 'sandstorms' and big tides.
The Quango should rethink. Calling it barmy is being polite!
'Spot the Grumpy Dog'
(aka David O')
OUR NATURALIST ON LINDISFARNE
OUR SWALLOWS ARRIVE - EVENTUALLY!
Well, the Swallows certainly kept us waiting this year didn't they? Right through April I was constantly being asked in the village about their absence from the island at a time when we all expect to be seeing and welcoming them back.
The explanation was simple enough and, of course, involved the weather. Throughout the month although it was fine and unusually dry, temperatures were below normal with an almost constant cold airflow down the North Sea. This resulted in many nights of ground frost and others where the thermometer dipped close to zero.
Swallows arriving back in Britain after their epic migration of 10,000 from South Africa wisely lingered much longer than usual in the south with its slightly milder conditions before cautiously making their way northwards.
I didn't see my first island Swallow until April 18, around 12 days later than usual, although I gather one had been seen in the village a few days earlier. My first bird flashed low over Crossgates as Hazel and I were having our lunchtime sandwich in the back garden.
Two days later down at Jenny Bell's I was scanning the flat water out beyond St Cuthbert's Island when I noticed a succession of single Swallows moving low and fast northwards. In just a few minutes 11 birds passed, none of them showing any sign of lingering on the island. These birds were presumably bound for Scotland or perhaps even Scandinavia where Swallows nest north of the Arctic Circle, provided they can find suitable nesting sites.
During the remainder of April I saw only one or two Swallows daily on the island and none of them showing any signs of settling down. By early May more were around but they were intent on feeding rather than nesting, spending much time low in more sheltered areas behind hedges and walls in the relentless hunt for the few flying insects around at the time.
It was not until the second week in May, as numbers increased daily, that they started to fly excitedly and calling in and out of regular nesting. By then birds were back in the fishing sheds at the beach and exploring other regular and potential nesting sites around the village, including a couple which cheekily flew into the Vicarage kitchen!
The first nest-building I notice involved a male was dropping to pick up fine pieces of grass which he was taking into the stables at the beach. By the time you're reading this hopefully many Swallows will be on eggs or some may have already hatched their young.
Swallows have had a run of poor breeding season both on the island and nationally. Although I didn't get the chance to do my usual monitoring last year because of the coronavirus situation, people told me that in places where they'd normally have two or three breeding pairs they'd been lucky to have a single nest. That seems to have been the situation throughout the country.
A male Swallow with sunlight highlighting his metallic blue wings. Photo: Mike S Hodgson
There seems to be no doubt that Swallows and other species, which rely entirely on insects for their survival, are having a poor time of it compared with a decade or two ago. The problem seems to be a declining number of flying insects. To demonstrate that you only have to try what I like to call the Windscreen Test.
I took particular note the other day on a trip from the island to Newcastle. The day was sunny and mild with little wind, ideal conditions for flying insects, particularly as so many fields of oilseed rape were in brilliant yellow flower along the A1.
After that trip I checked the windscreen and found only about a dozen smears from splattered insects. A couple of decades ago, as many of you will remember, after a car trip like that you'd have to get out a bucket and cloth and wash the windscreen clear.
No wonder our Swallows are among those which are struggling in this era when arable farming is much more efficient at getting rid of pest species and the entire environment, everything from close-cut roadside verges to our own gardens, seems to be much tidier than in the past.
I know House Martins are not everyone's favourite bird, mainly because of their habit of building their mud nests in window corners resulting inevitably in white streaked panes. They too were late in arriving this year for the same reasons as the Swallows. I didn't see my first until May 8 although after that they rapidly took up nesting sites.
While our Swallows and House Martins struggle this spring, a much larger and more spectacular creature seems to be on the up and up. I refer to Bottle-nosed Dolphins which are appearing off the Northumberland coast in increasing numbers.
I was reminded of this as I sat high in the dunes overlooking Coves Haven, idly watching the Fulmars wheeling back and forth along their cliff breeding colony. I then scanned towards other birds just offshore and caught a glimpse of the dark back and triangular fin of a dolphin near Snipe Point. It was the usual frustratingly brief view, just that back and fin vanishing back below the surf.
I continued to watch the spot and a couple of minutes later several backs briefly broke the surface, indicating that a small pod was moving slowly southwards around the point. Then things really livened up. There was a sudden thrashing of water, tails rose and slapped down and then the unexpected happened.
Two dolphins rose vertically clear of the water, facing each-other, in an almost choreographed movement which would have delighted a Strictly Come Dancing audience. The sunlight flashed on their shiny black backs, pale bellies gleamed and they then crashed back together into the turbulence. It was a new experience for me and was over in a few memorable seconds. I kept watching the spot but the pod simply vanished. It all goes to prove that there's always something new to see on the island.
It is only because I am late submitting this article that I find myself typing it as the castle is only just reopening to the public (time check: 10:23 on 22nd May). There has been a long-drawn-out process building up to this moment, and if you factor in that we didn't open during the summer of 2020, then that process has lasted 428 days. Bear in mind that the closure for the major project was 492 days!
Lord Leighton: View-from-Harbour
For the first time we are using a booking system for all visitors, which is of course a requirement of the situation we find ourselves in. I hope though that it will work because for some time we have been looking for a way to control visitor numbers in a way that balances days and seasons out. Prior to the pandemic, we would find that peaks and troughs usually relating to the tide can be observed day by day. For example, on a 10.00 - 16.00 opening, we would often get say 400 visitors before 12.00, and then 200 in the rest of the day, with the last hour being particularly quiet. Then add to that the further layer of the seasonal changes we all experience on the island it can be difficult to offer a consistent visitor experience to all visitors. If you are a resident on the island please remember you can still visit for free but would need to book via the castle website.
Also happening this week is an art auction in Newbury in Berkshire. I normally wouldn't take too much notice of such things but this one is of interest to us here. You may have seen an article in the local papers but featuring in the auction are three paintings of the castle and harbour by the pre-Raphaelite artist Frederik, Lord Leighton (1830-1896). I first noticed he had painted on the island when I was asked about a painting at another National Trust property - Hill Top in the Lake District - which showed Bamburgh from the Heugh but had been listed as showing Lindisfarne. I then came across one of his pictures of the castle (looking up at the building from the field) and even managed to track down a letter he had written (probably while on the Island) to someone called Mary Watts in which he references the painting. Anyway, if you have few spare thousand quid head over to the Dreweatts Auctioneers website with my best wishes! The estimate on one of them was ?8,000!
Please get in touch if you have any questions about the castle reopening and what is going on up here. We are delighted to finally have the Ship Room projection Limelight open to visitors after a false start last March, and the other smaller projections in the bedroom are amazing too. We'll be doing a proper launch in the media and online soon so look out for that.
Best wishes
Nick Lewis
Collections and House Officer
Lindisfarne Castle nick.lewis@nationaltrust.org.uk 07918 335 471
'Limelight in the Ship Room'
NATURAL ENGLAND LINDISFARNE NNR
Spring is always an extremely busy time on the Reserve with the flowering dunes waking up from their long winter slumber and the thousands of departing over wintering ducks and geese handing over the baton to the breeding birds that use the Reserve to breed and feed throughout the summer months.
April was a spectacular month in terms of sun but there was big diurnal ranges with extensive and hard frosts throughout the month and even a thick covering of snow on the Cheviots as we entered May. These cold nights have had a definite effect on the wildlife and botany across the Reserve with many things such as the early flowering Orchids appearing much later than normal. By the end of April the dunes were tinderbox dry with wildfires becoming an increasing risk factor. Thankfully, May has been more unsettled so far, giving the ground a necessary dousing of rain.
In the dunes the Skylarks and Meadow Pipits are at the climax of singing and defending their territory. The annual breeding bird survey has shown a stable trend of both birds with good populations within the dune system. The Fulmars have also returned to the cliffs and are renewing their life-long pairing bond ready for the breeding season ahead.
The action isn't just limited to the dunes though, with shorebirds using the beaches to nest, feed and rest. We already have a number of active nests across the Reserve. But the sad fact is nationally, we are losing these birds at a rapid rate with one of the main causes of failure at the nesting site due to human and dog disturbance
Lindisfarne National Nature Reserve is a stronghold for Ringed Plovers and Little Terns and so it is vitally important that we protect them. Little Terns are one of the rarest breeding birds in the UK and a Schedule 1 species meaning that it is a criminal offence to disturb them. Breeding Ringed Plovers have declined by over 65% in Northumberland and overwintering numbers have declined nationally by 50% in the last 30 years. This has resulted in the species being put on the Red List in the UK.
To combat the declines, areas are protected by wardens throughout the summer as part of the Shorebird Protection Scheme. This not only protects the breeding birds but the exclusion zones provide a wider benefit to feeding and roosting birds, providing a safe area to live, survive and thrive. However, shorebirds can nest anywhere along the coast so it is important to be aware, wherever you are walking on the Reserve. All the breeding Terns are back and the roost sites are continually building in number. Arctic Terns have started to lay with birds sitting tight on their eggs and courtship behaviour has been observed in Little Terns so hopefully it won't be long until the first scrapes are seen.

Footage from one of the live stream Shorebird Protection Area cameras. Above Arctic and Common Terns.
To support the protection of Lindisfarne National Nature Reserve, the current byelaw which is in force all year round:
"bringing into, or permitting to remain within the Reserve; (i) any dog unless it is kept on a lead or at heel and is prevented from worrying or disturbing any animal or bird, or (ii) any other animal."
is under review. As part of this we have initiated the trial Dog Zone Scheme across the NNR. Dog zonation maps are in place at every main access point on the Reserve. For more information about this initiative and why it is needed please visit http://lindisfarnennr.blogspot.com/p/dog-zone-initiative-2021.html or call the Reserve office on 01289381470. The current byelaws of the National Nature Reserve are also available to read on the back of all the Welcome signs and the LNNR blog website.
Andy Denton - Reserve Manager
Lindisfarne & Newham NNRs
As well as building my new Observatory Greenhouse at Skylark, I have been busy all this year on another astronomical construction project. This involves assembling a vast mosaic image of the entire Visible Universe (as previously outlined in this column last September). Now - nine months on - all necessary data has been acquired. The time has come to combine more than 10,000 individual photographs in this monster jigsaw puzzle.
Fortunately help is to hand in attempting such a daunting task. My colleagues at NatureGuides are kindly assisting and I have teamed-up with American astrophotographer Charles Bracken. Charlie has a number of strings to his bow that make him the ideal collaborator. In the first place he has written several of the best books on photographing galaxies, nebulae and other deep space objects (see https://digitalstars.wordpress.com). Secondly, he is a whizz with a fearsomely complicated piece of software called PixInsight: an essential tool for stitching together all our data as seamlessly as possible.
There are five main stages in creating our all-sky mosaic. The first of course is to take the constituent photographs. For this we have relied on my remotely controlled telescopes in Spain and in Chile, plus a few images from cloudier Holy Island. These three locations allow us to cover both north and south celestial hemispheres. And by spreading our observations over nine months, the annual journey of the Earth around the Sun ensures that the entire Visible Universe swings around into view over the duration of the project.
Here is Charlie Bracken's hand-annotated master plan showing the position of the 153 panels in our mosaic and their grouping into "super panels" during the complicated processing required to create our unified mosaic of the Visible Universe.
To plan our image acquisition campaign, Charlie devised the accompanying chart. We needed 153 slightly overlapping panels to cover the entire night sky in both hemispheres and across the seasons. Each night I programmed my telescopes to photograph just a few of these panels. But for each location in the sky I took as many as 100 individual images using six different filters. As previously explained in this column, taking multiple images improves the signal quality and helps to eliminate disturbances such as light trails from satellites and aircraft passing overhead.
The second stage of the process is then to combine all the individual images taken for each panel into just four panel masters: one in colour (combining red, green and blue filters) and the other three in monochrome showing chemical data (using specialised hydrogen, oxygen and sulfur "narrowband" filters). Then comes the delicate third stage attempting to remove light pollution from each image. This is primarily caused by the Moon under the otherwise dark skies at my three observatories.
This composite image of the entire Visible Universe was acquired over a period of nine months between August 2020 and April 2021 using telescopes in Chile, Spain and Holy Island. The snake-like structure is our local galaxy the Milky Way, revealed by regions of glowing hydrogen.
The fourth stage, for each set of masters, is to stitch the 153 panels together in groups to create larger super panels. This makes the final step easier by reducing the number of pieces in the jigsaw to "only" twenty or so. To accomplish this task PixInsight (under Charlie's expert guidance) analyses the position of thousands of stars in each image and registers each one precisely to its neighbour. Here the slight overlap between panels is helpful in balancing the brightness and contrast to achieve even lighting across the mosaic.
Finally, the super panels are merged into one complete image of the entire sky. A geometric transformation is used, rather like the Mercator projection in maps of the Earth's surface, to squeeze the three-dimensional celestial sphere into a flat rectangle. A great deal of late-night tweaking is called for. The result is a remarkable overview of everything there is to be seen on the largest scale as we gaze out from our little planet into the immensity that surrounds us.
THE COMMUNITY OF AIDAN AND HILDA
Last month, following the lifting of Covid restrictions and the sale of The Open Gate, locals joined Community members from Liverpool, Birmingham an New Forest in a working party to clean, clear and re-order our three retreat houses, prayer room and library. We look forward to welcoming self-catering bookings.
We hope to restore weekday midday and 9.0 pm night prayer, and to offer talks, hospitality or spiritual direction to groups who visit the island.
Over sixty people attended the zoom launch of my autobiography, Monk in the Marketplace (DLT) whose cover pictures Scott Brennan's photo of me leaning on one of the island's pilgrim posts. Readers who have been pilgrims to Holy Island have contacted me with some profound insights.
One writer, who was forced to leave apartheid South Africa as a student because he stood for a fear-free, prejudice-free country, thought I had much to share from the 'misunderstandings' described in chapter 6. He writes that there are so many situations in the world, both between next door neighbours, right through to international conflicts where situations arise based on a resistance to bring 'taken over', as in Israel/Palestine. Perhaps noting I quote Paul Coelho 'our task is to help our neighbours find their greatness', he concludes 'your experiences related to this issue may be the most valuable contribution to a world in need that you have to give now. Coming from a monk, people will take seriously what you share about these human dilemmas.'
May good times lie ahead.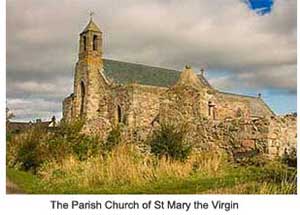 Dear friends
As I write it is a beautiful morning. The ducklings in the vicarage garden are growing up fast - delightfully waddling around after their mother. And there is always one who is off on her own exploring - only to be met by a bout of loud quacking as her mother realises she isn't with the others...
We had a lovely visit a week ago when our island school girls came to see the ducklings. And then we went into church to put up the Christian Aid display that the girls had done at school - a really important cause as Christian Aid help those affected by climate change and the need for clean water.
We have just celebrated Pentecost - the date in the churches calendar when we celebrate the founding of the church. Jesus has ascended into heaven but has not left us comfortless. At Pentecost, he sends us the Holy Spirit - our advocate, guide, comforter. And at Pentecost, we recommit to living a Christian way of life. During the service, as Vicar, I ask those present
As part of God' church here on Holy Island, I call upon you to live out what you proclaim. Empowered by God's Spirit, will you dare to walk out into God's future, trusting him to be your guide? By the Spirit's power, we will.
Will you dare to care for each other and grow together in love? ...... We will.
Will you dare to share your riches and minister to those in need? ...... We will.
Will you dare to pray until your hearts beat with the longings of God? ...... We will.
Will you dare to carry the light of Christ into the world's dark places? ...... We will.
Caring for each other, sharing what we have, helping those in need. This Holy Island community lives out those words - caring, sharing, helping. And that is to be celebrated in the new life around us, in thinking about those who Christian Aid is trying to help, in working together for a good future for our children and our children's children.
Holy Island 2050 is working towards a brighter future for the island community - for our children and our children's children. I have included the latest newsletter later in this magazine. We are hoping to hold open meetings in June, covid allowing. Please do come along or let us know of your interest. Notice of those meetings will be circulated to everyone.
And as we come out of lockdown (we hope), we look forward to being able to celebrate together and to keep caring, sharing, helping. One of these celebrations will be for our curate, our very own Sam Quilty's ordination as priest on the weekend of July 3rd. Congratulations Sam!
Watch this space for news of the party!
With every blessing
Sarah Hills
Vicar