be sure to bring a facemask...
A bit from me...
Holy Island C-of-E first school
Crossman Hall
Our Naturalist on Lindisfarne
Lindisfarne Castle
Natural England
Heavens Above
From the community of Aidan and Hilda
From our Churches
St Mary's notices
A Blessing - for this time and every time
Dear Subscriber,
Welcome to our May newsletter.
Last month I mentioned that the UK might be entering a concluding phase of this disastrous pandemic.
Becoming known as a worldwide focus for vaccine, it's dreadful to hear that even India is reporting daily infections of well over a quarter-of-a-million; overwhelmed hospitals having to reject patients; shortages of vaccines, ventilators and life-giving oxygen. And India is by no means alone in their suffering. This pandemic cannot conclude until all have access to supplies of oxygen, ventilators, vaccines and medicines that meet the evolving nature of the virus.
For those visiting us, the UK government continues its direction:
As I write, despite average rainfall running about 10% of average the weather is overcast, showery and cold. Regardless, the season has certainly begun!
Visitors begin to arrive as soon as the north sea tide clears the road - which can be very early indeed. And their numbers seem as high as ever. So, welcome back dear visitor. Be sure to bring a facemask and check the ' safe ' crossing times to avoid being stranded on the island when the tide comes back in!
Credit where credit's due: 'Lindisfarne Causeway' is in a better condition than it has been for some time. The sides of the bridge are now in place; the serious potholes have temporary fillings. Alongside the causeway trenches have also been re-dug enabling ebbing tides to getaway and reduce sand deposits. Well done NCC highways department. But vehicle owners beware as local land management continue to be unable to reduce the contaminating puddles of salt water lining the coast road...
For our royal family April has been a horrible month (mense horribilis ). We share their grief and give thanks for the life of Prince Philip. May his soul rest in peace. Below, I share the cover picture from our church newsletter, 'The Holy Island Times' .
Thank you to writers Andy, David, Heather, Ian, Max, Nick, Ray and Sarah who have written for us this month.
Enjoy our newsletter - we look forward to getting in touch again in June.
God Bless and Stay Safe,
Geoff Porter Editor (SitEzine)
editor@lindisfarne.org.uk
www.lindisfarne.org.uk/ezine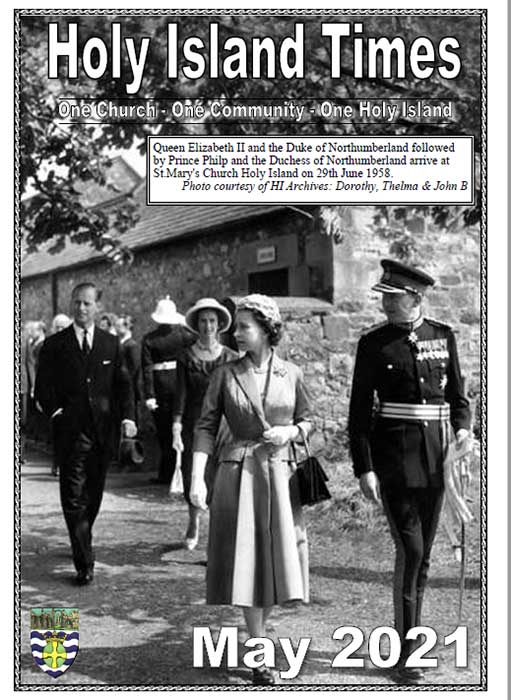 Always two-steps behind...
sharing our memories on the passing of a much-loved royal
- A Royal Visit to Lindisfarne -
HOLY ISLAND C-of-E FIRST SCHOOL
The children returned from their Easter holidays full of energy and, I'm sure, looking much taller than they were before! We continue to be delighted with how settled the children are as we move into the summer term.
This month, I'd like to start by saying a big 'thank you' to Sam Quilty for visiting us in school to give us compost, a lovely collection of seeds and a pack of propagators. This was through our Holy Island 'Warm Hub' scheme and Scarlett-Beau and Lily-Ella were excited to see the different types of vegetables and flowers that we can grow.
Our gardening club has started again and we were thrilled that Sam agreed to join us this week. She helped us to choose which seeds to sow and the girls thought carefully about which plants to grow together. We planted peas, broad beans, sweetcorn, runner beans and sweet peas. When they're big enough, we are going to plant them so they'll grow up a wigwam of bamboo canes. Then we can plant some squash underneath which will make the most of the space we have in our raised beds. We also planted our potatoes. It has been lovely to be back in the garden - we've got lots to do!
Our topic in RE this term is pilgrimage. We are researching pilgrimage across different religions around the world. If the government's 'covid road map' goes as planned, we hope to walk along the Pilgrim's Way from Beal to Holy Island in June. We are very pleased that Mary Gunn has agreed to guide us over to the island and we are already drawing our route map and finding out why this is such a special walk for Christians.
We have a very special event to look forward to in the next few days. As you will no doubt know, Brian Patterson has been connected to our school for many years. He has recently decided to hang up the keys to his mower and unplug the strimmer so he can take things a little easier. We have invited Brian and his wife Annette to a grand afternoon tea on our school field. We are really looking forward to sharing some tea and cake to say thanks for the long years of service here at school. Look out for an update on our exciting event next month!
Heather Stiansen
heather.stiansen@lowick.northumberland.sch.uk
Our news is a thin on the ground this month and although Covid 19 Requirements are easing HEALTH PROTECTION REGULATIONS 2020 continue to apply.
We must follow all the measures required by the NHS to help safeguard ourselves, families and friends. This is especially important as the number of visitors to the Island is increasing and remember it is said that one person in three can be a 'hidden' carrier of the virus.
According to HMG's 'roadmap', from 12 April the Trustees are authorised to permit LIMITED opening of the Hall. That is;
The exercise area may be used by an individual or two persons from the same bubble. Equipment MUST be cleaned after use.
The RULE of six is back. Meetings of up to six can gather in the hall for a work purposes and after the meeting all equipment used MUST be sanitised and left clean.
The first big event in the building will be on 6 May 2021 when the hall will be managed by Northumberland County Council who will hold the Local Elections.
Because of Covid 19, Voters will enter via the main door walk through to the main hall to vote and then exit via a side door. This will ensure that 'social distancing' is maintained.
The next probable change will be on 17 May 2021 when the Rule of Six ends and up to 30 MAY be approved to use the hall for meetings. Anyone using the hall must comply with the Health Regulations and follow safe Covid 19 working practice. Failure to do so can result in a fine.
Remember the NHS mantra: ""HANDS - FACE - SPACE"
Be safe and hopefully before long we may be able to make greater use of the hall.
David O'
Secretary/Trustee - doconna@hotmail.com
IN DAYS GONE BY
'Good Friday' Sandstorm: David O' escorting Pilgrims over the sands
OUR NATURALIST ON LINDISFARNE
ORCHIDS, THE BEAUTIES OF THE DUNES
Our island is famed for its orchids and justly so as it holds by far the finest assembly of these fascinating plants in the region.
But there's always something new to be discovered. One day last summer a friend came upon a patch of Bee Orchids in the dunes and promptly photographed them. What she didn't realise until she returned home and checked was that she'd discovered a species new to the island.
They get their name from their flower heads which do resemble bees. Nature designed them to attract these insects which are fooled into trying to mate with the flower heads, thus pollinating them.
My friend's surprise discovery brought the number of orchid species on the island to 12, an assemblage unrivalled in the north east and they're now starting to flower.
To many people the very name 'orchid' conjures images of tropical jungles or hothouses filled with exotic blooms. But it's not necessary to travel or invest in glass and heating because in Britain we have more than 50 species growing in the wild although one, Ghost Orchid, hasn't been found recently and may be extinct.
In Northumberland we have around half that number but they include one which is not only unique in Britain but is found in just one locality - our very own orchid hotspot at the Snook.
The Lindisfarne Helleborine has made the island a place which must be visited by all keen botanists even though to the casual glance it's not the most impressive of plants.
Most of our orchids flourish in the slacks, the low hollows between the dunes, which often flood in winter leaving ideal growing conditions during spring and summer. It's here that the more common orchids among the island's floral treasures bloom, often in their thousands, successive species providing beauty and colour right through from early May until August.
Early in the season the dunes and other grassy areas hold impressively boldly coloured spikes of orchid species including Early Purple, Early Marsh, Northern Marsh, Spotted and Pyramidal. They're often very variable in colour and size. Those in damp areas grow tall while others struggling in drier conditions remain small, some only three or four inches tall.
Hidden in the longer grasses are Common Twayblads, so called because of their broad twin leaves at base of their stems. Their small yellowish green flowers can be insignificant. Until you get your eye in, they're often difficult to pick out.
As these fade, their places are taken in June, July and August by others. These include the rare Coralroot Orchid. The island and Gosforth Park nature reserve are the only places in Northumberland where it exists although the Gosforth plants may have arrived on timber from Scotland.
These plants are small, yellowish and rather insignificant. They're among a small number of species known as saprophytes, plants without chlorophyll which gives most their normal green colouring. Instead they survive on rotting vegetation with the aid of a fungus partner.
The discovery of that very special Lindisfarne Helleborine is a fascinating tale. Those growing on the island were previously thought to be nationally rare Dune Helleborine which grows in only a handful of coastal sites around Britain.
In 2003, as part of research into Britain's orchid family DNA techniques were used. To the amazement of those involved these showed that the local plants were genetically and organically different to the Dune Helliborines at other sites and it was declared a new species.
It was given the scientific title Epipactis sancta - the first the family name for helliborines, the second an appropriately religious title for a plant unique to the island which was the cradle of Christianity in the north.
Now great efforts are made to protect this unique plant which, to be truthful, isn't particularly spectacular despite its tremendous rarity value. I recall taking my wife to see the plant shortly after its designation. Hazel examined it carefully from all angles and asked: 'Is that it?' Totally underwhelmed!
However, it's very important to keen botanists. A couple of years ago in Kent I talked to a lady on duty as a guide at a local church. She was just back from a botanical trip to Northumberland. Before she'd a chance to say it, I said she must have visited Holy Island. Of course she had. But how on earth did I know?
Recently some experts have questioned the science which led to the designation of our orchid and have suggested that it really is a Dune Orchid as originally thought. The jury seems to be out on that one so we should perhaps just enjoy them while we can.
Another rare plant, the Frog Orchid, also grows on the island, this one around the old limestone quarry near Nessend. It's very small and insignificant and hard to see even when it's in front of you. It's an odd thing about orchids, the rarer they are the less showy they seem.
You certainly can't say that about my own favourite, the lovely and showy Marsh Helleborines which flower in their thousands during July and August. These stately plants with their crimson, pink and white flowers completely dominate the scene.
Of course the island has many other floral delights including tall, stately and vividly electric blue Viper's Bugloss, yellow Carline Thistle, diminutive pink Seaside Centuary and I always know that autumn is fast approaching when I come across drifts of the silvery white cups of Grass of Parnassus along the path-sides.
Unfortunately, we also have a real problem plant, the highly invasive Pirri-pirri Burr, a native of New Zealand.
The most likely explanation for its presence is that its seeds arrived on wool imported to the mills which once existed along the River Tweed. Washed out during processing and carried out to sea by the river, the seeds washed ashore and found the ideal ecological niche on the island. Having no natural enemies, it has rapidly spread and has threatened to overwhelm the native flora in some areas. Its spiny seed-heads cling with incredible tenacity to clothing and dogs' making its removal a real problem. Seeds carried this way have resulted in the plant spreading to the mainland.
I suppose that every little Garden of Eden must have its serpent. Pirri-pirri Burr certainly fills that role on the island.
The photographs used with this feature are all copyright of my good friend Max Whitby of NatureGuides. I'm grateful to Max for their use.
Ahead of opening the castle to the public on the 22nd May, we have been finalising preparations inside to all aspects of the operation. Firstly, we have returned our 2020 installation Limelight to the building which will be the main headline attraction this year. I wrote about it this time last year, but it is even better this time around as we have the sound and lighting parts installed, both of which fell foul of the first lockdown last spring. Just as a reminder, the artists Anna Heinrich and Leon Palmer have taken laser scans we had produced for the major restoration work back in 2016 and created a fantastic, immersive visual experience in a couple of spaces in the castle. They have worked on a theme of bringing the external environment into the internal spaces inside the castle. The Ship Room projection in particular shows the castle in a way no one has ever seen it before - it really does stop you in your tracks at times - while the other projections in a bedroom are incredibly clever and almost literally bring the sea into the castle (almost!). I really would advise a visit to see it in person, you may see photos and videos of it, but they won't do it justice.
Alongside the main installation, we have of course had to make provision for the continuing restrictions we must adhere to. The castle is a difficult building to navigate at the best of times, but we have just about managed to create a route around which should allow safe visiting. A booking system will be in place to help control numbers so that should make things a little easier. I am also hoping to squeeze in a few more jobs in the castle before we open; we have been repointing a lot of the floors so there is scope for some more of that, and a few metal objects which had been away for restoration are now back - for example the bell from the front door, which has been down since 2014. I am also giving the place a good going-over with the vacuum, cleaning down the windows, and waxing vulnerable surfaces.
Holy Island Village - from the Castle
I mentioned last month an interesting discovery I had made from the period of the Protectorate, not a time we know a great deal about at the castle. It seems that the castle was something of a hotbed for Quakerism in the 1650s though. The captain of the castle in 1657 was Henry Phillips, and according to the Quaker diarist George Whitehead, he seems to have converted his garrison and held meetings in the castle itself: 'we were kindly received in that island, both by the governor Captain Phillips, and his wife. And that evening, I had a meeting in the castle, where the garrison was kept, in the family, and among the soldiers, who were civil to us. We lodged there that night, being kindly entertained; and the next morning the governor sent his man with us to guide us over the sands'.
Phillips later moved to Oxfordshire but ended up spending eight and a half years in prison for refusing to attend Anglican services or swearing an oath to Charles II. He does seem to have been reprieved though as by 1671 he was heading a commission to record Quaker sufferings in the county. Another interesting character from the history of the fort!
Best wishes
Nick Lewis
Collections and House Officer
Lindisfarne Castle nick.lewis@nationaltrust.org.uk 07918 335 471
NATURAL ENGLAND LINDISFARNE NNR
It has been a glorious start to spring, with no appreciable rainfall since the last edition of Holy Island Times leaving much of the dunes tinderbox dry and in need of a good dousing of rain.
Many of the ground nesting birds in the dunes have been taking advantage of the good weather with the Skylarks and Meadow Pipits constantly singing, displaying and holding territory. Stonechats darting around from stick to stick giving their diagnostic call and the occasional sound of displaying lapwing carried on the coastal breeze. When entering the dunes it really is a cacophony of noise and life that envelops every visitor. Some of the early orchid species won't be far away from flowering forming a carpet of purple and pinks in some areas.
The longer migrating birds are now returning with Sandwich Terns observed on the Reserve in the last couple of weeks. These birds fly in from wintering in West Africa and while they don't breed on the Reserve they use the site as important roosting and feeding area both pre and post breeding.
The most exciting news of the last week has been the return of the Little Terns. Four were observed on the Reserve on the 21st April feeding in some of the intertidal channels, furiously trying to build their fat reserves back up after the long migration from Sub-saharan Africa. Ringed Plovers and Oystercatchers are already beginning to establish territory along the coast and it won't be long until the Little Terns join them
With lockdown slowly easing there has been a noticeable uptick in visitors to the Reserve in the last week, keen to get out in the fresh air rather than looking at the same four walls. So it is not before time that the Shorebird wardens will be starting their roles this week and along with staff and volunteers, erecting protective fencing and monitoring the trials and tribulations of another breeding season and engaging with visitors to this special place.
The Dog Zone Initiative will come into force on 1st May with No Dogs in certain sensitive areas of the Reserve but a large area where dogs will be able to run off lead on the north shore of the island. Signs will be installed at most main access points and transition of zones at the end of April. The rest of the Reserve will be a dogs on lead area. The zones will be monitored by staff and volunteers. For the full information regarding the Dog Zonation please visit www.lindisfarnennr.blogspot.com.
Andy Denton - Reserve Manager
Lindisfarne & Newham NNRs

Dog Zone Initiative
Birds that are nesting, resting or feeding need undisturbed space to live, survive and thrive.
What is Proposed?
Lindisfarne National Nature Reserve (LNNR) will introduce a trial dog zoning scheme for spring and summer 2021. This will consist of three zones shown in the map below:
No dogs area - the area around the Wide Opens extending to Ross Back Sands south and north to the Beacons and Blacklaw; and the western section of Budle Bay

An area where dogs will be allowed to be exercised off their leads - the North Shore on Holy Island (maximum of 2 dogs per individual & owners must still be in control of their dogs and must be able to get them back to heel quickly)

The remainder of the LNNR - dog owners will be required to keep their dog on a short lead (1.5 metre) at all times (maximum of 2 dogs per individual)
Why is this scheme necessary?
Lindisfarne National Nature Reserve is internationally important for a range of wildlife and their habitats. The NNR is home to between 50,000-60,000 birds during the autumn and winter making it the most important site in the north-east. Both Grey and Harbour seals seek refuge to haul-out and rest at several locations throughout the site. During spring and summer, it provides refuge for the largest population of breeding Little Tern and Ringed Plover in the county. The four other UK Tern species either breed and/or use the NNR to roost and feed.
How long will the scheme be in place?
The three new zones will initially be introduced on a trial basis from 1 May - 1 September 2021. The Scheme will be fully evaluated and, if seen as successful, in consultation with the local community and other partners, Natural England will look to implement the Scheme fully. The measures will be in place during the Shorebird Protection Scheme, and we will also assess the benefits in extending the Scheme to cover winter months to protect Lindisfarne NNR's internationally important autumn and winter avian visitors.
In addition to this we will be hiring seasonal wardens to monitor how successful this is and monitoring the shorebirds at key locations around the Reserve.
Another quick reminder that we are still monitoring the Avian Influenza outbreak so if you see any dead or sick birds please do not approach them and keep dogs on a short lead to prevent them coming into contact with infected birds. Please report any dead or sick birds to the Lindisfarne National Nature Reserve Office on 01289 381470.
It won't be long before we start re-emerging from lockdown and enjoy all the new arrivals that spring has to offer. Orchids will be bursting through the ground and we should soon be hearing the first Sandwich Terns arriving back from Africa before the Common, Arctic, Roseate and Little Tern join them a few weeks later. Lindisfarne NNR is such a special place at this time of year and one of the few places in the country where you can see all 5 UK breeding species of terns in one location.
Cruising around the village on my bicycle for daily exercise I have been accosted several times by people asking the purpose of the building materials that recently appeared in front of Skylark. In this month's edition of The Holy Island Times I can exclusively reveal all. I am constructing an Observatory Greenhouse.
As far as I can tell after a spot of Googling, this dual-purpose edifice might possibly be unique. It seems such an obvious solution for a gardening astronomer in northern latitudes. In summer the nights in Northumberland become so short that (astronomically speaking as I have explained in a previous column) it never becomes fully dark from early May until late August. During this period astrophotography is all but impossible.
Solid foundations should ensure that the Observatory Greenhouse will not be blown away in the winter gales. They also provide vibration-free support for the telescope.
So in summertime an observatory here is essentially useless and rests idle. A greenhouse on the other hand is exactly what one needs during the summer growing season. And conversely from September until April a greenhouse becomes less useful, just when an observatory comes back into its own.
The challenge then is to design a building that can serve these two rather different functions. Simultaneously it must comply with planning restrictions on what outbuildings are permitted in a rear garden. In particularly there is a 2.5 metre (8.2 feet) height limit.
The system I have designed is based on a rolling roof. The entire roof will be a separate structure with six stout wheels allowing a motor to move it horizontally back and forth three metres (ten feet). The bearings engage with a pair of steel rails running just above head-height. When the roof has travelled all the way to the end of its runners, my erstwhile greenhouse will be transformed into an observatory fully open to the night sky.
What could possibly go wrong?
Well plenty! The principal concern is wind. Anyone who experienced the severe gales this past winter will know that roofs on the island need to be very firmly attached to the rest of the building that they protect.
So to avoid the prospect of 15 square metres of glass taking off and flying in an unpredictable direction, I have specified industrial-strength roller bearings. These are the locking sort used by cable cars and moving gantries. They will anchor the roof to the main structure of the greenhouse - sorry observatory - which is constructed of sturdy stone and concrete blocks. As a second precaution, I will be using the anemometer on my nearby weather station to automatically close the roof should a wind speed above 40 km/h (25 mph) be detected.
As you can tell from the accompanying photos, the building has substantial foundations. These should not only prevent it being blown away in a gale. They also provide an extremely solid attachment point for the steel column (know as a 'pier') on which my telescope is mounted. Avoiding vibration is a critical requirement for successful astrophotography and it is one of the reasons I have decided to construct the new building.
Here is the building following completion of the stonework. The rails for the rolling roof will be installed next and then timber window frames.
In a future column I hope to update you on the building's progress. Once the observatory is ready, everyone interested will be most welcome to visit Skylark and inspect. A clear night in late autumn is recommended, when it should be possible to take a look at some deep space objects.
In closing let me update you on the frogs. All is well. The day after I wrote last month's column half the surface of my refurbished pond was covered in spawn.
THE COMMUNITY OF AIDAN AND HILDA
Paul Swinhoe, was a much-loved North Easterner who led several retreats on Holy Island's birds, plants and geology each year. He died of a brain tumour in March.
At the time of his funeral Northumberland Community of Aidan and Hilda members held a Wake on zoom. Maureen Simpson, who co-led some of these retreats, recalled the time he was on St. Cuthbert's Isle with his telescope. 'Come and look' he said to Maureen. She saw a seal teaching its baby seal how to fish. As well as being a member of CAH. and its web site manager, Paul was a member of the World Community for Christian Meditation. He died very peacefully in a hospice and his wife Barbara asked all who wish to remember him to give a donation to their local hospice.
A pilgrim from North America has sent a piece of rock which she wants to be her memorial when she dies, and this is being placed in a CAH garden on the island.
The students on the Igniting the Flame course, which usually has one of its meetings or a retreat on Holy Island, this year did a day's zoom retreat during which I spoke on Living by a Way of Life.
Last month's ezine letter (it was too late for Holy Island Times) included a statement about the closure of The Open Gate. Although the former Open Gate staff will no longer be paid, Kayleah is being given a further two months at Lindisfarne Retreat as she looks for alternative accommodation.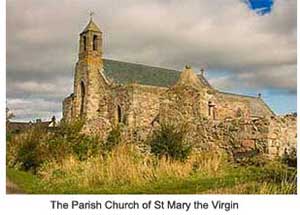 Dear friends
Well, hasn't it been a beautiful week or so of blue sky, sun and hope in the air! As lockdown eases, the island is welcoming visitors back and gearing up for what will no doubt be a very busy summer season.
We are still In Eastertide in the church's calendar - a season of joy and celebration that the Lord is risen. Alleluia! In our hemisphere, this of course coincides with spring. The days are getting lighter and longer, the sun's warmth is increasing and gardens are springing into life. In the Vicarage garden, we have just had 6 new ducklings hatched! A lovely sign of new life and hope. As the covid restrictions ease and more people are vaccinated, we can hopefully begin to imagine a new sort of life beyond lockdown.
But we also need to remember those who have been affected by covid. Those we miss and see no more. The disappointments of not being able to see new grandchildren or meet up with family. All the restrictions that have affected us, and those around the world. And we of course mourn Prince Philip, Duke of Edinburgh, and our hearts and prayers are with our Queen and all the Royal family.
But we also look forward - to the summer, and in the church's calendar we also look forward to Pentecost - May 23rd. Pentecost is the church's 'birthday', and also known as 'Whit Sunday'. Summer is coming, and with it, hopes and opportunities as we emerge from the last year of lockdown.
We can give thanks for the community spirit that has enveloped the island during this time - as always, but maybe more obvious as people have cared for their neighbours, checked up on those who are alone, provided contact and a friendly, 'How are you? Do you need anything?'
Our challenge now is to continue this care for one another. To look forward to what we can do together to make this island and indeed our world a better place. And locally, to what the work of Holy Island 2050 might bring. To join in. To help to ensure that this island can thrive as a living, thriving and caring community in the years and decades to come.
Please do let me, or members of the Parish Council and Holy Island Community Development Trust know your thoughts about how we can best move forward as an island community. An island community, working for the island's best interests.
With every blessing
Sarah Hills
Vicar
---
ST. MARY'S NOTICES
Current Worship Times
Due to the lockdown restrictions of Covid 19, St Mary's Church building is currently closed. We are sorry it is not open daily but know that our prayers are with you.
The church building will open again as we come out of lockdown when it is safe to do so. Please check the website or church porch for details.
When open please wear face Mask in church.
Worship Times
(from after Easter)
8am BCP Sunday Eucharist first Sunday of the month in church
1045am Sunday Eucharist in church
Daily prayer in church will restart once we are further through the government's road map of lifting restrictions.
Lord, help us to be with one another... even if at a physical distance. Help us to build a kinder world. To reach out. To love and to care. To be sensible and not to panic. Help us, Lord, to hope. Because together we can. Amen.
Revd Dr Sarah Hills
A Blessing - for this time and every time

Lift your hearts to heaven
and receive the eternal gift of peace

Keep your feet on the ground
and walk with those who need God's love

This day

you are loved by God
You are held by God
You are blessed by God

Now and for evermore

© Rachel Poolman