the island awaits
A bit from me...
Readers' letters
Holy Island C-of-E first school
Crossman Hall
Our Naturalist on Lindisfarne
Lindisfarne Castle
Natural England
Heavens Above
Living in a Community
From the community of Aidan and Hilda
From our Churches
St Mary's notices
A Blessing - for this time and every time
Dear Subscriber,
Welcome to our April newsletter during, what we hope will become, the concluding phase of this disastrous pandemic.
Vaccine appears the route out with the UK seemingly better placed than most. But risk will not go away until the entire planet has been immunised. And having a population of nearly 8 billion - there really is a very long way left to go...
The UK government directs the pathway back to normality:
As I write, the island remains in lockdown and we realise that current visitors may have at least flaunted government travel guidelines in that our remote location has added 5 miles onto their distance from home. We hope they will understand any natural wariness at the appearance of a stranger.
'The Shack'
with Ashleigh and Charlette
Nevertheless, on the island, clergy, fishmen, farmers, accommodation providers, pubs, local shops - we all very much look forward to reductions in restrictions and getting back to 'business as usual'.
Starting from 12th April some businesses hope to offer take-away services. And subject to Covid regulations (and the weather!) beer gardens and limited outside seating areas may well be on offer so make sure you bring your facemask!
Those visiting at the moment will find the causeway remains in a poor state. A particularly deep pothole was 'fixed' last week but others along the coast road await maintenance. Thank you to the highway department who have now replaced the missing sections of concrete balustrade at the bridge. The council car park is drying out nicely but beware the underside of your vehicle over its lumpy surface. Continuing toilet block refurbishment and the associated line of portable toilets takes up much of the room in the coach park. The county council has not advised when completion is likely - commercial companies should therefore contact their excellent website. And remember, always check the ' safe ' crossing times!
For the benefit of the many who 'discovered' Lindisfarne through the Marygate retreat house, we published Rev Canon Kate Tristram's editorial on one of its founding wardens. Of course, Kate herself played a key part in its foundation. And if you recently visited the island you may have noticed the bunting decorating one of its cottages where Kate and her many friends 'socially distanced' to celebrate her 90th birthday. It is hard to think of anyone who has done more for the island's Christian heritage in modern times than Kate and her mentor, the late Vicar Bill.
Thank you to so many of our readers who wrote last month snippets from which are included below. My gratitude also to Andy, David, Heather, Ian, Lesley, Max, Nick, Ray and Sarah who have written for us this month.
Our Easter message to you is of hope, joy, promise and freedom from this pandemic purgatory of lockdown. There will be light at the end of this tunnel!
Enjoy our newsletter - we look forward to getting in touch again in May.
God Bless and Stay Safe,
Geoff Porter Editor (SitEzine)
editor@lindisfarne.org.uk
www.lindisfarne.org.uk/ezine
Thinking of you at Easter
Spring daffodils at Lindisfarne Hotel Corner
Thanks Geoff.
Your newsletter is a great read. last time on island you were being invaded by Danes.one heavily clad Viking charges up to me and asks me where are the monks I want to get one...
Hope could cu . we are locked down again in Auckland back to Waiheke tomorrow. There ZL1WAI.
FT990: "CQ ZL1WAI de G0RPZ"
I've been walking UK pilgrimages 20 years always August. Not last or this year both cancelled also ho to Orkney each Sept - Orkney international science festival run by mate Howie Firth of Elgin.
I also have a 990 and several other rigs the oldest is a Drake tr7. And a Kenwood 830 both great rigs. Do Ft8 but a bit boring. After 20 years I'm back on cw and enjoying it. Took me a month daily on www.LCWO.net to crack it. At 79 a challenge!
All the best.
73
Howard
H Buxton NZ
ED: Thanks for getting in touch again, Howard. I particularly included your letter in case we have any other subscribers who share our hobby. I'm hoping to raise a G5RV in the hope I can resurrect any remaining CW skills.
---
Geoff,
Just a note to say thank you for sending out the monthly newsletter. I really appreciate it arriving and enjoy reading it.
I have visited the Holy Island twice - many year ago, and look forward to another visit once we are all able to travel again.
I took the name Aidan when I made my monastic profession - now I am the abbot of my monastery here in the US.
May St Aidan protect you,
God bless you all on the Island - be safe,
Fr. Aidan,
Abbot Aidan Gore, OSB oliv
Pecos Benedictine Monastery
USA
"So now faith, hope, and love abide, these three; but the greatest of these is love."
ED: Thank you for writing, taking the name of our patron saint and your blessings. These are difficult times indeed.
---
Dear Editor,
I love reading the Holy Island sitezine.
Thank you so much,
Yours,
David B
Hoedspruit,
South Africa.
ED: It's really good to hear that we have a subscriber in Hoedspruit. Wishing you all well this Eastertide!
---
Dear Editor,
Thanks for another good news from Lindisfarne. Especially enjoyed the old-time film of Northumbria. I think I told you before some years ago that I play a tune called "Lindisfarne" on my bagpipe. Just played it with our music group last week. Very light and melodic. (I am writing from northern Pennsylvania).
Diana P
ED: It' seems ages since you got in touch Diana and that you enjoyed the 'YouTube' connection. I hope you are coping with the pandemic. Stay safe!
---
Hello!
Just a quick note to let you know how lovely it is to receive these emails!
As an aside, today (Feb 28) we'd be arriving to beloved Lindisfarne for about a week (a small group of us every year around this time come for "retreat".)
It was a year ago when we were there. At the end of our time at the Open Gate, Robert C had to be taken to the hospital with questionable symptoms similar to Covid. It occurred to all of us of the possibility of being quarantined on Holy Island which was certainly not met with disappointment by most to be sure (well, that was the first reaction before the reality of the situation slowly seeped in.)
Needless to say, Robert recovered, thank God, and we were on that flight as planned (not without many prayers, believe me.)
And those prayers continue for you all as we make our way through this awful unprecedented time, on both sides of the Pond.
We can only live in the hope of a brighter future.

With many blessings to everyone,
Sr Margo Colman
ED: Hello too Margo! So sorry you had to curtail this year's retreat visit. Robert seems fit and well and chairs the Parish Council. But, as you are aware, the 'Open Gate' has suffered a setback and is currently for sale. But I understand that by no means is AHC 'out for the count' so far as their island base is concerned.
HOLY ISLAND C-of-E FIRST SCHOOL
We are back! I'm delighted to say we reopened our Holy Island School on 8th March. It was lovely to see the Scarlett-Beau and Lily-Ella rediscovering their favourite activities and beloved books and games as they explored the classroom again. The transition from home schooling to being back in school has been very successful so far and we have all enjoyed feeling that we are getting back to a bit of normality with our everyday lessons and routines.
During our first week back we celebrated World Book Day with the children designing, baking and decorating a gingerbread shape as a character from their favourite book. We then filled the rest of day with storytelling, drama, book quizzes and a scavenger hunt before finally sitting down to eat our gingerbread creations!
On the Friday before Mother's Day the girls spent some time helping to prepare the daffodil posies that Sarah and Sam were organising to be delivered around the village. We learned how to prepare each bunch and how to tie knots in the ribbon. It was like a mini florist's shop in school and we made thirty posies! Well done Scarlett-Beau and Lily-Ella. We hope all the mums enjoyed the posies.
We've been setting out some seed potatoes to chit in school and have noticed shoots appearing already. We'll get them planted in the next couple of weeks we hope. It's been good to see the hyacinth and crocus bulbs blooming in our pots in front of school. I think we should plant lots more this Autumn.
And finally, some exciting news - we are having an Easter play! Our rehearsals have been going well and we have started to film the opening scenes. You might remember that our Christmas performance was filmed outside and on location. This was such a success that we have decided to do the same again albeit on a slightly smaller scale. We will be sharing our completed performance on our school website - do have a look; I think you'll enjoy the show! LIly- Ella and Scarlett-Beau are narrators and I've been very impressed that after lots of practise at home and in school, they can remember their lines so well. https://www.lowickholyislandschools.org.uk/website
Heather Stiansen
heather.stiansen@lowick.northumberland.sch.uk
Providing Regulations don't change: from 12 April the exercise area will be re-open for personal use.
Information taken from the four step roadmap, issued by HMG, as applies to the Hall. Remember, we must all continue to play our part and following the stay safe Regulations set by the NHS.
CLEAN HANDS - FACE MASK - SOCIAL DISTANCING
The dates given are the earliest permissible. When taking & making and booking(s) we must be prudent, warning that we cannot guarantee the booking date.
STEP 1 Schools and colleges opened on 8 March, can we hire to them? (Probably)
28 March; Outside gathering of six maximum
STEP 2 No earlier than 12 April.
rule of SIX applies - six can meet indoors
gym open for individual use
no indoor household mixing
Indoor children's activities permitted with up to 15 parents
Wakes & wedding receptions, up to 15
MINIMISE TRAVEL
STEP 3 NO EARLIER than 17 May
Controlled indoor events (meetings)
Rule of 6 persons or 2 households indoors (subject to review)

Significant life events, maximum number attending 30

Travel permitted

In hall activities. Covid 19 guidance, remains in place
STEP 4 NO EARLIER than 21 June

HMG hope to REMOVE ALL LEGAL LIMITS on social contact(s)

Dancing permitted

Remove all limits on Weddings and other -life events'

ALL OF THESE MOVES AND OTHERS ARE SUBJECT TO REVIEW AND AMMENDMENT BY HMG
At all times follow Covid 19 health protection advice
After every function the users will clean down equipment, including loos & kitchen or pay a fee for our cleaning service to re-sanitise the area(s) used.
During the ever changing Covid 19 "open/closed" periods a number of bookings were cancelled and then pencilled in.
From the 21 June 2021, if all goes well, the hall may be fully open for bookings If you made a provisional booking please confirm.
Remember when walking around the Island and mixing with visitors, some of those you pass may be Covid-19-Carriers' and able to pass on the virus. Be social-distance aware.
More news next month
David O'
Secretary/Trustee - doconna@hotmail.com
OUR NATURALIST ON LINDISFARNE
THE RISE AND RISE OF THE COLLARED INVADERS
While we're all been very preoccupied in looking forward to life getting back to something like normal, our island wildlife has been following its seasonal rhythm and getting on with the start of the breeding season.
Typical early migrants are starting to arrive and early breeders among our common garden birds, particularly Blackbirds, Song Thrushes and Collared Doves already have nests and eggs.
While our Collared Doves might now seem so commonplace that we hardly even notice them they have a really astonishing history. It's hard to believe now but until the early part of the last century they were confined to south-eastern Europe and the Middle East.
Then, for reasons no-one has been able to adequately explain, they began to expand rapidly westwards across Europe where they found an ecological niche almost tailor-made for a small dove surviving on the seeds of grasses and weeds.
By the 1930s they'd reached Hungary and the areas now covered by the Czech Republic and Slovakia and by 1940 they were breeding in Poland. In a striking irony a bird which is a symbol of peace for three world religions, Christianity, Judaism and Islam, they continued to spread across France and Belgium in tandem with the invading Germans during the Second World War.
By the time the war ended the Collared Doves had colonised the Channel coasts of France. It was then just a very short hop over to southern England where they started to breed during the 1950s.
They then spread northwards through Britain at an extremely rapid rate and the first breeding in Northumberland occurred in 1958 when a pair reared their two young at Ponteland.
The county was quickly colonised. Birds began to turn up regularly on the island during the 1970s and 1980s and the first pair bred in 1991. Since then they've never looked back. Not bad for a bird which was completely unknown to most of our grandparents and hadn't even reached Northumberland when I was a youthful bird-watcher!
They are now breeding right around the village and during and autumn and winter flocks of up to 60 birds regularly congregate around the poultry pens at St Coomb's Farm.
That dramatic northward expansion has continued and they now occupy just about every part of Britain and Ireland and most of Europe.
Like our island birds, most live in close association with humans, occupying mainly gardens and hedgerows rather than woodland. I remember in the 1990s bird-ringing on North Ronaldsay, a tiny speck of land between Orkney and Shetland.
We were surprised to catch a Collared Dove, then a real local rarity. When we released it off it went confidently in a north westerly direction into the Atlantic, perhaps next stop Iceland.
Collared Doves have now colonised eastern North America. It's thought that this probably resulted from birds being released in the West Indies although I wouldn't put it past such adventurous migrants having made it unaided using Iceland and Greenland as stepping stones.
Collared Doves are so common around the village these days that we tend to ignore them but one thing we can't escape is their rather monotonous and repeated cooing songs from the trees and rooftops.
Our cottage chimney is a favoured song perch, the calls echoing down into the living room. These songsters have learned to completely ignore Hazel's occasional shouted threats of "pigeon pie!"
Collared Doves don't devote much time and effort to nest-building. Their nests usually comprise of a rather haphazard and flimsy platform of criss-crossed twigs, often so sparse you can clearly see their two white eggs from below.
Collared Dove: a highly successful newcomer with a fascinating history.
Photo: Mike Hodgson
Year after year doves build these early nests in the big Whitebeam in the garden behind our cottage in Crossgates and year after year they fail. These early nests are usually so exposed and obvious in the still-bare tree that it proves a very easy target for thieving Jackdaws. Later in the season, by then with full leaf cover, they are normally successful in raising their young.
Collared Doves have another big advantage. Like most doves they can breed right through from spring to late autumn and are quite capable of raising three or four broods annually.
Our other very common breeders, Blackbirds and Song Thrushes are much more skilled at nest-building. I watched my first female Blackbird busily collecting nesting material in the form of grasses and fine twigs from the winter debris in a flower bed as long ago as March 10. A couple of days later she had progressed to digging mud from the edge of a wet patch to use as reinforcement in her building efforts.
Song Thrushes which line their nests with a smooth cup of mud will have done the same and most will already be incubating their clutches of blue eggs.
Both species usually manage to conceal their nests well away from the ever-present watchful eyes of potential egg and chick thieves. With leaf cover still very thin at this stage, it's probably one of the reasons that they find evergreen shrubs and bushes such an attractive proposition.
It seems like only yesterday I was writing about the snowfall at the castle and the impact of bad weather on the building, but with temperatures rising hopefully we have moved from the season of damage to the season of repair. I have been planning what we can do this summer to act on some of the issues that have come up and we hope this work can be carried out as soon as possible. I will definitely post an update here as it will probably involve rope access - which is always exciting.
We have made some progress with opening and can finally say we will open the castle up on Saturday 22nd May. There are still lots of details to work out around access arrangements but at least that date can go in the diary. This year we are going to run the installation that should have taken place in 2020 so I am hoping to get that up and running in the next few weeks so we can address any problems ahead of the doors opening. It will as I have said be a rather different experience to that in the past with various restrictions still in place, but hopefully it will still be an enjoyable one. We are also reopening the Lindisfarne shop on Monday 12th April.
With the ongoing discussion around the writing of history in the media, I have continued to rewrite the past (as any historian worth their salt should be doing) up at the castle by revisiting a few original sources and looking again at what they tell us about the development of Lindisfarne. One of the earliest sources concerning the early fortification of the island comes in August of 1542, and it is interesting in several ways. Firstly, the version of the source reproduced in the official government papers of the time (Letters and Papers, Foreign & Domestic, Henry VIII Volume 14 part 1) is slightly different to the actual original (referenced elsewhere in the same source). The first says that -skillful workmen of Berwyk to go to Holy Island and there...cause two bulwarkes of erthe to be speedily made...' Interesting stuff, but the original gives more details; -Some skilful workman of Berwick must go immediately with Robt. Roke to Holy Elande, to make two bulwarks of earth, one to beat the road the other to defend the Elande, Roke to command until a captain is sent. A piece of ordnance to beat the road and some small iron pieces must be sent from Berwick. The Dean and Chapter of Durham are written to to cause the inhabitants of the Island to assist. Firstly we get a direct mention of Robert Rooke the master mason at Berwick, secondly we are told he is to be captain until one is appointed (Ralph Clesbye gets the job the following month), but best of all we are told the Privy Council will be writing to the King to compel the Bishop of Durham to get the residents of the island to help!
So not only can we back up oral tradition and say with great confidence (following the archaeological work in 2016-18) that large parts of the castle masonry did indeed likely come from the Priory site, but that residents of the village were pressed into service to help the workmen from Berwick to build the original fort on the present site!
I also found an interesting reference to the castle being a bastion of Quakerism during Cromwell's time, but I'm running out of space so that can wait until next month.
Best wishes
Nick Lewis
Collections and House Officer
Lindisfarne Castle nick.lewis@nationaltrust.org.uk 07918 335 471
NATURAL ENGLAND LINDISFARNE NNR
Spring has sprung!
It is a real clash of the seasons on the Reserve at the moment with Skylarks and Meadow Pipits singing their hearts out, establishing territory for the breeding season ahead. Fulmars are back on their breeding ledges with their familiar laughing chatter to one another and the first frogs spawn has been seen in the flooded dune slacks. But winter interest is still lingering on with Brent and Pink-footed Geese around in small numbers and Short-eared Owls, Woodcock and Jack Snipe observed in the dunes this week.
Work has been going on to repair and prepare the Reserve for what is likely to be an extremely busy summer. One of the biggest issues at Lindisfarne NNR is disturbance caused by people and dogs. Therefore we will be trialling a dog zonation initiative this summer from 1st May. The details of which can be found below:

Dog Zone Initiative
Birds that are nesting, resting or feeding need undisturbed space to live, survive and thrive.
What is Proposed?
Lindisfarne National Nature Reserve (LNNR) will introduce a trial dog zoning scheme for spring and summer 2021. This will consist of three zones shown in the map below:
No dogs area - the area around the Wide Opens extending to Ross Back Sands south and north to the Beacons and Blacklaw; and the western section of Budle Bay

An area where dogs will be allowed to be exercised off their leads - the North Shore on Holy Island (maximum of 2 dogs per individual & owners must still be in control of their dogs and must be able to get them back to heel quickly)

The remainder of the LNNR - dog owners will be required to keep their dog on a short lead (1.5 metre) at all times (maximum of 2 dogs per individual)
Why is this scheme necessary?
Lindisfarne National Nature Reserve is internationally important for a range of wildlife and their habitats. The NNR is home to between 50,000-60,000 birds during the autumn and winter making it the most important site in the north-east. Both Grey and Harbour seals seek refuge to haul-out and rest at several locations throughout the site. During spring and summer, it provides refuge for the largest population of breeding Little Tern and Ringed Plover in the county. The four other UK Tern species either breed and/or use the NNR to roost and feed.
How long will the scheme be in place?
The three new zones will initially be introduced on a trial basis from 1 May - 1 September 2021. The Scheme will be fully evaluated and, if seen as successful, in consultation with the local community and other partners, Natural England will look to implement the Scheme fully. The measures will be in place during the Shorebird Protection Scheme, and we will also assess the benefits in extending the Scheme to cover winter months to protect Lindisfarne NNR's internationally important autumn and winter avian visitors.
In addition to this we will be hiring seasonal wardens to monitor how successful this is and monitoring the shorebirds at key locations around the Reserve.
Another quick reminder that we are still monitoring the Avian Influenza outbreak so if you see any dead or sick birds please do not approach them and keep dogs on a short lead to prevent them coming into contact with infected birds. Please report any dead or sick birds to the Lindisfarne National Nature Reserve Office on 01289 381470.
It won't be long before we start re-emerging from lockdown and enjoy all the new arrivals that spring has to offer. Orchids will be bursting through the ground and we should soon be hearing the first Sandwich Terns arriving back from Africa before the Common, Arctic, Roseate and Little Tern join them a few weeks later. Lindisfarne NNR is such a special place at this time of year and one of the few places in the country where you can see all 5 UK breeding species of terns in one location.
Andy Denton - Reserve Manager
Lindisfarne & Newham NNRs
George Moody rescues a frog during restoration of the garden pond at Skylark on Chare Ends.
Over this winter just passed, George Moody has heroically restored the pond in Skylark garden. The old rubber liner dating back from when we first created the pond 20 years ago developed a leak. The only solution was to dig it out, disturbing numerous hibernating frogs in the process.
Now everything is renovated with a brand-new double liner and a splendid pump-driven "water feature" that trickles sonorously over some artfully placed rocks in a small cascade that we hope may attract migrating birds to drink.
I hasten to add that all the frogs we found were protected in a bucket and then carefully transferred to a safe haven constructed specially for them nearby. My hope is that they will return to deposit their spawn in the refurbished pond this Spring. But at the time of writing in mid-March, although I search carefully each morning, there is as yet no sign.
Which brings me neatly to the subject of tadpoles. Two gigantic tadpoles around 12,000 light years away in the constellation of Auriga (named after the Latin word for charioteer). They are the central feature of IC410 one of the more attractive emission nebulae in the northern sky. This deep sky object is well-placed for photography from Holy Island in the colder months. Take a look at the image accompanying this column and I am confident you will agree that the two structures near the nebula's centre do indeed bear a striking resemblance to a pair of tadpoles.
It is no co-incidence that these "tadpoles" appear to be swimming towards the heart of IC410. Look carefully and you will see that there is a cluster of brighter stars at the centre of the nebula. The stars are believed to be newly formed, created out of a cataclysmic explosion several million years ago that resulted in the surrounding clouds of debris we now see.
These energetic young stars are emitting massive amounts of radiation and charged pdivs. The pressure from this stellar wind is sufficient to blow the surrounding material away from the heart of the nebula. The "tadpoles" are thought to be clots of denser matter, with steaming trails of debris forming their tails pushed away by the force of the radiation.
The story of the Tadpole Nebula demonstrates one of astronomy's great truths. Out of destruction there is rebirth. New stars are born to replace those that age and explode. And the matter from which they are made is thereby re-cycled, transforming in the process.
At the beginning of the Universe in the Big Bang there was only hydrogen gas. When the first stars formed, some of this hydrogen was transmuted into the denser element helium, releasing energy and causing the stars to shine brightly with white heat. This is the same process that is going on right now deep in the core of our own Sun.
A pair of tadpoles seem to be swimming into the heart of the nebula IC410, sometimes called for obvious reasons the Tadpole Nebula.
As stars age, other light elements are produced. But the heavier elements, such as nitrogen and phosphorous that are essential for life, cannot be produced during the normal life of a star. More extreme conditions and higher energies are required. These occur when some stars come to the end of their life and explode in a supernova.
Such supernovae result in beautiful structures such as the Tadpole Nebula. They also produce real tadpoles. Many of the vital atoms in all living things - including ourselves - were created in ancient stellar explosions.
Threats and Opportunities
I begin by quoting our vicar Sarah's comments in the March Issue of HIT:
"Here on Holy Island we are a small community of 150 people of Fishermen, farmers, people in their latter years, school children" ... "A community of family, friends, neighbours" .... "We are an ordinary community in an extraordinary place of liminal beauty."
I agree wholeheartedly with Sarah's words and I suggest that it is because we are small, ordinary and living in an extraordinary place, that this community is vulnerable. There are however some invaluable qualities to be found in this community that need to be recognised.
70 years ago, before the causeway was built, Holy Island was relatively isolated. The causeway created easier access between Holy Island and the Mainland, and beyond (with "warts and all"!), and has largely contributed to the rate of change in recent years. ... So what threats do we face and where are our opportunities?
The Queen being presented with their "catch" by the Holy Island fishermen. .
What are the main threats?
The rapid rise of tourism is a threat to this small community. The huge and increasing number of visitors, most only staying for a few hours, is becoming unsustainable. Holy Island like Venice could be in danger of losing it's soul; that sense of community that is so precious and increasingly hard to find in our world.
Some believe that Holy Island is nothing more than a "cash cow" where business opportunities are more important than the local community. There are those who believe that it is acceptable for Holy Island to be exploited without any understanding or consideration for the local community, nor any concern over what the outcome might be. There are many who don't understand the special nature of this diverse community and have no interest in their future.
Changes in the use of village property is another threat. The resident population is decreasing as many who buy properties only come here for holidays, are not interested in village life, and make little effort to participate in the community.
Then there are those who come here with the intention of changing things in the belief that they know better how this community should be.
Where are the opportunities?
As can be seen from the range of interests regularly expressed in the HI Times, the village community has now become more diverse. Currently there is a fine balance of diversity, and it is vital that this fine balance is maintained.
The village community on Holy Island has for centuries been rooted in the natural world. It is fishing and farming that have been the mainstay of Holy Island families for generations, and continues to be so today. It is this that keeps us all "rooted".
Holy Islanders still talk with pride about meeting Queen Elizabeth on her visit to Holy Island during her tour around the British Isles on the Royal Yacht Britannia, soon after becoming Queen.
Holy Islanders have always had a harmonious relationship with the natural environment and understand, better than most, how to conserve it. Living with, and caring for nature is "in their blood" ... it is "who they are"!
There is a growing awareness and increasing alarm over the many major environmental concerns the world is facing such as climate change, pollution, and the rapid decrease in biodiversity of plants, insects, bees and birds. Could Holy Island build on the essential and inherent skills, knowledge, and experiences here, and play a vital role in leading the way to a more secure future, not only for the benefit of this community but also for the wider world?
Holy Islanders still talk with pride about meeting Queen Elizabeth on her visit to Holy Island
during her tour around the British Isles on the Royal Yacht Britannia, soon after becoming Queen
This photograph shows The Queen being presented with their "catch"
by the Holy Island fishermen.
Holy Islanders have always had a harmonious relationship with the natural environment and understand, better than most, how to conserve it. Living with, and caring for nature is "in their blood" ... it is "who they are"!
There is a growing awareness and increasing alarm over the many major environmental concerns the world is facing such as climate change, pollution, and the rapid decrease in biodiversity of plants, insects, bees and birds. Could Holy Island build on the essential and inherent skills, knowledge, and experiences here, and play a vital role in leading the way to a more secure future, not only for the benefit of this community but also for the wider world?
THE COMMUNITY OF AIDAN AND HILDA
Last month the Community of Aidan and Hilda Caim Council published this announcement on Facebook: 'Like many organisations the income of the Community of Aidan and Hilda has been very seriously damaged by the Covid-19 pandemic. With great sadness we have come to the final conclusion that there is no financially sustainable way forward other than to make the very painful decision to close and sell the Open Gate and sadly lose our much valued team.
However, we are currently exploring different ways to offer hospitality on Holy Island for those seeking retreat time or visiting as pilgrims. We anticipate this would be on a self-catering basis at one of our other properties on the Island. Further details will be publicised in due course.'
Holy Island pilgrims are writing in with testimonials which can perhaps be placed in a book on the island. One concluded: 'One gate has closed: may a hundred gates open across the world'.
Twin Cities in Minnesota, USA, have formed a Holy Island Fellowship. Recently they held a zoom meeting to explore Solitude, led by Brother Cassian, who leads retreats on Holy Island.
The Northumberland CAH group recently held a zoom meeting.
My autobiography 'Monk in the Marketplace - and the Simpsons' has just been published. It includes a chapter on Holy Island and a picture of me leaning against the pilgrim posts.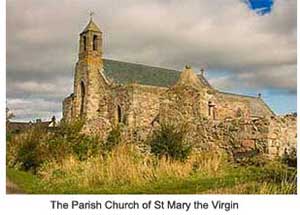 Dear friends
I'm writing this on St Cuthbert's Day, March 20th, so I thought I would remind us of Cuthbert's journey through life and faith as we ourselves journey through Lent and Holy Week towards Easter Day. Especially this year as we contemplate coming out of lockdown restrictions and live with the hope of reconnecting with family and friends and all that are dear to us.
Cuthbert was born around the year 635 in what we now call the borders of Scotland.
He seems to have come from a wealthy English family and was sent to foster parents for some time. As a teenager Cuthbert prayed to God to save some monks who were trying to float a raft down the river, only to be caught in a dangerous storm, and about to be swept out to sea. Cuthbert prayed from the banks of the river, the wind ceased, and the monks were saved.
A seminal moment, a turning point, came in Cuthbert's life when he was 17. He was helping some shepherds to look after their sheep one night high on the hills. Looking up into the dark sky, he saw a most wonderful sight - angels descended and then, ascending to heaven, took up with them a human soul. This was the night that St Aidan died, as Cuthbert discovered in the days to come. Cuthbert took this as a sign of his vocation, his calling by God, and going to the monastery at Melrose, (founded by Aidan) asked to be admitted into the novitiate. Cuthbert moved to be Prior on Lindisfarne in his early 30's.
This next decade of Cuthbert's life was a time of missionary journeys, managing the monastery, reconciling different voices in and outside the monastery, teaching, preaching and healing. Cuthbert became known as a spiritual and gifted healer, a compassionate presence, and able to engage with the people he met along the lanes of the island and further afield.
However, after about 10 years, Cuthbert felt increasingly called to live as a hermit, and for a while, he lived on a small island just off Lindisfarne, cut off by the tides twice a day - now known at Cuthbert's island. To celebrate St Cuthbert's Day, I have just swum across to the island and gave thanks for his life and example. Cuthbert later moved from there to Inner Farne, where he built a hermitage and small chapel. People still sought him out there, crossing the sea in small boats to ask for his prayers, healing, and spiritual wisdom, but for much of the time, he was entirely alone with God and with the natural world -the birds, otters and Eider ducks.
Cuthbert was then asked to become Bishop of Lindisfarne and took on the role with fortitude. At the ned of his life he returned to Inner Farne, where he died on March 20th 687AD.
His body was brought back and buried on Lindisfarne.
So what can we today learn from St Cuthbert? Maybe his example of patient, courageous reconciliatory work among his monks can help us to face our own conflicts today as we emerge from the covid pandemic - conflicts within ourselves, our communities and nations?
And then we take all of our difficulties, conflicts and anxieties to the cross on Good Friday, awaiting the hope and joy of Jesus's resurrection on Easter Day.
So, my prayer is that our journey through this covid year takes us to new life, to joy and hope in a better future, for us all. And a very happy and blessed Easter!
Sarah Hills
---
ST. MARY'S NOTICES
Current Worship Times
Due to the lockdown restrictions of Covid 19, St Mary's Church building is currently closed. We are sorry it is not open daily but know that our prayers are with you.
The church building will open again as we come out of lockdown when it is safe to do so. Please check the website or church porch for details.
When open please wear face Mask in church.
Worship Times
(from after Easter)
8am BCP Sunday Eucharist first Sunday of the month in church
1045am Sunday Eucharist in church
5pm Sunday Evening Prayer on zoom
Daily prayer in church will restart once we are further through the government's road map of lifting restrictions.
Lord, help us to be with one another... even if at a physical distance. Help us to build a kinder world. To reach out. To love and to care. To be sensible and not to panic. Help us, Lord, to hope. Because together we can. Amen.
Revd Dr Sarah Hills
A Blessing - for this time and every time

Lift your hearts to heaven
and receive the eternal gift of peace

Keep your feet on the ground
and walk with those who need God's love

This day

you are loved by God
You are held by God
You are blessed by God

Now and for evermore

© Rachel Poolman