| | |
| --- | --- |
| A BIT FROM ME | Geoff Porter |
'Wintry Scene' -
photo: Lesley Andrews
Dear Subscriber,
May I welcome you to our March newsletter and I do hope that we continue to find you and your loved ones well with the concluding phases of this horrible pandemic getting closer. I again begin by thanking those who are looking after us during these trying times.
Like the majority of the nation, Covid restrictions are affecting every aspect of our lives: churches, fishing and farming community, accommodation providers, public houses, local shops and manufacturers. We very much look forward to getting back to 'business as usual'.
Nevertheless, Holy Island still remains in lockdown and English government ruling asks that folk 'must not leave your home unless you have a reasonable excuse'. We know we live in a remote location. So, until guidelines change, the visitor might understand if they sense any natural wariness at the appearance of a stranger.
Those visiting will find the causeway is as awful as ever: several sections of concrete balustrade remain missing at the bridge; the waterlogged car park is improving, the toilet block closed for much-needed restoration, there will be traffic restrictions during the coming week to enable land drain repairs near the harbour entrance. And, above all, always check the ' safe ' crossing times!
As I write, spring conditions prevail, the sun is shining down upon the island and a 'zoom' service is underway amongst our church community.
For over half-a-century the ethos of Marygate House (the island's first retreat house) has influenced many of Holy Island's visitors. Because this will include many of our subscribers, we include Kate's editorial from the community's 'Holy Island Times' which focuses on one of Marygate's founding wardens, the late Douglas Graham. We are grateful to Kate and also for her inclusion of Andy Raine's memories.
My thanks to Andy D (also for the above 'wintery path' picture), Andy R, David, Ian (also for his 'causeway' article), Kate, Max, Nick, Ray and Sarah who have written for us this month and also to Lesley for sending 'wintry scene' photos around the village. We hope you enjoy the fruit of our works and look forward to getting in touch again in April.
God Bless and Stay Safe,
Geoff Porter
Editor (SitEzine)
editor@lindisfarne.org.uk
www.lindisfarne.org.uk/ezine
'Wintry Scene' -
photo: Lesley Andrews
| | |
| --- | --- |
| HOLY ISLAND TIMES (editorial) | Rev Canon Kate Tristram |
I have decided to spend my editorial space this month about one of the first Wardens of Marygate House, who has recently died: Douglas Graham.
I met Douglas on my first visit to Marygate House in (I think) 1972. He and Joan (Harris) were joint Wardens; the house had opened in 1970. The Vicar of the time was Denis Bill; he had a dream of a Christian centre on the Island and Douglas shared the dream. Denis always gave Douglas the credit for having the faith, when Marygate House came on the market, to agree to buy it, although they had no money, it came! In my experience as a frequent visitor, Joan looked after the housekeeping while Douglas was often involved in the guests' programmes. He gave the historical talks and often took groups on tours of the Island. Eventually he left the Island for various jobs, culminating in a move to Unst, the northernmost of the Shetland Island.
There, among many other things, he was involved in the foundation of the northernmost church in the British Isles.
Douglas was a firm, committed Methodist and continued to work as a lay minister. After his retirement he was able to return to this area and livid in a small house in Fenwick. He was able to reconnect with Marygate House, where he was warmly welcomed by Sam and Don. We are glad to know that this contributed to the happiness of his last years.
Memories from Andy Raine
Douglas Graham used to be a Warden at Marygate House. He also did supply teaching from time to time, and if the tides were awkward he'd stop with Brother Harold where he helped in the physical graft of building the early hermitage at Shepherds Law above Old Bewick.
He was also a Methodist preacher on Berwick, Seahouses and Ashington circuits, and in the 70s we led services together in all those, plus some United Reformed, Salvation Army and Baptist churches in Northumberland, too. Often we'd travel to take 3 services the same Sunday in different places. One August we were here at St Cuthbert's every Sunday. At that time it was an ex-Presbyterian, URC chapel with elders who were Islanders, but usually meeting only every other Sunday evening. What they enjoyed most of all was a 'Songs of Praise' where they'd choose any favourite hymn, and perhaps explain what it meant to them. I remember the Captain's wife (they lived at Chare Ends) choosing a metrical psalm 121 and saying it made her remember that when Aidan said that psalm he'd think of lifting his eyes up to Cheviot.
Recently I went to look something up in my Dake's study bible, and all kinds of papers fell out of the cover. On a folded sheet of brown paper I found my hand-written notes for two of the services we'd led at St Cuthbert's, probably in 1977.
--------------------------------
Margot(Hastings):- O Love that will not let me go (424)
Bab:- Brightly beams our Father's mercy (Sankey) Mary Hector:- Will your anchor hold?
Chrissie Johnson:- What a Friend we have in Jesus (701) Lizzie Tough:- We love the place, O Lord (236)
-----------------------------------
(568) Robin:- Lead,kindly light.
(706) Hector:- Jesus,Saviour, pilot me.
(696) Amy:- Jesus, I will trust Thee.(Ameer)
(735) BOTH Ned Parker and Helen McGregor :-The Lord's my Shepherd (Crimond)
Evelyn Parker:- Nearer,my God, to Thee.
ED: please write and let us know if you would like to include your memories of Douglas in future HIT editions.
| | |
| --- | --- |
| HOLY ISLAND C-of-E FIRST SCHOOL | Heather Stiansen |
Fun on the slopes.
Wasn't the snow beautiful! This was the first time I'd seen the island blanketed by so much snow. And of course it made everything wintry and wonderful... apart from the causeway, that is! It was certainly a tricky drive for us all.
We are still in lockdown and our island school remains closed. Lowick School is open for key-worker children and we have had around ten to fifteen children in on most days. We are continuing to plan each day carefully so that the children at staying at home have, through online learning, the same lessons as their friends in school.
We have continued to keep in good touch through our online platform 'Seesaw' where we can share lessons, messages, videos, photographs and stories. We have really enjoyed our weekly 'Zoom' collective worship meetings with Sarah and Sam. It continues to be so important for the children to be able to see their friends after having so many weeks apart.
We have also held a live (and lively) book club which was very well attended. The children shared their favourite books with each other and gave reasons why they loved their books. Then just before we broke up for half term we enjoyed a live celebration assembly which included a film montage with clips of lots of activities the children had shared with us on 'Seesaw'. The children at home and in school were delighted to see their friends out and about, being active, sharing their artwork and showing off the great writing, maths and topic work they'd been doing.
We are all wondering when all of the children will be back to school. We await an announcement to let us know whether they can return on 8th March. We would definitely prefer to have the children in school, learning and playing together. Let's hope that it won't be too much longer before things can get a little more normal for us all.
Heather Stiansen
heather.stiansen@lowick.northumberland.sch.uk
| | |
| --- | --- |
| THE CROSSMAN HALL | David O'Connor |
Our taste of winter has faded and we are now enjoying 3 or 4 mild days. It is also good to note the daylight hours are lengthening.
After that wee bit of good news, an apology. I had hoped to include information on the road to Covid 19 Regulation relaxation, but the Politicos combined with our feisty Editor put the block on that; the Editor wanted his copy by 19 February and HMG do not plan to release the anticipated Covid 19 exit strategy until Monday 22 February! So we should know next month.
But there was some good news; this morning, Imperial College London, suggested a significant fall in infection rates. The College, using an 85,000 people sample size offered the following results;
In early January, 1 person in 63 surveyed was carrying the virus and
Recently, this had fallen to 1 person in 196 was identified as a carrier
These people tested positive as SILENT carries. They did not display any symptoms and could have been roaming around our towns and villages spreading Covid 19. This shows why 'lock-down' has worked and brought down Covid 19 numbers and it helps me understand my personal lock-down.
So far the hall has stood the winter well and we will soon begin the building sanitisation and Legionella scour in the hope that the hall will reopen before too long.
More news next month
Secretary/Trustee - doconna@hotmail.com
| | |
| --- | --- |
| OUR NATURALIST ON LINDISFARNE | Ian Kerr |
SIGHTS AND SOUNDS OF EARLY SPRING
March is the great changeover month between winter and spring, something I'm sure we're all grateful for after the recent snow, heavy rains and those strong and chilling easterly winds.
Now that the worst is hopefully behind us, nature's seasonal pattern is very evident for anyone who cares to look around the island.
Many of our wintering geese and wading birds are departing for their northern and Arctic breeding areas, early spring flowers are emerging and, as usual at this stage we await with anticipation the arrival of summer birds, including those great harbingers of spring, terns and Swallows.
Already, out across the island Skylarks are singing on fine days high over fields still in their winter drabness before new growth has started to green the landscape.
When I was a lad I was always told that Skylarks sang directly over their nests. I wasted many hours calculated exactly the areas underneath those birds and seeking out those nests
Now I know better and Skylark aren't that daft. They usually drop into the thick grass and often walk or run for 50 yards or so before slipping onto their eggs or reaching their cleverly concealed young.
Other larger and more prominent resident species are also settling down to breed. March always brings the first wonderful flying and calling displays from Lapwings over the rough areas of meadow where they will lay their eggs late in the month and into April.
The "Peewit", as I always knew them, or the "Peesies" of older islanders, are always so showy at this stage in their rolling and diving mating flights accompanied by those calls that gave them their old names.
Sandwich Tern: the largest of our tern species and always the first to arrive in spring.
Photo: Mike S Hodgson
Sadly, the number of Lapwings breeding in Britain has fallen sharply in recent decades and this has been reflected on the island. I can recall springs when 30 or 40 pairs were present and even one damp patch at the Snook where half a dozen pairs nested in an area no bigger than a football pitch.
Those days are long past and now we are lucky if we have a dozen thinly spread pairs. Lapwings have been affected by changes in arable farming, particularly cereal planting regimes, and the gradual loss of damp marginal land. But there's probably more to it than that as conditions on the island haven't changed very much in all the years I've been watching Lapwings.
Away from our resident breeders, March is the time for the earliest of our summer visitors to appear. I always look forward to that day in late March when, probably from the high point of the Heugh or perhaps down at St Cuthbert's Island, I hear the far-carrying and very unmusical screeching of the first Sandwich Terns of spring. They're among many very vocal species that you often hear before you see them.
Sandwich Terns are always the first of the family to arrive. We'll probably have to wait until late April or into May until we can see the Common, Arctic and Little terns, which will settle down to nest in their mixed colony across on the Black Law.
We are lucky locally to have one of the east coast's few colonies of Little Terns, a species which is becoming more uncommon by the year. Little Terns like to nest on beaches close to the high water mark. These are the very beaches that we humans - plus our dogs - like to visit with the result that they have been pushed out of many former nesting areas.
Even in undisturbed or protected areas like those used by our local birds, nesting close to the high water mark is a very risky strategy. It only takes one gale piling seas further up the beach to destroy their nests, something which sadly occurs on many occasions. Other nests can also become buried by blown sand. No wonder their numbers are declining.
Also in late March, often on the Heugh or along the island's many stone walls, I see the white flash of the rump of other new arrivals, Wheatears, making their way northwards from sub-Saharan Africa.
By the time you're reading this and if I'm lucky I may have encountered both of those typically very early species and am impatiently awaiting the red-letter day when the first Swallows turn up down at the beach sheds or flashing through the village gardens in search of flying insects to revive them after their epic migration from South Africa. But that's a subject which will have to wait until later in the season..
| | |
| --- | --- |
| LINDISFARNE CASTLE | Nick Lewis |
We still don't have an opening date to share with you unfortunately, but work continues to prepare the castle for that much-anticipated day, certainly by me anyway.
Since the last issue the main concern of mine has been the battering the castle has taken from the weather and while Storm Darcy didn't quite live up to the 'Beast From the East 2' nickname it was given, it certainly caused us one or two issues. Firstly, anything from the east is bad news for the castle. The whole layout of the building dating back to the 1550s is based on there being a prevailing west/north-westerly wind. That is why the entrance ramp is on the south east of the castle, the main front door is on the south side of the castle, and the actual entry point into the building is on the east side of the castle. The elevation with the most windows? Yes, well done, it's the east side, and what are windows if not simply weak points in stone walls?! All these areas are relatively sheltered in normal weather, but as soon as things flip round the castle becomes very vulnerable. In fact in my experience, the only time we have had to close the castle to the public due to high winds was during an easterly gale, such was the difficultly of using the cobbled access ramp (Goodness knows what it was like before the fence was put in? Perhaps some of you can remember?).
During my essential checks then during and after the bad weather, much of the work involved keeping drains and roof channels clear and checking internal areas for signs of leaks. We have examples of severe mineral ingress, which is normal in the castle but was seen in far greater quantities. This is where the mineral content in the moisture is brought to the surface of the wall inside the castle by evaporation; essentially resulting in salt crystals appearing on the paint work. These can be vacuumed away easily but need to be recorded in case of abnormal quantity (such as on this occasion). We have also been keeping records of damage to lime wash, harling, and pointing on the external elevations and the roof, so we can work out a schedule or repairs when the warm weather returns. We even had a few leaking windows, which proves that one way or another water will get into the castle. Thankfully the work done in 2017/18 means that it can get out again, and that any weak points had been strengthened.
Despite all this it was a real treat to see the castle and island covered in snow when the sun came out, another major difference with the easterly weather from 2018. I don't think the castle has looked that good in the snow since 2010/11. I found my way around the frozen Stank field and positioned myself to get some photographs from what I think is the castle's best side; which funnily enough is the north-west, where that reassuringly normal prevailing weather comes from. Taking the camera down from my eye, I paused and took a breath, drinking in the view, the silence, and the almost pristine freshness of the air. It was without doubt one of my most sublime moments on the island.
Best wishes,
Nick Lewis - Collections and House Officer
Lindisfarne Castle nick.lewis@nationaltrust.org.uk 07918 335 471
| | |
| --- | --- |
| NATURAL ENGLAND LINDISFARNE NNR | Andy Denton |
It has been a wild few weeks of weather on the Reserve with relentless heavy rain giving way to heavy snow showers piling in off the North Sea. In what is becoming an increasingly rare sight, the Reserve looked even more picturesque under a blanket of snow. However, the snow was accompanied by a biting easterly wind and while daytime temperatures struggled to get above 0? Celcius the wind chill made it feel as cold as -10?.
Spare a thought for the wintering birds on the Reserve who don't have the benefit of going into a warm house at the end of the day. During these cold periods birds are expending most of their energy trying to keep warm. Feeding becomes increasingly difficult as many of the invertebrate food sources delve deeper in the intertidal mud and out of reach of some. As a result many birds start to lose condition. Any additional stress such as disturbance by people and dogs, can have a dramatic effect on the survival of birds, especially at this time of year when they are trying to lay down extra fat reserves for the long migration back to their breeding grounds.
In the strong easterly winds many seabirds wintering just off the coast will have been struggling to feed in the mountainous seas that we experienced last week. This means that you may come across more carcasses of birds that didn't survive if you go for a walk along the Reserve beaches. Now that the winds have eased somewhat birds should be able to feed more easily.
The colder weather has caused movement of birds to the Reserve from locally and from across the North Sea as they attempt to escape the frigid temperatures and frozen ground for the 'milder' Northumberland coast. Wigeon numbers have picked up slightly, likely due to frozen bodies of water elsewhere. Also, while walking the Reserve in the last couple of weeks, Woodcock have been recorded; always waiting until the last second before flushing from under your feet giving you fright! These birds have been escaping the increasingly hostile temperatures across Europe hoping to find some unfrozen ground so they can feed.
On a brighter note there have been no recorded cases of Avian Influenza on the Reserve since before Christmas but that doesn't mean that the disease isn't present. If you see any please do not approach them and keep dogs on a short lead to prevent them coming into contact with infected birds. Please report any dead or sick birds to the Lindisfarne National Nature Reserve Office on 01289 381470.
This coming week is set to become much milder as the source of the weather flips from the east to the south-west. By the weekend temperatures could be into the mid-teens. A reminder that spring is just around the corner...
Best Wishes,
Andy Denton
Reserve Manager
Lindisfarne & Newham NNRs
Who would believe that every moment of the day and night a gigantic shark lurks in the sky above our heads on Holy Island! The object in question is LDN1235: a reflection nebula about 650 light years distant in the constellation of Cepheus close to Polaris. Because it is adjacent to the northern celestial pole, the Dark Shark never sets at our latitude. Instead it swims in a small circle oscillating between 40 and 70 degrees above the horizon to the north, roughly in the direction of Berwick-upon-Tweed.
The top chart shows fluctuating cloud cover over Holy Island during the period in mid-February when the accompanying image of the Dark Shark was taken. The lower chart shows average wind speed. Conditions were favourable for astrophotography on the evening of 16th February with both a clear sky and light winds.
Now actually seeing the Dark Shark is not so easy. The clue lies in the designation "reflection nebula". These are deep space objects in company with galaxies, star clusters and the more common emission nebulae. But reflection nebulae are the quiet understated members of the cosmic catalogue. They do not themselves give out any light, but instead depend for illumination on the light from adjacent stars. As such they are challenging objects to photograph.
However I enjoy a challenge. And I find the subtle molecular clouds often revealed in this branch of astrophotography hauntingly beautiful. So when the skies finally cleared for a few brief hours in mid-February, after weeks of cloudy winter nights, I decided to target the Dark Shark.
Conditions have to be just right to capture LDN1235. First of course clear skies are indispensable. Secondly, the wind cannot be too strong, or the telescope will wobble. Look at the report from my observatory weather station and you can see that all was set fair on the evening of 16th February.
The top chart (in blue if you are reading the digital edition of The Holy Island Times) shows the output from my cloud detector. This clever gizmo works by comparing ambient ground temperature (top dark line) with the radiant temperature of the sky immediately overhead (lower lighter line). If the sky is clear, the difference between these two readings will be large. Clouds are relatively warm and so, if they are present, the difference will be smaller. The lower chart records wind speed and anything below 15mph is usually fine.
As well as no clouds and gentle winds, the darkest possible skies are also important, as any light pollution will drown out the faint signal from the Dark Shark. The Moon is a notorious source of such unwanted light. Fortunately on 16th June it was still only a crescent, setting well before midnight.
The Dark Shark (also known as LDN1235) in the constellation Cepheus. This photograph was taken from Skylark Observatory on Holy Island by the author. It is a work in progress, needing many further nights of data acquisition to improve image quality.
So for several hours I was able to capture a series of 5-minute exposures using four different colour filters: red, green, blue and luminance. Luminance is essentially a clear filter, cutting-out only unwanted infrared and ultraviolet light beyond the limits of the visible spectrum. I gathered around an hour of data in each filter channel. This is nothing like sufficient for a high-quality finished photograph. But was enough to process and produce the preliminary image of the Dark Shark that accompanies this column.
Hopefully you can make out the body of the Dark Shark as it dives downwards in the image. It is composed of a cloud of dark brown dust, that shows up against the luminous background of stars. There are a few bright stars positioned in front of the nebula and their light is not dimmed. Other stars just behind the shark illuminate the edges of the brown molecular cloud. The Dark Shark's "eye" (or you might prefer "snout") is revealed as a thicker region of molecular cloud, with no background stars able to shine through.
This image is very much a work in progress. I must now gather data over many more nights in order to do full justice to this target. The good news is that any clear night will do. Unlike the vast majority of other astronomical targets, it is not necessary to wait for the right season or even a particular time of night. The Dark Shark is always be waiting for me overhead.
| | |
| --- | --- |
| 'CHANCING IT' ON THE CAUSEWAY | Ian Kerr |
One of the very few benefits of lockdown must have been a lack of callouts for the island's Coastguard team to rescue motorists stranded by the tide and their own stupidity at the Causeway.
Once restrictions are eased and things get back to normal no doubt the monotonously regular callouts for help will resume.
But if you think that motorists chancing it through water is anything new then just have a look at this old photograph. It was taken shortly after the Causeway was opened back in 1954. A convoy of three cars race through what looks fairly deep water en route for the island.
The old photograph came my way recently from a friend who was acting as executor for another birding colleague, Brian Little, who died last October, aged 84.
I don't know whether he took the photograph but it was found in a mountain of old pictures, documents and other material he'd accumulated over the decades. Knowing my connections with the island, those tasked with sorting out his things knew it would be of interest to me.
The caption written on the back said it had been taken shortly after the Causeway was opened. The vintage of the cars shown certainly seems to bear that out. I'm not quite sure of their make but I'm sure folk who know more about old cars than me can help out on that one.
Brian was a very regular visitor to the island, usually staying at the Manor House in more recent decades, and claimed to have first come as a teenager.
The original photograph was badly creased but thanks to the technical skills of Max Whitby the copy which appears here has been fully restored.
| | |
| --- | --- |
| FROM THE COMMUNITY OF AIDAN AND HILDA | Ray Simpson |
Holy Island pilgrims from three continents have recently contacted me with interesting information.
The first refers to my single hymn verse (the first lines were inspired by a locally written Holy Island Prayer) in The Celtic Hymnbook, which I have said is unlikely to get into other hymn books without a second verse. The verse is:
Here be the peace of those who do your sacred will; here be the praise of God by night and day; here be the place where strong ones serve the weakest, here be a sight of Christ's most gentle way.

Here be the strength of prophets righting greed and wrong, here be the green of land that's tilled with love; here be the soil of holy lives maturing, here be a people one with all the saints above.
My correspondent suggests this second verse:
O Lord my God, with seas around us raging We hear your voice and take the pilgrim's way Here are the stories that You tell Your children You guard by night, you guide us in the day Now lead us on, across the fields and mountains Where those who love You travelled long before Here is the place where we can find Your footsteps The faithful welcome and the ever open door
Any more offerings?
A pilgrim from USA remembers being taught to 'throw' prayers into the winds - and asks if I could I locate such a prayer? I perused A Holy Island Prayer book which in USA is - published by Morehouse, but all I could find was this prayer:
May I be real, like the elements. May I be true, like the fire May I be free, like the wind
May the love that is within me flow, like water. And may I not forget the fifth element, the flowers
Dear God, give me fragrance in my relationships.
Can any reader provide something more to the point?
A third pilgrim who spent several weeks on the island has moved into a small flat in South Africa which has a garden in a sand dune. During lock-down she has decided to make it 'something beautiful for God'. Our dunes have orchids - I wonder what hers has?
Finally, a local colleague sent me this link https://youtu.be/LW4ALBDIF88 for a brilliant old-time film of Northumbria starting with fishermen and a wedding on Holy Island - can you recognize great grandparents?
Ray
| | |
| --- | --- |
| FROM THE VICARAGE | Rev Canon Dr Sarah Hills |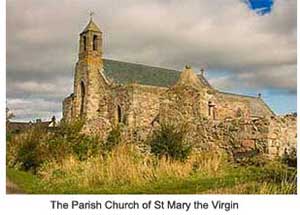 Dear friends
We are still in a time of pandemic. As I write, we are expecting some more news in the next week or so from the government about how and when we might come out of lockdown. And, in the church's year, we are now in Lent, the 40 days leading towards Good Friday and Easter Day. Jesus's journey towards his death and resurrection. Lent is a time for us to reflect on our own lives, and our relationships in our communities. Sometimes people give up things for Lent - chocolate, biscuits, whatever is a 'treat'. Other people take up something for Lent - exercise maybe. Or trying to be more forgiving. Or kind to others.
This year in the time of covid, we are journeying through Lent in a very particular way. Maybe you have given or taken up something, and that's all good. I would like to suggest that this year in the pandemic, we don't necessarily take or give up something new. Rather that we continue to love one another. To perform those small acts of kindness that we have seen on this island over the last year during the lockdowns. And that we continue to help each other as this island community has done for centuries, in whatever difficulties or disasters that have befallen it. We look forward to the joy of Easter, and in the meantime, we live as Christ lived and loved us. We try to see the face of God in each other.
I was asked to take part in the Radio 4 Sunday Service on Valentines Day. To talk about 'love as helping out'. This is what I said.
'Beloved, since God loved us so much, we also ought to love one another.' 1 John 4:11
Here on Holy Island, we are a small community of 150 people. Fishermen, farmers, people in their latter years, school children. A few people have jobs on the mainland, many are retired, some furloughed from the tourism industry. A community of family, friends, neighbours. Some we agree with, some we don't. Some vaccinated against covid, some not yet. Many struggling with the lockdown restrictions, isolation, loneliness. The day-to-day business of food shopping, getting medication from the mainland, fear of the virus sweeping onto the island with the incoming tide. This is a place which has always done 'community' well. It has had to, cut off twice a day by the tide.
But in this pandemic, we are learning afresh how to live together on this tidal island. John exhorts us to love one another since God loved us so much. What does that mean here on Holy Island as we enter 2021, still in the midst of this pandemic? Well, it manifests in the quotidian, the ordinary. We have set up the Holy Island Support Group, a facebook group and a newsletter through everyone's door once a week. Offers of firewood, help with food shopping, takeaways once a week delivered to your door in all weathers. A food pantry in the church porch for anyone to help themselves. A bored teenager walking a shielding couples' dogs. Love on Holy Island in a time of covid. We have joined the 'warm hub' network, through Community Action Northumberland, which has enabled us to give out slow cookers for healthy eating, tablets for digital inclusion, and a plethora of jigsaws for boredom! Love on Holy Island in a time of covid.
Above all, this time of pandemic gives us the realisation that we need each other. We need to give and we need to receive. It is in these ordinary acts of kindness that love is found. It's not perfect, we still fall out sometimes, but that's OK. We are an ordinary community in an extraordinary place of liminal beauty. St Aidan in the 7th century walked the lanes of this island sharing hospitality, building community, bringing peace - the good news of Christ. He is a pretty good model for us to follow in the 21st century contending with this time of covid conflict. Just as God loves us, through his grace we are enabled to love others. In these day-to-day acts of love here on Holy Island we can play a small part in building up God's kingdom here on earth. Love on Holy Island in a time of covid.
Sarah Hills
St Mary's Church
Revd Canon Dr Sarah Hills
Vicar of Holy Island and Area Dean for Norham Deanery
---