| | |
| --- | --- |
| A BIT FROM ME | Geoff Porter |
Spring is on the way...
Dear Subscriber,
After our winter break, a belated 'Happy New Year' and welcome to our first newsletter of 2021.
Having so many readers It is always difficult to imagine the individual circumstances it is entering into. I do hope that we find you and your loved ones well as this Covid-19 continues in pandemic proportions.
On Holy Island and in most parts of the UK lockdown continues. We are all affected and weary from its many pressures and look forward to a world free of covid-horrors. For all of us, vaccines promise light at the end of the tunnel. Whilst it might be interesting to contemplate what sort of world will emerge, let us hope that we all make it...
THANK YOU again and again to those who look after us during these 'darkest hours'.
Lockdown restrictions will permit few visitors at the moment. Those who come will find the causeway is as dire as ever; several sections of concrete balustrade remain missing at the bridge; much of the car park waterlogged and the toilet block closed for much-needed restoration. And those wanting to get to the castle during February will be inconvenienced by road closure for a few days to permit vital land drain repairs. And, above all, always check the ' safe ' crossing times!
In contemplating how I might celebrate Candlemas on February 2nd I checked our Parish Church website and was delighted to see some fabulous pictures recording the 'Journey of the Angels' through the village during advent.
My thanks to Andy, David, Ian, Lesley, Max, Nick, Ray and Sarah who have written for us this month. We hope you enjoy the fruit of our works and look forward to getting in touch again in March.
God Bless and Stay Safe,
Geoff Porter
Editor (SitEzine)
editor@lindisfarne.org.uk
www.lindisfarne.org.uk/ezine
---

| | |
| --- | --- |
| THE CROSSMAN HALL | David O'Connor |
I hope you all had a safe Christmas & New Year and eventually we will have a good 2021.
December 2020
I've been tempted to use a local saying "Good riddance to bad rubbish" as we leave 2020 and enter 2021. During the last days of the month data presented in the media indicates that we are in an alarming situation with numbers of Covid 19 deaths and infections climbing rapidly. Let us hope that the vaccines developed by the scientific community will begin to impact as the immunisation programme rolls out.
Covid 19 had, and is continuing to have a huge impact on our small Island Charity. We rely on lettings to cover our annual costs. When the virus appeared early in 2020 our bookings were good and growing, then as the virus bloomed and Trustees actioned NHS guidelines to make Crossman Hall a safe venue. We also began to cancel bookings and as we did, a number of the larger events like weddings, family celebrations and an international meeting, withdrew, all understandable.
Then HMG imposed a National Lock-down this then began a stream of Government instructions often amended as sets of Regulations. The requirements and amendments to Regulations were confusing and open to interpretation. The result, a reduction of our freedom of movement, reminding me of that great book 'George Orwell's 1984'.
In December we had several mini skirmishes with our insurance provider. The issue our 'Christmas Lights'. Our Insurer did not approve of lighting the hall as part of the village celebration because the Hall was closed, despite their requirement that the premises were regularly inspected. Supported by our Broker who informed them that they were being unreasonable, the lights went up.
As 2021 approached, two vaccines were approved for use and we hope the Hall will pick up customers as Covid 19 is brought under control. A new strain of the virus is currently rampaging across the Country and we are now Tier 4, Lock-down. Because there is no other building on the Island that can offer a secure and safe venue for up to six (6) 'socially distancing' people, the Trustees can approve a special meeting. The hall, regardless of Covid, continues to be available for any major Island or Maritime emergencies.
As the year ended I applied for grant support, distributed by Northumberland CC on behalf of HMG.
January 2021
All of Northumberland and the Borders are in lock-down, with no unnecessary travel. The Border between England & Scotland 'closed'. Yet during the Holiday Period day visitors were seen on the Island. Considerably fewer than is usual but why!
On my way to the hall on New Year's Day for my weekly inspection, I've never seen the town so deserted. This was the impact of Covid 19 and it brought about a further loss of traditional local society; the Island's culture is fast disappearing, every year incomers arrive but few try to fit into the old-fashioned core of the village? I've never seen the Island so deserted whether on 'Old Years Night' or today. Usually the place is hooching with folk travelling around the Town wishing friends a 'Guid New Year' and sharing a nip with them and now to see the majority of my pals I to stroll through the Churchyard.
The visit to the hall was worthwhile because the air sourced heat pumped had failed and the hall was cold. Usually, when not in use, the heating ticks-over (16/17c).
Checking the system one of the circuit breakers had popped and a failure code was showing on the control computer. I checked the external pump, it appeared ok. I reset the system, but no go. A heating engineer arrived after the holidays and the job is done.
Towards the end of the first week an e-mail arrived from Northumberland CC our grant applications had been successful.
As the month progressed, three vaccines became available and hopefully as they roll out, control of the virus will begin and maybe by late spring or so the hall will be able to provide for Islanders and others.
It is interesting to note that although last year business was severely curtailed, there were two well used areas; the pool table and exercise area.
The health and wellbeing of hall users is a priority and when we reopen we will re-introduce a strict cleaning regime.
All users will have to comply with NHS Rules and use hand gel, clean down any surfaces used, respect 'social distancing' and wear a face covering etcetera.
As soon as the restrictions are removed or reduced, the pool room & exercise areas will be cleaned, risk assessed and re-opened. The Trustees will continue to risk assess and set a full opening date. However, the current status of Covid 19 suggests full opening is a fair distance off.
I wish all our readers a better and healthier 2021.
Stay safe,
David O'
Secretary/Trustee - doconna@hotmail.com
FOOTNOTE
Who would think standing on the height of the beach watching the boats come in that the Shellfish industry was nearing dire straits. Wasn't Brexit going to return the Golden Fleece to the Fishermen!!!
The crabs & lobster that come up the pier are usually taken by the merchants and shipped off to Europe. But trucking shellfish to Europe Markets is strangled in red tape and loads are turned back at the Ferry Ports.
That's why those of you who watch the News mid-January will have seen several shellfish trucks from Northumberland & The Borders protesting at Westminster. Will it help; I hope so because it can have an impact on the Islands economy.
| | |
| --- | --- |
| OUR NATURALIST ON LINDISFARNE | Ian Kerr |
A SUNNY MORNING ON THE FLATS
After the long dark days of mid- winter, February is always a month of hope of better things to come. This year we all certainly need it. While we've been preoccupied with the coronavirus lockdown and getting our vaccines we tend to forget that in the natural world it's been business as usual.
That includes daylight lengthening by a couple of minutes each day, the welcome appearance of the first Snowdrops in gardens, Daffodil heads rising higher, particularly along the sunny south walls of the church, and the first yellow of Wallflowers on the sunny seaward side of the Heugh.
In the village on sunny and milder days there are also the first delightful bursts of singing, particularly from Song Thrushes closely followed by Blackbirds and Robins.
But, of course, the threat remains of winter making an unwelcome return. We should remember that the infamous Beast from the East of 2018 arrived in late February so we're not exactly out of the woods yet.
At this time of year island wildlife is rather limited to waders, particularly Curlew, Lapwing and Golden Plover feeding in the fields and at the beach and, of course, hundreds of lively Teal at the Rocket Field along with a scattering of other ducks, including Mallard, Shoveler and the occasional Wigeon.
A superb Long-tailed drake - a lively winter visitor from the Arctic.
Photo: Mike S Hodgson
It's the time when most interest remains centred on the flats and its channels stretching west and south from the island and which remain untouched by those other early hints of spring.
Most of our wintering waders and wildfowl remain although by now numbers of the wildfowlers' old favourite, Wigeon, which always peak these days in late October and early November, have dropped away sharply.
They'll soon be followed by the Brent Geese making their first tentative moves back to Denmark and then northwards to the Arctic Ocean fastness of Svalbard. Wader numbers will also begin to decrease as it they simply can't wait to get back northwards.
But for now the geese and waders are present in their thousands to enliven the late winter scene. I used to spend time roaming the edges of the flats and even, occasionally, being dropped off at the Causeway when Hazel was going shopping to Berwick and walking back along the Pilgrims' Way.
That was always a wonderful experience on a bright winter's day passed through massed flocks of Brent Geese and waders, but these days, getting on a bit, I don't do that sort of more adventurous and energetic stuff.
Instead, when I'm lucky enough to be on the island most of my viewing of the flats and channels is done from the comfort of the island, mainly the end of Tripping Chare or, more often, from Jenny Bell's or the elevated seats on the Heugh, particularly the bench against the Lantern Tower wall or the lower sunny seats towards Osborne's Fort.
These seats have the great advantage of facing southwards and catching the sun and provide shelter from the colder northerly and north westerly winds. They also provide panoramic views to the Black Law, Ross Links, the Farne Islands and south westwards towards Elwick, taking in a wide expanse of the reserve.
I find there's nothing better on a fine and cold day than to set up my telescope and enjoy an hour or so scanning the sandbars for geese and waders and the channels for more uncommon species, including divers and grebes.
My favourite conditions are mornings when there's been a hard frost which usually means clear sunny air and lack of wind. Visibility can be perfect right across to Cheviot, hopefully capped in snow, while the water is left still and glassy. The lack of wind on such days means that sound travels well, important for birding.
There is the constant chuntering of the geese as they run, feed and squabble on the sandbanks. One thing you can say about the Brents is that they're always active and never seem to simple lounge around.
There is often another typical sound on such mornings: the gentle crooning from flocks of Eiders as the drakes try to impress the females. I'm also always on alert for yet another sound, the much faster and higher yodel of long-tailed ducks, another of our winter visitors from the high Arctic.
Half the size of our Eiders, these little black and white ducks are extremely vocal and their far-carrying calls on still air is often the first indication of their distant presence. Long-tailed ducks are extremely active, continually flying, chasing and splashing down when they are not actively diving to feed.
I always hope on such days to come across other northern species, including the diminutive grey and white Slavonian Grebes and, if I'm lucky these days, their slightly larger cousin, Red-necked Grebes. Slavonian Grebes still occur in small numbers, but Red-necks have declined in recent years and now we're lucky if one or two put in an annual appearance.
Eiders - our most plentiful sea ducks, resting on the rocks.
Photo: Mike S Hodgson
The channels also regularly attract Red-throated Divers, at this stage looking slim in grey and white winter plumage, as well as the occasional Great Northern and Black-throated divers. The latter two species usually appear when sea conditions have been bad and the channels offer sheltered and feeding.
At low water most of the waders are feeding far out on the flats but occasionally rise in massed panic, swirling flocks flashing in the sunlight. On such occasions I try scanning over or beyond the flocks for the cause of the commotion. Often there's nothing to be seen but occasionally the dark anchor-shape of a Peregrine races across the flats, always the highlight of any wader-watching session.
| | |
| --- | --- |
| LINDISFARNE CASTLE | Nick Lewis |
I had hoped to be writing this month about our preparations for opening but since the latest restrictions were imposed, we find ourselves back in a period of uncertainty. Thinking about how the castle could open safely while observing social distancing and a strict hygiene strategy has been a challenge .It has though also been an interesting exercise and I would imagine some of the initiatives we need to bring in while a risk of infection remains will be of use to us in a normal future. You will all have some familiarity with the castle layout and applying a two-metre social distancing policy throughout makes it very tricky for visitors to make their way around the building as they have done in the past. We have had to look again at the visitor route and think how it can be planned - despite the obvious limitations - and made workable. Hopefully once we are open this set-up won't be for too long, but we want to make sure it is not only safe but still provides an entertaining and enjoyable visit.
Away from opening-up plans we have been continuing with essential checks and tasks as with the first lockdown, minimising our time on site and working from home as much as possible. I have taken the opportunity to clean the ship model Henrietta - which is an annual task at most - and this takes three or four days to do. With me only visiting once a week this has drawn out the process a little, but a tissue paper cover hung over the ship at the end of a day's cleaning keeps it dust-free until my next visit.
We are also keeping an eye on the building itself, something which is particularly important at this time of year. The stormy weather over Christmas and New Year have caused some damage to the harling on the north elevation, and some fences needed to be repaired after windy weather earlier this month. Inside it has been important to keep conditions in the castle as stable as possible, something I can at least monitor from home. When onsite it is a regular job to vacuum salt which has leached out of the moisture in the walls and crystallised on the painted surfaces inside, while there is also the likelihood of outbreaks of black mould to take care of.
For now though, we will continue to plan for opening to the public and look forward to resuming some sort of normal service.
Best wishes,
Nick Lewis - Collections and House Officer
Lindisfarne Castle nick.lewis@nationaltrust.org.uk 07918 335 471
| | |
| --- | --- |
| NATURAL ENGLAND LINDISFARNE NNR | Andy Denton |
Well its 2021 and we are into another lockdown. It is especially at times like these when we feel extremely fortunate and privileged to work at Lindisfarne National Nature Reserve. Working outdoors on an incredible site, getting a hit of nature when many others are stuck indoors.
In the weeks before Christmas a number of birds were found showing signs of sickness or dead. They were collected and sent away for testing. Analysis showed that they were suffering from the H5N8 Avian Influenza. The virus appeared to have mainly manifested itself in the Brent Goose population. Thankfully over the last month no dead or sick birds have been seen on the Reserve. If you see any please do not approach them and keep dogs on a short lead to prevent them coming into contact with infected birds. Please report any dead or sick birds to the Lindisfarne National Nature Reserve Office on 01289 381470.
Over Christmas and into the New Year the weather became very seasonal and cold with ice seen on the causeway and the Cheviots snow-capped away in the distance. During these cold snaps it is even more important to not access the shoreline and cause unnecessary disturbance. Constant disturbance by people and dogs leads wintering birds to waste valuable energy supplies which are vital for survival during the arduous migration. As our hides are currently locked due to Covid, the platform at Budle Bay is an ideal spot to see the visual majesty of winter migration from a safe distance.
The Cattle and Sheep have now left the Reserve after doing a fantastic job over autumn and winter grazing the Links and Snook. This is important to enhance the botanically rich dune slacks and ensure they don't end up becoming dominated by rank grasses. The sheep also do a good job of nibbling their way through some of the invasives such as Michaelmas Daisy.
With the vaccine rollout there is light at the end of this long tunnel and brighter days on the horizon where we can engage with the public and welcome visitors back to the Reserve.
Best Wishes,
Andy Denton
Reserve Manager
Lindisfarne & Newham NNRs
Raise your eyes to gaze up into the sky above Holy Island on most nights of the year and what do you see? More often than not: absolutely nothing! Clouds are the great enemy of astronomers. Shortly after I began to photograph the heavens, I tore up my Cloud Appreciation Society membership card.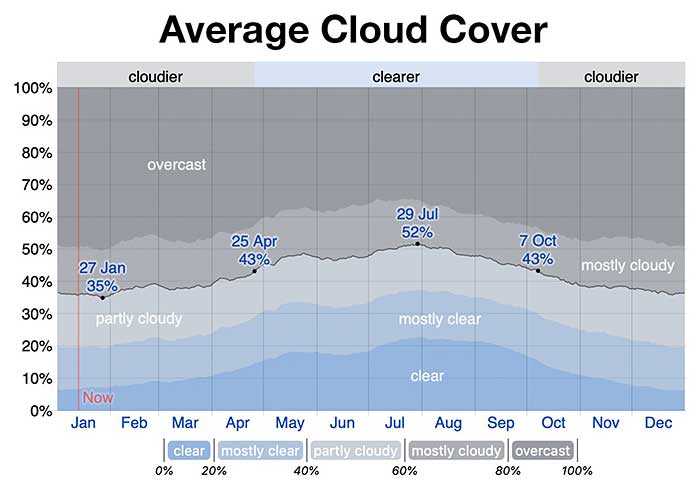 Average cloud cover for Berwick-upon-Tweed throughout the year. November, December and January are the cloudiest months.
Chart from weatherspark.com
Here on the East Coast we experience less rainfall that most parts of the UK. By the time prevailing westerlies have blown moisture-laden air from the Atlantic across the country, much of the water vapour it contains has condensed and fallen as rain (or sometimes snow of course). Nevertheless cloudy skies are still frequent on the Northumberland coast.
The first chart accompanying this article show how the probability of cloud cover and the probability of rain varies for Berwick-upon-Tweed on average through the year. You will not be surprised to see that winter is the cloudiest period. My impression is that sometimes the skies over Holy Island can be a little clearer than over the mainland due to our location a few miles out in the slightly warmer North Sea. Even so we have no shortage of clouds!
Hourly cloud cover forecast for Holy Island (left), E-Eye Observatory in Spain (centre) and Deep Sky Chile Observatory in the southern Andes for the same week in January 2021. The darkest square colour means overcast, medium colour means broken clouds and light colour means clear skies are forecast.
Charts from clearoutside.com
The sad fact is the chances of a completely clear night on Holy Island fall to less than 10% during the winter months, just when the nights are longest and therefore best for astrophotography. The chance of a mostly cloud-free night for observing the stars is only one in five. As an astronomer in the UK you simply have to accept that most nights your observatory roof is likely to remain closed and your telescope idle.
Diligent followers of this column may remember that in addition to my observatory here, I am fortunate to have telescopes also installed in Spain and in Chile. All three of my systems - including the one here on the island - are designed for remote operation. This means I can stay comfortably warm inside while controlling every aspect of the night's astronomical activities outside in the cold and dark observatory.
At least that is the theory. In practice something regularly goes awry and I am obliged to venture outside, dressed only in pajamas and Wellington boots, to make adjustments. When problems occur in Spain or in Chile I have to message the noble souls who tend the telescope farms there and ask them to sort out whatever has gone wrong.
Despite the challenges of maintaining hardware in distant lands, there is much to be gained from locating my telescopes in Spain and Chile. The second set of charts accompanying this column vividly demonstrates why. It compares the weather forecast for Holy Island (on the left) with the corresponding forecasts for Spain (centre) and Chile (right). You will see that for the week commencing 11th January this year I enjoyed an uninterrupted run of seven completely clear nights in both these far-flung locations.
Of course this also resulted in seven nights with insufficient sleep... but that is a small price to pay for being able to carry out astrophotography under such superb conditions.
And when the clouds do infrequently part above us on Holy Island it somehow makes the pictures I am then able to capture all the more special.
Next month I will tell you about the most recent heavenly object that I have targeted from my observatory here: The Dark Shark.
| | |
| --- | --- |
| LIVING IN A COMMUNITY | Lesley Andrews |
Embracing Change
Since I came to live here with my husband almost 20 years ago there have been huge changes, and the pace of change has accelerated. Change is taking place globally. It is inevitable and must be embraced. At the same time, it is advisable to recognise and address any threats that Change might bring. Could the ever-growing numbers of visitors that come here each year be a threat, as well as a promise, to this village community?
Having visited Venice a few years ago, I recently watched with interest "Francesco's Venice" on BBC TV. Francesco da Mosto, a descendant of an old and distinguished Venetian family, describes how life in Venice has been attractive in many ways, and to many people across the centuries. In the final part entitled "Death" he describes how the rapid rise of tourism in recent years is now killing the "soul" of the city. More and more of their families and friends have left to live elsewhere because of the growing number of tourists in the city which affects their every-day life. While he and his family remain in their Venetian family home, they lament the fact that they are losing their close-knit community as a result of the overwhelming rise of tourism. What might be learned from the experience of Venice?
The rapidly increasing number of visitors to Holy Island is now likely to be approaching one million, mostly during the summer months and mainly day visitors who probably stay no longer than a few hours. It is almost impossible for the vast majority of visitors to experience the sense of community here. The visitor experience these days is certainly not what it was in the past. How can we sustain these huge numbers of visitors, and how can visitors be offered a meaningful experience, as they have enjoyed in the past when regular guests would return again and again to feel a sense of belonging in the village community?
From this

To this!

Tourists have always been welcomed on Holy Island, and tourism is essential to the Island economy today. Could there be a danger that the huge and growing influx of daily visitors could now threaten to "kill the goose that lays the golden egg"?
How do we gain the right balance?
| | |
| --- | --- |
| FROM THE COMMUNITY OF AIDAN AND HILDA | Ray Simpson |
Covid has dealt us a hefty blow and many retreat houses are being forced to close. The bank requires us to sell a property and provide proof that income will cover expenditure in the future.
We have just begun a formal process of consultation with the Open Gate staff team, an important part of which is exploring whether there are any other options. We have committed ourselves to do the very best we can for them, recognising how hard they have worked in the last four years.
No final decisions have yet been made. Whatever the final decision we shall continue to welcome guests to our other properties, sustain our study library and daily prayer, and encourage groups to book in to local guest facilities. Larger groups visiting the island may, of course, hire the excellent facilities at St. Cuthbert's Centre and the Village Hall. The Community now has increasing numbers of people who follow a Way of Life across the world, and we have a pool of people who can lead retreats upon request or which we plan ourselves.
At midnight on New Year's Eve I climbed a high place that overlooks the island and recited this prayer from 'Liturgies from Lindisfarne': 'As tides recede we make fresh steps in the sand; as white flakes settle we make fresh marks in the snow; as a an old year fades we plant fresh endeavours in our lands'.
I have now had my vaccine along with other readers. So I wish you all light at the end of the tunnel.
Ray
| | |
| --- | --- |
| FROM OUR CHURCHES | Rev Canon Dr Sarah Hills & Rev Rachel Poolman |

Dear friends
Well, here we are in another lockdown. I wonder how you are feeling? I must say that It is sometimes hard to feel upbeat about what is going on. And that is OK. At the moment we are in the middle of a crisis, a pandemic. Its fine not to feel too happy about it. Many people across our communities are struggling with loneliness, disappointment, fear and loss. From the church's perspective, we are about to enter Lent. Ash Wednesday the start of Lent is on February 17th. And Lent is a time for reflection, for self-examination, for penitence. But it is not meant to be a gloomy time. It is a time of preparation, of weighing up how we live our lives, of being quiet. This lockdown in a way is a time of Lent for us. A time when, yes, we are sitting with some really difficult things. But also a time for thinking, for re examining our lives and the way we live, for preparing to come out of the pandemic. Because we will come out of it. The vaccines are here and many of us are in the midst of receiving them. We of course don't yet know when restrictions may be lifted and how life will be then. But if we are currently feeling anxious or a bit lost with it all, we can also feel hope for a better future which will come. Lent helps us to look forward with hope to Easter - to the resurrection of Jesus. Christ who lived among us, died for us, and rose again for us. That Easter joy and celebration will come. That is why we hope. In the knowledge that all will be well.
I want to share with you a story of a peace walk I did a few years ago during Holy week and Easter in Northern Iraq. It is a story of despair, hope and joy. About 20 of us from Europe and others walked with local Christians, Muslims and Yazidis. A quarter of people living in Northern Iraq live in Refugee camps, people internally displaced from their own country due to ISIS attacks .Many refugees and aliens in their own land. We walked for peace, to proclaim the possibility of peace in that fought over land.
On Good Friday we visited a village about 30km from Mosul - Mosul, incidentally is the ancient city of Nineveh - a village that had been destroyed by ISIS, the villagers having all fled or worse. It was a place of destruction, completely devoid of life. Houses were rubble, shops damaged, and the church though still standing had been desecrated, the altar broken and lying in rubble. We could hear Mosul being shelled. So I held a Good Friday service in the desecrated church. A service of lament. We laid candles that we had brought with us in the shape of a cross in front of the destroyed altar and prayed the prayers of Good Friday, the pain and lament for Jesus, and for healing, for the end to that conflict, for peace.
On Easter Day we returned to that deserted village and desecrated church. But this time, the bleakness in the Church was transformed. The same rubble was there, the same bullet holes in the walls, the same broken crosses and hacked memorials. But there were people from the surrounding villages, flowers on the altar, children dressed in white, and a packed church there to proclaim the hope of the resurrection, the hope of peace and the possibility of rebuilding. There we found the Easter joy that had been so hoped for.
Friends, let us then live together in hope as we enter Lent and look towards the Easter joy to come.
---