| | |
| --- | --- |
| A BIT FROM ME | Geoff Porter |
Dear Subscriber,
Welcome to our November issue coming to you on 'All Saints' Day' and I quote from Rev Kate Tristram's editorial in this month's Holy Island Times referring to 'Baron von Hugel' who wrote:
"The feast of every heroic soul, every heroic act, inspired by God since man began on earth. The day of all saints, in all times and places and disguises, most of them known to God alone; indeed it is the day also of all the saintly bits, the saintly moments in those not otherwise saints at all... We might think of this as we keep 'Remembrance Day'. Many of those who died, indeed of whom we say in gratitude that they died for us, were never thought of as saints, but had their moments. Let us be thankful for our belief that God notices and remembers everything."
All Saints' Day falls during schools' half-term, when it seems that almost the entire UK is back in lockdown. On Holy Island, travel restrictions have not returned and the car park remains well-filled. Even in the early evening, as businesses are closing, vast numbers of visitors, some with families, some with dogs, loom out of the darkness wending through unlit streets to locate their vehicles in the muddy field. If you were here at the weekend, I hope you weren't one of those who discovered the 'hard way' that the NCC traffic warden had also been visiting...
In March, at the onset of Lockdown, churchwarden, Mark, set up a 'Facebook Group' on behalf of the Holy Island Support Group and the residents they represent. I would like to pay tribute to Mark and Mary at Lindisfarne Scriptorium and hope the success of our group continues long after a Covid solution has been found. In particular, for me, it has been a revelation to discover some highly skilled amongst us - perhaps the coming together of a 21st century cottage industry. Hopefully, you will agree when you checkout the 'Made by Residents' webpage. The 'season of giving' is not far away now and whether you're looking for ideas for a present or simply want to see what some of us are getting up to in lockdown click on the link below...

Regretfully, Covid regulations prohibited a large gathering in St.Mary's for the ordination of Sam Quilty. Sam has a long history on Holy Island where more recently she and husband, Don, have run the island retreat, Marygate House as well as being a stalwart member of the PCC Thank you to Sam for sharing a brief account of proceedings. Very well done on your ordination - our thoughts are with you into the future.
Thank you also to our regular writers, particularly David who took the time to bring us all up-to-date with the 'dig' in Sanctuary Close. This month we also introduce you to Lesley who has lived with us her for 20 years and writes about her impressions on island life and our community. Perhaps one day we might persuade one or two of our islanders to share their thoughts on Holy Island past, present and future....
Enjoy our newsletter, we'll be in touch again in December - our last issue for 2020!
God Bless and Stay Safe,
Geoff Porter
Editor (SitEzine)
editor@lindisfarne.org.uk
www.lindisfarne.org.uk/ezine
ORDINATION OF REVEREND SAM QUILTY
St Mary's, Holy Island
3rd October 2020
Sam Quilty
It has been such an unexpected blessing to be ordained Deacon in St Mary's Church which has come out of the midst of this Covid 19 pandemic we find ourselves in and the guidelines from the Church of England which limited ordination services to 30 people. It meant I could only invite 10 guests which was the hard part of being ordained here and not having many of you there. I was ordained by Bishop Stephen Platten who is a retired Bishop in Berwick who I had worked with on placement. I was so happy to be ordained alongside Tom Sample who I have trained with for 3 years and who is now one of the Assistant Curates in Berwick. It was hard not having any of my family there apart from my dear husband, Don, but the service was recorded and so could be seen afterwards. I have attached the link if you would like to see it. https://youtu.be/l32l8zyVs60
I would like to say a very big Thank You to this community for all your support over the past few years and for the wonderful cards and gifts that arrived on the day of my ordination. I was not able to have any party but having gifts, cards and cakes arriving throughout the day was just as special and meaningful to me. I am very blessed to be the Assistant Curate here and to serve this parish. Know that you are all very much in my heart and in my prayers as we journey together especially through these unexpected times that we find ourselves in.
| | |
| --- | --- |
| HOLY ISLAND C-of-E FIRST SCHOOL | Heather Stiansen |
Picture from Sarlet-Beau
Our first half term seems to have flown over! The children have really impressed me with their enthusiasm and stamina over the last eight weeks. It's been wonderful to see how well they have settled back into the school routine. Even though it has been different in many ways, we have all got used to our new ways of working. Scarlett-Beau and Lily-Ella have enjoyed being back at school and on some days, have literally bounced their way into school!
This week we have spent some time decorating our windows with Halloween art and crafts. We've left them all up so if you're passing by, watch out for our spooky cats, bats and pumpkins! We had a Halloween treasure hunt followed by a party at Lowick and the children enjoyed a special lunch. It was a lovely way to end the week. We are all now ready for a well-earned break over half term!
We have welcomed Commando Joe's 'Adventure Learning' into school this half term. Commando Joe's is a character education programme based on the principles of respect, building resilience, empathy, self-awareness, positivity, excellence, communication and teamwork. The children are taking part in activities based on missions that are active and engaging, involving the use of lots of practical equipment. Each set of missions is based around an inspiring person and focuses on developing using positive character traits to grow their confidence and problem-solving ability. Scarlett-Beau and Lily Ella are working on missions linked to Steve Backshall the famous naturalist and explorer. We chose him because the missions are based on surviving in the rainforests of Borneo and photographing tigers in Bhutan. This works very well with our curriculum theme of the natural world. Future inspirational people planned for the year include Kira Salak, Nellie Bly, and Ibn Battuta.
Picture from Lilly-Ella
We have been researching our local natural world and have been learning about some of the many birds visiting the island at the moment. In addition to seeing so many birds as we travel along the causeway each day, Scarlett-Beau and Lily-Ella used books and the internet for their research. I hope you enjoy reading their impressive work. It's good to see the girls so interested in the wildlife on our beautiful island. This week we saw a murmuration of golden plover as we were in the playground. The sky was a deep, stormy grey and as the birds swooped and turned, their white bands of feathers looked like a dazzling silver against the grey. We were mesmerised by their beauty - a real 'wow' moment for us all.
We have lots to look forward to in the coming weeks. We have two visits to the island from the Lowick children planned. We are learning about pilgrimage in RE and will walk along a small part of the Pilgrim's Way before exploring St Cuthbert's Island. During the visit will also look for specimens of seaweed, grasses, seed heads and ferns. We will be finding out about the work of Victorian botanist and photographer Anna Atkins who used cyanotype photography to record plant life around her. We will be making our own cyanotype prints - I'll share them with you in the next few weeks.
Heather Stiansen
heather.stiansen@lowick.northumberland.sch.uk
www.lowickholyislandschools.org.uk
| | |
| --- | --- |
| THE CROSSMAN HALL | David O'Connor |
As I type this note I'm nearing the end of my period of quarantine. In September I was working away and on return to UK, I completed the required documentation and went into lock-down for 14 days. This process is not without difficulties, but one good thing was, I've almost emptied the freezer and in doing so found an ancient pheasant, it was tasty in a casserole, and one or two ancient unknown parcels from which the labels had disappeared! They were dispatched to the bin.
Mandatory Covid 19 restrictions continue to appear almost out of the blue, loading us up with dos & don'ts. They're a bit of a nightmare for Hall Trustees and hirers alike, we share legal responsibility to ensure that the Regulations are complied with; otherwise we can face an automatic fine.
Earlier this year, after bookings were withdrawn or cancelled, it was decided to be prudent and hire the hall to Organisations with experience and an understanding of managing health & safety and producing 'risk assessments'.
As a consequence, our business declined. One of the few users of the hall was DigVenturers in association with Durham University. The Archaeologists took over and used the hall as their base for most of September. Additional to meeting our Terms & Conditions their safety paperwork was checked. DigVenturers also hold a 'We're Good to Go' certificate from HMG as a Covid 19 safety compliant organisation.
HMG & Local Authority Rules are such that we will have little or no business for the remainder of the year. However, because of prudent financial management in the past, the hall will survive until business picks up next year, providing the virus is brought under control.
It is disappointing to announce that the Christmas/New Year Gathering will not go ahead this year because of Covid 19 requirements. Currently, such a gathering would be illegal.
But the hall is still available for small community work or business meetings provided attendees leave their contact details using the NHS QR code or jot down their details in the notebook on the bar counter.
Remember if using the hall, you must follow to follow the NHS rules:
Wear face covering

Wash hands

Use hand gel

Sanitise touched surfaces

And comply with any new requirements imposed by the powers that be
David O'
Secretary/Trustee
doconna@hotmail.com
| | |
| --- | --- |
| HOLY ISLAND ARCHAEOLOGICAL PROJECT - SUMMER 2020 | David O'Connor |
I have pulled this note together to help explain to those uncertain that all bone recovered from the excavation site is carefully handled. Archaeologists must follow very strict protocols when working with human remains and the process can be independently inspected.
DigVentures in association with Durham University are work every summer in the Sanctuary Close. One of the projects research priorities is understand who was living on Lindisfarne during the early mediaeval period; where they came from; what their health and diet was; any medical conditions that may point to cause of death; and whether or not the Island was deserted following the Viking raids as history suggests.
As in other years they are based in the hall, where prior to beginning work on site, the diggers were briefed on their role and responsibilities. After opening up the site work progressed well breaking into a new layer of unexplored ground and they continued digging and documenting the Island past.
Remember Archaeologists are not treasure hunters, they work to enhance and broaden our knowledge of yesterday and what use was made of the land. Within 2/3 days of reopening the dig, several coins dating from 840s were recovered and as work progressed more significant finds and build features were revealed and some set aside for identification and conservation. Among the finds was a significant amount of animal and human bone.
In the past some people have expressed unease that human remains regularly feature in the excavated material during the series of Island digs. Much of that disquiet came from a lack of understanding that the Project Team is guided by a strict professional Code of Conduct set by the Chartered Institute for Archaeologists and over seen by Historic England. At all times human remains are treated carefully and with great respect.
The Island Team are overseen by Senior Archaeologists and ensure the diggers follow that strict protocol when excavating, cleaning and bagging material prior to being transported to Durham University. Where bone specialist, an osteo-archaeologist, examines and catalogues the bone.
Where human remains have been gathered with the approval of Church Authorities, it is usual for the bones, after an agreed period of time, be collected and reburied in consecrated ground. This will be done by the Holy Island Archaeology Project, who will ensure that the remains are reburied with some of the many quartz pebbles that appeared to form part of the original interment.
When Covid 10 is controlled and the restrictions on our freedom of movement are removed, DigVenturers will host an evening in the hall to bring locals up to date with progress to-date.
David
doconna@hotmail.com
| | |
| --- | --- |
| OUR NATURALIST ON LINDISFARNE | Ian Kerr |
DOUBLE TROUBLE IN THE BARN OWL WORLD
If there's one species of bird which arouses more interest than any other on our island it's surely the Barn Owl.
It's a bird just about everyone tells me about when they are lucky enough to see one silently ghosting across the fields or quietly resting on fence posts or walls as they go about their everyday business.
The owls are particularly noticeable at this time of year as they are usually out hunting in the hour or so before our early winter darkness. They always present a wonderful sight as they patiently flap and glide low over the ground in the endless search for food, mainly voles and other small mammals.
The history of Barn Owls on the island is mixed. They were recorded as breeding in rock holes at the Castle during the 1940s before fading out locally as populations fell sharply right across Britain. The increasing use of poisons from that period until the turn of the century to tackle rats and mice was probably involved in this decline and they were absent from the island and from many other areas for many years.
From the early 2000s one or two began to appear in winter, presumably from the small but increasing population on the mainland. This prompted Robert Brigham and I to put up a nest box at St Coomb's Farm which was used for the first time in 2008. Three young fledged becoming the first island Barn Owls for at least half a century.
Since then breeding has continued in most years at the farm or at another box later erected in the village. Elsewhere on the island, a third box has been used sporadically.
In 2014 pairs occupied both village boxes and successful fledged between them a total of 14 young in what proved to be a totally exceptional year.
Since then fortunes have been mixed with young fledging in some years but pairs failing in others. Barn Owls are very dependent on voles, by far their most important prey items. Vole populations are cyclical, usually rising to a peak every three or four years before crashing.
In good vole years owls normally do well. In lean years they don't and sometimes don't even attempt to breed. Other problems have faced our owls. In at least two season young were predated by Stoats. They are skilful climbers making them a particular danger even to birds those nesting high off the ground.
2020 has proved a very good vole year but when it comes to Barn Owls on the island nothing seems to be simple, as I'm about to relate.
Success - the two young owl growing well
Photo Thelma Dunne
It was July before I managed to check the boxes after the coronavirus lockdown. At one box three owls flew out as I climbed the ladder to open the hatch. I assumed, wrongly as it turned out, that they were the adult pair plus a fledged youngster from the spring.
When I peered into the box, I was amazed to find two clutches, each of eight clean and obviously fresh eggs, laid side by side. It turned out that the three birds which flew out were a male and two females. The females had both been incubating as the eggs were warm to the touch.
I'd never heard of two female Barn Owls using the same box - and I had an awful feeling that it would end in tears.
I checked the literature made other enquiries and it turns out that two females in one box seemed unprecedented in the county. Going further, I contacted Colin Shawyer, founder and co-ordinator of the Barn Owl Conservation Network and among Britain's leading authority on the species.
Colin receives data annually on many of Britain's 9,000 or so known breeding owl pairs. He said that two females sharing a box were extremely rare but not unprecedented.
He recalled one instance in Nottinghamshire where female owls each hatched broods of young in the same box.
A month after my initial discovery I returned to check progress Could be possible that, like Colin, I'd find two broods of young, in this case perhaps as many as 16 young? Or would my fears of disaster be confirmed?
As I approached two adults flew out. Opening the hatch, I found six naked, blind and obviously very recently hatched young in one scrape alongside four un-hatched eggs. The other eggs present on the first visit had vanished.
It seemed that things had sorted themselves out and the second female had been evicted either by the male or perhaps more likely by the other female. Colin's experience in Nottinghamshire wasn't going to be repeated on the island.
A month later I returned intending to fit the young with metal identity rings. I approached with some trepidation and thoughts that the second female may not have given up easily and could have returned and caused problems.
Opening the box, I discovered that only two of the six young had survived. The two youngsters were large and still downy. They were obviously well fed and were developing their heart-shaped owl faces with feathers starting to emerge in their wings and tails.
Brood depletion is fairly normal in owl broods, smaller and weaker youngsters perishing because they can't compete for food. At other times, when food is scarce, cannibalism can occur. It sounds awful to us but its nature's way of ensuring that at least some of the brood survives.
I don't think food shortage could have been a problem in this case. This summer there was there was an abundance of voles on the island. Two uneaten voles were lying in the box. Perhaps there had been some interference from the evicted female which had affected the box's success rate.
Whatever had occurred here the two young successfully fledged during October which in the very unusual circumstances has to be regarded as a good result. However, it would have been nice to have more young - so hopefully things might return to normal in 2021.
| | |
| --- | --- |
| THE BIRDS OF HOLY ISLAND - update | Editor |
In his introduction author IAN KERR mentions that a frustrating aspect of his popular guide is that no sooner has it been updated and published that new species turn up. And so it has proved with seven newcomers since last publication increasing the local list to 345 species.
The new species are:
GLOSSY IBIS Plegadis falcinellus. A sub-adult visited the Lough on 29 May 2018.
LITTLE BITTERN Ixobrychus minutus A female was at Waren Mill on Budle Bay, on 4-5 May 2018.
PACIFIC GOLDEN PLOVER Pluvialis fulva One was in the Crooked Lonnen area from 21-29 July 2019 and was again present during October.
ASIAN DESERT WARBLER Sylvia nana Northumberland's first and Britain's 13th was at the Snook from 15-19 June 2020.
TWO-BARRED WARBLER Phylloscopus plumbeitarus The county's first was at the southern end of the reserve at Budle Point from 29 Sept-2 Oct 2020.
CETTI'S WARBLER Cettia cetti. A male sang at the Lough on 20-21 October 2018. Another was present from October 2019 into 2020.
BROWN SHRIKE Lanius cristatus. The first for Northumberland was at Chare Ends for a week in October 2020.
Other additional rare or unusual sightings include:
Page 100 Gadwall: Female with single duckling at Lough in July 2018 was the first island breeding record.
Page 101 Black Scoter. The wintering drake of 2017-18 returned in winters 2018-19 and 2019-20.
Page 101 Surf Scoter. A drake flew north at Emmanuel Head on 6 October 2018.
Page 106 Little Egret. New local peak of 23 on reserve in October 2019.
Page 107 Red Kite. One flew north across the island on 27 February 2019.
Page 103 White-billed Diver. In 2018, singles were off Ross Back Sands on 10 November and Cheswick on 16 December.
Page 106 Slavonian Grebe. Winter 2019-20 produced gatherings of over 30 off Ross.
Page 110. Stone Curlew. One was in Budle Bay on 29 October 2019.
Page 112 Broad-billed Sandpiper. One was on the North Shore from 18 May-5 June 2019.
Page 113 White-rumped Sandpiper. One was on the North Shore on 11-12 August 2019.
Page 119 Turtle Dove. One was in the strawberry field area during October 2020.
Page 120 Tawny Owl. A bedraggled individual was in the Straight Lonnen during an easterly gale and rain on 3 October 2020
Page 122 Hoopoe. One was at the Snook on 28 September 2018.
Page 123 Lesser Grey Shrike. One was on the island on 4 October 2020.
Page 124 Raven. A pair was resident on the island during 2020.
Page 126 Woodlark. One in the Crooked Lonnen/Rocket Field on 11-12 October 2018.
Page 127 Greenish Warbler. One in Vicarage garden until 10 October 2019 was the latest county record.
Page 127 Arctic Warbler. One was in the Captain's Garden-Lindisfarne Hotel trees on 8-9 October 2020.
Page 127 Pallas's Warbler. One was in the Crooked Lonnen between 15-19 October 2020.
Page 128 Dusky Warbler. One was in village gardens between 15-19 October 2020 with two present by the latter date.
Page 129 Subalpine Warbler. One was at the Chare Ends willow patch from 26-28 April 2019.
Page 130 Marsh Warbler. During May 2018, singles were in the Vicarage garden and singing in the dunes north east of Straight Lonnen on with probably same individual visiting the Lough. A male then sang in potential breeding until late June.
Page 131 Rosy Starling. A juvenile was regularly with Common Starling flock in Sandham Bay in October 2020.
Page 132 Spotted Flycatcher. One around the Vicarage until 11 November 2019, equalled the latest county records.
Page 133 Red-flanked Bluetail. At least two and perhaps as many as four visited the island in October 2020 with sightings at the Straight Lonnen, Snook, Greenshiel and in the village.
Page 133 Bluethroat. Three were on the island during an influx on 18 May 2019. One was at the Snook on 4 October 2020.
Page 133 Red-breasted Flycatcher. A female at the Snook on 26-27 May 2018 was the first spring record since 1998.
Page 136 Olive-backed Pipit. One was found just off the Straight Lonnen on 7 October 2019.
Page 138 Bullfinch. A Northern race female was in the Straight Lonnen from 9-12 April 2018, the first spring record for 23 years.
Page 140 Ortolan Bunting. One flew calling over the Snook on 18 May 2019.
| | |
| --- | --- |
| LINDISFARNE CASTLE | Nick Lewis |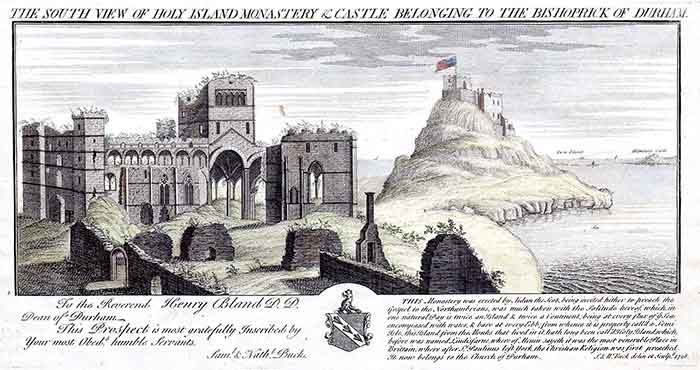 Well I'm still here, which sounds obvious but given the changes in the National Trust recently it was by no means a given. In fact, the castle and local properties have been spared the worst of the redundancies, but things will be very different for us in the future. Mainly this will be in our ways of working behind the scenes, but I would imagine things will look a little different for visitors too. As to how we manage opening operations in the coming years, we need to get our heads together in the coming months and work things out. We are very keen to get open again and are looking forward to getting a plan together. Colleagues who have been on furlough are returning in the next few weeks (by beginning of November) although we will still be working from home where possible.
Last month I briefly mentioned the capture of the castle in October 1715 by the two Erringtons. Had I only waited a few days I could have included the results of a phone call I received out of the blue from a descendant of Lancelot Errington. The gentleman had been doing some family research and discovered his link to the notorious Jacobite but got in touch with me to see if I could help with one or two bits and pieces. I did explain to him that we did have a visit from a relative of his a few years ago (Sir Lancelot Errington, the late civil servant) and he was told by one of my colleagues that folk with that surname weren't welcome!
It was I that learned more from him though; even simple biographical details such as Lancelot's birthday, the date he was married, the name of his wife, and the date he died. His wife's name was useful, as I have a copy of a letter from a Margaret Errington who I now know was married to Lancelot in 1722. His death date is also interesting. The story goes he died of a broken heart after Culloden, which always sounded apocryphal. He died on the 20th April 1746 - that is four days after the battle near Inverness, the news of which would probably not have reached Newcastle by then - it apparently took four days to reach Edinburgh.
Another military-related fact appeared when looking for something else I thought I'd share too. A while back I wrote about Master Gunner Charles Whyte, who died on the island in 1855 and is buried in the churchyard (he was the chap we can credit with starting the castle garden). Anyway, it turns out that he joined the Royal Artillery way back in 1795 and served in Flanders and Holland with the Duke of York until 1800. This was part of the war against Revolutionary France and was a disastrous campaign; immortalised in the 'Grand Old Duke of York' nursery rhyme, my 2-year-old's current favourite. It is quite something to think what Whyte would have witnessed in his 47-year military career and the stories he might have told in the island's pubs. Being in the RA he would have been all over the place; the Iberian Peninsula, America, maybe even Waterloo? Like Thomas Philips last month, maybe Whyte is another character in the castle's story who is worthy of more attention.
For the next few months, myself and Daniel will continue to visit and carry out essential check and maintenance at the castle. Hopefully as time goes on, we can be there more and more and get more clarity on what the castle operation is going to look like in the future.
Best wishes
Nick
nick.lewis@nationaltrust.org.uk / 07918 335 471
Instagram @northumberlandcoastnt / Twitter @NTNorthd_Coast
| | |
| --- | --- |
| NATURAL ENGLAND LINDISFARNE NNR | Andy Denton |
Photo: Andy Denton
This time of year on the Reserve is the most spectacular as the intertidal area becomes a moving mass of ducks, geese and waders. Thousands of geese move to and from the site each day causing a mesmerising audio and visual display at dawn and dusk and waders form complex aerial acrobatics over the mudflats either disturbed by predators or people. Numbers have now begun to peak with at least 25,000 Wigeon and over 5,000 Light-bellied Brent utilising the Reserve.
This month we began our most extensive study into disturbance of the internationally important numbers of wintering waterfowl and waders on Lindisfarne National Nature Reserve. The aim of the study is to map bird species, numbers and disturbance incidences across the Reserve to get a better understanding of the effect that this has on the movements and redistribution of birds across the site and whether repeated disturbance moves them off the Reserve entirely. To get an overview of the whole area, 4 stations are dotted around the Reserve and observed over a protracted period of time. These surveys will be undertaken frequently through autumn and winter.
As part of our monitoring schedule we also count grey goose roosts. The first nationally co-ordinated counts occurred this month and showed that 7,000 birds were using the Reserve and an additional 4,000 present on additional freshwater sites next to the NNR.
In the last couple of weeks the Cattle have returned to the dunes to graze. Over the next few months they will remove the rank grasses that have grown up over the course of the year, reducing the height and density of the sward. This, along with their hefty weight opens up the sward and allows the flowers to bloom come spring. The Sheep have also now arrived and will be grazing in the Snook focusing on the dune slacks and grazing non-native species such as Michaelmas daisy. In addition to grazing, we have also been out cutting some of the more delicate dune slacks and hard to reach areas. We will be out over the next couple of weeks doing some more cutting and raking with our volunteers.
Reducing our carbon footprint while working on the Reserve is a key priority to us and so this month we received our new electric gator. This vehicle creates no emissions at point of use and is a great mobile hide, allowing panoramic views of the spectacular Reserve from behind the cab windows. We have also been switching over our petrol machinery to battery operated where possible.
Finally, the Lough and Fenham-le-Moor bird hides have reopened in the last week. Go and take a close look at the spectacular wildlife from these buildings but please adhere to Covid-19 guidelines for social distancing and remember to sanitise your hands before and after using door and window latches. We also have NHS app QR codes on the door for track and trace, so if you have downloaded the app you can check-in when entering.
Best Wishes,
Andy Denton
Reserve Manager
Lindisfarne & Newham NNRs
Autumn is famously the best time of year for finding rare migrant birds on Holy Island. Less well-known is the fact that it is also the prime season for photographing some of the most beautiful galaxies, nebulae and star clusters. This month let me tell you about two spectacular targets that are currently prominent in our night sky: the Andromeda Galaxy and the Pleiades.
Many of the best astronomical objects were catalogued by the French scientist Charles Messier in the late Eighteenth Century. Messier included 110 items in his list, each of which is now designated with an "M" number - not to be confused with motorways! The Andromeda Galaxy is M31 and the Pleiades open star cluster is M45.
M31 and M45 are among the brighter objects in the Messier Catalogue, both just about visible to the naked eye provided you allow your sight twenty minutes or so to dark-adapt. Without optical assistance, the Andromeda Galaxy appears as a faint elliptical smudge, occupying roughly four times the diameter of the full Moon in the night sky. The Pleiades are a brighter blur of blue luminosity occupying about the same area as the full Moon. If you squint at the Pleiades you may just be able to make out seven or so constituent stars.
M31 the Andromeda Galaxy photographed on Holy Island this autumn. The light that was collected to make this image took 2.5 million years to reach Chare Ends.
I highly recommend taking a look at M31 and particularly M45 through binoculars or even better a telescope. With the assistance of such optics, a wealth of detail immediately becomes visible. Andromeda is revealed as a barred spiral galaxy, similar to our own Milky Way, with darker dust lanes forming an attractive vortex pattern not unlike cream being stirred into a cup of coffee. In fact, astronomers believe that the physics driving both these processes is surprisingly similar, albeit on radically different scales!
The Pleiades is a magnificent sight viewed through binoculars. This open cluster includes seven particularly bright blue stars: Alcyone, Atlas, Electra, Maia, Merope, Taygeta and Pleione. These names which come from Ancient Greek correspond with the Seven Sisters, an alternative name for M45. However, there are far more than seven stars in the open cluster that constitutes the Pleiades. At least 30 are revealed by a small telescope and larger instruments show that there are over 1,000 stars in this gravitationally entwined grouping.
M45 the Pleiades open star cluster, also photographed from Chare Ends on Holy Island this autumn. The fuzzy surrounding nebulosity, resembling an artist's brush strokes, are clouds of gas and other matter illuminated by intense blue light from the hot stars of the Pleiades as they travel together in convoy through this dusty region of our galaxy.
The Andromeda Galaxy may appear larger to us in our sky than the Pleiades, but it is also much, much further away. Consequently, M31 is much, much bigger than the M45: approximately 22,000 times bigger! M31 is so distant that its light has taken 2.5 million years to reach us. M45 on the other hand is relatively speaking our close cosmic neighbour, being "only" 400 or so light years away and therefore well within our own galaxy the Milky Way. In fact, M45 is the closest open star cluster to Earth.
M31 and M45 are comparatively straightforward to photograph, requiring no special filters to reveal their structures. An ordinary colour camera, coupled to a modest 135mm telephoto lens, is adequate to produce the sort of pictures accompanying this column. It is necessary though to use long exposure times, so a special astronomical mount that moves the camera at exactly the same rate as the Earth rotates on its axis is indispensable to avoid blurring. Also, it is best to avoid strong moonlight, which can easily wash out subtle details. So, timing photography around New Moon is the way to go.
European-Bee-eater
(Merops-apiaster)
Returning in conclusion to the topic of bird watching (another of my favourite pastimes) I am reminded by the Pleiades of the beautiful Bee-eater. This ultra-rare visitor to Northumberland is probably the most spectacularly colourful creature ever to have graced our island. The Bee-eater seems almost to have been painted by an artist. Look carefully at the exquisite dust clouds surrounding the bright blue stars of M45 and perhaps you will detect something of the same quality in the brush strokes apparent in this splendid region of the heavens.
| | |
| --- | --- |
| LIVING IN A COMMUNITY | Lesley Andrews |
I have lived in the village of Holy Island for almost 20 years during which time I have enjoyed living alongside the community of Holy "Islanders". During my lifetime I have lived in many parts of the UK, in different kinds of communities. When we came to settle here it was a pleasure to feel the sense of community that is increasingly hard to find in today's world.
What is a "community"?
The word community has many meanings and can be used to describe different groups. Some examples from The Cambridge Dictionary definitions are:
a group of people living in a particular area

a group of people who share a particular interest

an ethnic group within a community

with the development of technology there are newly emerging "virtual communities", an example of which would be "The Community of Aidan & Hilda" who have apparently established their "Mother House" on Holy Island.
I use the word "community" here in relation to the village community of Holy Island. It is the "Holy Islanders" who are at the heart of this village community and it is they that retain a true "sense of community", a precious and rare thing in today's world. Many of those who refer to "community" or "community spirit" could learn a great deal from the true "sense of community" that is found, and is at the core of the way "things work" here.
Having been born and raised in my early years among the close-knit mining communities of South Northumberland, I felt a "sense of community" among those mining families. The miners were hard working proud people who felt they had an important place in society. Their labours were vital at that time, helping to rebuild the country after the war. They certainly didn't live a life of luxury; it was their community spirit and sense of worth that kept them going. Sadly, following the inevitable though unsympathetic mine closures, the mining communities have been neglected and many of those who were proud to be part of those communities no longer feel a sense of worth or belonging. Communities across the world seem to be suffering a similar fate as many are losing their "sense of community" with the "march of progress".
A True "Sense of Community" on Holy Island
Holy Island has for many centuries been a community of fisherfolk and farmers, and the "Islanders" today are descendants of those people. It is fishing and farming that still "grounds" this community and gives it a sense of "reality". While the economy is largely dependent on tourism, it is feared that the village could be taken over by tourism and become nothing more than a living museum. Being a very small village community, it is vulnerable to outside forces i.e. those who wish to exploit it for its history and location.
Long before the causeway was built when the safe way over the sands from the mainland was known only to the Islanders, visitors have been welcomed. Coming for a variety of reasons visitors have been attracted by the wildness and wildlife, the amazing scenery, the sense of peace when the Island is cut off by the tide, and the history. However, one of the greatest attractions has been the Islanders' sense of community. For centuries this has been a close-knit community of families and extended families who have been totally dependent on, and lived in harmony with, the natural world around them. Largely cut off from the mainland, they have had their own dialect, their own traditions, and their own stories.
Since I first began to visit Holy Island on a regular basis, I have spent many happy hours listening to Islanders telling stories and legends of people and times gone by. It has always fascinated me to listen to those stories. When I recently read the following quotes from the Scottish poet George Mackay Brown who was born and raised on Orkney, voicing his thoughts about community and his lament of the "march of progress" on Orkney, the importance of the old stories rang true to me ...
"The old stories have vanished with the horses and the tinkers; instead of the yarn at the pier-head or the pub, you are increasingly troubled with bores who insist on telling you about what they think ... and you may be sure it isn't their own thought-out opinion at all, but some discussion they have heard on TV the night before, or read in the [newspapers]"
"It is a word, blossoming as legend, poem, story, secret, that holds a community together and gives a meaning to its life". ... "I will attempt to get back to the roots and sources of the community from which it draws its continuing life, from which it cuts itself off at its peril."
Thankfully, the old stories are still told here and a real "sense of community" still exists among the Holy Islanders.
When visitors have asked what it is like to live here, I reply that I am not an "Islander", I am a village resident and feel happy to be so. Whilst I have always felt welcome in this community, I have at the same time been aware, and respectful of the fact that I can never be a true Islander as I cannot share their history of "family" and "community" except by listening to the old stories and feeling the sense of community that continues to exist.
Given that change is inevitable, I wonder how this small and therefore vulnerable community of Islanders can ensure that the "march of progress" will bring positive changes without losing their true sense of community that has existed here for so many generations?
Lesley Andrews
A Holy Island Village Resident
ED: Some Holy Island stories and local history can be found in these books:
"Holy Island; Isle of Winds" by John Bevan
"The Story of Holy Island" by Canon Rev Kate Tristram
| | |
| --- | --- |
| FROM THE COMMUNITY OF AIDAN AND HILDA | Ray Simpson |
As days darken and Covid restrictions tighten I do hope you will find some fresh comforts.
These days focus our minds on matters of life and death. In November The Open Gate plans two retreats that reflect on these: Dying Well (led by myself) and Advent (led by David Cole) - each for just six socially-distanced retreatants. I am suggesting that those who are unable to come to my retreat may like to do a DIY retreat at home, using my book Before We Say Goodbye: preparing for a good death, copies of which are available from The Open Gate and my web site.
We imagine we are about get on our departing plane when an official informs us we have too much excess baggage to board. So, we go back to the waiting area, dispose of excess baggage, and visit several airport lounges. In the Memories Lounge we gather the photos we want around us. We do something similar in the Flowers and Scents Lounge and in the Music and Poetry Lounge. Finally, in the Forgiveness Lounge we forgive everyone who has hurt us and ask everyone we have hurt to forgive us. Then, with lighter clothing and baggage, we enter our departing plane - singing!
For a short period in late summer the car park and island became overcrowded again. Yet even then, one thoughtful pilgrim went out to the empty dunes and wrote this poem, which she sent to me:
Island of Light,
Island of hope,
Island of beauty,
Island of Birthings.
Birthings of seeds sown long ago ...
This moment as the world struggles,
Struggles in pain with fear and with questions,
You are here in this place!
Hope is being re kindled,
Light is shining through the darkness.
Your Spirit is dancing in the shadows ready to reveal new ways,
New possibilities,
New horizons of promise.
Seeds of prayers sown long ago take root and grow,
A harvest yet to be revealed,
In Your time,
In your way,
In Your moments yet to be
J.K.
Keep well,
Ray
| | |
| --- | --- |
| FROM OUR CHURCHES | Rev Canon Dr Sarah Hills & Rev Rachel Poolman |

For me, November is always a month of facing the fact that we are heading into Winter. The clocks have gone back, visitor numbers are going down, and the change of season is very real.
In church terms, November is a month dominated by Remembrance Sunday. There is something sacred about remembering lives offered and lost in wars that have never been wars to end all wars. When we honour those, who left this small Island to fight, we also need to remember all those left behind, who did their best to keep home fires burning. And, as we think of ordinary folk making extraordinary efforts, we need to remember those in our world today who are caught up in conflict, and who are trying to do the right thing to enable their families and communities to survive.
November 2020 sees us in a time of huge uncertainty with regard to Coronavirus - a global pandemic, reaching as far and wide as the twentieth century world wars. We are struggling with our world today on lots of levels this year, and yet in November, we make time to honour those who lived with several years of global crisis. What links us, I think, is the fact that we are ordinary people asked to do our best in strange times - in the words of Jesus, 'love God, love your neighbour, love yourself'.
With blessings,
---